1894 Visions: Odilon Redon and Henri de Toulouse-Lautrec (Art Exhibition, Tokyo)
Oct 24, 2020 - Jan 17, 2021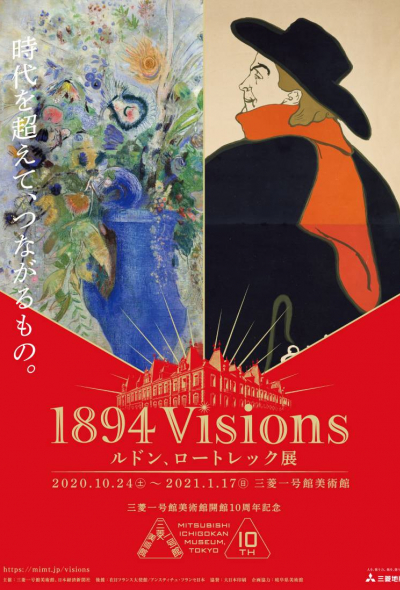 Celebrating the tenth anniversary of the Mitsubishi Ichigokan Museum Tokyo (MIMT), this exhibition focuses on art from the year 1894, the same year that the museum's building finished construction (at that time the first office building in the Marunouchi area).
Works from two artists at the center of the MIMT's collection, Odilon Redon and Henri de Toulouse-Lautrec, guide the theme of this exhibition. The year 1894 was momentous for both artists: Redon released his first color works, while both Toulouse-Lautrec and Redon (along with Paul Gauguin) contributed to the print portfolio L'Estampe originale (1893-95). At the same time, in Japan, Yamamoto Hosui painted his magnum opus "Urashima," after studying in France under the same teacher as Redon.
Featuring a number of pieces from the Museum of Fine Arts, including charcoal drawings and pastels by Redon, block prints from Gaugin, and a selection of Western-style Japanese works from Hosui and others, the exhibition offers a look at the connections between Japanese Western-style painters and European art history. Visit the exhibition for a chance to see over 140 pieces from collections in Japan and overseas.
(Some works on display may change between the first and second halves of the exhibition period.)
Event Name
1894 Visions: Odilon Redon and Henri de Toulouse-Lautrec (Art Exhibition, Tokyo)
Dates
Oct 24, 2020 - Jan 17, 2021
Closed November 2, 9, 16, 24, 25 / December 7, 14, 21, 31 / January 1
Address
2-6-2 Marunouchi, Chiyoda-ku, Tokyo
Venue Name
Mitsubishi Ichigokan Museum
Website
https://mimt.jp/visions/english.html