Kurashiki Kirameki no Michi Light Up (くらしききらめきのみち) ~ Holiday Lights Around Ario Kurashiki/Kurashiki Station (Okayama)
Nov 02, 2019 - Feb 14, 2020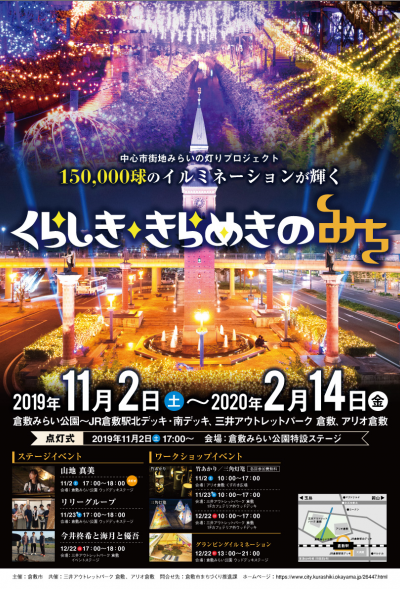 With an image of Kurashiki's bright future in mind, this holiday light display (or "illumination" as they're called in Japan) is set up every year all over Kurashiki Mirai Park (between Ario Kurashiki and Mitsui Outlet Park) and the nearby JR Kurashiki Station's north pedestrian deck & south deck.
This year's theme is "Art x Illumination", and 150 thousand individual LED bulbs paint the grounds, forming magical shapes and structures to create a romantic scene like something out of a fairytale. The landscaping of Kurashiki Mirai Park's water and greenery adds to the effect, working with the glittering lights to create separate spaces with different moods. Don't miss the sparkling wisteria trellis area, where LED lights transform into images of flowery purple wisteria vines. Three different bridges stretch out over the water, giving visitors the chance to see the lights dance as the surrounding LEDs are mirrored in the dark waters. Be sure to head over to Kurashiki Station as well, where displays are set up to reimagine the area's traditional "shirakabe" (白壁, white-walled) architecture. Plus, don't miss the artfully lit European-style automaton clock tower, in the middle of the station's Andersen Square! Everywhere you look, this illumination adds a little bit of whimsy.
Since Kurashiki Kirameki no Michi stretches all the way across the area, even onto the station itself, access doesn't get much simpler! Drop into Kurashiki for a while to shop for some souvenirs at Ario Kurashiki shopping center & Mitsui Outlet Park, take in the magical holiday lights, and enjoy a little bit of Kurashiki tradition before heading on your way.
この投稿をInstagramで見る