Hotel Itiraku in Tendo, Yamagata Prefecture
Experience the harmony of modern and tradition!
Recommended Hot Spring Hotel - Hotel Itiraku
Just like the prefecture's name, there are 17 mountains in Yamagata!! Of course it is a good place to do some hiking, you can always relax yourself in famous hot springs here too! Today, we would like to introduce Hotel Itiraku to you.
Hotel Itiraku
Address: 2-2-21 Kamatahoncho, Tendo City, Yamagata
(15 minutes walk from the Tendo City Station)
Prices from 14,900 yen to 51,650 yen
Tel.: 023-654-3311
Homepage:
http://www.itiraku.com/foreign/en.html
Amazing things about Hotel Itiraku
3. Surrounded by the Cherries and Sakura

As you may know, Yamagata is famous for the cherry production. That's why you can see lots of cherry decoration here inside the hotel.

Actually the owner of the hotel was born in April (Sakura and April always link to each other in Japan), and he likes sakura a lot too, so he wants his guests can also see the beauty of sakura in all seasons no matter when they come to visit his hotel.
4. Arts in the Hotel

You think we are taking you to an art gallery now? Actually this is the entrance of Hotel Itiraku! The artwork are actually designed and made by the owner's relative, Mr. Matsuda who is a famous sculptor in Yamagata Prefecture. If you are interested in buying his artwork, you can talk to the hotel staff.
Guestrooms Types
Special Services For the Special Guests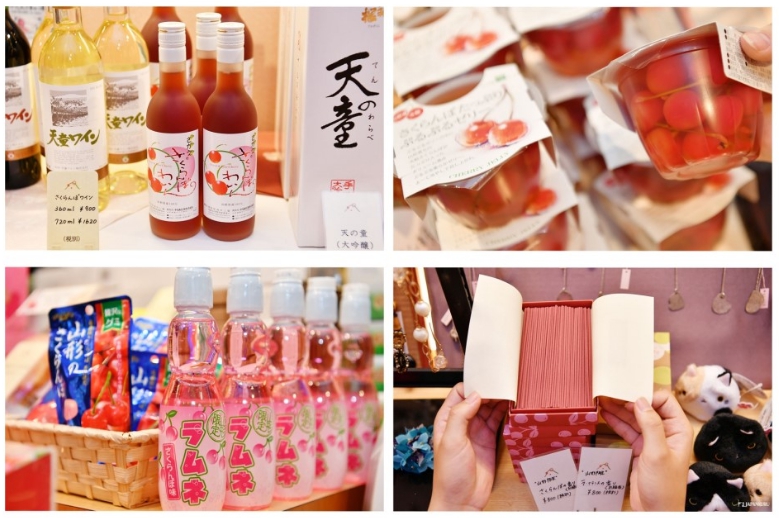 Souvenir Shop
Wanna buy some local souvenirs? You can go to the souvenir shop on the first floor near the lobby where you can buy snacks, handkerchief, clothes, accessories etc.

In Yamagata Prefecture, of course you can find many cherry products in the souvenir shop. For example, cherry wine, cherry soft drink, jelly with real cherries, or even the cherry aroma incense stick.

Top Left: Cherry Wine - 360ml 900 yen + tax / 720ml 1,620 + tax
Top Right: Jelly with cherries - 400 yen + tax
Bottom Left: Cherry soft drink - 231 yen + tax
Bottom Right: Cherry aroma incense stick 800 yen + tax
Luxurious Japanese Style Dinner
One of the best thing about staying at a hot spring hotel is the Japanese style dinner! As we have mentioned earlier, you will be surrounded by cherries and sakura at Hotel Itiraku. So you can find them in your meal too! Like in your appetizer, tempura udon and even your tea!

Our main dish tonight is Sukiyaki (Japanese hotpot in sweet soy sauce) with famous Yamagata beef. You can choose from Shabushabu (traditional Japanese hotpot), Sukiyaki, and even steak.


Nice breakfast to start a new day
Not just the dinner, the breakfast at the hotel is specially made for their guests too. There are 4 types of Japanese rice prepared everyday for you to try! Healthy breakfast made of fresh ingredients. Cherry salad for breakfast!
Hot Spring Trip in Yamagata
Related Article