Comics x Capsule Hotel Kyoto!
Things to do in Kyoto!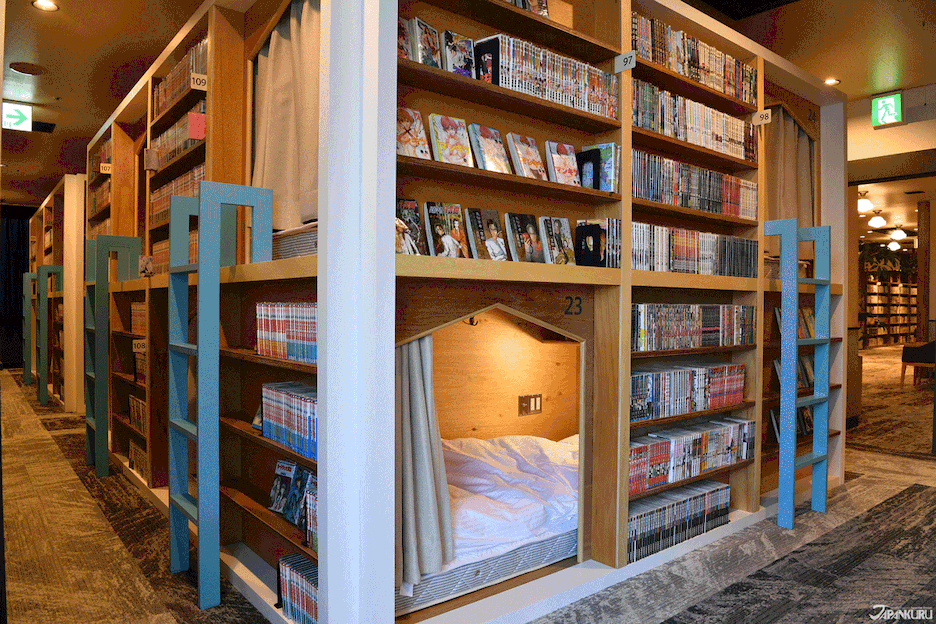 Unique Capsule Hotel in Kyoto
Comics & Capsule Hotel
コミ×カプ
(ComiCap)
We would like to introduce you a capsule hotel in Kyoto, one of the popular sightseeing spots.
We have heard that it is a capsule hotel a slightly different from the ordinary one!
A capsule hotel in Kyoto called "ComiCap"
Literally,
it is Comics & Capsule Hotel in Kyoto.
And this unique concept capsule hotel is first founded in Japan!
-
Official website
(Japanese)
-
For reservation
(English)
-
For Plan details
(English)
-
Reservation Confirmation/Cancellation
(English)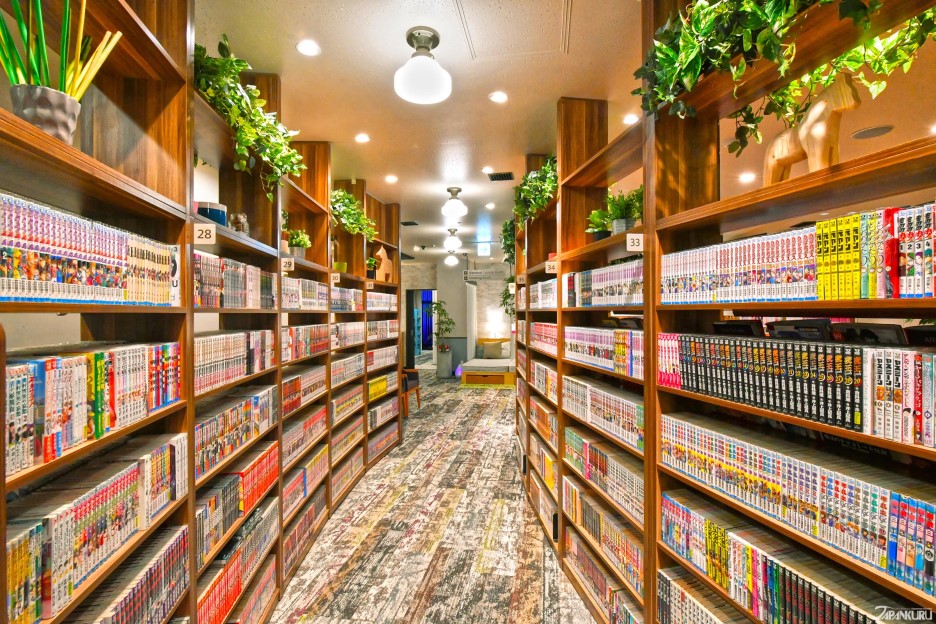 Points to stay at ComiCap!
① Less than 5000yen! Accommodation with shower!
While planning travel budget, one of the largest parts is the accommodation fee.
Normally, staying at a general Japanese hotel would cost more than 10,000 yen (about US$100) per night, if you can stay at ComiCap at a price of about half,
you would like use it and recommend to your friends as well for
saving more traveling budgets.

② Feel the charm of Japan as an animation kingdom deeply
Japan is known as the birthplace of animation.
Many people come to Japan for figures, comics and animations doubtlessly.
So here ComiCap is a space overwhelming their fantasy.

Here, you can read comics all day long,
so if you are fans of Japanese animation,
you would love it definitely!
(Currently comics available in Japanese only)

③ Convenient spot in Kyoto
It is just five-minute walk from Kyoto Kawahara-cho Station and is very convenient for travelers who like to travel by train.
In addition, this Kawaramachi Station is only one stop from Gion Shijo, one of the Kyoto's popular sightseeing spots.
Since it is near to the shopping street,
so it is convenient for the ones who would like to buy souvenirs during your stay!

Let see the procedure of check-in!
After completing the check-in procedure,
you will be provided with cabinet keys and in-house clothing to wear within the facility, and amenity set.
It is like we are walking in the sauna with the similar belongings.
2 types of Capsule - Standard type
Standard rooms are 46 out of 60 rooms and one room is 3,980 yen per night.
As introduced, there are comics in the lounge, but also at the standard type of the capsule space.

Especially the warmth feeling of this wooden design is fashionable, the entrance of these capsule is larger than the general one. Easy to go in and out!
2 types of Capsule - Deluxe type
There are 14 rooms of Deluxe Type. From its name, Deluxe Type is more spacious than the Standard Type.
4,980 yen a night Just 1,000 yen different from the Standard Type.

The biggest difference to the standard type is that there are no comics in the capsule, and it is only a capsule space. Luggage storage is available beside the capsule.
Characteristic① Shower & Washing Facilities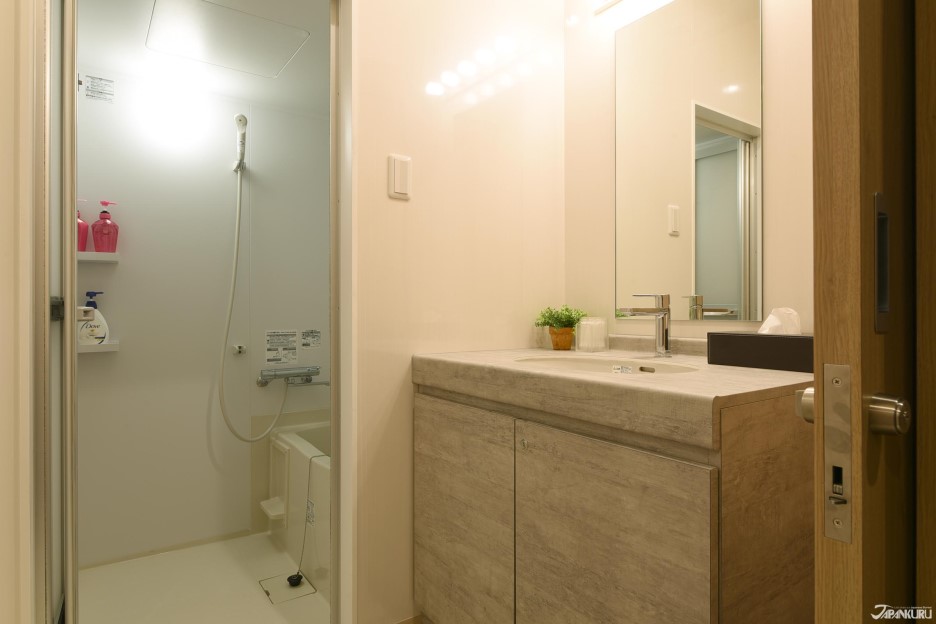 If you are not familiar to the shared shower facilities, here you are the bath tab and wash basin!
How unique to have the individual bath tab and wash basin

A friendly facility for the ones who are not familiar to the shared showers,
you can use this individual bath tab and wash basin.
Please make reservation in advance.
Both male and female are available.

one hour - 500 yen
Characteristic ② Simple space for eating and drinking
ComiCap has a space where you can easily eat outside food and drink.
It is possible to use an electric pot with warm hot water and a microwave.
Just have your snacks you bought at noon in the midnight.
(Food and drinks are only available in the lounge.)

Characteristic ③ From the latest comics to fashion magazine and travel magazine
Not only comics, but also fashion and travel magazine.

ComiCap is a capsule hotel featuring comics;
therefore, you can see various genres of comics from latest back to the classic one.

Also, even those if you are not quite interested in comics,
feel free to read the travel and fashion magazines.
If you are interested in fashion,
you would be concentrated to the magazine for a long time too.

Characteristics ④ Bed and sofa, good for lying down and reading
ComiCap has about 20,000 books.
In general, you might read them within your capsule.
Also, you can take rest at the lounge placed with mattress and sofa.
A space of greenery forest! how stylish!

For Female guests① Auto-locked female bathroom and shower space
Speaking of the most inconvenient communal facilities for female guests,
there you are shower room, changing room and bathroom.
But no worry!
They are all safe in ComiCap.

Special key is being given to the female guests only.
Unlocked the room with your key,
then you can access to the shower room, changing room and bathroom.

For Female guests② Cosmetic cleansing, ironing, massage machine
Iron, Facial Equipment, Massage machine, Megrthythm (Eye mask), Cosmetic Cleansing, etc.
All are kindly service to female guests.

At the female washbasins,
you can use all of these for free.
You can only find these items at the female washbasins.
Facial Equipment, Massage machine, Megrthythm (Eye mask), Cosmetic Cleansing.
All are popular items in Japan.

This service is more than as in an ordinary hotel.
(You can borrow facial equipment, iron, massage machine for free at the reception counter)

Shampoo BOTANIST is available at the female shower rooms.
Unlike the male shower room, the female private shower room is completely private, so people who are concerned about the communal facilities can use it comfortably.
Here's what you should pay attention to! Shampoo and rinse!
"Botanist" popular of its natural ingredients.
-
Official website
(Japanese)
-
For reservation
(English)
-
For Plan details
(English)
-
Reservation Confirmation/Cancellation
(English)

Related Article