Festivals in Japan | Join a Japanese Festival (Matsuri)!! Tsuruga Festival in Fukui Prefecture
Places to Visit between Kyoto and Tokyo
On September 1st, JAPANKURU went to a small city in southern Fukui Prefecture called Tsuruga (敦賀市). Normally the top travel areas are Tokyo, Osaka, Kyoto, and Okinawa, so for many, this may be the first time you've seen anyone mention Fukui Prefecture. If you were to ask Japanese people about Fukui, most people will say they have no idea what's there. That being said, why did we decide to go all the way out there? Every year starting in the beginning of September, a 4 day matsuri (festival) is held in Tsuruga, Fukui. This time, due to a massive typhoon, the festival got rained out on the last day, which is the main event. Even still this festival left us with a great experience. Of course, there are festivals all over Japan to visit, but this time we would like to introduce Tsuruga Festival (敦賀祭り) and explain why we decided to check it out.
What Type of Place Is Tsuruga, Fukui?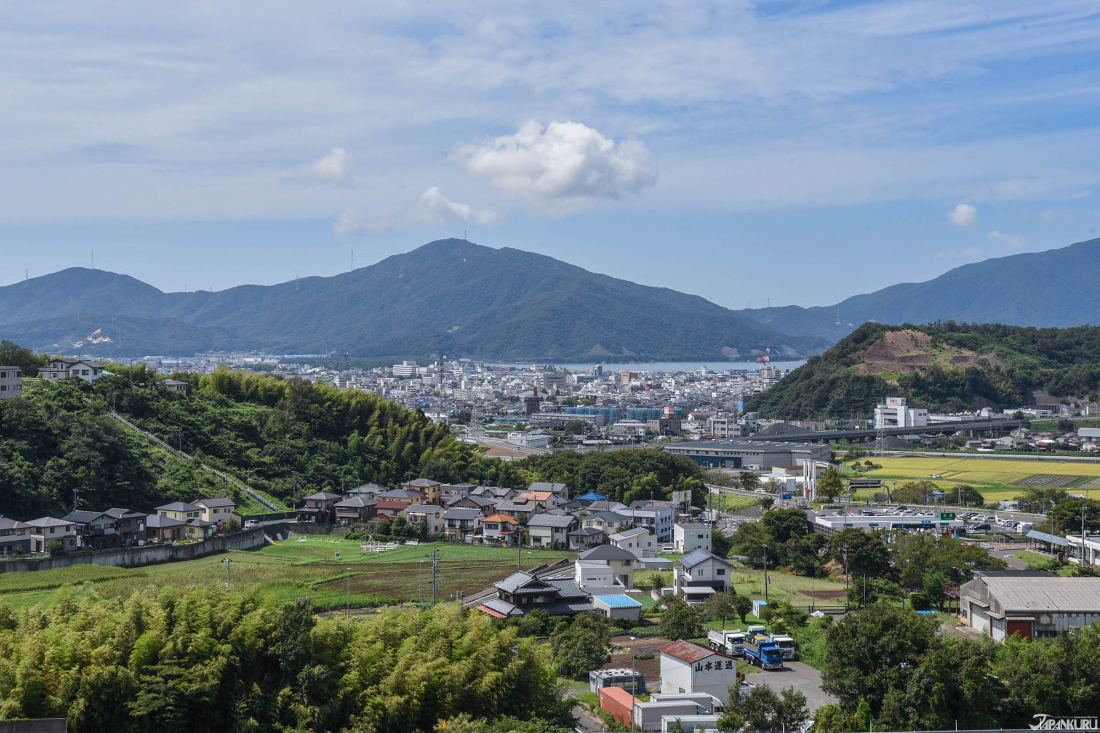 Fukui Prefecture is located in the central area of Japan, in the Chubu Region. Tsuruga City is a small town situated in the middle of Fukui and has a population of about 6,600 people. When it comes to the Tsuruga Festival held at the beginning of September every year, this quiet, calm city shows its colors creating a festival so great that it even caught Tokyo Disneyland Mickey Mouse's attention!

Access to Tsuruga, Fukui:
➤From Tokyo: Take the bullet train Hikari to Maibara Station (米原駅).
Change to the Limited Express train Shirasagi and take it to Tsuruga Station (敦賀駅).

➤From Osaka:
From Osaka Station (大阪駅) take Limited Express train Thunderbird to Tsuruga Station (敦賀駅).

➤From Kyoto:
From Kyoto Station (京都駅) take Limited Express train Thunderbird to Tsuruga Station (敦賀駅).
Tsuruga Festival (敦賀祭り)
Tsuruga Festival is held every year in September and locals call it the "baka matsuri", because everyone goes absolutely crazy during this time. Normally, festivals in Japan are held during the summer so that families can go, but the Tsuruga Festival is held after summer break and school has already started. If participating, children can get out of school and adults can take off work with a full excuse, so you can imagine how important this festival is to the people of Fukui. The festival has various events and themes, creating all sorts of community exchange and experiences unlike any other festival we have been to in big cities like Tokyo and Kyoto.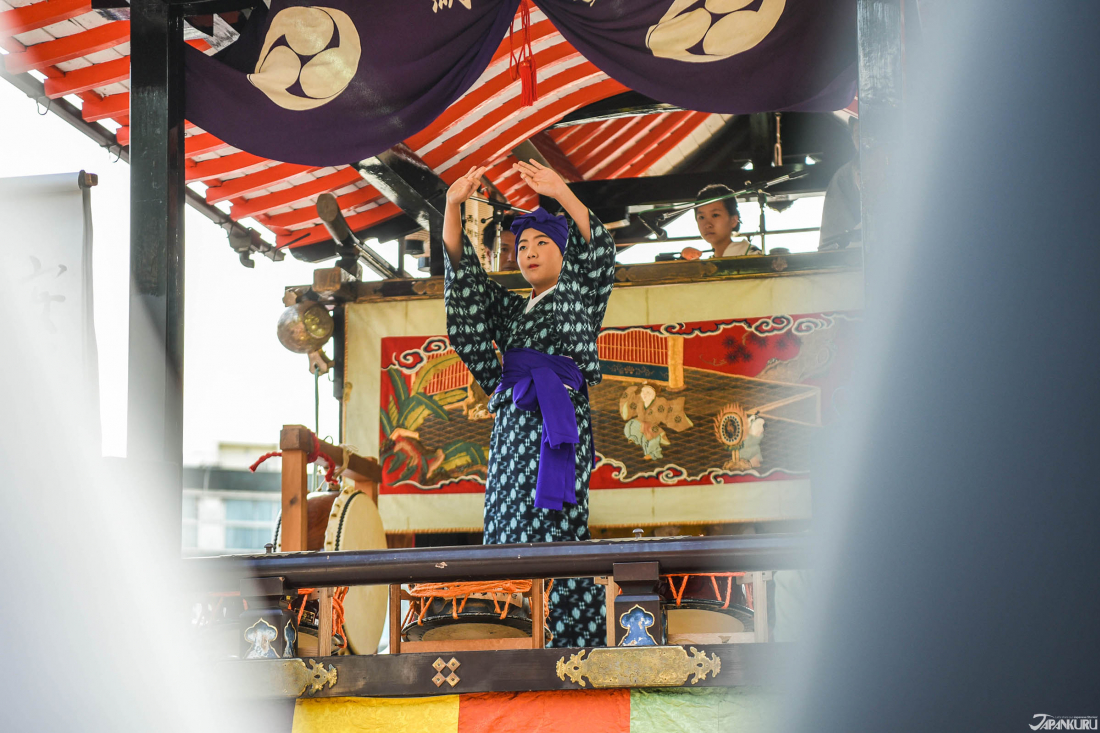 The Beginning of the Festival - Yoiyama Junko (宵山巡行)
This year the festival kicked off with carnival along Kagura-cho Stree (神楽町) on September 1st. The actual matsuri though didn't start until September 2nd, and the way they announce or "notify" everyone the festival has begun is with the Yoiyama Junko (宵山巡行). The people of Fukui consider Yoiyama Junko such an important part of Tsuruga Festival because they believe that without it, the festival can't begin. On this decorative portable shrine (basically like a float, called "dashi" 山車 in Japanese) that they call "Yoiyama", are children dancing along to traditional Japanese music being playing and sung behind them. All the meanwhile they are dragged towards Kehi Shrine (氣比神宮) to get blessed by the Shinto Priests, then all around the city.
We have seen this a few times at other festivals, but never have actually pulled a Yoisha or anything like that before! Normally one would expect only people living in the area can participate in such a sacred and traditional event, but in reality, Tsuruga City welcomes everyone interested to join! Regardless of whether you live or where you're from, anyone can experience what it is like to be involved in a Japanese festival!! And that is the main reason for our visit.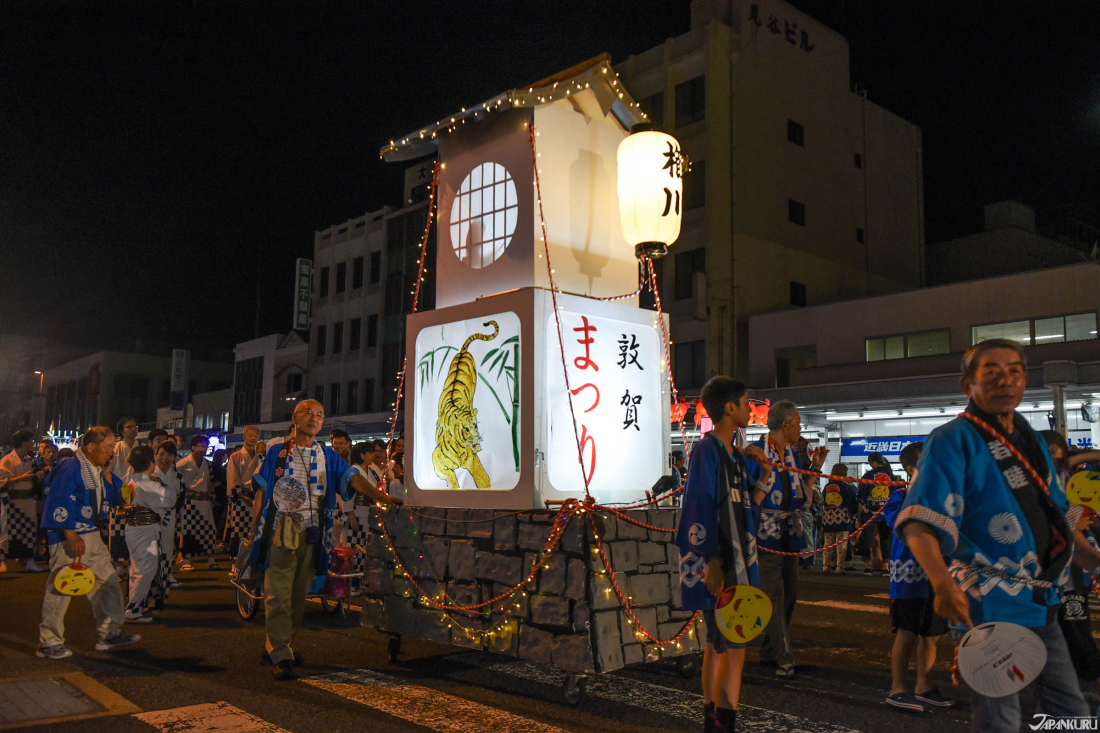 Night Folk Dancing Parade (民謡踊りの夕べ; Minyo Odori no Yube)
Later that night we got an even better chance to communicate and get in touch with the locals at the Tsuruga Festival's Night Folk Dancing Parade. During this parade, wards within the city represent themselves by making a "float" to pull and dance around, along with wearing different robes (ハッピ; happi) and yukata. There are 3 folk dances performed during the festival but are nothing too complex. Since we got to participate in one of the wards, they taught us the dances!

Around 3,000 people gather for the Night Folk Dancing Parade. Aside from dancing, there are plenty of local food stalls and dinosaur mascots walking around. It is a lot of fun and definitely worth seeing.
Portable Shrine Parade (神輿渡御; Mikoshi Togyo) 
Mikoshi (often translated as "portable shrines") are used to carry gods around the town during a Shinto festival. The gods usually reside in these shrines which are dedicated to them, and it's only during these festivals that they ride on the mikoshi around the town to visit those who celebrate and pray to them. This tradition is known as "Mikoshi Togyo" (神輿渡御). Similar to the Folk Dancing Parade, each ward has their own mikoshi to represent, dressed in uniform. The ward we tagged along with wore all white with a few blue decorations and carried a child's mikoshi. Despite being a child's mikoshi, it got heavy real quick!! How they do that every year is beyond us.
After getting changed in the traditional clothing at the ward's assembly hall, we began the Mikoshi Togyo! We carried the mikoshi around the town on the way to Kehi Shrine, stopping at buildings and houses to toss the mikoshi up in the air. If someone or a company makes a donation, they hang an honorable white piece of paper received from a priest on their front window. When those carrying the mikoshi see that, they toss the mikoshi up showing thanks. Once arriving at Kehi Shrine, there was a short blessing ceremony, then off we were again to carry the mikoshi around other areas in town. There were a lot of opportunities to drink Japanese sake to our surprise, and it was all a part of the tradition. Got to admit those few drinks made us not notice how heavy the mikoshi actually was.
Other Points of Interest in Fukui - Rainbow Line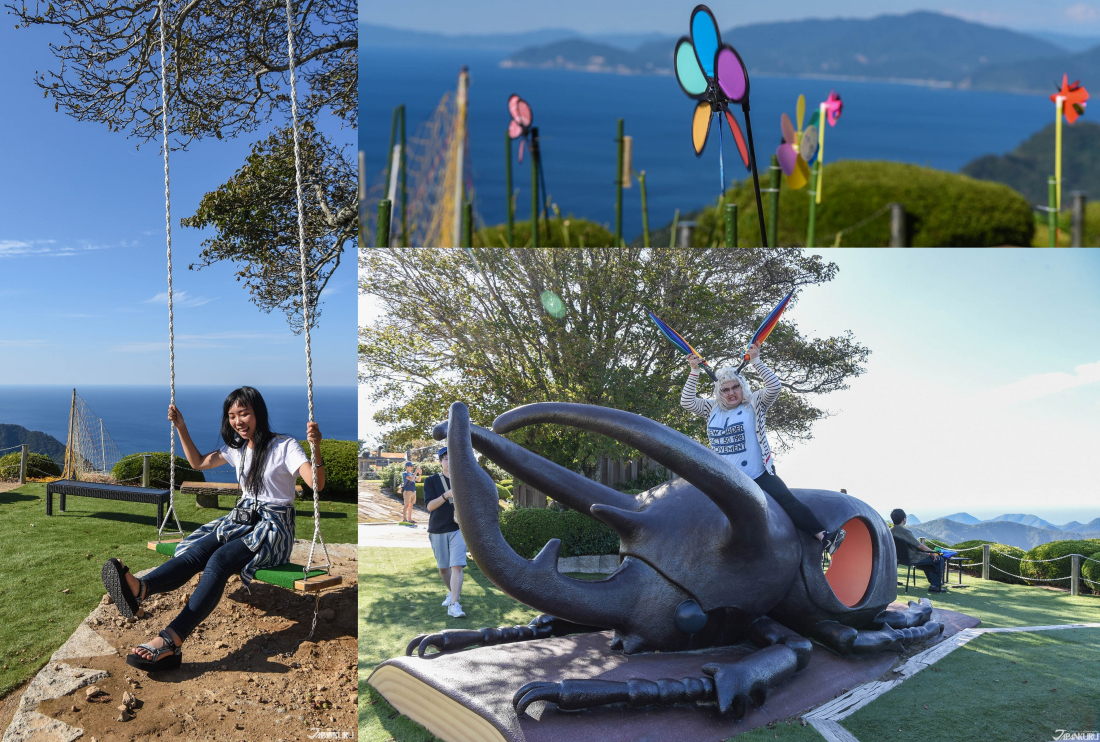 What about if you go to Southern Fukui not during the festival? Then you should really visit Rainbow Line in Wakasa. Take a one seater lift way way up to the top of Mt. Baijodake and get the best view of Mikata Five Lakes which consists of Lake Mikata (三方湖), Suigetsu Lake (水月湖), Lake Suga (菅湖), Lake Kugushi (久々子湖), and Lake Hiruga (日向湖). Why call it Rainbow Line though? The owner explained that it is because the five lakes all have different water quality of salinity (one is ocean water, the middle 3 brackish lakes (a mix of ocean water and fresh water), and the other is freshwater) which makes the colors different of each lake. Then with the sunlight shining on each of the lakes, new shades of blue and green appear creating a "rainbow".

What we loved about this place was that it isn't only a place to for a lovely view. There are many other things to do and see to make the wide open space that much more enjoyable. From gardens, lover rocks, swings, and hammocks, this place is unlike any summit we have ever seen before. Another very fun thing to do is visit Kawarake (かわらけ) near Tengu-do (天狗堂) to write your wishes on a clay plate and throw it up out towards the lakes. You also don't need to worry about the plates after you throw them because they dissolve in the rain.
✴Rainbow Line (レインボーライン )
18-2-2 Kiyama, Wakasa-cho, MikataKaminaka-gun, Fukui
Google Maps
⏰8am~6pm
*Operating hours are known to change seasonally, so please check the homepage
💴Park Entrance Fee: Adult 800yen, Child 600yen (ages 6 to 15), Disabled discount fare 600yen
💻Rainbow Line homepage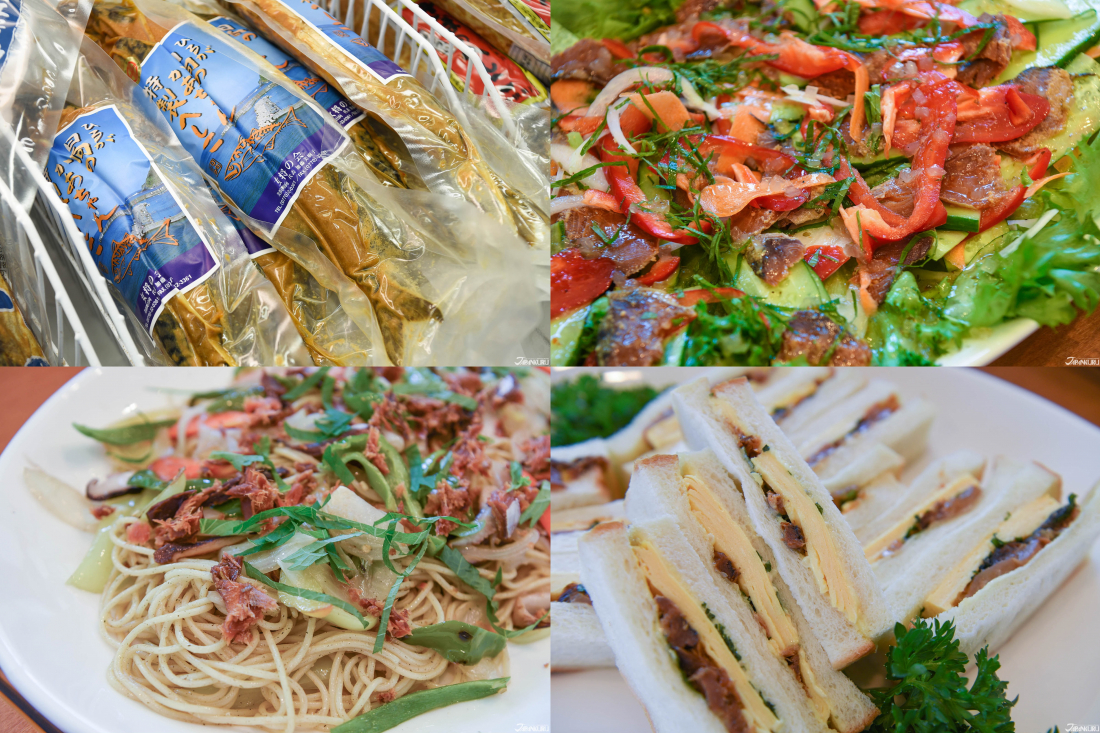 Tradition Soul-Food of Fukui - Saba Heshiko (Pickled Mackerel)
Heshiko is the ultimate soul-food and traditional product that regions Wakasa and Obama are famous for in Fukui Prefecture. Heshiko, or pickled mackerel, is pickled in a mixture of fermented rice bran and brine, and for many people who are not used to dishes like this look a bit...wow. Years ago, Fukui mackerel was originally used but due to overfishing, there aren't anymore. So now all the heshiko served in Fukui is from Norway.
There are plenty of restaurants where you can try Heshiko, but if the appearance is a bit much but you are curious, you can always go to
Aurora
. There you can try dishes like heshiko sandwiches, heshiko spaghetti, and carpaccio. Why did this restaurant decide to take pickled mackerel and turn it into carpaccio? Of course, one reason was to get younger people to try it, but the main reason is a bit deeper. Traditionally people would eat heshiko for breakfast with a bowl of white rice or as a snack with beer, which really gets down to only one way of being prepared. Resulting in people getting sick of heshiko and stopped buying it. When she heard that, she got the idea of cutting the heshiko up into small pieces and preparing it into more Western style dishes. Which showed the city people new ways of eating heshiko that they have never thought of before.
✴
Aurora (オーロラ )
33-44-1 Kugushi, Mihama, Mikata-ku, Fukui
Google Maps
⏰8am~10pm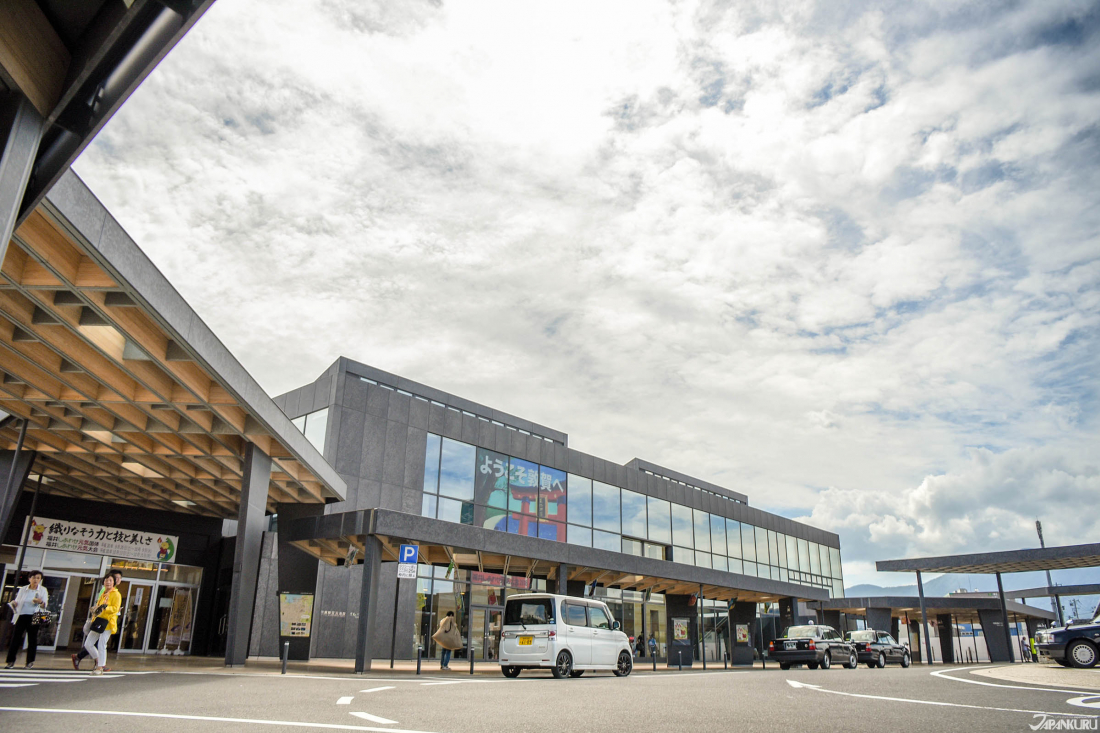 We had the time of our lives joining the Tsuruga Festival!
Won't you join next year too?!!

Access to Tsuruga, Fukui:
➤From Tokyo: Take the bullet train Hikari to Maibara Station (米原駅).
Change to the Limited Express train Shirasagi and take it to Tsuruga Station (敦賀駅).

➤From Osaka:
From Osaka Station (大阪駅) take Limited Express train Thunderbird to Tsuruga Station (敦賀駅).

➤From Kyoto:
From Kyoto Station (京都駅) take Limited Express train Thunderbird to Tsuruga Station (敦賀駅).
Related Article