"Dashi": About This Japanese Soup Stock That's Sold in A Vending Machine
Surely if you love Japanese food, by now, you would have tried dashi. But from a vending machine...? Maybe not.
Haneda Airport, where 87,502,720 people travel in a year.
Have you realised all the interesting vending machines that they have there?
Even one of them?

Today we want to introduce you to this specific one here.
This one here is actually a vending machine that sells "Dashi" 【出汁:だし】.

What is dashi?
Dashi means soup stock in Japanese and if you love Japanese food, you might have already tried it.
It's used in Miso soups, noodle broths, any kind of stocks you will find are called Dashi.
It's usually made of Bonito, Kombu Seaweed and sometimes Shiitake mushrooms.
There are other forms of Dashi as well, but we won't go too deep into that this time.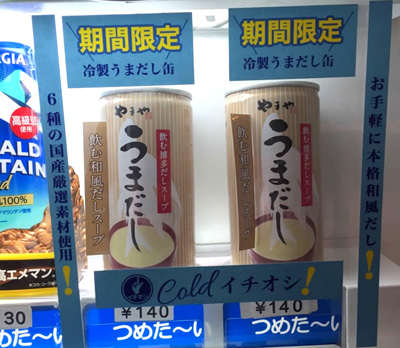 So, this one here is one of those Dashi sold in a vending machine, AND, it's sold chilled!
Can't really imagine how it would taste, but according to those who have tried, they say it was really good.
They said it matches Onigiri (rice balls) well.

Be aware that this one is a kind that you can drink straight from the can, but there are some that you actually can only use in cooking, so don't get them confused.

So, if you're leaving from Haneda Airport, there's something to look forward to trying next time!
Basic Info
Columnist

PRESSMAN

SHOW COLUMN