5 of the Weirdest 2021 Lucky Bags We Can't Wait to Get Our Hands On This Winter
Hoping for some unexpected surprises this holiday season? These fukubukuro are the way to go.
Fukubukuro (福袋), often called "lucky bags" in English, are a fun Japanese tradition for holiday shoppers. Since Japanese culture considers it bad luck for businesses to start the new year with lots of old stock, around the turn of the century Matsuya Department Store started offering their own spin on a clearance sale, collecting bags of old stock, and selling each one at a heavily discounted rate ー all without letting customers peak inside! For the past hundred years, the trend has spread to stores all around Japan, particularly taking root in trendy clothing shops where last season's trends quickly get overtaken by new styles. In recent years, fukubukuro have not only become ubiquitous, but many stores have begun offering special limited-edition items for their lucky bags, and even started giving customers a sneak peek at what's inside. Of course, sometimes what's inside really is quite surprising. Here are just a few of the most unusual and intriguing fukubukuro being offered at the end of 2021.
1. Pudding, Inside Arita-yaki Porcelain
Arita-yaki refers to the fine porcelain made in and around the town of Arita, in modern-day Saga prefecture. The area is where much of Japan's early porcelain was manufactured, and products made there are still popular in Japan and beyond, so it's no surprise that these ceramics have found a place in a fukubukuro. But this lucky bag isn't just a sack of loose discounted porcelain! This year, local Saga cafe and retailer Arita Porcelain Lab is offering a fukubukuro that contains a lovely set of three porcelain cups... each of which contains what they call "the ultimate pudding." What makes it ultimate? You'll just have to taste it to find out.
Price for three cups and three beautiful puddings: 6370 yen
Find it here.
2. Orion's Okinawan Beer
Founded in the late 50s, Okinawan beer brewery Orion Breweries is the 5th largest in Japan, but the beer isn't nearly as widely available as you might expect. Orion Beer is popular around Japan, but it's still something of a specialty product outside of Okinawa. Fortunately for fans of the brew, though, the brewery is offering a special fukubukuro this year with plenty of Okinawan beer, and some extra island-style treats as well. The lucky bags come with either four or seven different kinds of Orion beer, plus extras like a set of Okinawan glass tumblers to drink out of, Okinawa soba sets, or Orion beer nuts. Refreshing!
Price for the ideal beach-side beer kit: 6,600 to 13,800 yen
Find it here.
3. Fabric Scraps
Why would anyone ever pay for mystery fabric scraps, you ask? What is so exciting about a bag of leftovers? Well, these special scrap-filled lucky bags come from Kokura Shima Shima, a shop that specializes in traditional Kokura-ori textiles, woven in the castle town of Kokura (actually not so far from Arita). This traditional fabric is strong, soft, and commands a fairly high price when purchased in large quantities. So these scrap-filled lucky bags are actually popular among small-scale crafters who only need little pieces of fabric, and appreciate the variety.
Price for a pile of fabric scraps: 1,100 to 5,500 yen
Find it here.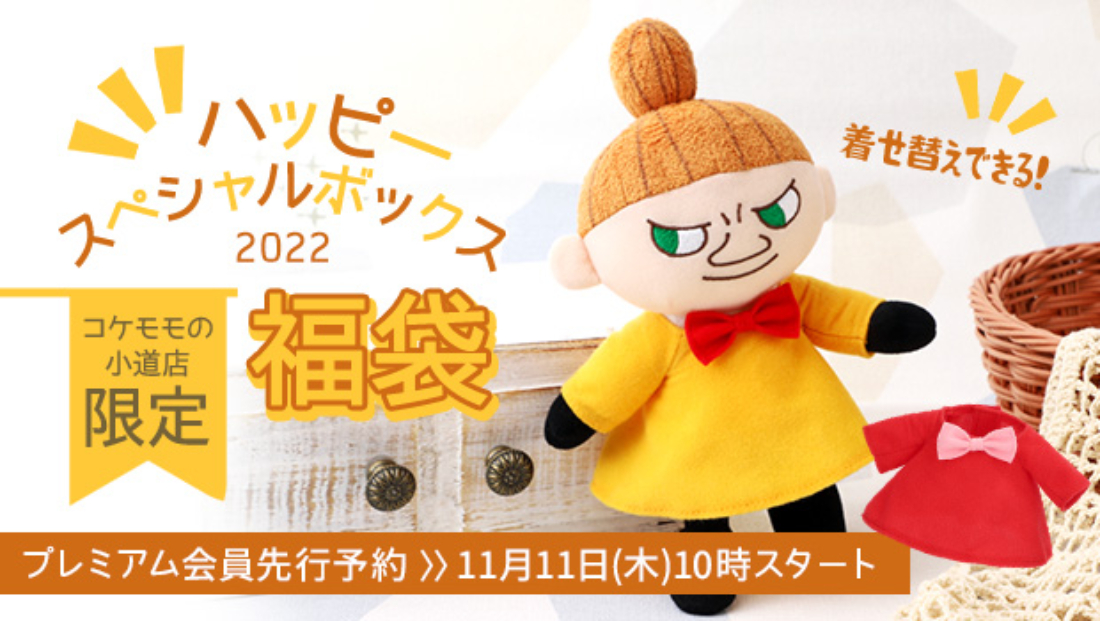 Image Source: Official Website
4. Adorable Nordic Characters (AKA Moomin)
The cute, round characters of the Moomin series may come from a Finnish illustrator, and originally have spoken Swedish, but they've found fabulous popularity in Japan, where there's even a Moomin theme park! And so, where there's demand, supply must follow! For all the Moomin fans hungry for Moomin merchandise, this fukubukuro is called the "Happy Special Box," and it comes with a limited-edition posable stuffed toy of the mischievous Little My, plus enough other Moomin goods to make the lucky bag worth a total value of 27,500 yen. That's a lot of Moomin.
Price for Little My and lots of friends: 12,100 yen
Find it here.
5. Classical Music
If you're thinking this fukubukuro has anything to do with bags full of sheet music or even musical instruments, you're thinking far more literally than the Tokyo Philharmonic Orchestra. Because this lucky bag holds nothing but beautiful melodies and plenty of surprises. For their year New Year Concert, each year the Tokyo Phil puts on a "Fukubukuro Program," and allows the audience to vote in advance on which pieces they want to hear. That means the pieces played at the concert are a total surprise when buying tickets for the show, and the experience is just like customers buying a fukubukuro without knowing what's inside! The orchestra will perform twice, on January 2nd and 3rd, with soloists Hayato Sumino on piano (on 1/2) and Seiji Okamoto on violin (on 1/3). For classical music lovers, this is a totally unique way to enjoy the fun of a fukubukuro!
Price for an evening of audience chosen tunes: 3,500 to 6,600 yen
Find it here.
Fukubukuro Season 2021/2022
With retailers large and small all over Japan taking part in this unique tradition each year, there are fukubukuro of all kinds out there, and something unique waiting for just about any person looking to splurge for the holidays. What will you be buying for fukubukuro season this year?
For more info and updates from Japan, check Japankuru for new articles, and don't forget to follow us on
Twitter
,
Instagram
, and
Facebook
!
Basic Info
Columnist

Shopping with Sophia

Between collaboration items and special-edition limited-time-only goods, Japan has some pretty interesting products, and if you're anything like me... well, you can't help but be interested!

SHOW COLUMN
Related Article