Yukata and Kimono Rental Shop in Asakusa - Aiwafuku
ร้านเช่ากิโมโนและยูกาตะใน Asakusa
Become a Japanese Traditional Kimono Beauty
You must have seen people wearing their yukata or kimono and walking on streets in Japan. Have you ever thought about doing the same thing in your Japan trip? Do you know that there are more yukata and kimono rental shops in Japan that provide rental services to foreign visitors now. Today, we will transform you into a kimono beauty and experience traditional Asakusa in a different way!
Aiwafuku
Actually Aiwafuku was introduced by many local media previously, for example, Morning Bird from TV Asahi, and magazine Zipper etc. By the way, there are 3 Aiwafuku shops near Asakusa Station. Don't worry you can't find it!
3 Amazing Things About Aiwafuku 01. Huge Collections of Yukata and Kimono
Not just the patterns and styles, all kinds of sizes can be found. Selection of accessories that go with the rental yukata and kimono are great too. By the way, you can deposit your personal belongings here first.
02. Nice staff and services for foreign visitors
As we have mentioned, you can find staff from Taiwan working here too. So you can communicate with them in Chinese or simple English!
03. Small Surprises!
Look how nice the staff helped me to tie a Minnie Mouse at my back!

By the way, there is a 2+1 promotion now, so you can enjoy a better deal if going together with other 2 friends.
Kimono Rental Steps 01. Make a reservation in advance
You can make your reservation by phone, email or the official reservation page. Actually you can also make your reservation on the day you rent the kimono today. However, please note that there are chances that rental may not be available if you don' have advanced booking.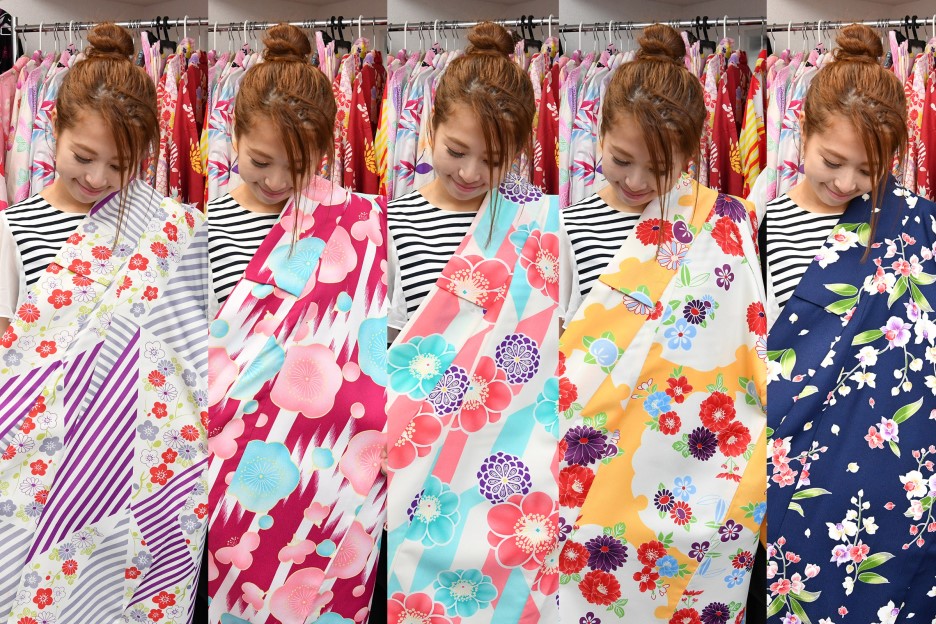 02. Choose your kimono
Look how many choices are there for you to choose!! Collections for ladies, men, and children in all sizes are available!

After picking the kimono that you like, professional staff will help you to put on the kimono. Please forgive us that we can't show you the pictures while we are getting changed. Actually we wore many different pieces of clothing underneath to make the kimono looked better!! Lastly, pick a belt (Obi) that you like to complete the whole kimono look!
03. Hairstyles to go with you Kimono look
Of course we need to set our hair to match with our kimono look. Don't worry, at Aiwafuku, professional staff will help you to make a simple hairstyle to go with your look. Just pick the hair accessories that you like!
04. Choose a bag and a pair of wooden sandals (Geta)
Kimono for Men
Comparing to the selection for women, the patterns and styles for men are simpler. By the way, the staff will put on lots of towel underneath the kimono for men too to make the kimono looks better!
Free luggage deposit service
You can deposit your personal belongings like bags and luggage at the shop, so you can enjoy Asakusa without carrying a lot of things!

You can keep your luggage until 17:00 of the rental day. Of course, valuable items like passport, money and mobile phones, it is better to keep them with you!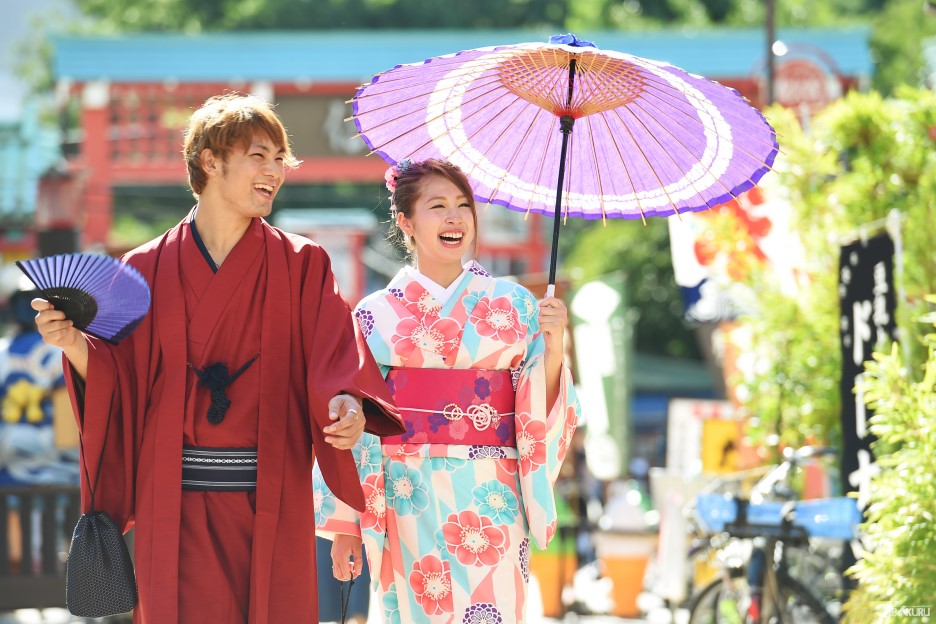 Yukata and Kimono Rental Shop in Asakusa - Aiwafuku
We had a great time experiencing Asakusa in our kimono. Do you want to have this special experience just like us too?
Please note that the return time is at 16:30. If you want to extend the rental and return it the next day, you can contact the shop during your rental time or even let them know when you make your reservation. Just add 1,000 yen, you can return the kimono to them the next day before 16:30.
Next time when you come to Japan, you can also rent a yukata or kimono and experience Japan in a special way just like us!!
More Details:
JAPANKURU Blogger
Wanna get more and share your Japanese stories with us? Please join us on
Google+
!!
See you there! :)