#AkihabaraMaid ✨ Unicorn Parfait at Tokyo's Popular Must Got to Maid Cafe - Akiba Zettai Ryoiki🦄
#AkibaZettai #アキバ絶対領域
All About the Cafe
Akihabara wouldn't be Akihabara without its maid cafes!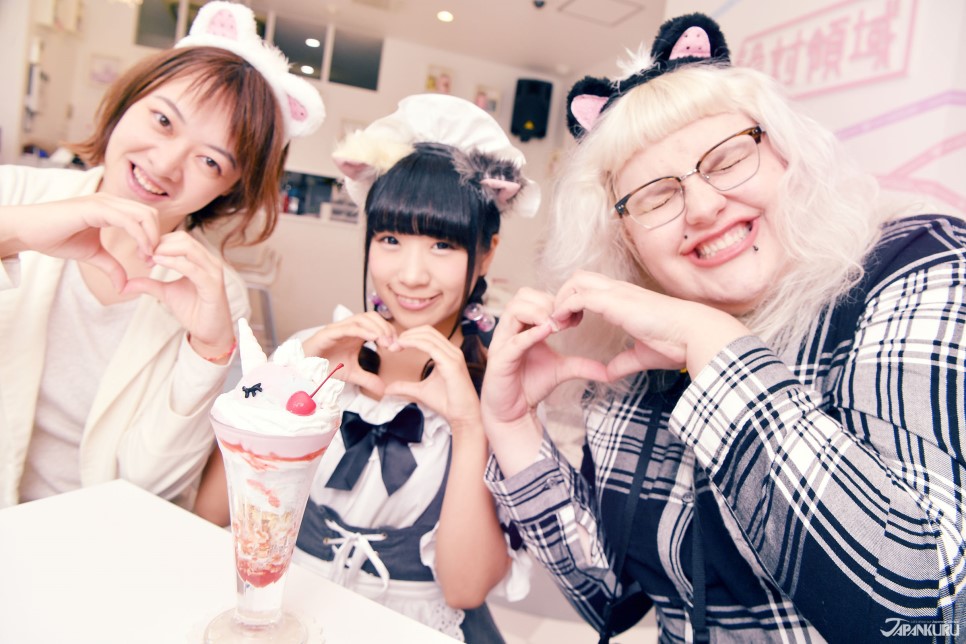 🦄
◩
🦄
◪
🐱
◩
🦄
◪
🦄
◪
🐱
◩
🦄
◪
🦄
◩
🐱
◪
🦄
◪
🦄
Akihabara's maid cafes are known for a number of things:
❶Their "kawaii" (cute) overly girlish and childish maids.
❷A place where otakus get their picture taken
with their favorite maid for an added price.
❸A place where many maids are considered idols
in their own way.
❹And of course, the place to get the ever famous
ketchup art omuraisu (omelette rice, オムライス)
🥚
There are so many maid cafes though, it can be hard to figure out which to go to.
That's why we went searching for Akiba's top maid cafes, ending up at
Akiba Zettai Ryoiki
✨
🦄
◩
🦄
◪
🐱
◩
🦄
◪
🦄
◪
🐱
◩
🦄
◪
🦄
◩
🐱
◪
🦄
◪
🦄
Unlike other maid cafes, Akiba Jettai Ryoiki has a unique concept. It is a place where cats go to repay humans for their kindness. We have never really heard of a maid cafe with a backstory before.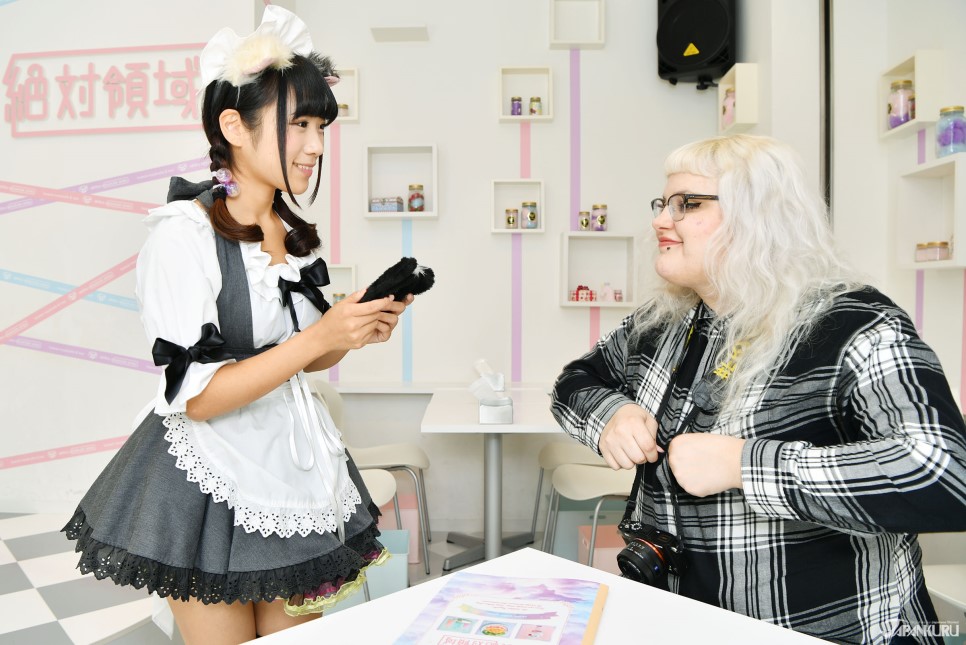 Once you walk in you will be greeted by very peppy maids and handed a pair of kitty ears😻✨
TWO THINGS TO KEEP IN MIND
*Physical contact with the maids isn't allowed*
*Make sure to ask to take a picture beforehand*
Ordering System
Once you are brought to your seat, the maid(s) will go over how everything works.
But just to cover some of the bases:
★
600 yen entry fee/person
🐰
There's a one drink order rule (part of the entrance fee)
★
1hr seating time,
than an additional 600 yen for every extra hour
🐢
When you're ready to order, just say "nyan nyan" (meow meow)!
What to Check Out
🐱

Inside Akiba Zettai Ryoiki

🐱
The interior theme at Akiba Zettai Ryoiki is a mix of Akihabara's otaku culture with Harajuku's kawaii culture.
So you will see a lot of cool anime/manga/movie figurines in pretty pastel colors.
We really liked the mix of the two, it surprisingly worked really well. Even their food fits the theme cute pastel theme!
What we were the MOST excited for~ THE UNICORN PARFAIT!! Lately in the West unicorn themed stuff are SUCH a hit. So we wanted to share it with everyone because we have no doubt this dessert will be popular! It is absolutely delicious and super cute! So simple yet perfect! They really did a great job making it~



◩

Unicorn Parfait 800 yen

We know, we know...pink ramen?! No need to worry though! The maids said that the pink color is taken from beets! No artificial food coloring here! If you don't like beets, you also don't need to worry because it doesn't taste like beets whatsoever. It's just your regular ramen, just made with a little extra love and pink to match the pastel theme.



◪

MoeMoe Pink Ramen 1200 yen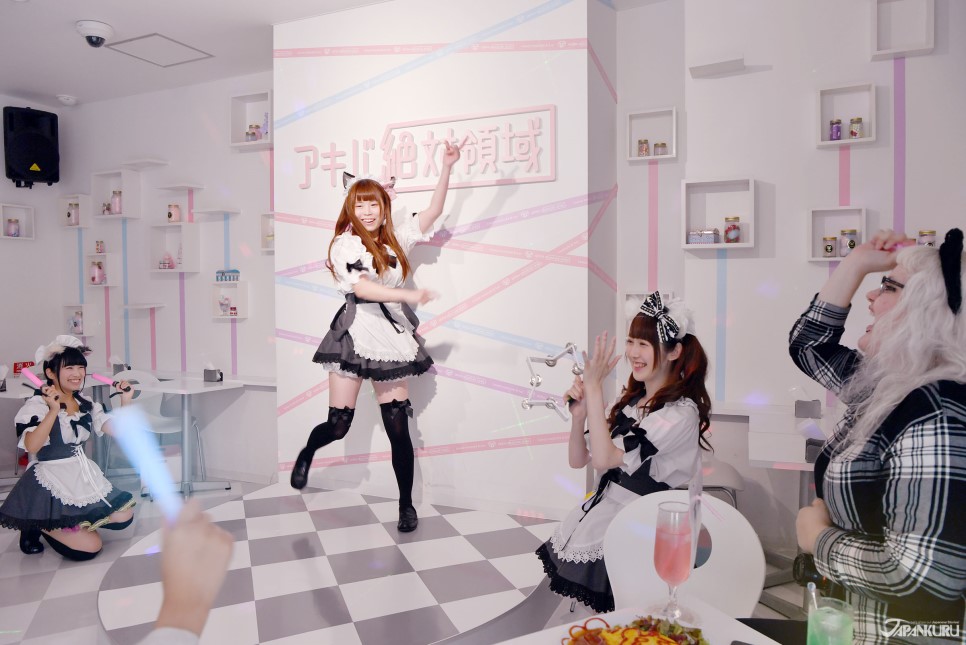 MAID MUSICAL PERFORMANCE
When ordering meals, if you choose "LIVE" from the menu, the maids will give a live performance on the stage in the center of the restaurant.
◩
LIVE menu (3,500 yen each)
- Original cocktail (non-alcoholic)
- Decorated Polaroid photo with favorite maid
- Neko Dance (Cat Dance)
Before leaving we got our picture taken with a group of the maids. There's a number of typical "maid" poses you can do, so if you have a particular pose in mind be sure to tell them! We really didn't so we did the cute and classic hand heart pose💝 Even if you didn't order a maid combo where a Polaroid is included, you can still get a picture for 600 yen📷✨
The maids at Akiba Zettai Ryoiki were super sweet and genuine. The concept of the cafe is what really makes it stand out though. Incorporating its traditional cutesy "moe moe" persona while staying true to its Akiba otaku roots. Plus it's relatively small, making the experience more personal we thought. Next time you go to Akihabara, you should really stop by here! It's said to be TripAdvisor's #1 ranking maid cafe for a reason!

🦄

Akiba Zettai Ryoiki (アキバ絶対領域)


⏰ 12:00〜10:00pm
☎ +81-050-1180-6584

Do you have a favorite maid cafe experience?
We wanna hear about it!


✧

˖

°

Share your stories with us

°

˖

✧



For more interesting topics,
Please click here →

JAPANKURU

to check out our official blog
Be sure to look at JAPANKURU🐶 for more exciting articles every day!!

Or add us on Pinterest and/or Google+ to share your Japanese pictures💖🗾