✪ UNESCO World Heritage Sites of Japan ✪ Travel Nikko's Major Shrines and Temples
Toshogu Shrine‣Futarasan Shrine‣Taiyun Temple‣Rinnoji Temple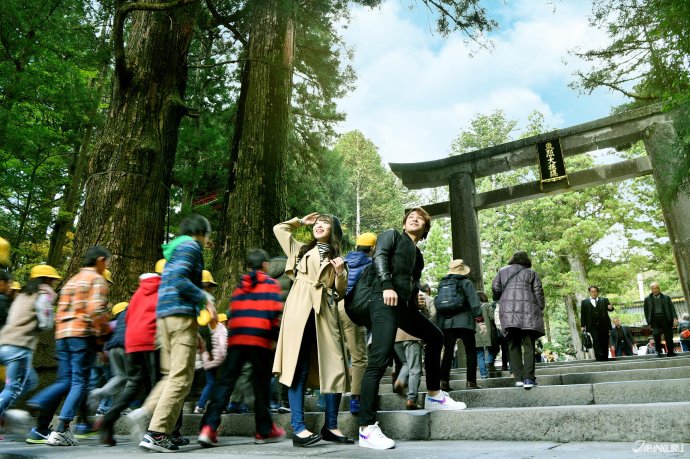 UNESCO World Heritage Sites in Nikko, Japan
The World Heritage city Nikko (日光) is two hours from Tokyo. It's a place where you can enjoy nature, hot springs, resorts, and many cultural and historical masterpieces. We drove around Nikko to check out those places!
There are plenty of World Heritage shrines and temples, but we only went to the 4 main ones:
‣
Toshogu Shrine
(
東照宮
)
‣
Futarasan Shrine
(
二荒山神社
)
‣
Taiyun Temple
(
大猷院廟
)
‣
Rinnoji Temple
(
輪王寺
)
*We got a special tour, learning things that weren't in our tour books!*
You can get to Nikko from different stations/routs, but the
easiest
and
cheapest
way is taking
Tobu Railways from Asakusa Station
. Another plus is at the Tobu Tourist Information Center Asakusa (on the first floor of the Tobu Asakusa Station), you can purchase discount Nikko tickets. There are a variety of passes for international tourists to go with your itinerary.
Tobu Discount Ticket Info (English)
For this specific trip, we got the
Nikko City Area Pass
.
The tickets are 2,670 yen (about $24), valid for two days and gives you access to a lot of areas in the Nikko and Kinugawa Onsen area.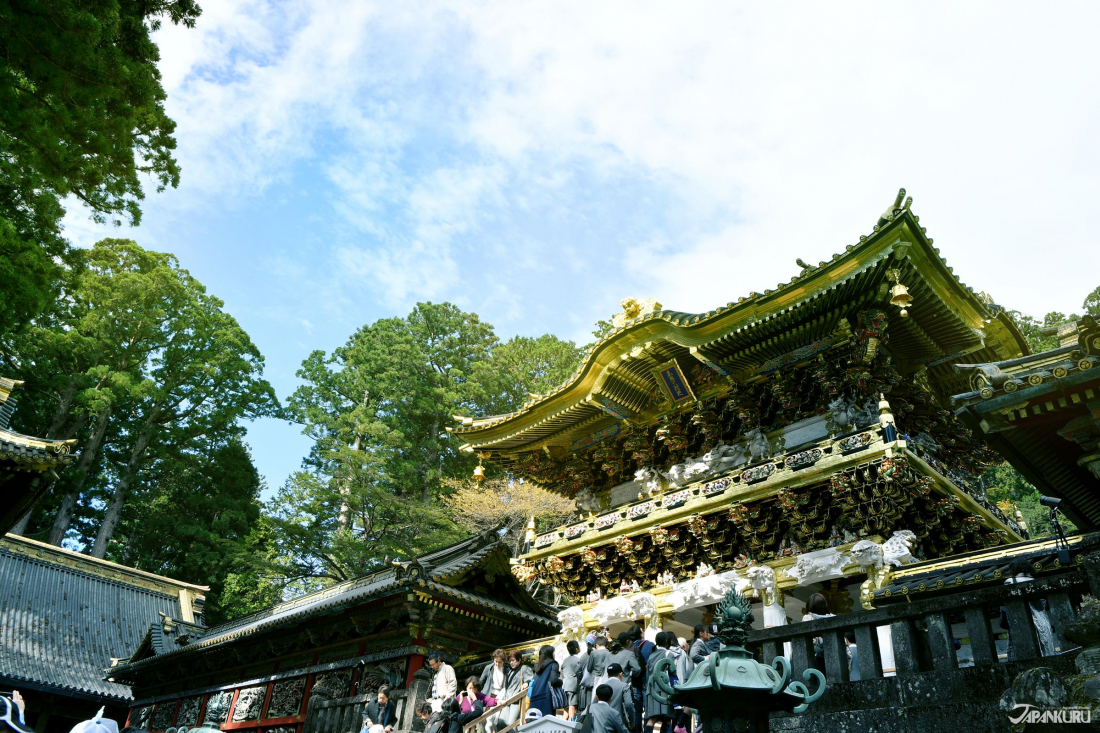 Toshogu Shrine was built in 1617 for Ieyasu Tokugawa, the first shogunate of the Edo period. The shrine consists of 55 buildings and lots of stairways. It's currently under reconstruction, but you can still see a lot and take nice pictures! The Yomeigate is the most famous part of the shrine. It's covered with cravings of wise men, children, lions, and other traditional designs. The lavish engravings and colors of the shrine was later redone by the third shogunate, Iemitsu Tokugawa (Ieyasu's grandson). These are the parts that makes Toshogu Shrine so famous and said to be the most beautiful shrine in Japan.

⏰Hours: 8am~5pm (4pm from Nov. to March)
*Admission ends 30mins before closing
The Sacred Stable (Shinkyusha) was where the sacred horses were kept. There weren't horses when we went unfortunately, but if you looked closely you'd see the monkeys carved around the stable. Where most people know this spot for the three wise monkeys, but we were surprised to hear that there is so much more than that!

You'll notice many of the buildings decorated with mysterious animals...can you guess what they are though?! You may have guessed the right is an elephant, but the left is a giraffe! Why do they look that way? It's because Japan didn't have a lot of these exotic animals, so they had to guess what these animals looked like going off what they read/heard.

The "Sleeping Cat", a national treasure created by Hidari Jingoro. On the other side of this piece are 3 birds! The story is the cat is originally there to protect the grave of Tokugawa. Normally if a bird is around a cat, the cat would eat them. However, the cat is sleeping! So it's a symbol showing that there is so much peace the cat doesn't need to kill the birds and can just rest.
⓶ FUTARASAN SHRINE (二荒山神社)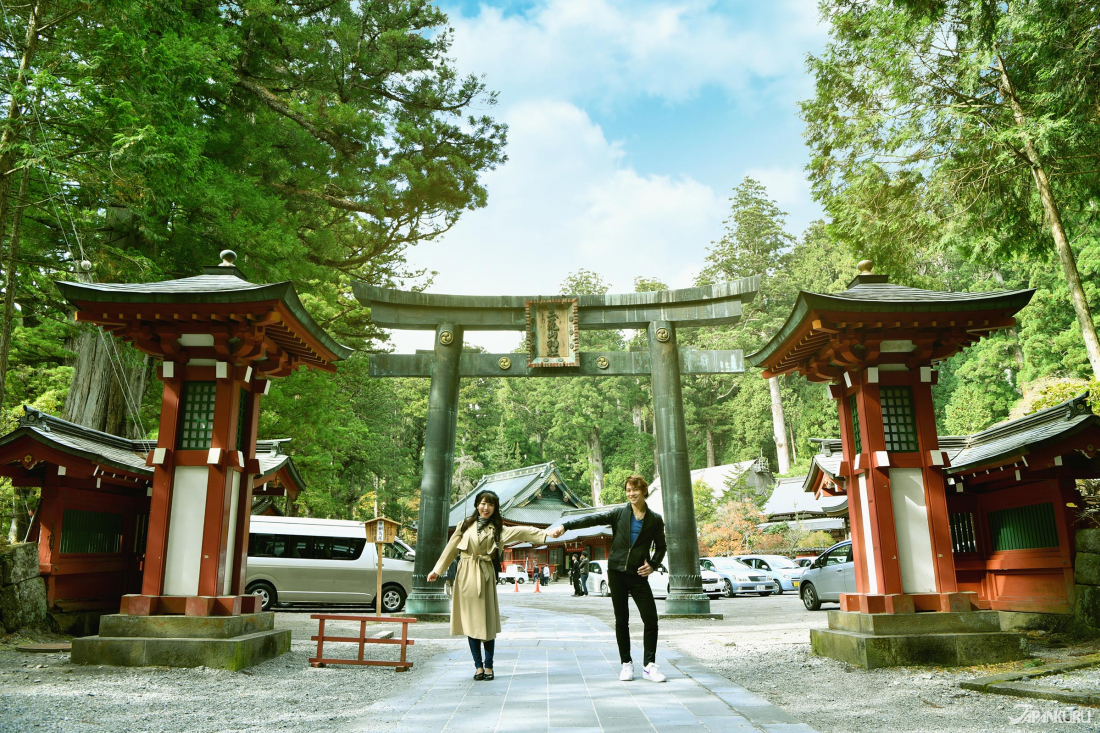 Futarasan Shrine is another shinto shrine that is right next to Toshogu Shrine.
Where Toshogu is the most popular of the two,
Futarasan is the oldest.
Originally dedicated to Nikko's mountain deities,
it's a popular spot for couples and those wishing for love.
There are many parts for rituals for couples to do.
It's believed to bring them happiness or marriage!

⏰Hours: 8am~5pm (4pm from Nov. to March)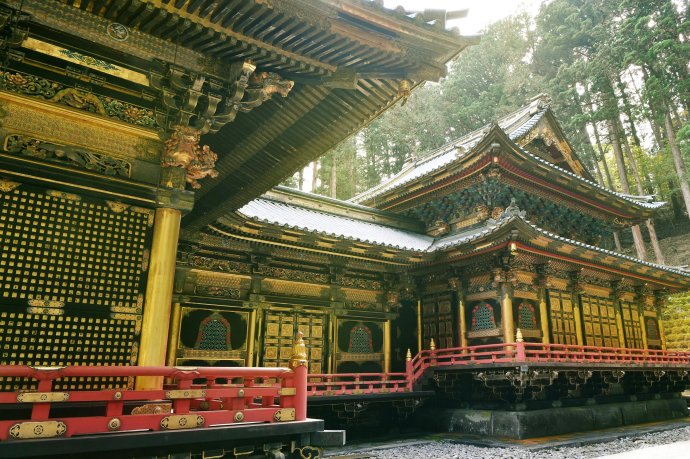 The Taiyuin is the mausoleum of the third Tokugawa shogunate, Iemitsu, grandson of Ieyasu (who is at Toshogu Shrine).
As mentioned before,
Iemitsu reconstructed the Toshogu Shrine,
so you will see a lot of similarities in the lavish design.
This is where people go to pray to Iemitsu.
The hall of worship and inner shrine are connected making an H shape.
There is also another mysterious animal!
See if you can find the tapir!!

⏰Hours: 8am~5pm (4pm from Nov. to March)
The

Sanbutsudo Hall

of

Rinnoji Temple

is designated as an important cultural property as the largest wooden building in East Japan. It was built in the Heian era, and currently being refurbished but said to be completed after 2020. Inside are huge golden statues of about 7.5 meters tall, of deities Bato Kannon, Amida, and Senju Kannon.

‣Bato Kannon

- traditionally popular among warriors, especially before a battle, Bato Kannon was believed to protect them from illness and death. Now farmers are mainly the ones who come to pray to Bato to protect their farm animals (hence the horse head).


‣Amida

- Amida is known as one of the meditation and wisdom Buddhas. You are most likely to see Amida and the 4 other wisdom Buddhas around Japan.


‣Senju Kannon

- Known as "Kannon of the 1000 arms", she holds many items in each hand to help save you. Things such as a spear, arrow, and mirror.




Related Article