Monkey Park in Japan 🐵 Take a Trip to a Monkey Park near Tokyo
Visiting Nasu World Monkey Park on Your Trip to Nasu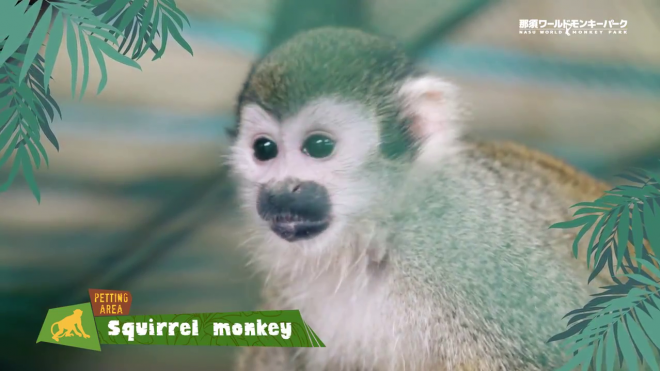 Finally, the third zoo of our animal series,
NASU WORLD MONKEY PARK
(那須ワールドモンキーパーク)!
To help you recall, in the previous series of zoos, we emphasized that you can get up close to the animals, but most of them you can't touch. Now, however, we want to introduce an animal park that you can interact with these cuties! Imagine a Japanese monkey cafe (can you imagine such a place?!❤), and double it!!
🐹Other Nasu animal series articles🐘:
🐧
Nasu Animal Kingdom
🐅
Nasu Safari Park
Follow Us inside the World Monkey Park and Play!
Petting Area (ふれあい広場)

In addition to the getting to pet rabbits and sheep, the stars of the petting area are the monkeys! Hyper monkeys jumping and climbing from one place to another like lemurs, squirrel monkeys, and even Japanese macaque (famous for being the monkeys in Aomori Prefecture's hot spring snow monkeys)! You can look at them from outside the fenced area, but going inside and interacting with all the animals is really fun and a once in a lifetime opportunity!🐵❤🐍 To see a list of what animals you can interact with, check their website here.

Monkey Playhouse (サル劇場)

For those that love watching the amazing things animals can do, showing off how intelligent they actually are, you should visit the Monkey Theatre! Each monkey (and even a cute kitty😺) has their own personality and specialty in the performance, so you are sure to see different skills and performances.

⏰Show times: 10:30, 1:00, 3:00
*Performance lasts approximately 30-40mins
Monkey Theatre page here (JPN)

Nasu Elephant Forest (ゾウの森)

Yes! They have elephants you can ride at Nasu World Monkey Park! You can also feed them afterwards and say "otsukaresama!" (thank you, good work in Japanese)

Additional fees are required, please check the website for more info.
🐘⏰9:00-4:45pm (buy tickets until 4:30pm)
1. Elephant Ride (ゾウライド): 2,000yen
↪ Take a ride around the area
2. Elephant Trek: 3,000yen
↪ Go around the mountain path
🍏 Feeding: 1 bucket of fruit for 500yen
🐒
N
A
S
U
W
O
R
L
D
M
O
N
K
E
Y
P
A
R
K
(那須ワールドモンキーパーク)
🏢6146, Takakuko, Nasu-machi, Nasu-gun, Tochigi
⏰9:00am-5pm, Weekends and holidays - 9:00am-5:00pm
💴Adults 2,100yen (middle school and above), Children 1,200yen (age three to elementary school)
🚉Get off at JR Kuroiso Station (黒磯駅) and take the Toya Bus (東野交通バス)
that is headed for "Highland Park" (ハイランドパーク行き), get off at "Rindo Lake" (りんどう湖) and walk about 10mins.
💻
Japanese official page
Stay tuned for new, original articles every day on
JAPAN
KURU
🐶.
Or add us on
Google+
,
Instagram
,
Facebook
to share your Japanese pictures💖🗾
Related Article