A breathtaking show in ROBOT RESTAURANT in Shinjuku Kabukicho!!
2000 yen off discount coupon for visitors!!
Interesting Sightseeing Spots - Kakukicho in Shinjuku
Shinjuku is not only a popular spot for foreign visitors, it is also a busy place for Japanese to work, shop and hang out with colleagues and friends at night. Actually Shinjuku has the largest moving population per day! There are over 3.5 million people come to or pass by Shinjuku Station everyday!

In Shinjuku, you can find the famous Kabukicho and other shopping centers on the east side, high-rise commercial buildings on the west side, and bus terminals on the south side. So no matter where you go, you can experience the difference atmosphere of this great place!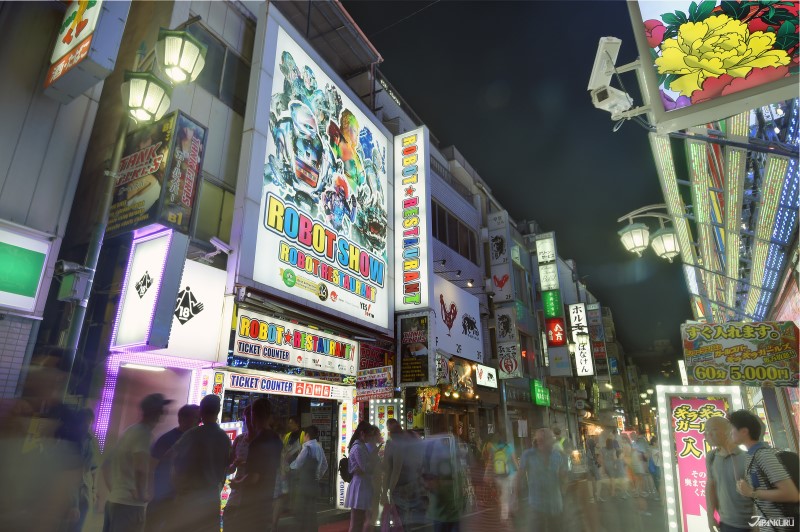 Places that you should visit near Kabukicho
Let's eat something first before we watch the robot show! Just across the entrance of Kabukicho, there is the famous and delicious ramen shop "Taishoken". We found a 2,000 yen off coupon for the ROBOT RESTAURANT!

Do you know that ROBOT RESTAURANT is selected by TripAdvisor as one of the most wanted sightseeing spots in Japan? Other ranked in spots are famous Kyoto and hot springs in Japan etc, so you can see how famous this show is among foreign visitors!!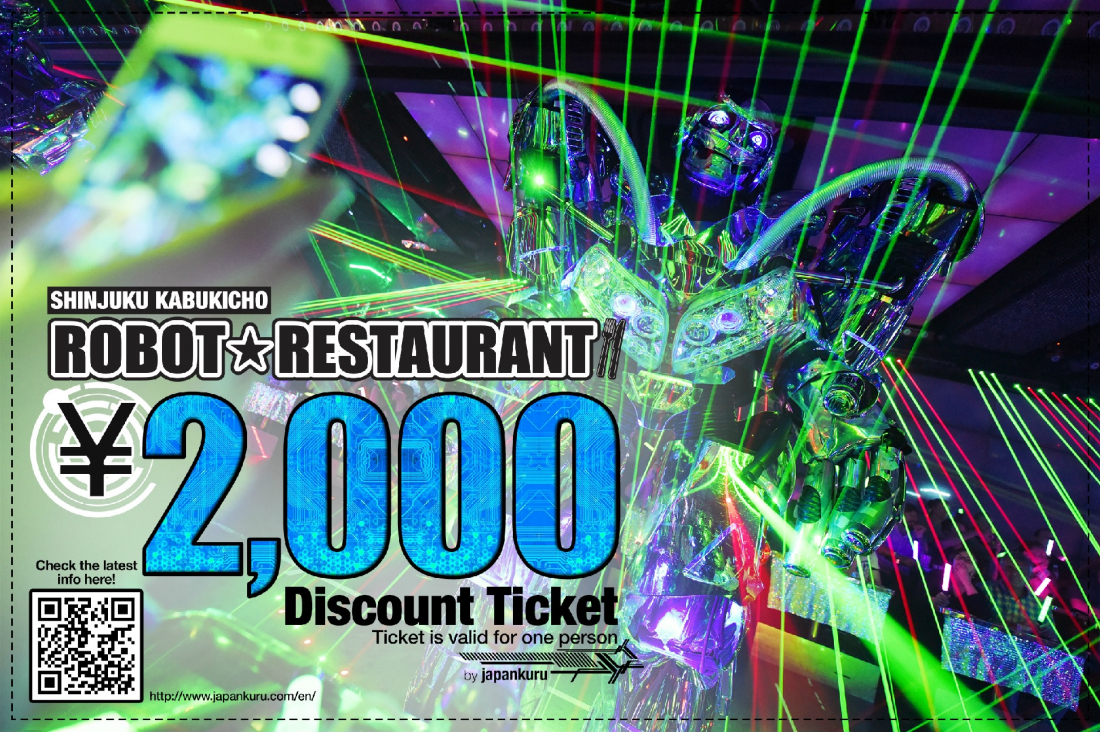 Download the 2,000 yen off coupon quickly!
Remember to show the staff this coupon when you purchase the ticket!!
By the way, you can make your reservation in advance online or by phone, then you don't have to worry about the tickets will be sold out or not!
Ticket Price: 8,000 yen (6,000 yen with the coupon above)
*Please note that food and drinks are not included
Show duration: around 90 minutes
Homepage:
http://www.shinjuku-robot.com/pc/?lng=en
Reservation hotline: 03-3200-5500 (09:00-22:00)
01. Ticket Counter - Let's buy our admission tickets!!
When you arrive at the ROBOT RESTAURANT, you can find their ticket counter right across the entrance of the show. Before you get too excited taking photos of the outside of the building, please remember to buy or pick up your reserved tickets first at the ticket counter!!

Payment by cash or cards are both accepted! Don't forget to show the staff the 2,000 yen off discount coupon at the ticket counter.
02. Colorful Waiting Area - To warm up before the show!
This is a free waiting area for you to relax and chat with your friends before the show. It is open 30 minutes prior to the show. At the waiting area, you can find tables and chairs with special designs. Why don't you order some drinks and snacks first? Live music is also provided in the waiting area!
03. The Main Stage - Show will begin soon!
Before the show, you can still have a chance to buy something to drink and eat. Beer, Japanese sake, soft drinks, popcorn etc are served! Just pick something you like and get ready! It's getting close to the showtime!
Please remember to turn off your Wi-Fi devices during the show since the robots are operated by Wi-Fi!! Be a considerate audience, please remember to turn off any Wi-Fi devices and set your mobile phone to silent mode! Also, no flash photographs are allowed during the show! Photographs and videos taking are fine :)
Scene 1: Japanese Drum Performance By Powerful Warrior
Scene 2: Battles of Giant Robots
Scene 3: Dance Performance
Next is the colorful laser show! No lights is used except the laser. Enjoy the great music and dance in the dark! Other than robots, this dance performance is amazing too!
Scene 4: Robot Parade in the Future
A perfect ending of the show!

It is like a robot festival! On the floor, big and colorful robots are joining the dancers in this special parade! Just follow the music and enjoy yourself in the last part of the show!!
Dance, Music, and Robots!
Before watching the robot show, I thought the show was just robot centered. However, it turns out it is a show mixed with robots, music, dance and many kinds of special effects. This is definitely a great entertainment show for everyone!
Next time, when you come to Shinjuku Tokyo, please go to Kabukicho and visit ROBOT RESTAURANT!!
Don't forget to show the 2,000 yen off discount coupon to the staff!!
More Details:
JAPANKURU Blogger
How about sharing your Japanese stories and pictures with us on
JAPAKURU's Google+
?
See you there!