A Trip To The Past - The Golden Town Kanazawa - Day 1 -
~ Day 1 ~
Kanazawa - Preserved Japanese history and traditions
Kanazawa is located in the central part of Japan in Ishikawa Prefecture. It is also selected by UNESCO as a City of Craft and Folk Art. Therefore, all kinds of traditional handcraft can be found here.

Moreover, Kanazawa was not involved in any wars or natural disasters in the last 400 years, so it is said that Kanazawa is a city of luck! It is also called a second Kyoto since streets and buildings in style of Edo period can still be seen there today.

From Tokyo to Kanazawa


From Haneda Airport to Komatsu Airport


It takes about one hour by plane.



From Tokyo Station to Kanazawa Station


It takes about 2.5 hours by Shinkansen.
(Highly recommended you to use the "Hokuriku Arch Pass", details here)
Car Rental Trip in Kanazawa
There is free shuttle service from Komatsu Airport to NISSAN Rent-A-Car Komatsu outlet.

NISSAN Rent-A-Car
Komatsu Airport Outlet
Address: 164-1 Ha, Ukiyanagimachi, Komatsu, Ishikawa 923-0993 Japan
Tel.: 0761-24-4123
Regular Hours: 8:30 - 19:00
Rent your dream car for the trip!!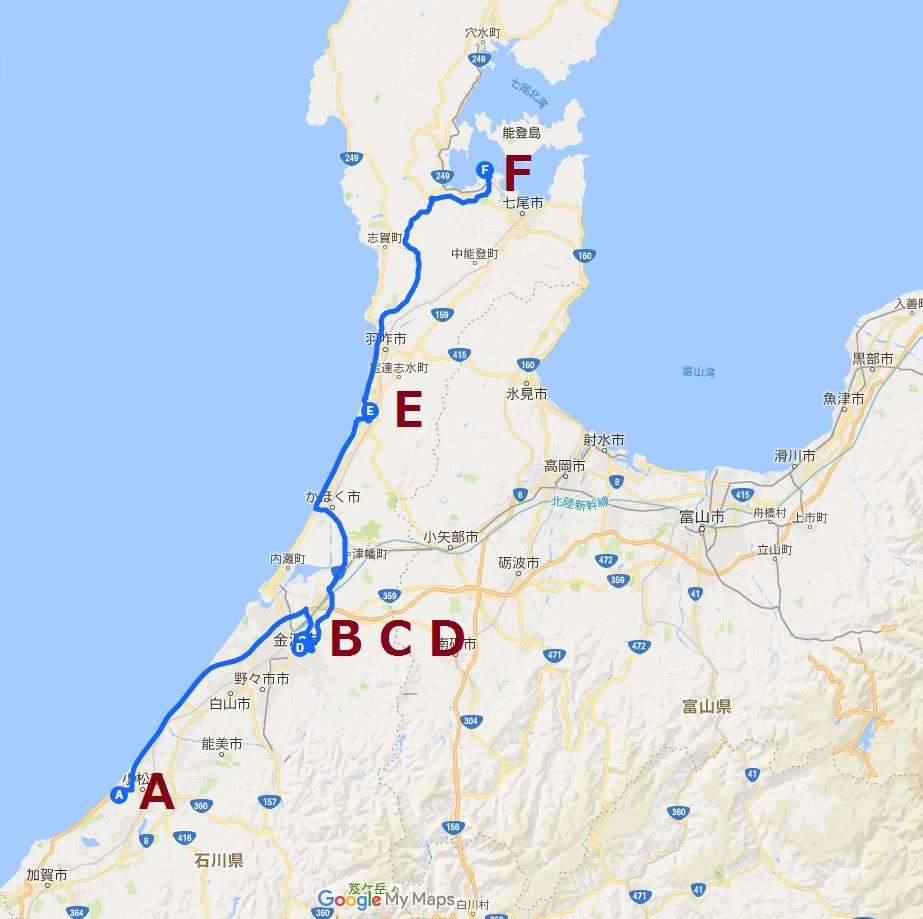 Car Rental Trip in Kanazawa - Day 1
Arrived in Komatsu Airport (Rental car pickup)
▼
Higashi Tea House Street - (東茶屋街 Higashi Chaya Machi)
▼
Lunch at Sawanoya (澤ノ屋)
▼
Kenroku Garden - (兼六園 Kenroku-en)
▼
Chiri Beach Driveway - (千里浜なぎさドライブウェイ Chiri Hama Nagisa Driveway)
▼
Stay at Hot Spring Hotel KAGAYA - (加賀屋)
Movie Shooting Spot - Higashi Tea House Street (東茶屋街 Higashi Chaya Machi)
You can see and feel the traditional Japanese streets on this 200 meters long street in Kanazawa. It is a great photo spot if you especially like the Edo period. Other than many different tea houses can be found here, you can also find luxurious restaurants run by Geisha. Even the Hollywood movie, Memoirs of a Geisha, was shot here.
By the way, there is parking space nearby, so don't worry about where to park your rental car.
Higashi Tea House Street - (東茶屋街 Higashi Chaya Machi)
Address: 1 Chome Higashiyama, Kanazawa, Ishikawa Prefecture
Map Code: 41560364*28
Tel.: 076-220-2194
Big size seafood rice bowl topped with gold foil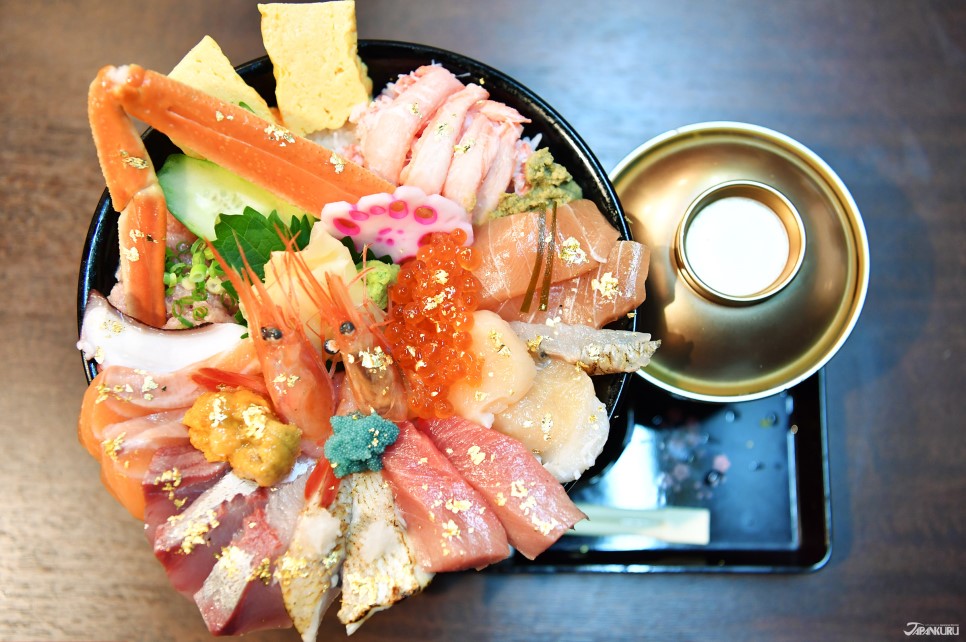 This special rice bowl has appeared on TV and magazines for many times in Japan! All seafood are caught in the Nanden Peninsula! Freshness is guaranteed! If you wanna try the limited menu, you better make a reservation in advance!

Since Kanazawa is famous for the gold foil, you can find it on all kinds of food here.
Other than seafood rice bowl, you can also try the salmon and crab rice bowl or even the beef rice bowl too!
Sawanoya (澤ノ屋)
Address: 3-2-21 HIgashiyama, Kanazawa, Ishikawa Prefecture
Tel.: 076-255-0009
Map Code: 41560334*82
Opening Hours: 09:00-17:00
Homepage (Japanese):
http://www13.plala.or.jp/sawanoya/index.html
Four Seasons of Edo Period - Kenroku Garden (兼六園 Kenroku-en)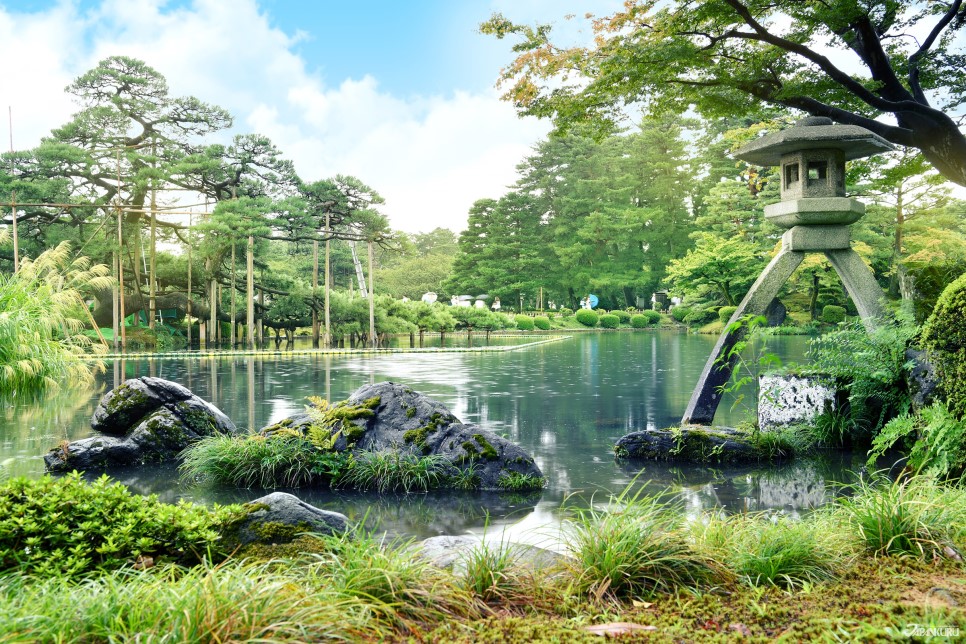 Known as one of the best 3 gardens in Japan, no matter it is the sakura season in Spring, or the red leaves season in Autumn or even the snow season in Winter, you can see amazing views in this garden.

Q: Which are the best 3 gardens in Japan?
A: They are Kenroku-en in Ishikawa Prefecture, Kairaku-en in Ibaraki Prefecture, and Koraku-en in Okayama Prefecture.

Q: What kind of garden Kenroku-en is?
A: It is the garden of Kanazawa castle, and it is famous by the preservation of garden in Edo Period. Starting on 7 May 1874, Kenroku-en was first opened to public. In 1922, it was named one of the National Site of Scenic Beauty, and in 1985, it was selected as the most honorable rank equivalent to a National Treasure.

Q: What is special about Kenroku-en?
A: There are three special things about this garden!
01. Beautiful Flowers and Plants
Just like popular sakura and cuckoo flowers in Spring, these can be seen in Kenroku-en. Actually you can see different types of flowers and plants here in all seasons. The best time to see the special sakura "Somei Yoshino Sakura"is between June and August every year.
02. Traditional Tea House Experience
There are many traditional styled tea house in Kenroku-en. Just sit on the bench and enjoy the hot green tea and Japanese rice cake, how relaxing it is! You can also buy some souvenirs here too.
03. Very close to Kanazawa Castle
Just 10-minute walk, you can reach Kanazawa Castle from Kenroku-en! We suggest you to buy the pass which allows you to visit both Kanazawa Castle and Kenroku-en at 500 yen!!
Free admission for early visit is available. Please check out the date and time
here
.
Kenroku Garden (兼六園 Kenroku-en)
Address: 1 Kenrokumachi, Kanazawa, Ishikawa Prefecture
Tel.: 076-234-3800
Map Code: 41 529 085 * 12
Opening Hours:
07:00 - 18:00 (March 1 to October 15)
08:00 - 17:00 (October 16 to 28 February)
Admission: 310 yen for adults, 100 yen for children
Homepage:
http://www.pref.ishikawa.jp/siro-niwa/kenrokuen/e/index.html
Driving on Sand Beach - Chiri Beach Driveway (千里浜なぎさドライブウェイ Chiri Hama Nagisa Driveway)
Actually this is the only beach where you can drive your car on in Japan! Enjoy a new driving experience on this 8 kilometers long beach along the coast! It is a popular spot for many commercial and movies shooting too.

Enjoy driving and the beautiful sunset on this beautiful beach. However, you still need to be careful with other cars and the sands!

Actually you can come here and swim in summer. There are Japanese style beach cafes opening in the summer too. Sometimes you can find sand sculpture events here too. Also, this is the home of sea turtles, so maybe you can get a chance to see them here!

Chiri Beach Driveway (千里浜なぎさドライブウェイ Chiri Hama Nagisa Driveway)
Address: Chiri-Hama Machi, Hakui District, Ishikawa Prefecture, 925 0054
Tel.: 0767-22-1118
Map Code: 135182759*02

Recommended Hot Spring Hotel - KAGAYA
Kagaya has been ranked No.1 overall for 36 consecutive years in the "Top 100 Hotels and Ryokans Voted by Industry Professionals". So you can imagine how good their services and facilities are!
Both Japanese style dinner and hot springs near the sea are amazing!
KAGAYA (加賀屋)
Address: 80 Yo-bu, Wakura-Machi, Nanao-shi, Ishikawa Prefecture
Tel.: 767-62-1111
Map Code: 590305393*81
Homepage:
http://intl.kagaya.jp/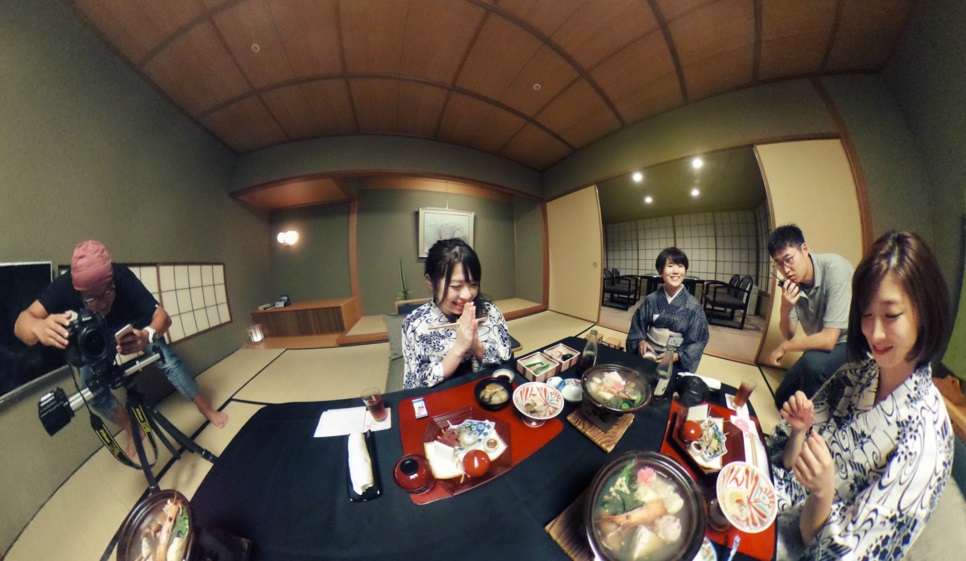 The banquet dinner made with local fresh ingredients is delicious!! We were so lucky to have such nice meal on our first night in Kanazawa.
Before we came to Kanazawa, we just heard about the history and stories about Kanazawa. After coming here and seeing it by ourselves, we understood why this place is famous. Japanese history and traditions are all well preserved in this Golden Town!
We will share our car rental trip day 2 with you very soon! Please come back again!
By the way, if you still haven't read our other Kanazawa sharing, please feel free to click:
# Travel ♪ A Walk In The Golden Town - Kanazawa in Ishikawa Prefecture! Presented to you by CANMAKE Cosmetics
Wanna get more and share your Japanese stories with us? Please join us on
Google+
too!!
See you there! :)
Related Article