~Yomiuri Land~Interesting Amusement Park in Tokyo. Just 40-min from Shinjuku!
Attraction Game! Illumination! Souvenirs!
In Yomiuri Land, let's enjoy the new attractions, illuminations and buy a lot of cute souvenirs of its official characters back home!
Have you been to Amusement Park in Japan?
We highly recommend you Yomiuriland!
We just went there this winter!!!
Like a fantastic world!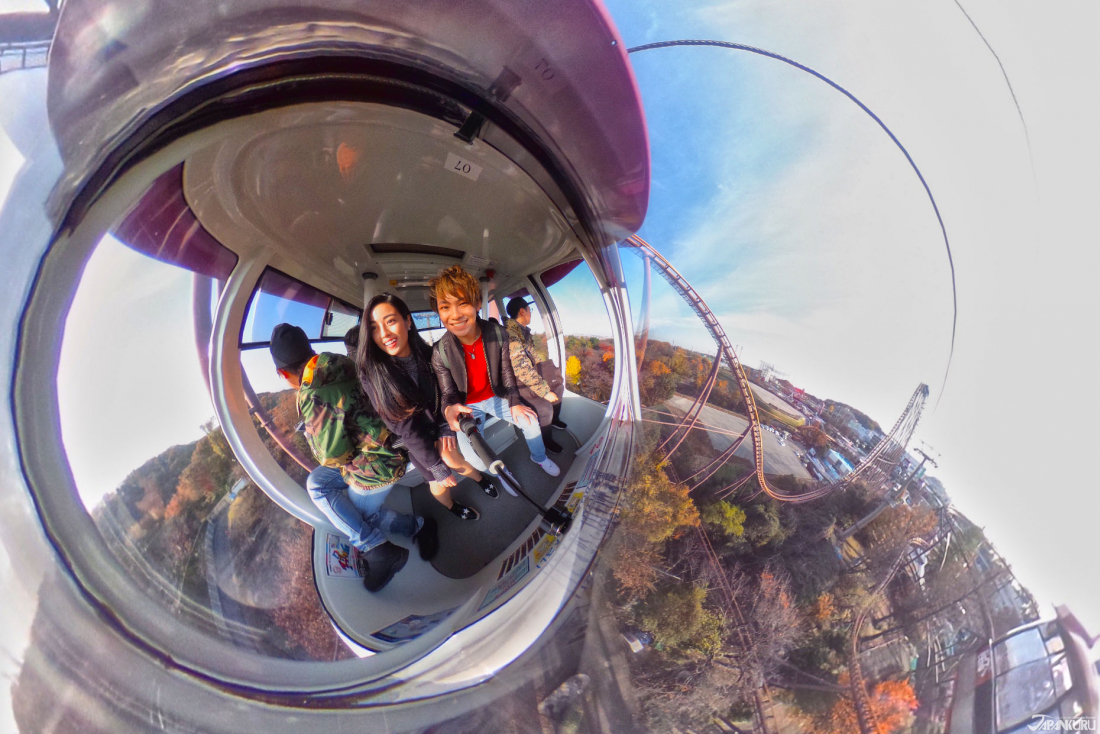 How to get to Yomiuriland? (Ticket + Transportation)
Train & Cable Car
①Train (About 40-min)
Keio Shinjuku Station  →   Chofu Station → Transfer to Keio Sagamihara Line → Yomiuri Land Station
>>> Keio Line/Inokashira Line One day train pass + Ticket to exchange Yomiuriland One day Pass
Adult 5100yen (tax included)
17year-old or below 4100yen (tax included)
Child 3600yen (tax included)
②Cable Car (10-min)
​>>>MEMO
One-way 300yen (tax included)
Round-trip 500yen (tax included)
★We discover a discount ticket of train and entrance fee together! =)
You don't wanna miss!!!
For more Info:
CLICK HERE

IMPORTANT!!! Remember to exchange the ONE DAY PASS at the entrance
(LEFT) Entrance of Yomiuriland
(RIGHT) ONE DAY PASS Exchange ticket
※Change it the real Yomiuriland Entrance Ticket











MUST-BUY at Amusement Park! Actually, it is Yomiuri Land!
No matter if you wanna get some goods at the beginning of the day
or at the end of the day,
or both lol
GJ Shop right next to the entrance when you get into the Yomiuriland!

Tip①
If you are interested in Splash U.F.O.
Hooded Long Towel is a cute and handy item.

>>1300yen (tax included) each

Tip②
Little shoulder bag
for putting water, snack and guide map.

>>1800yen (tax included) each

Of course, they are the original goods of Yomiuriland
with its cute character Good and Lucky.
BRAND NEW ATTRACTIONS -Good Job Attractions- (Goodjoba)
It is an area cooperated with many different Japanese well-known companies and brands.
You would feel more closed and enjoyable while getting involved in the games.
① Campus Challenge
Ready to challenge at 7 rounds of 1-min-game non-stopped??
Oh!!! Honestly, pretty hard!!!
Even the beginners' level
Simple game though...
Points are calculated and then
the result will be shown at the end!!!
 ※1 Day Pass / If not, 800yen for one game
※ Each game 1-3 members, about 10-min.
※ Children of 6-year-old or above
※ Photo during the challenge can be purchased. 1000yen each.
②Splash U.F.O. & MY U.F.O. Factory
▲Splash U.F.O.
Cool!!! What an exciting experience to pretend to be noodles,
to see and feel the process of how a U.F.O Cup noodles is made.
Hey come to be pressed, cut, expanded and fried, etc!!!
A 4-min exciting ride!
※1 Day Pass / If not, 900yen for a ride
※ For 110~130cm children, guardian is required.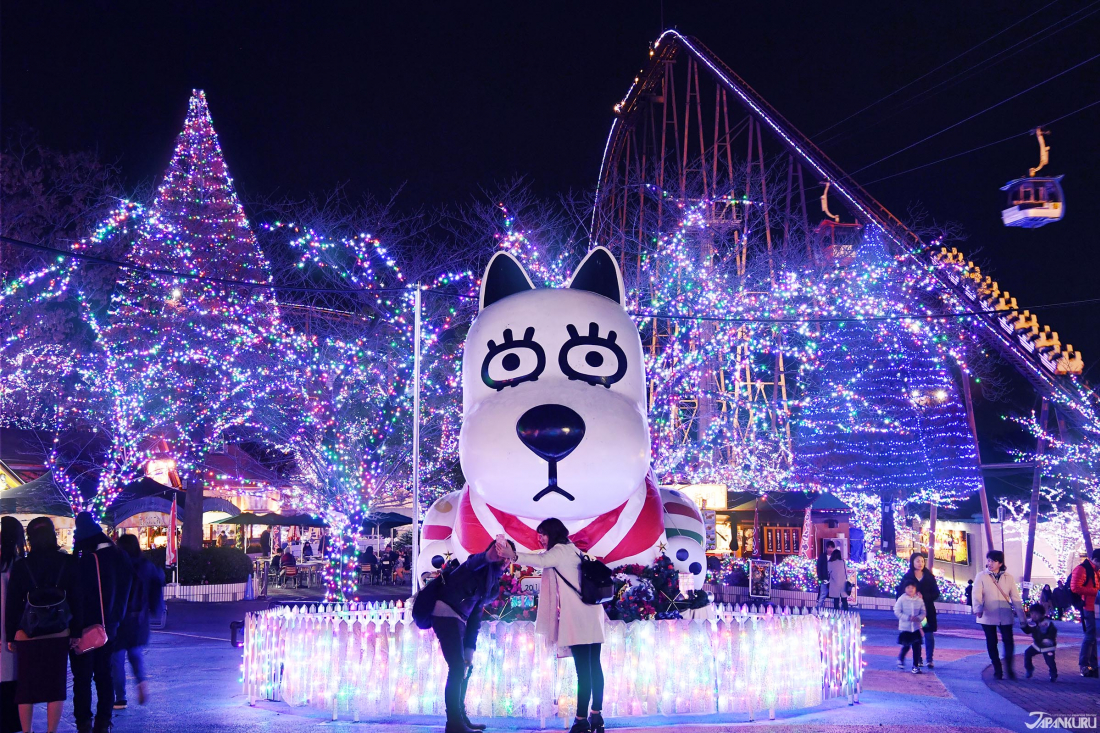 ♪ Yomiuriland Jewellumination♪
Christmas has passed! New Year has passed!
It is not the season for illumination anymore?
No! If you are still in Japan or you have plan to come to Japan before February 19,
you can still experience a fantastic romantic night in the biggest light up event in Kanto area.

Night Time Event Information
Period: 2016.10.14 (Fri) to 2017.02.19 (Sun)
Note: Park closed between 17-19 Jan 2017 and 24-26 Jan 2017.
Hours: 16:00 - 20:30 (Rides close at 20:00)

Event Homepage (Jap): http://www.yomiuriland.com/jewellumination/
Forest Area
27meters height Angel Tree of Love is the main area!
Green presents the realistic of forest.
Jewelry Area
100m of the blue tree tunnel.
Parade shows start at 17:30 every night!
Brand new extended shinny colorful tunnel.
Lovelystream area
Pink in main!
Together with orange and purple, brings the harmony of romance!
Wish you have a lovely time here!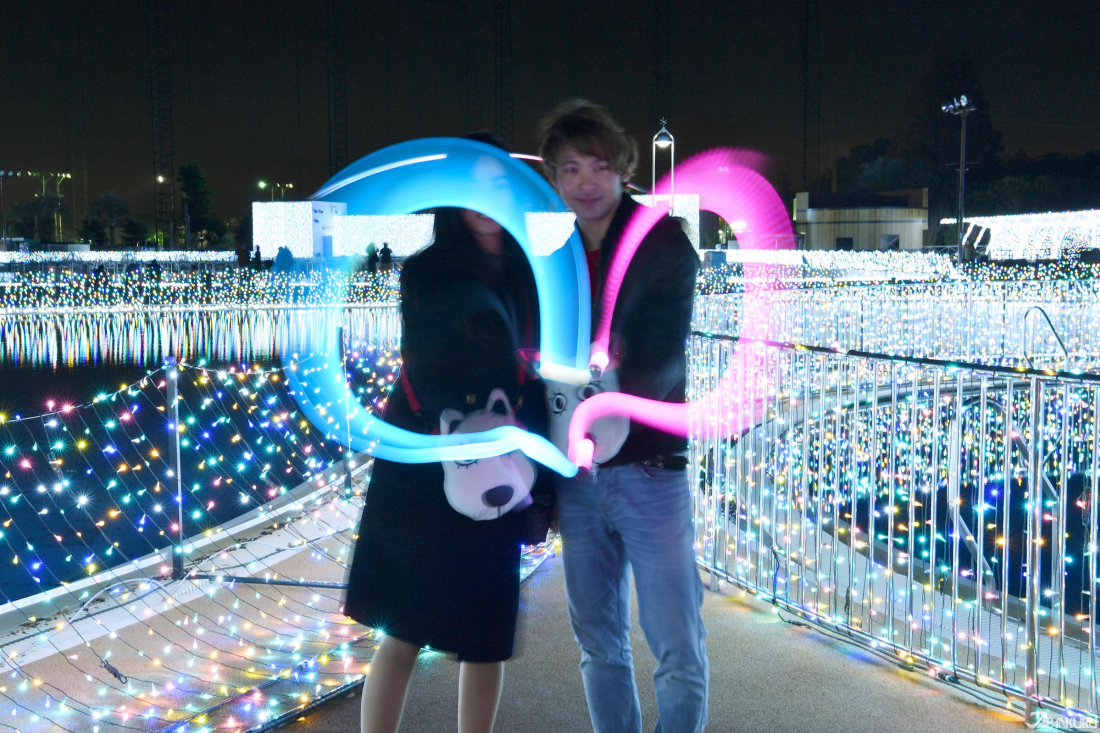 Aqua Area
LOVE PHOTO
1000yen (tax included) two photos

Bring home a fantastic experience (Memorial one and Light shadow one) in a paper photo album.
★Yomiuriland
Address: 4015-1 Yanokuchi, Inagi-shi, Tokyo
Tel.: 044-966-1111
Hours: 09:30 - 20:30 (Please refer to homepage for daily opening hours)
Access:
By Train - About 40 minutes from Keio Shinjuku Station to Keio Yomiuriland Station
By Car - Map Code: 2 737 434
Parking available: 1,500 yen per day
Homepage: http://www.yomiuriland.com/english/
For more details:
>>>
CLICK HERE