Story of Wrestling in Japan
New Japan Pro-Wrestling Game in Tokyo Dome 1.4.2017
Story of Wrestling in Japan
JAPANKURU went to see Japanese wrestling for the first time.
"I do not care about winning or losing,
I will just give out everything in this game."
Why Japanese is so crazy about wrestling,
Why is professional wrestling popular in Japan?
We record all of it in this article.
History of 45 years - New Japan Pro Wrestling -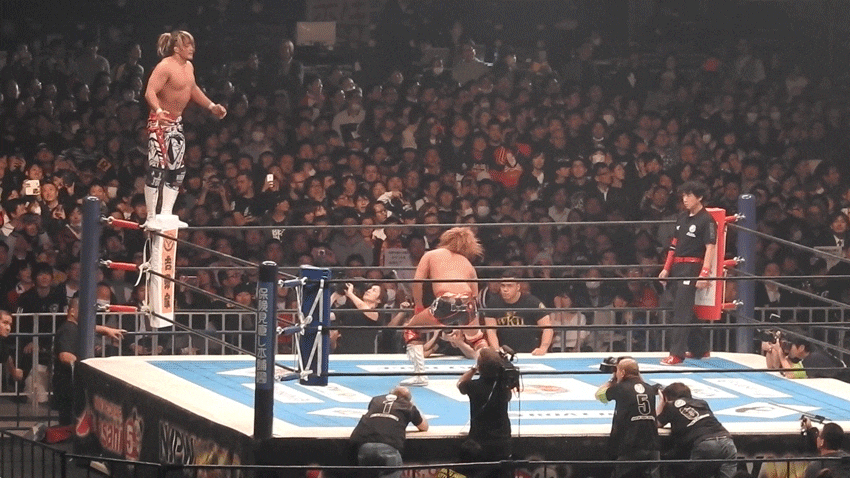 "New Japan Pro-Wrestling" founded in 1972 is a representative of Japan Wrestling.
New Japan Pro Wrestling Ring established by the world famous wrestler "Inoki Antonio, " has reached its peak in the 1980s, and "Akira Maeda" "Riki Choshu" "Tiger Mask" started appearing at TV shows became famous stars.
After that, the wrestling of the mixed martial arts boom such as K – 1 made wrestling in Japan ceased in a stagnant period.
Meanwhile, in the rapidly changing era, the young players of the New Japan Pro Wrestling have continued to persist in the "Wrestling Pro-wrestling Aesthetics." Now, In 2017 again, the 3rd boom of new pro-wrestling has began in Japan!
The charm of wrestling is "aesthetics"
"Aesthetics" that catches your opponent's skills beautifully
This is the charm of wrestling.
Point 1 - Powerful act! Brilliant technique!
Each brilliant technique has its own name.
In particular, the star-class players have a "finishing technique" to win the games.
There are many difficult names, but all are gorgeous, and really it's amazing to see in real!
Point 2 - Good-looking players like Johnny's boy bands' idols(?)
Now, one of the reasons Japanese women are enthusiastic about wrestling ... Why?, Johnny's level? (Popular idol band groups in Japan that are under the production company called Johnny's)
More than Johnny's level.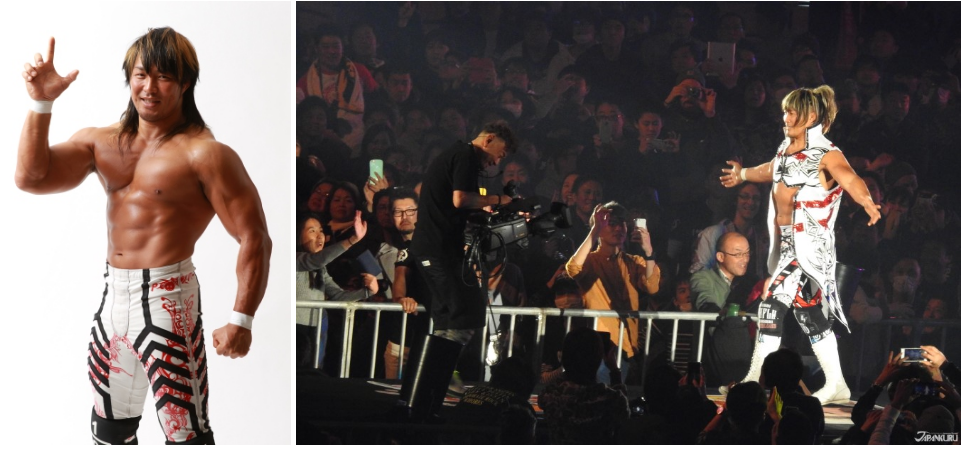 Hiroshi Tanahashi 棚橋 弘至
"One person's devotion in 100 years" Tanahashi is the leading role who has driven the New Japan Pro Wrestling.
Wearing a handsome mask and having a great body, he says that he keeps standing in the ring every day to protect the sluggish professional wrestling.
Faithful to the fundamentals of wrestling, and his elegant and beautiful techniques are said like the real textbooks.
"My life is made by me"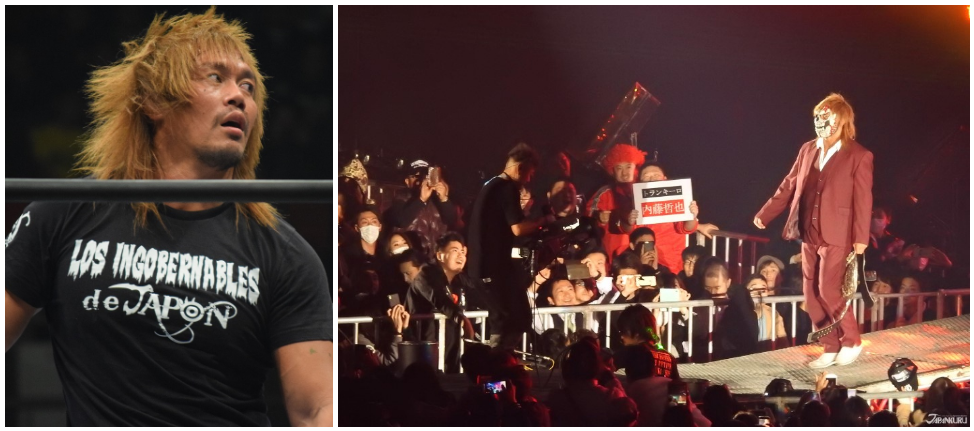 Tetsuya Naito 内藤 哲也
Naito, who is "uncontrollable charisma", enthusiastically find charm for Tanahashi player and enter the to New Japan Pro Wrestling.
After learning wrestling in Mexico, he formed a team called "Los Ingobernables de Japón" in New Japan Pro Wrestling.
Finally, beating Tanahashi, hero he was longing for, to get the champion belt.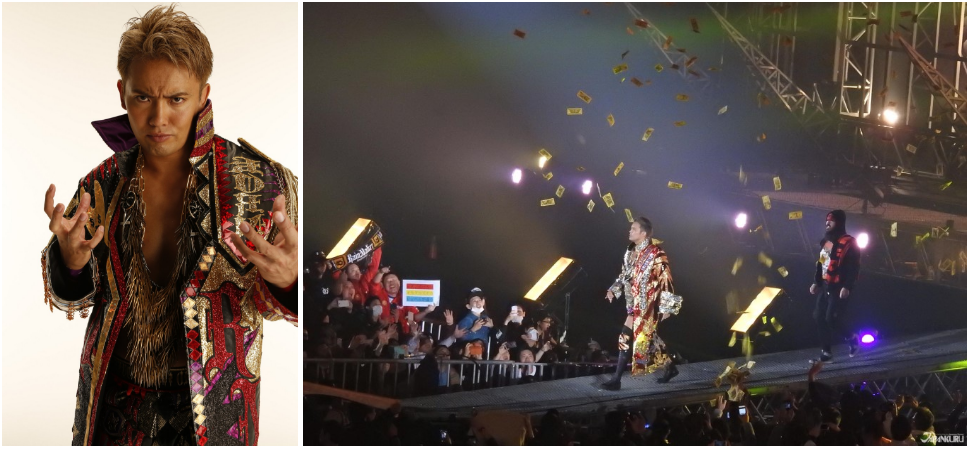 Kazuchika Okada オカダ・カズチカ
His nickname is "Rain-maker."
It means "Audiences gather to see me, audiences gather buy my goods. That is why I bring a shower of money to New Japan Pro Wrestling."
Actually, he is a popular Wrestler of New Japan Pro-Wrestling.
He also decorated the finale of the Tokyo Dome Match on January 4, 2017.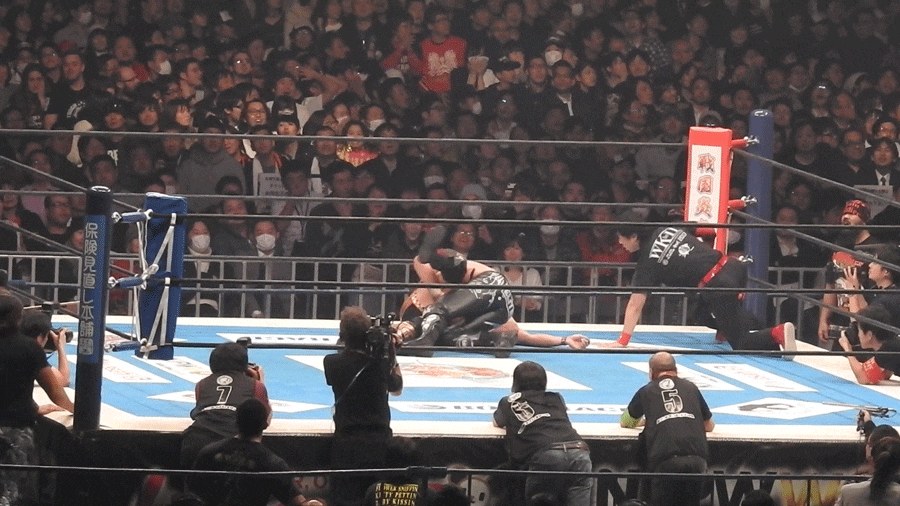 Point 3 - Referee's count of 2.99 seconds
A fateful rival crashes in the match fighting for "title."
While being surrounded by many audiences, he would show off his wonderful performances with all his strength.
Defeat the opponent with a tremendous deathblow, keep both shoulders on the ring and at the same time the referee starts counting.
"One, two, threeeeeee ..."
At that moment, while the opponent was thought already defeated, he lifted up one shoulder~!

Point 4 - Costumes of each players
One of the highlights is the costumes of each players. Especially, preparing all the goods of your favorite players, such as T-shirts, masks, accessories, towels etc. , fan are getting ready at the cheering seat.
Their enthusiasm is surely a great force and power for the players.

Point 5 - Wrestling goods
Wrestlers who are as popular as the Japanese idols! Look at their amazing sales of related goods!
T-shirts, caps, and towels are popular items.
Get one as a souvenir of your trip to Japan!
Nice design! Easy to use everyday!

Point 6 - Enjoy eating, drinking and shouting!
Watching Pro wrestling, there are no difficult rules.
Enjoy your heart and body with MAX tension as much as you like! Yes!! like enjoying a LIVESHOW !!!
They also sell snacks and drinks!
Just eat, drink and shout and enjoy!!!
Get rid of all your stress!
What is New Japan Pro-Wrestling?
Why keep saying New Japan~ New Japan~ blah blah blah….
Why so amazing?
Let's check them out~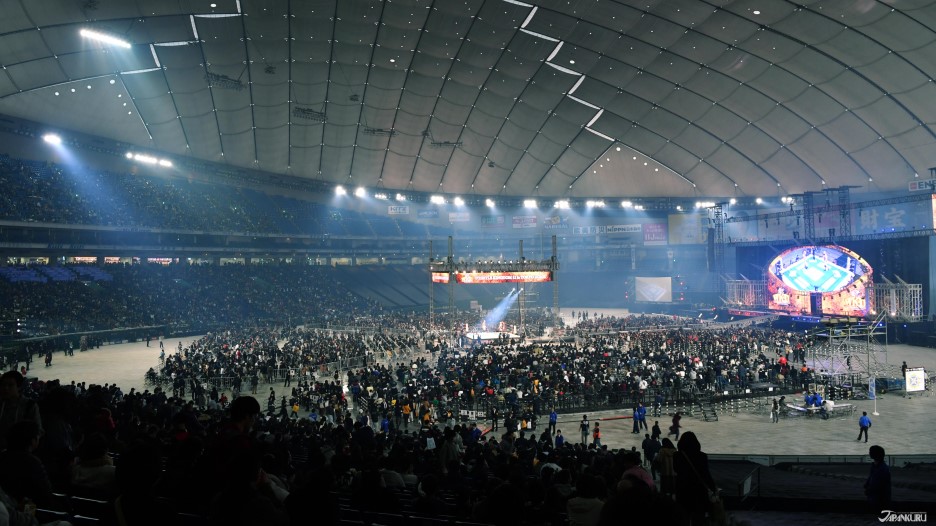 Power to hold large events
Tokyo Dome

"Dream Ballpark," which every famous entertainer wants to stand on that stage once.
A pro wrestling game will be held only once a year at this "Tokyo Dome," which is used as a baseball field on a regular basis and also loved as a concert hall for domestic and foreign artists.
We went to the game on the 4th of January.
Only few of the professional wrestling groups in Japan, it seems that only "New Japan Pro-Wrestling" can play in the Tokyo Dome.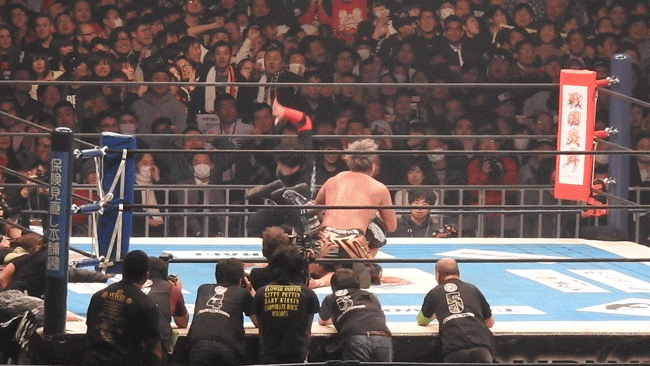 Wrestling of PRO , so-called Pro-wrestling
How beautiful and cheerful to take/catch the technique without avoiding from the opponent ...
"Aesthetics" of such wrestling can never be tasted in other sports.
For wrestlers competing with each other on a ring, they are professional enough to respond to the crowd of the audience!
Isn't it real and live?
Are you interested in watch "Wrestling" while traveling in Japan?

Go watching New Japan Pro-wrestling while traveling in Tokyo
For people who wanted to see wrestling while traveling to Tokyo,
we will introduce you places and ticket purchasing methods. (Same day tickets are also sold.)
Location: Korakuen Hall (in Tokyo Dome City)
For more info about New Japan Pro- Wrestling...