Mt. Fuji Climbing Guide 2017! ★ Fuji Climbing Season has Begun!
Mount Fuji (or \"Fuji-san\" in Japanese) stands tall between Shizuoka Prefecture and Yamanashi Prefecture, and is an active volcano with an altitude of 3776 meters (that's just over 2 miles!). The whole area of Mt. Fuji is designated as a national park in order to protect such special and precious natural environment.
A 12,388 ft (3,776 m) Above Sea Level Sleeping Volcano
The Japanese see it as the heart of their country. The Chinese characters (kanji) used for Fuji are 富, (fu) meaning wealth, enrich, or abundant and 士(ji) means 'gentlemen' (can often be seen used with professions such as lawyers, soldiers, sumo wrestlers, pilot, etc.). Just by characters alone, you can see the Japanese admiration for Mount Fuji.
The Forever Love for Mt. Fuji
 Since ancient times, Mount Fuji has always been regarded as the source of inspiration for artistic creation, Matsuo Basho has also written a lot of description of Mount Fuji haiku. The most famous, of course, is the ukiyo-e painting done by the artist Katsushika Hokusai "Thirty-six Views of Mount Fuji". Hokusai brought life and realization into exactly how much a symbol Mount Fuji really is to the Japanese. Mount Fuji is alive and present in each one of the woodblock prints. This painting style has influenced many world-class painters, even to this day. Mount Fuji continues to be the element of the creation in a variety of decorations, works of art, and goods. Traditional looking jewelry boxes to cute Mount Fuji stuffed animals, Mount Fuji is a never ending muse.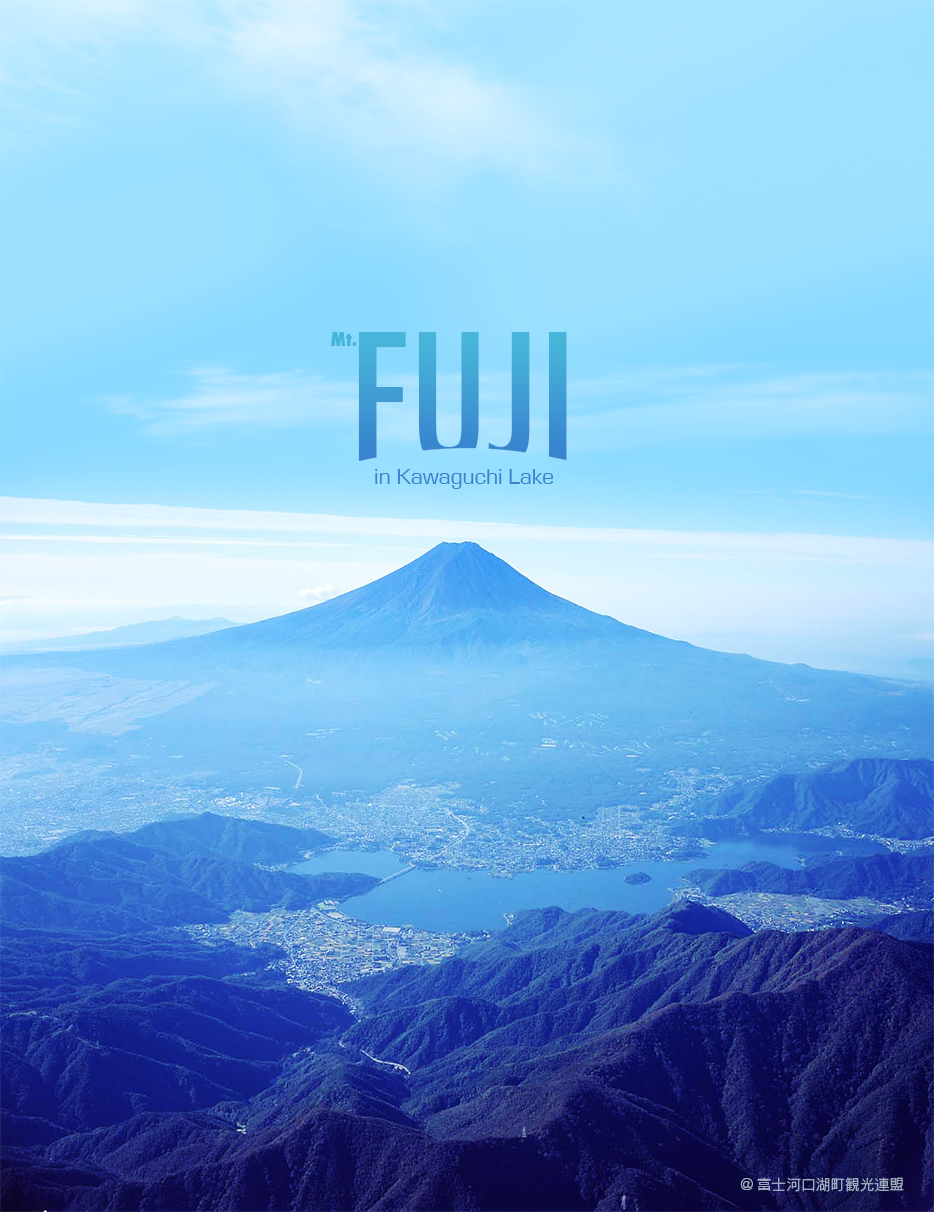 World Heritage Site Since 2013
    On June 22, 2013 Mount Fuji became included in the World Heritage sites! Earlier the artistic enthusiasm was mentioned, but what some don't know is that in the 12th century Mount Fuji became the center of training for ascetic Buddhism, which included Shinto elements. So it's almost a given that Mount Fuji would be included. Mount Fuji really is an inspirational force for Japan artistically and spiritually.
More and more this view of nature and culture has been recognized by the international community, making it their dream to one day climb.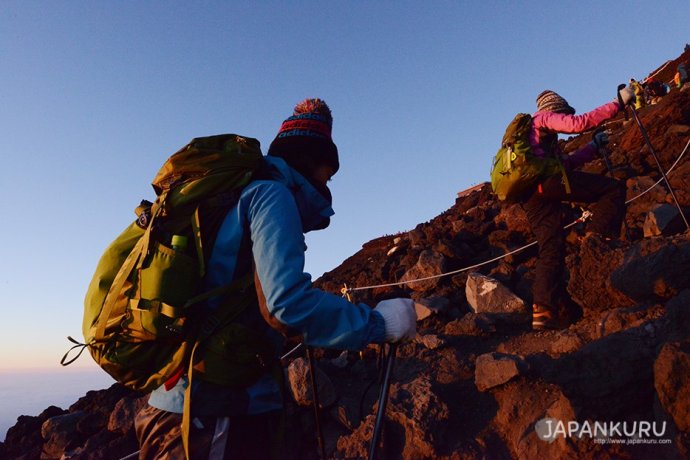 Mt. Fuji's 2017 Hiking Guide
Mountain Climbing Gear👷
∴
Hiking boots, rainwear, cold protection, a head lamp, hat, sports drink, camera, mobile phone
*recommends: towels, toilet paper, plastic bags*
There are restrooms on the trails, but some don't have toilet paper and you aren't allowed to flush it. Why the plastic bags though? Because there aren't trash cans -_-;
Climbing Season🗻
Mount Fuji 2017 Climbing Time
∴
From Yamanashi (
Yoshida Trail
) Prefecture July 1st~Sept 14th
∴
From Shizuoka Prefecture (
Subashiri
,
Gotemba
, and
Fujinomiya

Trail
) July 10th~September 10th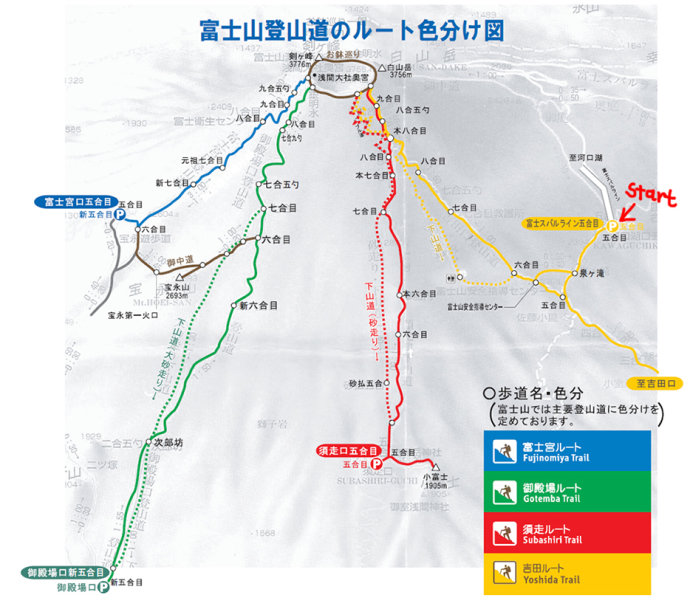 4 Different Mountain Trails
The Four trails are color-coded with respective colors indicated on signs because each is different in its own way:

✥ Yoshida Trail (Yellow Route)
Most people who climb Mount Fuji take the Yoshida Trail. It starts at the Fuji-Subaru Line 5th Station and leads to the summit from the north side of Mt. Fuji in Yamanashi Prefecture. At the 8th Station junction, many people accidently turn right taking them on the red trail (Subashiri). So keep an eye out for that!
*Has many shops, emergency areas, bathrooms etc.

✥ Subashiri Trail (Red Route)
By climbing the Subashiri (red) Trail, you can watch the most beautiful sunrise! The Subashiri Trail leads to the summit from the east side of Mt. Fuji in Shizuoka Prefecture (Oyama Town). You have to walk through dark forests and there are no emergency centers on this trail, so PLEASE be sure to have a headlight/flashlight with you!!!
*Only has 2 shops and bathrooms

✥ Gotemba Trail (Green Route)
This trail is suitable for good walkers who deal with a large altitude difference and long distance up to the summit (is the longest trail out of the four, taking estimated 7 hours to climb). There are also few bathrooms, huts, and no emergency areas, which makes it have the fewest number of people to actually use this route.

✥ Fujinomiya Trail (Blue Route)
The distance to the summit is super short because this trail starts at the highest altitude out of the four trails, making it quite crowded.
*Has one shop, info center, and bathroom
BEFORE CLIMBING
❶
Be aware that the price according to different locations is different, 200 yen to 300 yen range.
②
Women, if you are on your monthly cycle, please bring your own sealed bags and replacement physical care products as needed. Sanitary products can't be flushed in the toilet, so we're afraid you need to put them in a sealed bag to take home with you.
❸
Pay attention to temperature/weather. It isn't uncommon to get altitude sickness, so if you feel unwell please take a break.
④
There are mountain huts for those who climb Mount Fuji have a place to rest. Anyone can go to the hut on the mountain to rest, eat, and have a short break.
Other information below
::Climbing Fuji Official Website - READ BEFORE::
2017 Mt. Fuji's Latest Information
FINALLY! Free Wi-Fi is available at EVERY mountain hut on Mount Fuji (called 'Fujisan Wi-Fi😉)!
This is something recent that came available within the last year to make things more convenient and means of disaster support for Japanese and foreign travelers. KDDI also hopes by introducing this multilingual guide support it will increase number of climbers because it supports safe and trouble-free climbing.
Fujisan Wi-Fi supports 00000JAPAN integrated network for use in the event of a large-scale disaster and the service can be used as a means of communication in an emergency.
As Fujisan Wi-Fi also supports Wi2's TRAVEL JAPAN Wi-Fi app for foreign visitors to Japan, by downloading the app and agreeing to the terms of use, foreign visitors can use Fujisan Wi-Fi access points to automatically connect to Wi-Fi.
It's just too good to be true!
You can get Fujisan Wi-Fi during the climbing season.
Here is much more detailed information explaining where, how to connect, eligibility, etc.
::Fujisan Wi-Fi English::
BE SAFE AND TAKE LOTS OF PICTURES OUT THERE!!📷🗻✨
For more interesting topics,
Please click on JAPANKURU to check out our official blog
Be sure to look at JAPANKURU🐶 for more exciting articles every day!!
Related Article