JAPAN TRAVEL RECOMMENDATION★World Heritage Park
One of Japan's most beautiful places!
CNN declared Sengan-en as one of *Japan's 31 Most Beautiful Places*
When traveling to Kagoshima, most people's destination point is Sakurajima. Don't get us wrong, we love Sakurajima! But there's another beautiful spot in Kagoshima that doesn't require you to take a ferry.
Sengan-en is a villa established in 1658 for the Shimazu clan that comes with a beautiful garden. Kinko Bay and Sakurajima (Sakura Island) are also included in the majestic scenery, which makes this park take your breath away.
The garden is quiet big and includes lovely calm ponds, lively streams, mysterious shrines, a bamboo grove, and a mountain hiking trail.

Traditional Features Not to Miss
"Very Large Rock" from 1814

The three characters carved on the rock ('senga-en'(千尋巌) mean "very large rock". In 1814, a total of 3,900 people worked for three months to complete this job.
What's interesting though is that carving letters on rocks was not common in Japan, so this action said to have strong Chinese influence

The main entrance gate and is about 150 years old, rarely do you see such construction so well reserved.
An even more interesting thing is this gate was used as a location in the filming of the NHK Taiga drama, Atsuhime, which relates to the history of the Satsuma domain at the end of the Edo Period!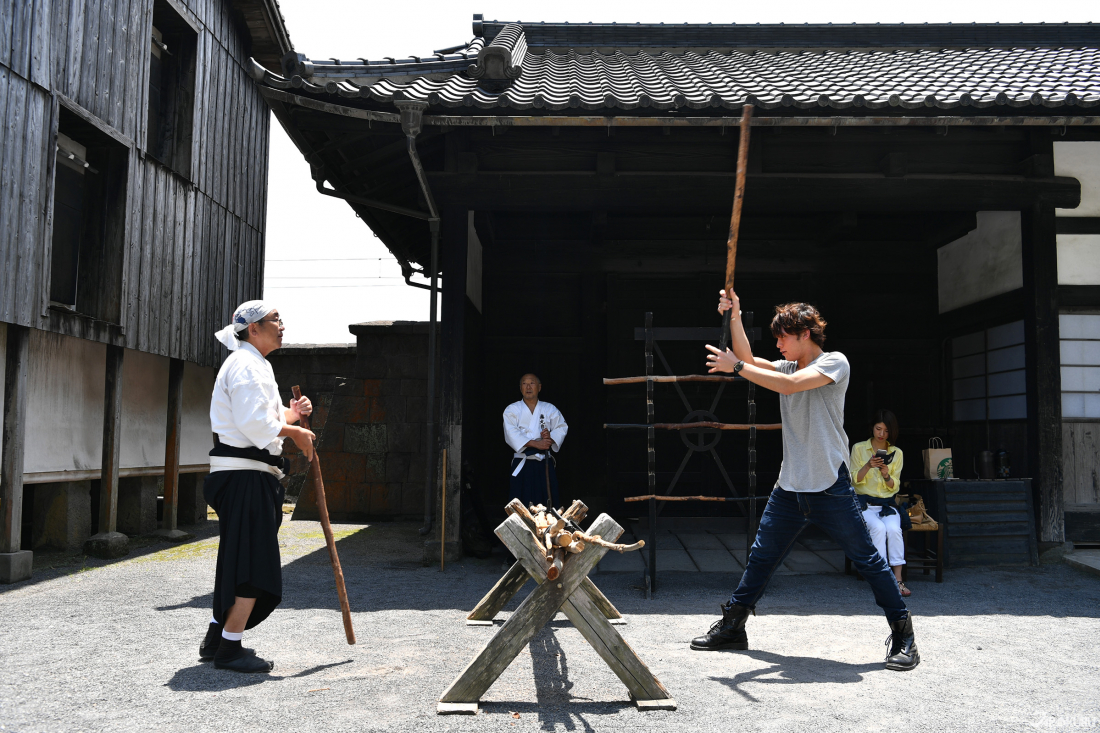 Become a Traditional Swordsman of Satsuma Clan
If you hear a load scream, don't worry! You aren't under attack! It's just the autobiographical exhibit room/demonstration area! The Satsuma warriors were one of the most powerful forces in Tokugawa Japan (last feudal Japanese military government, 1600-1868). The Satsuma warriors were apart of some of Japan's most famous and brutal wars; the Battle of Sekigahara, the Seige of Osaka, and probably the most famous and historically changing, the Meiji Restoration. You have a chance to do some training exercises like a Satsuma warrior.
🌲Sengan-en (仙厳園)🌲
💴Entrance fee:
High school and above - 1000 yen
Middle school and below - 500 yen
⏰Business hours:
8:30am~5:30pm (daily)
🚍🚏Closest bus stop:
Sengan-en Mae (仙巌園前)
To find out more about beautiful Kagoshima:
✨Click here!✨

For more interesting topics,
Please click on JAPANKURU to check out our official blog
Be sure to look at JAPANKURU🐶 for more exciting articles every day!!