The A.Ka Project - Amazing all handmade red underwear made by a collaboration of skilled craftspeople!
Handmade, High-Quality Red Pants, The First Product from the A.Ka Project! - Made from super durable, quick-drying SUVIN cotton, found only in one part of India, as well as being processed and made by Japanese master craftsmen! The true A.Ka pants have arrived!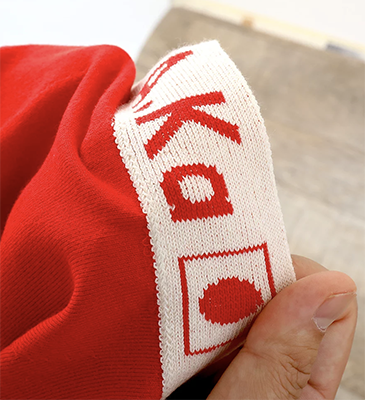 The Project's First Product- A.Ka Pants
The A.Ka Pants are created using some of the best cotton in the world, SUVIN cotton. Created in Tamil Nadu, India, this cotton is used in a variety of high quality clothing in Japan due to its durability and quick drying. Using this amazingly precious natural cotton The A.Ka Project have created a product that makes your skin feel loved.
With this special cotton being used, they have forgone the use of machine sewn pants as it isn't the best way to process this cotton, as it would cause unnecessary stress on the fabric.
So each thread in each pair of underwear is painstakingly sewn by hand, taking several hours to complete. From start to finish it is made with tremendous attention to detail and care all by hand, from creating the product, to washing it to steaming it into its final shape.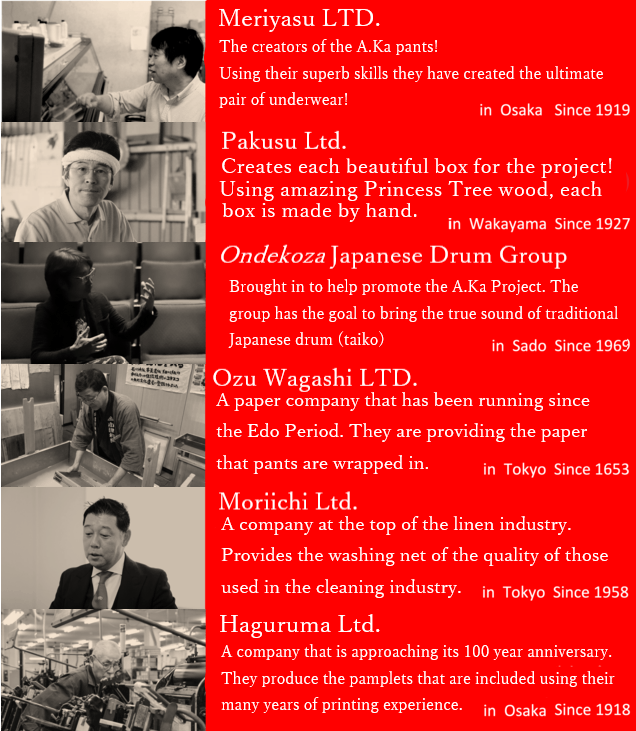 A Collaboration of Some of the Best Craftsmen in Japan
Japan and its near perfect craftsmanship is well know across the world. One famous post WW2 story is the way it started to dominate the camera industry by taking camera designs from the West (especially Germany) and improving on the designs and also making them affordable. This can be seen as the market today is now ruled by Canon, Nikon and so on.

It's with this craftmanship that the A.Ka Pants are made. Many generations worth of knowledge passed on, in order to make the perfect product. With this The A.Ka Project have been able to bring together a collection of craftsmen in different fields to create an experience never before seen. A brief description of the gathered companies can be found here.

Each company have a certain responsibility in regards to a certain part of the project! Therefore the A.Ka project is a collaboration of 6 amazing companies all brought together by the project Creator Kentaro Misho!
Traditional Dance x Traditionally Made Underwear
Of course it's not just manufacturers that are involved with the A.Ka Project! We have also involved a dance group to help with the promotion of this amazing product! This traditional Taiko group have been running with the goal of bringing traditional drumming to the world! With this being a physically tough task, the performers are in utmost peak condition, meaning that when they wear this underwear, they can show off how great they are!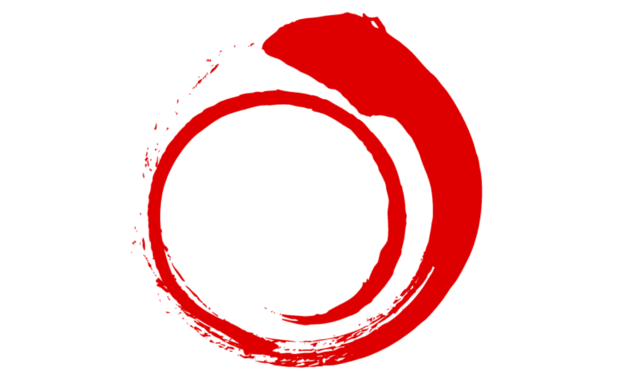 Red - the Colour of Happiness and Luck!
A.Ka

or

aka(赤)

in Japanese is the word we use for red.
In Japan as well as many parts of Asia, the colour red has a multitude of good meanings. In Japan, it is seen as the colour of a new beginning. Like the colour of the sun ( hinomaru日の丸) on the Japanese flag, it signifies stepping out in to the morning sun and starting with a warmth in your body and soul.
In China it signifies life, with it being the colour of blood, that which flows and keeps us alive. It is forbidden at funerals because it has such a profound meaning of happiness and life.
The A.Ka project have taken this colour and with it the meaning of the colour and they have a wish to carry these ideals across the world. They feel that by knowing this meaning, that when you look upon it, you feel happiness and when you wear or use their products, you feel the life and soul they poured into making something that will make you happy.
It's Seems Expensive??? WHY?💰💰💰
The project contains some of the most expensive returns that we've seen on Japankuru Funding. At over 15,000 yen (without the special discount for being one of the first to back the project) for one pair of the pants, you might think that the project creators are a little bit crazy. But after hearing their thinking, it is rather understanding.
The Project Creator, Kentaro Miisho, told us this about the pricing.
"With each A.Ka Pants, you're not just getting a pair of underwear. We're determined to ship out the best, which means that even the packaging that the pants comes in is made with careful attention to detail. Everything that is included, takes time to make and produce, meaning that per month we can only produce about 100 complete sets, give or take. We want to not just make the same old red pants any other company can make, we want to make this the best experience possible when it comes to buying underwear. It might be expensive but thinking about the type of cotton used and how durable it is, about the time taken to create just one whole set, as well as the cost per day over several years of use, we think that this is an understandable price."

It is true that a large amount of man hours goes into each separate set of A.Ka Pants, and after wearing them it's obvious how high the quality is of the product.
New Return- A.Ka Pants For Ladies!
After a successful first crowdfunding project and the project on Japankuru Funding looking to be successful, we've heard from a lot of people that they would love to see a version for women! So after planning and designing for a while, we've came up with what we think is the best design possible! Modelled here by YUKI, an up and coming singer/ model, the [A.Ka for Lady] design concept is [Durable, Soft, Cute]!
The Pants are available through the project being held on
Japankuru Funding
from today, Monday 28th January 2019, so go check them out!!!
Click here to go to the A.Ka Project on Japankuru Funding!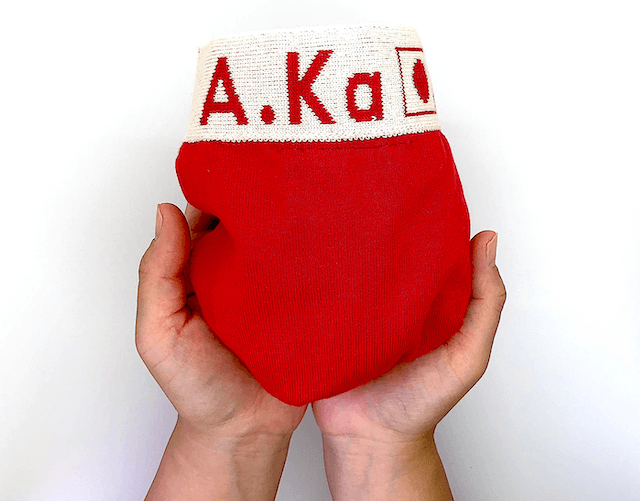 Crowdfunding Campaign Start- January 20th 2019
This weekend marks the start of the A.Ka Project on Japankuru Funding! The crowdfunding project aims to get the A.Ka Project name out to people, letting them learn about the project and the products that they are creating. Instead of just putting their product on to a clothing site, they wish to get in touch with their audience and customers. They want to be able to let them know about the small processes that goes into creating their amazing product!
You can find the crowdfunding page here:
https://en.japankurufunding.com/projects/akapants/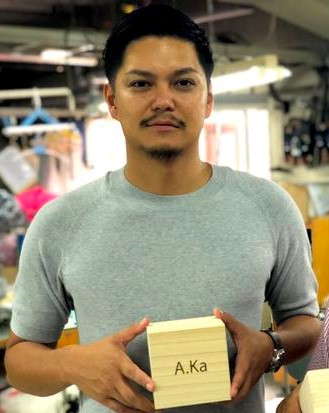 A Final Word with The Project Creator- Kentaro Misho
"The reason I created this project with the vision of making a product that people can use for a long time, that will satisfy them and that will also be amazing quality.
Many people might think that creating such an expensive product that is an everyday item, is an extremely difficult and maybe foolish venture. But I want to bring Japanese products that are made with such hard work and dedication to the craft to the forefront of the world's eye. I want to strive every day to make these types of products available for people to see and use, and I hope that you will help us make this vision come true!"
Basic Info
Columnist

Japankuru Funding

Hey everyone! We hope that we can help you keep up to date with all the projects and things we have going on over at Japankuru Funding! We hope that you find the projects on the site as interesting as we do!

SHOW COLUMN