Tokyo Ramen Guide★ Tokyo's Best Spicy Ramen Restaurant
Mouko Tanmen Nakamoto (蒙古タンメン中本)
Spicy + Ramen =
Mouko Tanmen Nakamoto Ramen!

I love spicy food, and man do I love ramen. Knowing that I'm not the only one,
this time I want to introduce one of Tokyo's best and popular ramen shops (that isn't Ichiran or Ippudo),
Mouko Tanmen Nakamoto
🔥 🍜 🔥 🍜 🔥 🍜 🔥 🍜 🔥 🍜 🔥 🍜 🔥 🍜 🔥 🍜 🔥 🍜 🔥 🍜 🔥 🍜 🔥 🍜 🔥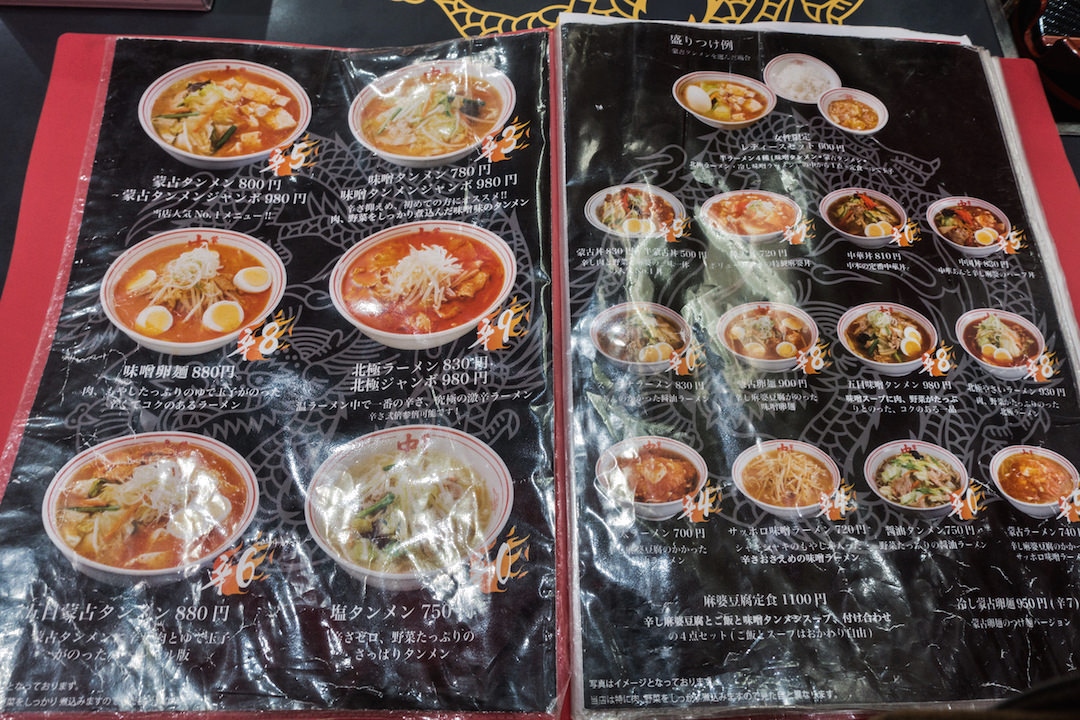 Tanmen is originally a Chinese style stir-fried vegetable noodle soup but Nakamoto changed it a bit by making the broth Japanese miso based. Then mixing it with the vegetables, spicy Sichuan tofu, and minced meat on top perfect thick and chewy noodles! Once you try it, you're a fan for life! Which is why you will NEVER see a Mouko Tanmen Nakamoto store empty!

It's great in the winter, but even in the summer, you will see the stores packed. Why Mouko Tanmen Nakamoto? Well, of course, the taste is great but so are a lot of other ramen shops in Tokyo. What makes Nakamoto's ramen so special? I think it's the fun and excitement of you getting to choose how spicy you want your ramen! Mouko Tanmen Nakamoto has ramen that is ranked by their level of spiciness. It's a lot more fun than just getting a big bowl of ramen and adding in spices yourself. You can go with some friends and challenge one another in a way. Have a spicy ramen challenge! Or even challenge yourself!
The ramen bowls have 🔥 ratings to give you an idea of how spicy they are
to really give you a good idea of what you're getting yourself into.

So which Nakamoto ramen should you get?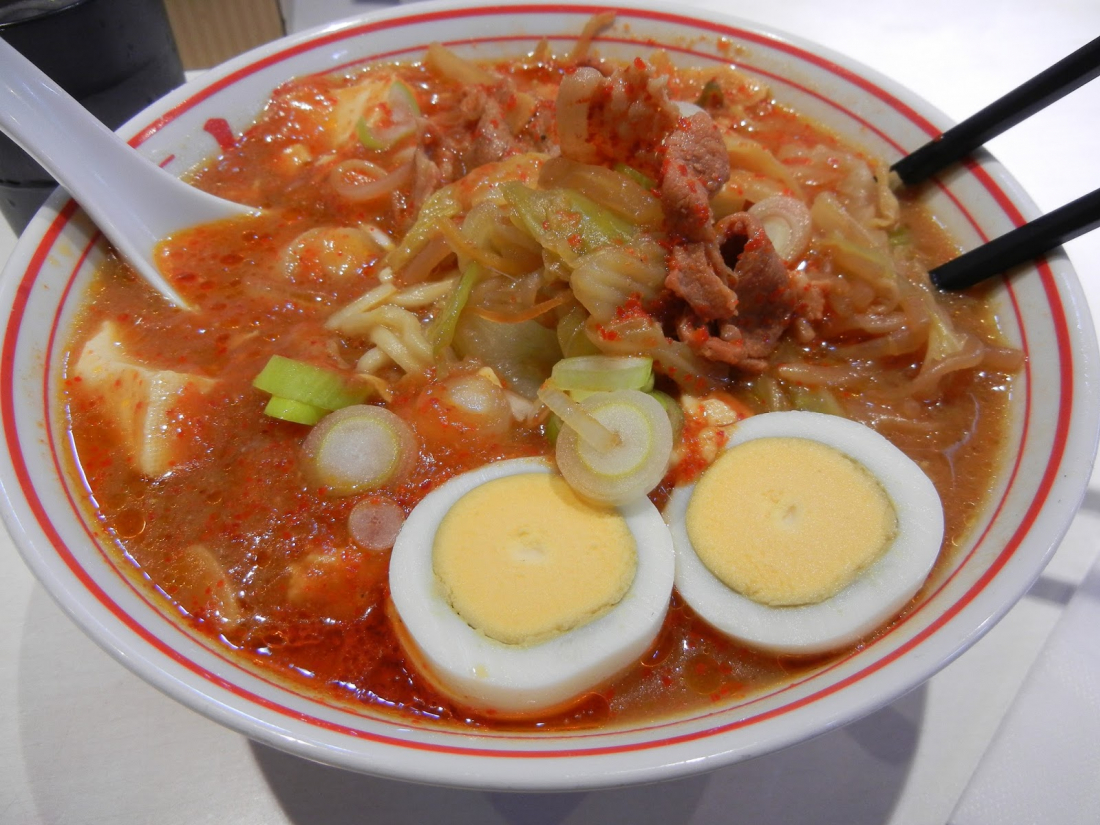 Gomoku Mouko Tanmen
(五目蒙古タンメン)
💸880yen
🔥🔥🔥🔥🔥 🔥(6)


My favorite is Gomoku Mouko Tamen!
It uses miso-based broth with spicy mabo tofu and spicy pork.
It's just a kick up from the #1 crowd favorite the Mouko Tanmen,
and it comes with a fully boiled egg!
Ramen with eggs are my weak point,
and it's very rare to see a hardboiled egg in ramen.
If the ramen includes eggs at all,
odds are it's about medium boiled.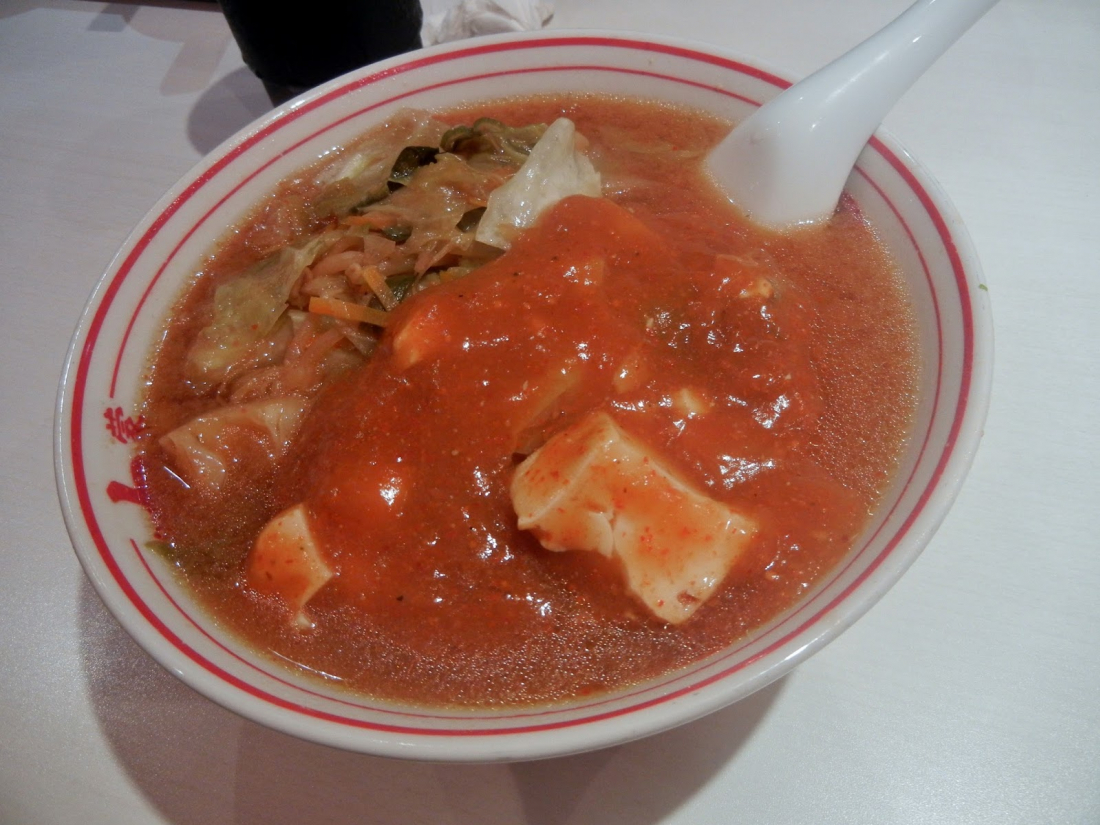 Mouko Tanmen
(蒙古タンメン)
💸800yen
🔥🔥🔥🔥🔥(5)

The Mouko Tanmen is most popular of all Nakamoto's ramen.
We recommend it for people who like spicy but not too spicy,
or if you want to get a good idea of how the spice levels
of the ramen are ranked at Mouko Tanmen Nakamoto.


Hyokkoku Ramen
(北極ラーメン)
💸830yen
🔥🔥🔥🔥🔥 🔥🔥🔥🔥(9)
🔥 🍜 🔥 🍜 🔥 🍜 🔥 🍜 🔥 🍜 🔥

Stores
Mouko Tanmen Nakamoto in SHIBUYA
(蒙古タンメン中本 渋谷店)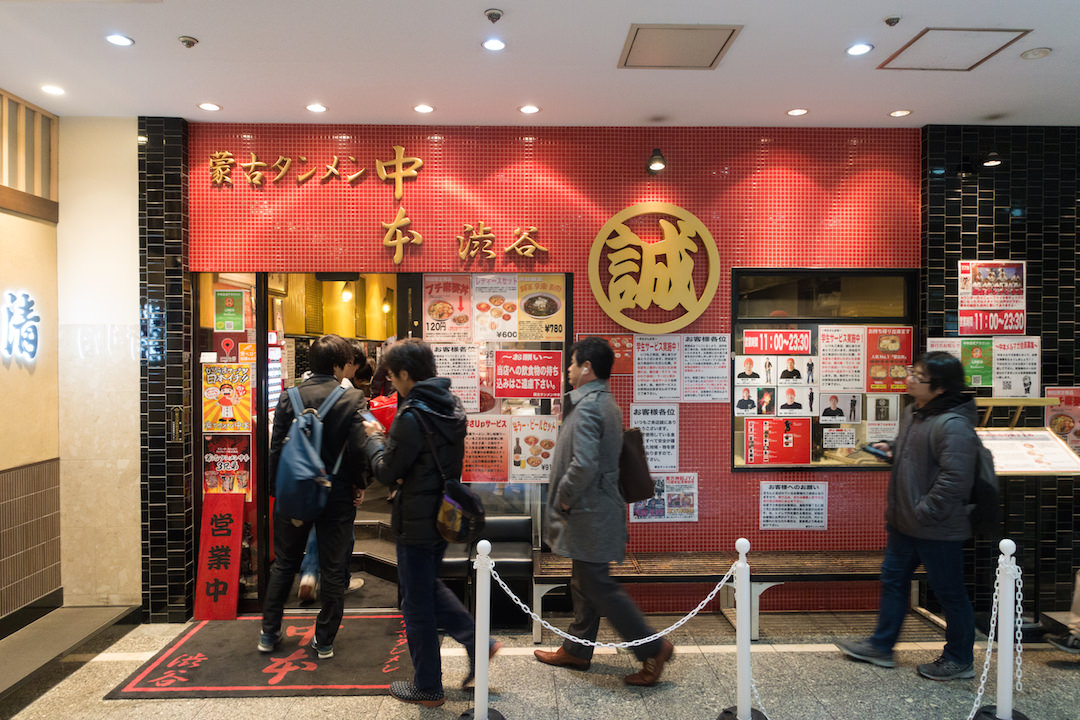 Probably the most popular Namakoto spots of them all.
Expect there to be a line anytime that isn't regular eating hours.
We went a few times around 4~5pm and there was no line!

The Shibuya Nakamoto is about a 5min walk from Hachiko Exit.
It's on the bottom floor of TOHO Cinema Shibuya,
so just take the escalator that's on the left-hand side to the bottom,
turn right and it's at the end of the hall!
You can't miss it.

Hours: 11am - 11pm
Address: 2-6-17 Dogenzaka, Shibuya-ku, Tokyo
Google Maps
Mouko Tanmen Nakamoto in EAST IKEBUKURO
(蒙古タンメン中本 東池袋店)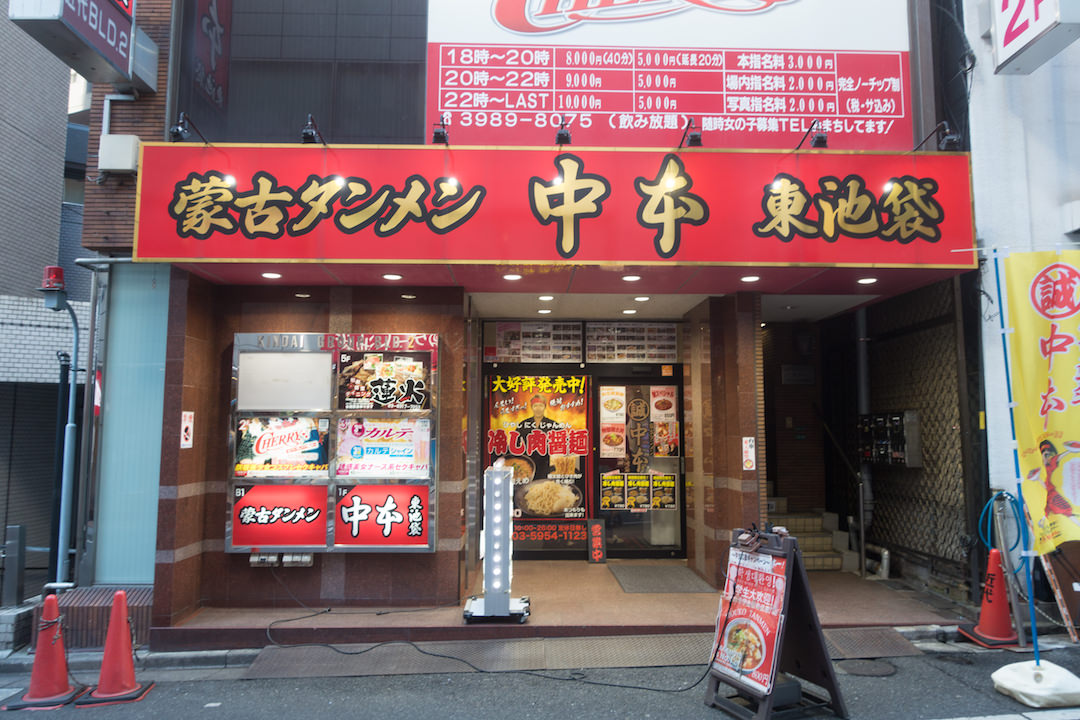 There are two Nakamoto restaurants in Ikebukuro,
one on the east and the other the west side.
This one is on the east side and we like it best because it's close to Ikebukuro's Sunshine City!

Hours: 11am - midnight
Address: 1−12−15, Higashiikebukuro, Toshima-ku, Tokyo
Google Maps
Mouko Tanmen Nakamoto in KICHIJOJI
(蒙古タンメン中本 吉祥寺店)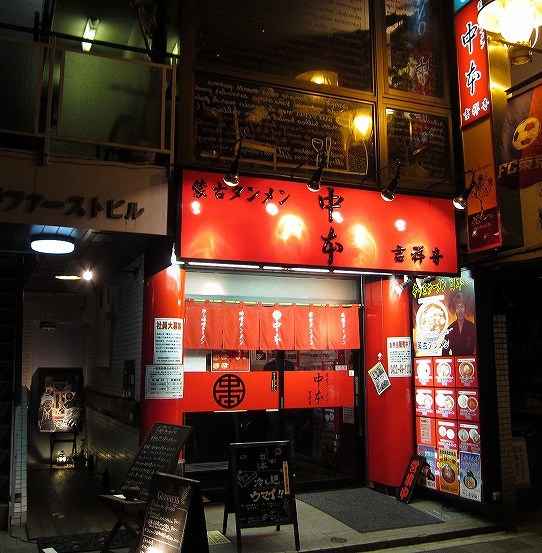 Recently a Nakamoto opened in Kichijoji!!!
It's not very big, all counter sets of 15 total,
but the staff are SUPER nice and friendly and it's close to the station!

Hours: 11am - midnight
Address: 2-9-10 Minami-cho, Kichijoj, Musashino-shi, Tokyo
Google Maps


There are 16 other restaurants in Tokyo,
some in popular and stylish areas like Meguro and Iidabashi.
Here's a list of the shops in Tokyo.
Nakamoto restaurant list (Japanese)


🔥 🍜 🔥 🍜 🔥 🍜 🔥 🍜 🔥 🍜 🔥 🍜 🔥 🍜 🔥 🍜 🔥 🍜 🔥 🍜 🔥 🍜 🔥 🍜 🔥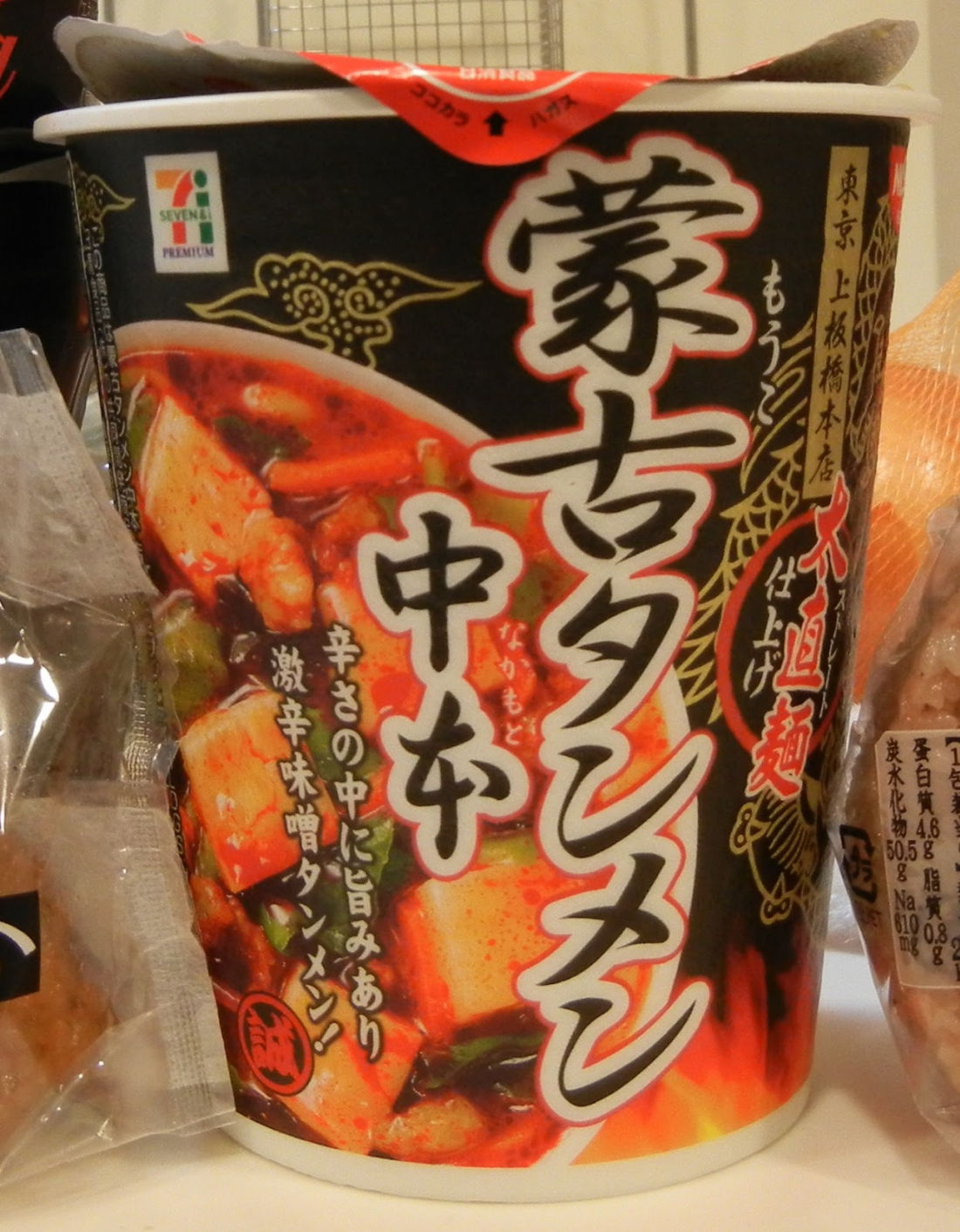 If you find yourself lovin Mouko Tanmen Nakamoto
but don't have the time to go there and eat some ramen.
No worries! They sell Nakamoto cup noodles at 7-ELEVEN!
They've even recently came out with a mini size cup noodle version.
Which is of course cute,
but great for those that don't want a lot of noodles, just a bit.


If you're up for a spicy ramen challenge, you better try Mouko Tanmen Nakamoto!
We'll be sure to let you know how the spiciest ramen goes haha

★Mouko Tanmen Nakamoto
Mouko Tanmen Nakamoto Homepage (Japanese)
Basic Info
Columnist

Kelly

Hey there!! Thank's for checking out my page~★ I love exploring the crazy and funny sides of Japan as well as its hidden treasures.

SHOW COLUMN
Related Article