New Ramen Experience at DARUMANOME in Tokyo!
Tonkotsu Ramen, Niku Max Ramen, Abura Soba, and Gyoza!!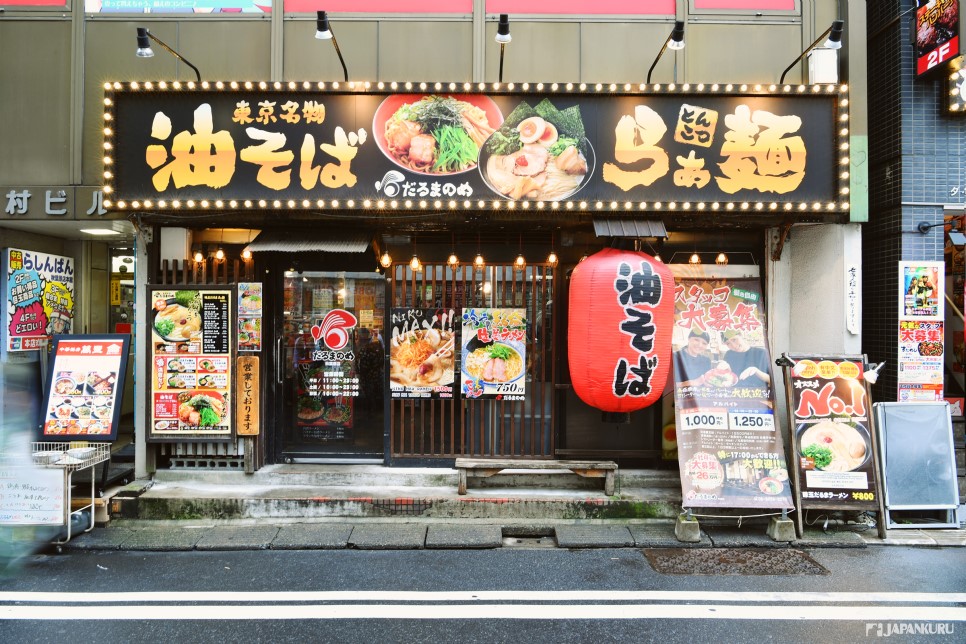 New Ramen Experience For You
Ramen in Akihabara
Akihabara may give you the image of animation, maid cafe and otaku (people who are really into animation and comics). However, if you look carefully, you can see lots of ramen restaurants in Akihabara too.

DARUMANOME in Akihabara
Among all kinds of ramen, tonkotsu ramen (noodles in rich, milky white pork bone based soup) is one the most popular ramen in Japan! Today, we would like to introduce you DARUMANOME which has 8 shops within Tokyo area!
3 Special Things About DARUMANOME
No.1 Spacious environment

Speaking of Japanese ramen restaurants, the image of counter seats in front of the kitchen may come in your mind right away. However, it is really hard for you to chat with your friends in this style.

In DARUMANOME, both counter seats and table seats are available. So it is a good news for those who want to share their ramen experience with their friends and family.
3 Steps to make your order
Best 3 DARUMANOME Ramen Ranking!
No.1 - DARUMA Ramen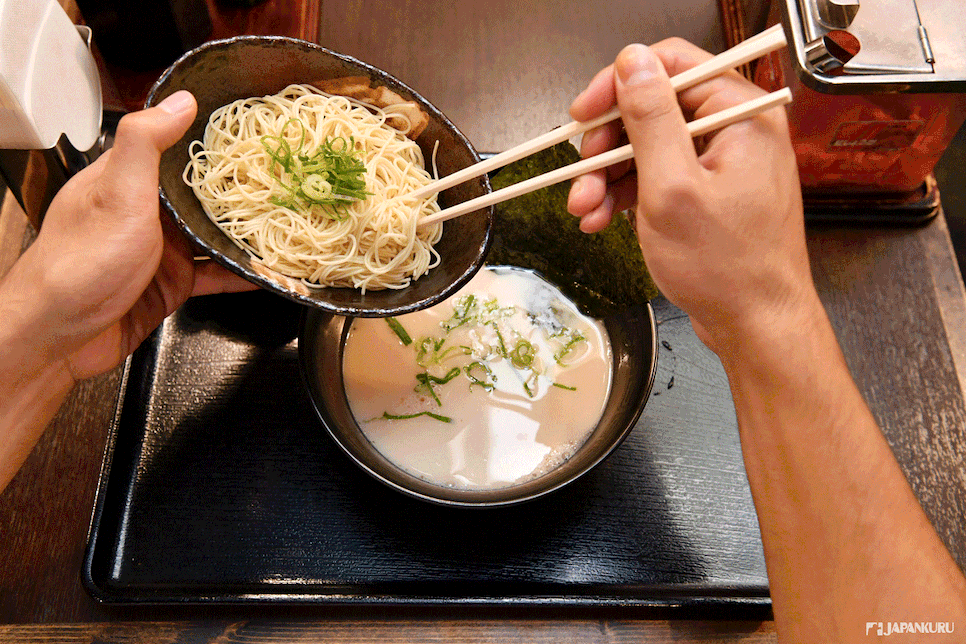 Need extra noodles??
If you need more noodles, just simply tell the staff you need "Kaedama" and give him 100 yen for an extra serving of noodles. If you know that you will need an extra serving at the beginning, you can even buy a Kaedama ticket at the ticket machine first! After getting your Kaedama, just pour it into your soup and enjoy!!

Please note that there are two kinds of Kaedama. "Shirodama" is the plain noodles and "Akadama" is noodles with chili sauce.

Kaedama
Shirodama / Akadama - 100 yen (tax included)
Kaedama is only for DARUMA tonkotsu ramen
No.2 - Challenge your maximum limit - Niku Max Ramen
Topped with 10 slices of pork, this ramen will sure make everyone surprised!! The small portion of chili sauce will even make the ramen tastes better!!

The chef grills the slices of meat right in front of you!! The nice smell of grilled meat is all over the shop!

Niku (Meat) Max Ramen - 1,500 yen (tax included)
No.3 - Ramen without Soup - Abura Soba
As you may know, ramen was first sold as street food in Japan, and that's why thin noodles are commonly used because the boiling time is shorter!

After the developments in these years, many different kinds of ramen can be found. For example, Abura soba which is made with thick noodles and without soup. Do you know that without the soup, the calorie is also reduced a lot!

Without the soup, you need to add the Japanese vinegar and chili sauce to give some tastes to the noodles. Then, mix everything thoroughly, and you are done!

Abura Soba - 720 yen (tax included)
You can choose original size or large size without extra charge.
Something extra to go with your ramen!
How about adding the pan-fried dumplings (Gyoza)?

How about the pork on rice bowl? Actually it is a common way to enjoy both ramen and rice in Japan! You can try this combination next time too!


New Ramen Experience
Not just the original ramen, maybe you can try the Niku Max Ramen or the Abura Soba next time as well!
More Details:
JAPANKURU Blogger
Wanna get more and share your Japanese stories with us? Please join us on
Google+
!!
See you there! :)