Hot Spring Hotel - Takinoyu Hotel
Relaxing hot spring trip in Tendo, Yamagata Prefecture
About Yamagata Prefecture and Tendo City
Yamagata Prefecture is located in the southwest corner of Tohoku (northeast) region of Japan with a population of 1.14 millions. Although it is known as a snowy area in Japan, but in summer time, many Japanese will visit Yamagata Prefecture because the weather is nicer and cooler up here. It is also a great place to do some hiking in the nature.

As we have mentioned before, Yamagata Prefecture is also famous for other interesting things like they have the "Top cherry production in Japan", "Top Shogi (Japanese traditional chess) piece production in Japan", and "Top Ramen consumption in Japan"!

Tendo City is located in the eastern Yamagata Prefecture with a population of 60 thousands. It is famous for the beautiful nature, hot springs and shogi piece production. It is also close to the Yamagata airport, so it is a good place to live for people who work.
Transportation
Even there is no international flight flying to Yamagata at the moment, but you can consider to use the local flights flying from various airports in Japan, for example, there is flight from Tokyo Haneda Airport. If you want something cheaper, you can consider the highway buses.
For information about the highway buses, you can check out our previous sharing here:
♪ Bus Travel # 6 Enjoyments of Riding on a Willer Express Night Bus to Kyoto
Depart from Shinjuku Tokyo

If you take the highway bus from Shinjuku, you can get off at the "Tendo Onsen" stop which is just outside of Takinoyu Hotel. How convenient is that!
Departs at 22:30 - Bus stop at the south exit of Shinjuku Station
Arrives at 05:45 - West exit of Yamagata Station
Arrives at 06:30 - Tendo Onsen Stop
Fees: 3,500 to 4,100 yen for adults, 2,050 yen for children
Willer Express Homepage:
http://willerexpress.com/en/
Shogi Tournament

At Takinoyu Hotel, you can find a special room called "Ryuo No Ma" which is the venue for the Shogi Tournament, "Ryuo Sen", in Yamagata Prefecture. From the table size and the floor, you can see the design and the tatami used is different from the other rooms, they are specially made for the shogi game use.

Takinoyu Hotel received the award "Oyamayasuharu" in 2012. This award is presented by the Japan Shogi Association to those who has had distinguished achievement in promoting the shogi culture.
Hot spring which is good for your body and skin
It is said that the water of the Takinoyu Hotel hot spring contains a huge amount of sulfates which is good for trauma, neuralgia, arthralgia, chronic skin diseases, stiff neck, back pain etc. Also, it is good for your skin too!

Other than the high quality hot spring water, Takinoyu tries to create a warm and modern atmosphere in the public bath area. It is very relaxing to enjoy a hot bath here.

Moreover, with the senior-friendly design in the public bath area, everyone can enjoy the public bath without any worries.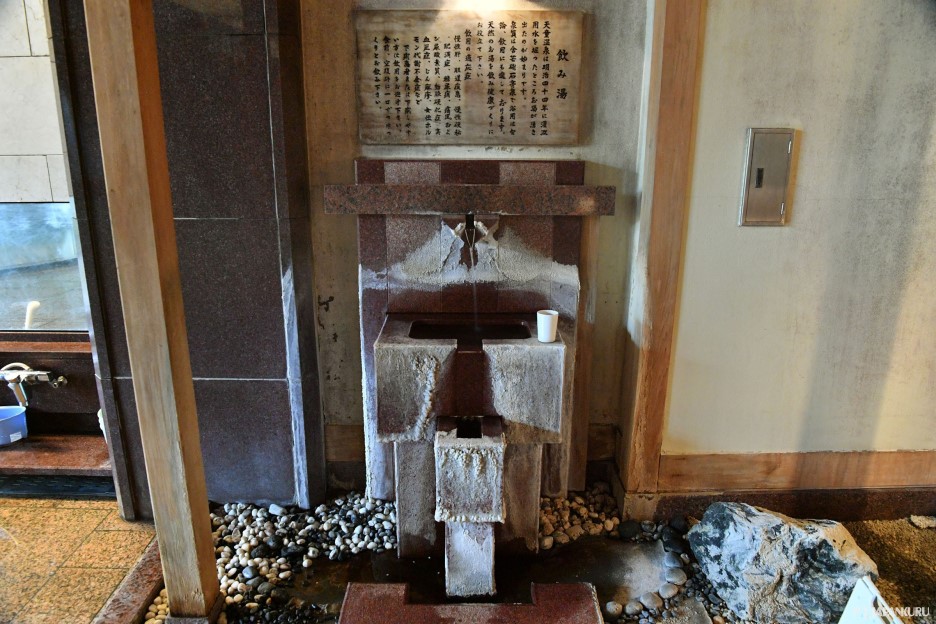 Drink the hot spring water??
Do you know that the hot spring water in Tendo City can be used for drinking too?

It is said that it is good for liver disease, constipation, obesity, gout, arteriosclerosis, high blood pressure etc. However, be careful if you have a weak stomach.
Amazing Services
Kaiseki Cuisine
What can be better than ending your day with a Kaiseki cuisine (traditional Japanese feast)!

Takinoyu started running their own farm 20 years ago, they provide pesticide-free seasonal fruits and vegetables to their guests.

In Japan, beef in Kobe, Matsuzaka, and Yamagata are selected and called the Best 3 beef. So how can you miss the Yamagata beef if you are in Yamagata Prefecture!!
Private hot spring in your guestroom
Back in your guestroom, you can enjoy your private hot spring time with your family and loved ones!

At Takinoyu Hotel, you can enjoy the hot springs and the healthy and delicious meals. Look, how nice the night view of Tendo City is!
Traditional Japanese style hot spring hotel
Actually the Takinoya group also runs another nice hot spring hotel in Tendo city which is the "Tsuruya Hotel"!
If you are into the Japanese style room, Tsuruya is a good choice for you too! Rooms are decorated with Japanese bamboos and tatami flooring.
Hohoemino Kuyufu Tsuruya
Address: 2-5-14 Kamatahoncho Tendo City, Yamagata
Tel.: 023-654-2051
Email: hohoemi@tsuruya-h.co.jp
Homepage (Japanese):
http://www.tendotsuruya.com/
Wanna get more and share your Japanese stories with us? Please join us on
Google+
!!
See you there! :)
Related Article