Outlet Shopping in Japan's Leading Summer Resort Area 👜 Karuizawa Prince Shopping Plaza
🍂 Japan Shopping in Nature 🍂
Karuizawa (軽井沢) is an upmarket mountain resort in Nagano Prefecture. It's one of the most popular resort places in Japan, so much that the Japanese emperor and his family go there yearly. There are various of outdoor activities like golf, hiking, tennis, skiing and ice skating, and of course
lots
of opportunities to shop! Karuizawa is most beautiful in the fall when the leaves are changing, but it's really popular all year long. We went when the leaves were still changing, making it a beautiful experience!!! We wanted
to get
some shopping done, and heard that Karuizawa's shopping outlet was really famous for being a huge outlet that's surrounded by Nagano's beautiful mountains and trees. So we went to check it out~★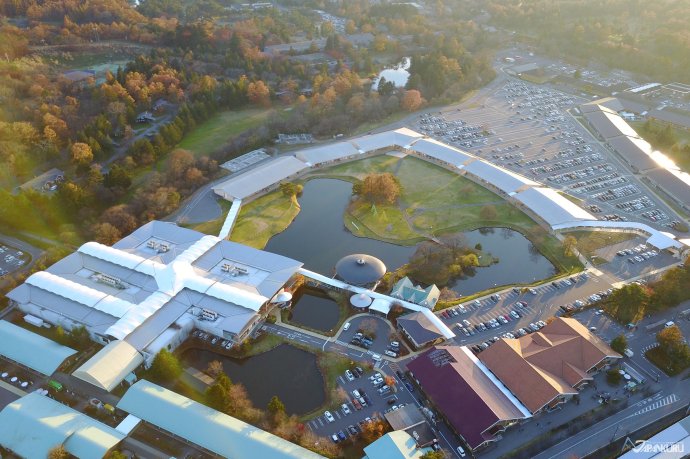 If you're using the JR Kanto Area Pass, then it's a lot more convenient for you to come here directly!
Karuizawa is also easily accessible by the Seibu bus

★Karuizawa Prince Shopping Plaza
(軽井沢プリンスホテル)
⏰ Shops, Food Court, Restaurant, Cafe: 10:00~7:00
Karuizawa Aji no Machi: 11:00~22:00
STARBUCKS COFFEE: 9:30~19:30
TULLY'S COFFEE: 9:30~19:30
(※changes depending on season)
💻 Official Website (English)
💳VISA, MasterCard, American Express, JCB, Diners Club, and Union Pay credit cards are accepted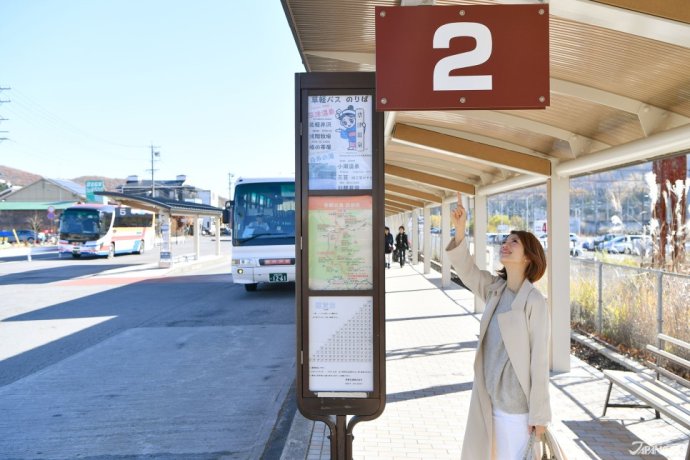 From Karuizawa Station, you can also go to Gunma Prefecture's SUPER famous and most visited tourist spot Kusatsu Onsen.
At the opposite side of the station, get on the bus stop #2 and it'll take you all the way there!!
In our next article, we'll mention more about getting to Kusatsu Onsen and what sort of stuff you can do there!
Karuizawa Prince Shopping Plaza
●Winter Illumination●

As the sun goes down the lights around Karuizawa Prince Shopping Plaza go up! During the fall/winter, Karuizawa has a special illumination and it really does change the mood completely. With all the mountains, ski slopes, trees, it was truly beautiful.
WINTER ILLUMINATION
📅 11/1/2017~3/31/2018
⏰ 5:00 to 9:00pm
★EDIFICE IENA
Floor Guide: TREE MALL (TM-09)
TAX-FREE
-Dogs allowed in if carried-
★COACH
Floor Guide: TREE MALL (TM-08)
TAX-FREE
-Dogs allowed in if carried-
❸
Better Living
●Kitchenware●
A lot of the kitchenware for sale here were special handmade by Japanese craftsmen, "Made in Japan" stuff. Like a traditional grater that's labeled as "shark skin grater"...is this really shark skin!? It looks like it'd work really well though. Even if you don't buy anything, it's always fun to look!
★BETTER LIVING
Floor Guide: WEST MALL (W-15)
TAX-FREE
-Animals not allowed-
❹
Syunsui
●Nagano/Karuizawa Souvenir Store●
Comes with shichimi which contains 7 different spices/chili peppers and it's said that there isn't a single household in Nagano that doesn't have it.

Nagano has some of the best soba. But if you don't have the right soba soup things can go wrong. That's why the soba set is pretty helpful. Inside contains snacks/side dishes that are special to Karuizawa.

Just LOOK at that! It looks crazy good!!!

Baumkuchen is a very popular snack/dessert in Japan, and apples are very famous in Nagano. So it's no surprise they combined the two!! 1852yen (about $16) isn't a bad price but when we were there though they had a deal where they were selling it for 1200yen (about $10) so maybe you guys will get lucky too!
★Syunsui
Floor Guide: SOUVENIR COURT (SC-04)
-Animals not allowed-
❸
SAKUYA
HONTEN DASHI TO SHINSHU GOHAN
(出汁と信州ごはん佐久屋本店)
●Restaurant●
★SAKUYA
Floor Guide: GARDEN MALL (GM-12)
-Animals not allowed-

Related Article