Japanese Beauty and Health Products 👣 Japan's Body Care Foot Sheets from Don Quixote
Ashirira Foot Relax Sheet 👣 (足リラシート)
Trying a Popular
Japanese Beauty and Health Product
👣 Ashirira Foot Relax Sheet 👣
(足リラシート)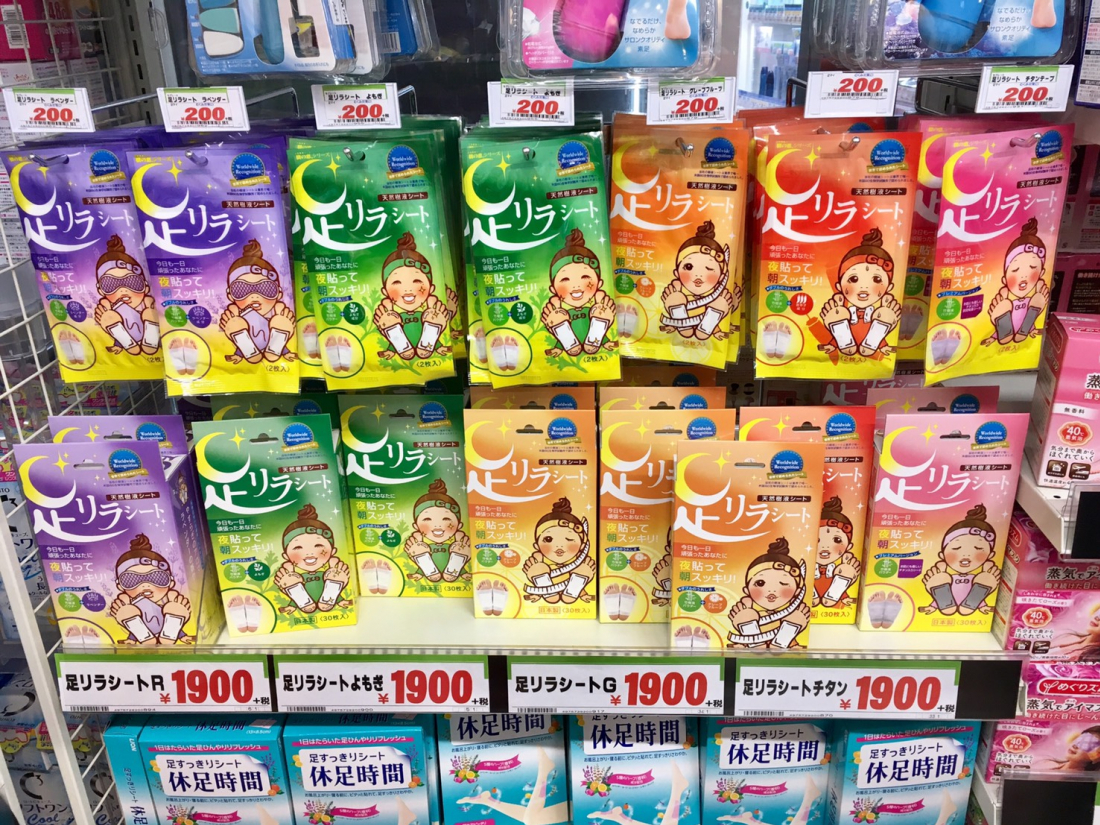 👣✨👣✨👣✨👣✨👣✨👣


Have you ever seen these sheets for sale in Don Quijote or a Japanese drug store?
I came across these and I wondered,
"What exactly are these for?" and
"Do these really work?"
So I thought the only way to know is to buy one and try it for myself!


👣✨👣✨👣✨👣✨👣✨👣
👣Japan's Ashirira Foot Relax Sheet👣
from Don Quijote

There were 5 different types for sale at Don Quijote,
all sold in either a pack with 2 sheets (for 1 use)
or a box of 30 sheets (15 uses).

The individual packets are sold for 200yen
and the box is 1900yen.


⁑These are the sheets that were available⁑
⇩⇩⇩⇩
👣✨👣✨👣✨👣✨👣✨👣

Trying Out the Kinomegumi
Ashirira Foot Relax Sheets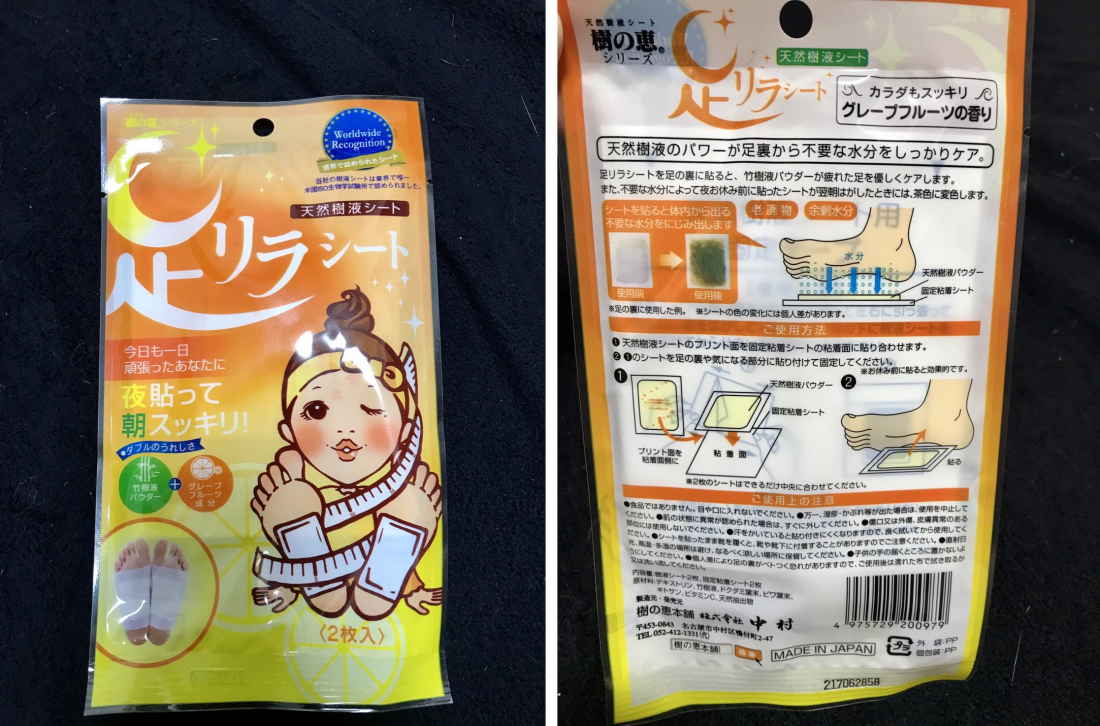 As I was looking at each individual pack trying to decide which to get,
4 different women also got one!
Two that looked like they were in college,
and the other two maybe in their 30s~40s.

I ended up getting the Ashirira Foot Relax Sheet in Grapefruit.
I figured with the detox,
I would be more likely to get some crazy results!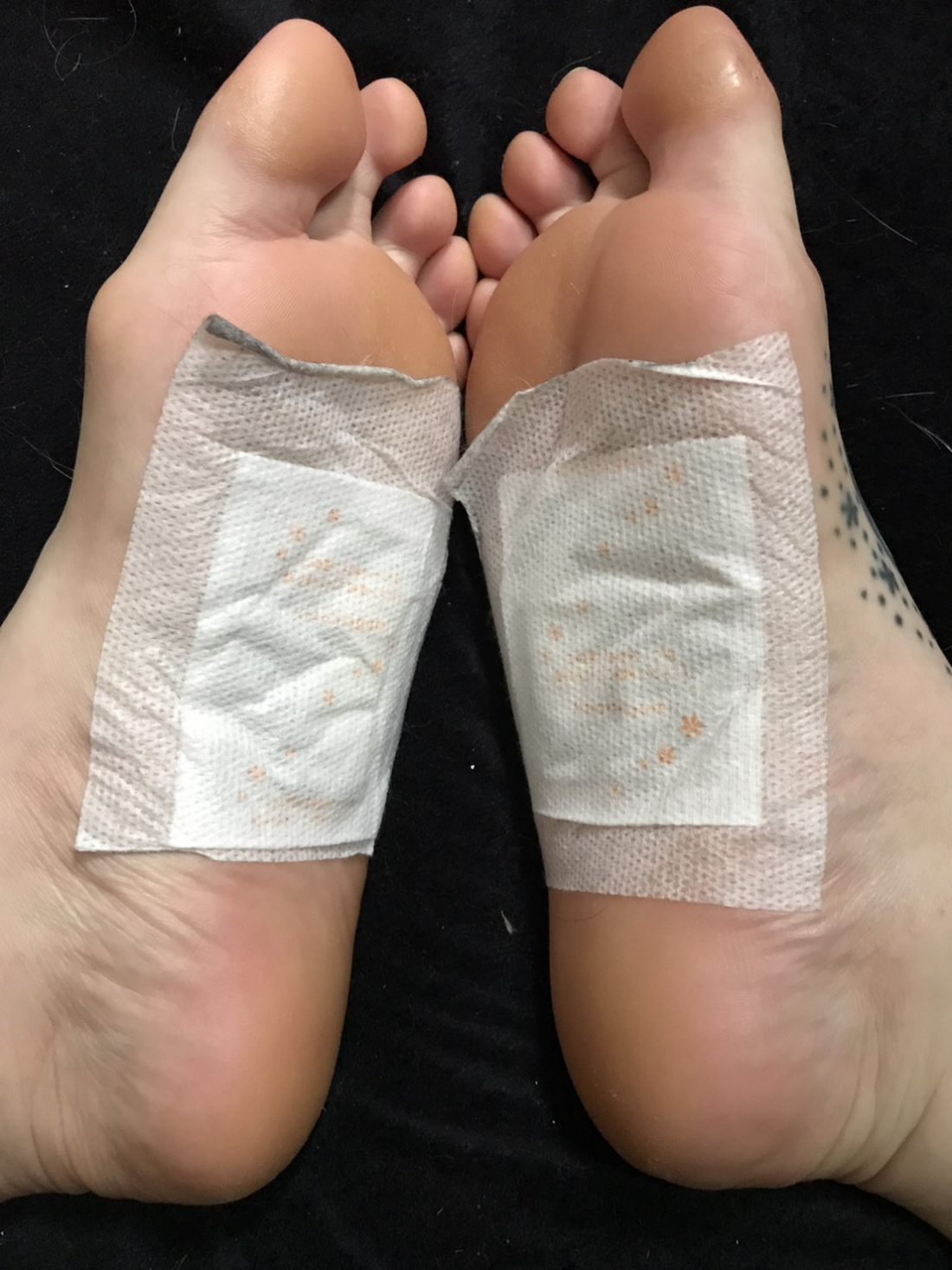 I was a bit worried if the sheet would come off while I was sleeping,
but it didn't!!
The Ashirira Foot Relax sheet stayed on!!!!


Now~
Let's see the results⁑
I didn't know what to expect!
We were wondering if it'd really work...and if it did,
what would the color of the pads be like when I took them off?
The foot relax sheet was weirdly sticky.
So when you take off the sheets,
make sure to have a wet towel or something on hand.

How did I feel afterwards?
Well,
I slept really well and had some weird dreams.
Then woke up with a small headache.
Now whether that relates to the Ashirira foot relax sheet,
I'm not sure, but that was something different from the norm.


👣✨👣✨👣✨👣✨👣✨👣

The Entire Kinomegumi
Ashirira Foot Relax Series
There are also now Ashirira foot relax sheets for men!
The men's version is to help with odor and relaxation.
👣✨👣✨👣✨👣✨👣✨👣


The Ashirira Foot Relax Sheet make great presents, souvenirs,
✦✧or even for your own personal pamper stock✦✧

They're super cheap and you can get them
at any drug store or Don Quijote.
So if you happen to pass by some Ashirira sheets hanging in the store,
pick your favorite type and
see what your sheet looks like when you wake up in the morning!


★KINOMEGUMI Ashirira Foot Relax Sheet
Ashirira Foot Sheet Website (Japanese)
Ashirira Foot Sheet Online shop (Japanese)
Can buy at Don Quijote or Japanese drug store
(below is Don Quijote price)
Individual packets (2 sheets, 1 use)- 200yen
Box (30 sheets, 15 uses)- 1900yen
Basic Info
Columnist

Kelly

Hey there!! Thank's for checking out my page~★ I love exploring the crazy and funny sides of Japan as well as its hidden treasures.

SHOW COLUMN