Japanese Fashion Brand Koma aoyama ⦿ High Quality Japanese Shawls Are This Years Trend
Shawls and Wraps in Japan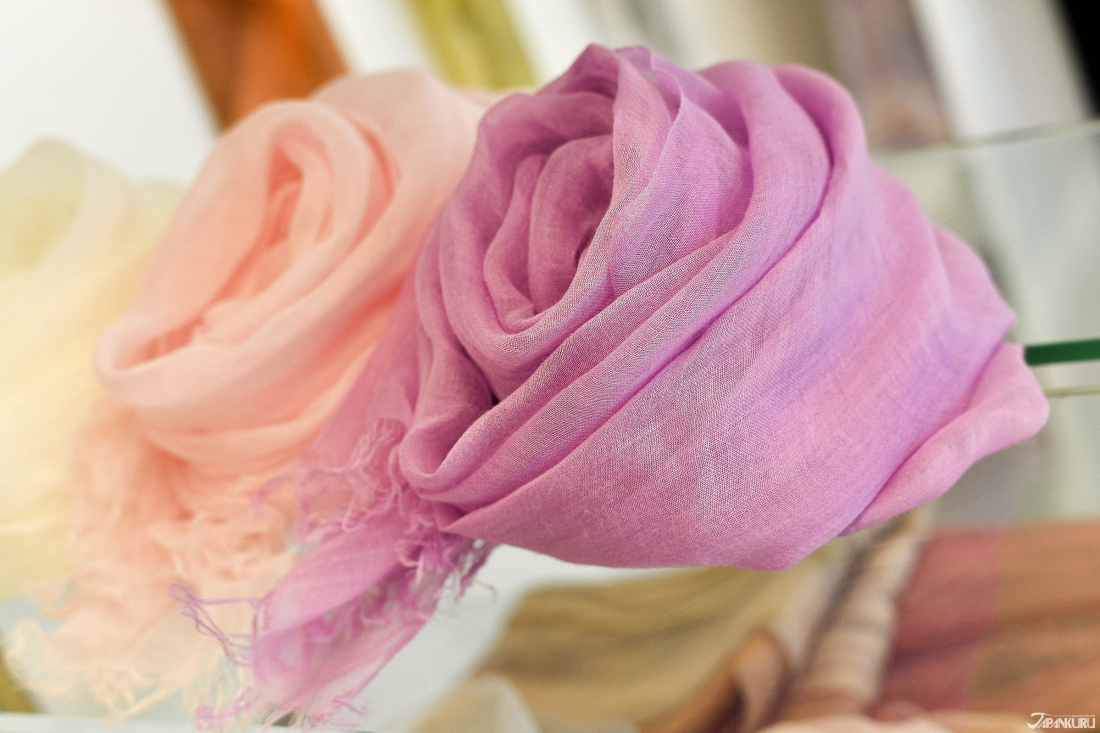 Original Shawl Brand, Koma aoyama
With the seasons and weather changes, we often see women wearing a variety of fashionable scarves as an added fashion item to keeping them warm. Even if it isn't freezing outside but you want just something light when it's chilly out, makes not only scarfs but shawls a MUST HAVE item for many.

Scarfs are usually the more popular item to buy, however, with the delicacy and more functional purpose of shawls, they are now becoming a popular fashion item here in Japan. Unlike the scarf, thanks to the material and rectangular cut of the shawls, various ways of wearing it are possible. Even in modest fashion, one shawl can change your look drastically.

Japan's Fashionable Area, Aoyama
When talking about "Tokyo's fashion district", Aoyama is one of the top places to be mentioned.
In the middle of Harajuku and Omotesando, Aoyama is not only a favorite for locals but full of foreign tourists from various countries.
Today's article is about introducing a specialty shawl store that sells beautiful and one of a kind MADE IN JAPAN shawls.
This special store is called, Koma aoyama.
Koma aoyama, "An Artisanal Production in the Traditions of the Past"
Unlike big brands using completely industrialized production methods, Koma aoyama continues to perpetuate traditions using artisanal weaving methods. Each thread is chosen with care in order to create shawls with the irreproachable quality. Soft to the touch, this work of artisans results in unique products containing finesse and ease of use.

It is a concept that yarn and thread gently overlap without forcibly pulling. Thanks to that, if you have a little hole or dent, gently stroke the thread, and it will return to its original form. Actually, since this low-speed weaving loom machine isn't manufactured anymore, craftsmen make the shawls directly by hand which requires skills obtained from many years of experience.
Koma aoyama's Popular Shawls: Best 3
It may be obvious, but not all shawls are the same. Depending on what materials are combined and how it's weaved, you get different distinctions and designs. It can be quite difficult to choose which shawl will perfect you, which is why we've decided to present you 3 collections which makes the success of Koma aoyama:
① Mashma Collection
② Mucc Denim Collection
③ Mesh Collection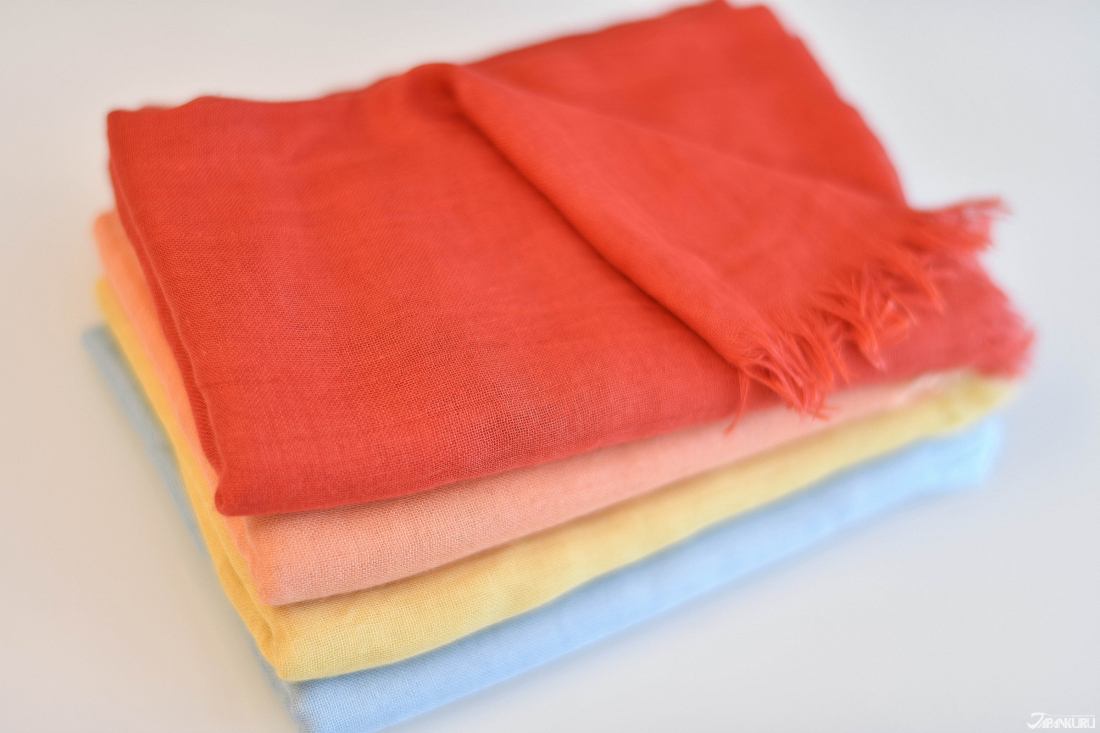 ⦿Mashma Collection⦿
Although a shawl is still a shawl,
each collection has its particularity.
The Mashma Collection is adored for its sober appearance but
especially for the softness of the fabric
which is smooth like a marshmallow!
Also perfect for warming you up,
you can easily store it in your bag until you need it.
The shawls in this collection are light,
but since cashmere is included it retains heat well
and remains durable.

⦿Mashma Collection
Silk 60% · Cashmere 40%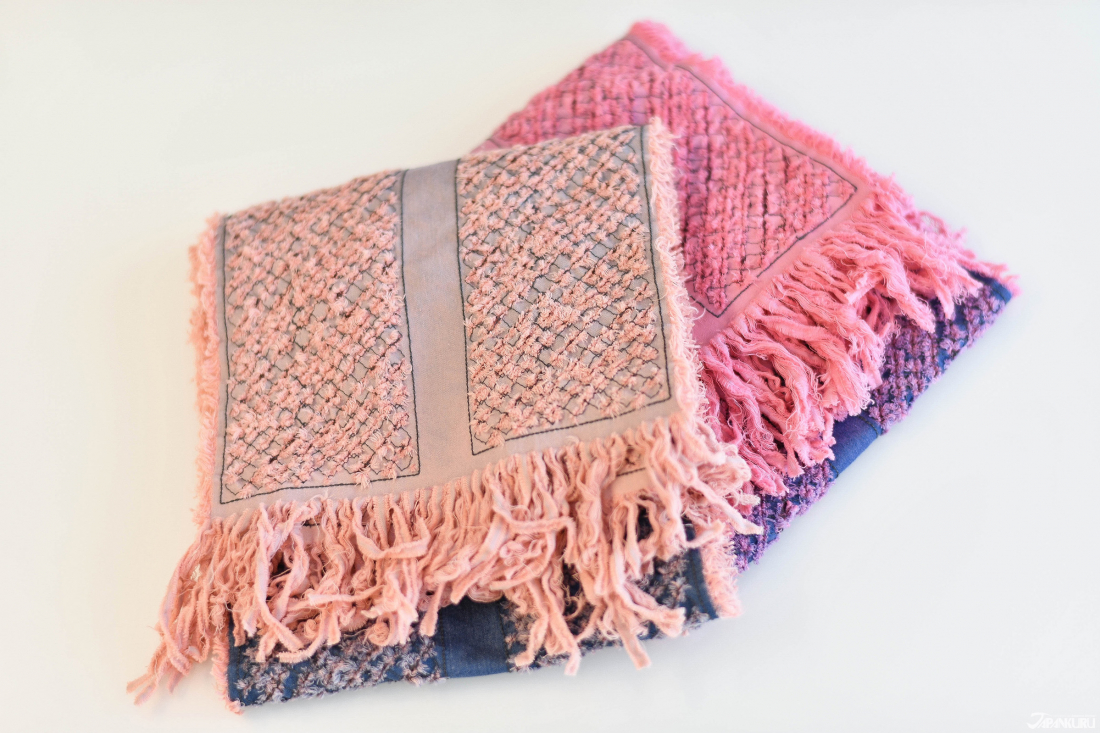 ⦿Mucc Collection⦿
In a very different fashion,
the Mucc Collection uses denim as its source of fabric.
Despite what you may think the denim shawls are very gentle.
The denim gives a unique and vintage look,
and compared to other Koma aoyama collections,
you feel like you're being bundled up nicely.
The overall style of the shawl looks great with any sort of fashion coordination.


⦿Mucc Collection
100% denim
⦿Mesh Collection⦿

The Mesh Collection is made of 100% cashmere shawls. Cashmere is a high-class material that many knows, but cashmere is still a unique fabric that surprisingly isn't commonly used when making shawls.

⦿Mesh Collection
100% cashmere
Various Ways to Wear a Shawl ⦿ Koma aoyama Shawls
Compared to a splendid and short scarf, Koma aoyama shawls are long and come in various colors.
Which means you can enjoy a variety of ways to wear your new shawl~
⦿Milan Style⦿

Koma aoyama's Milan Style gives a very high-class image, but it's pinpoint is creating a tight knot like wrap around your neck making your face appear smaller. Like a necktie, pass through the neck from the bottom up after rolling up to the editor style introduced above. Then make the ends shorter by weaving around the knot.
Same Shawl, Different Look
You can still wrap the shawl up around your neck like a scarf,
but decide whether to show the shawls designs or not!
Traditional shawl fashion of draping them over your shoulders is also an option.
Just like wearing them as a scarf,
deciding to show or "hide" the shawl's designs are up to you!​
How to Get Your Own Japanese Shawl!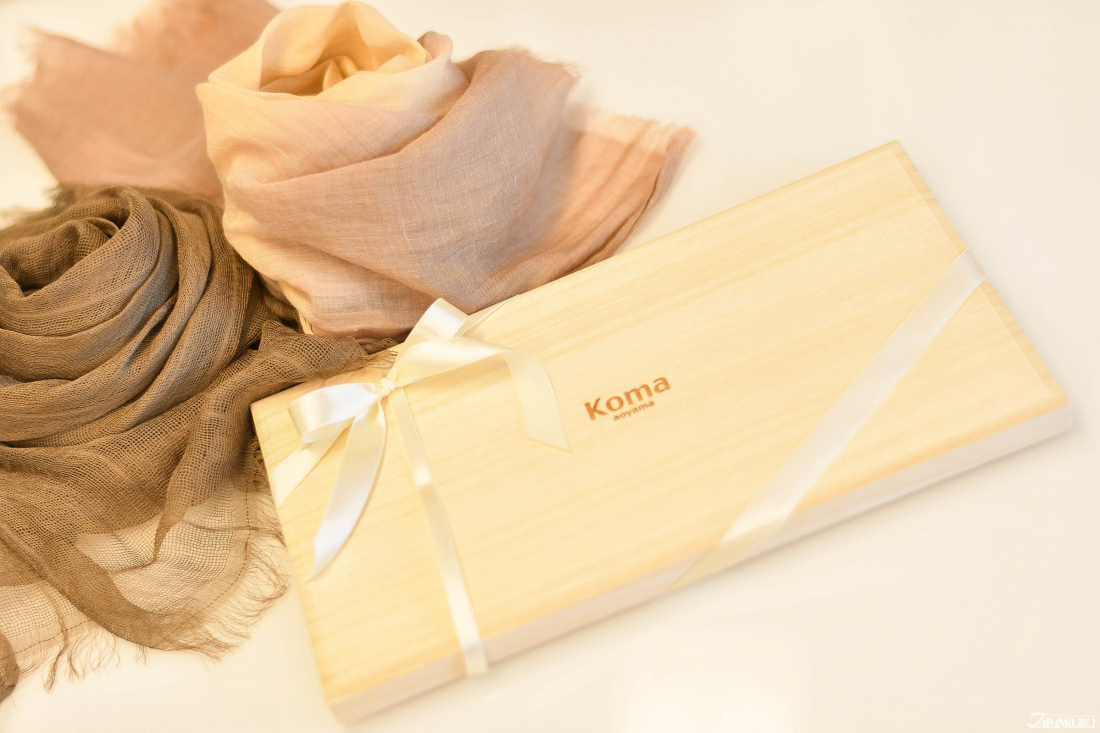 ❶ Koma aoyama Online Shop
Unfortunately, Koma aoyama doesn't deliver overseas.
You can go directly to the store or get it through Japanese domestic delivery.
Recently, it seems that there are also quite a few of people
who order online and have the shawls sent to their accommodation's reception.
For those who wish to buy online and ship within Japan,
please check the URL of the online store below.

http://koma-onlinestore.com/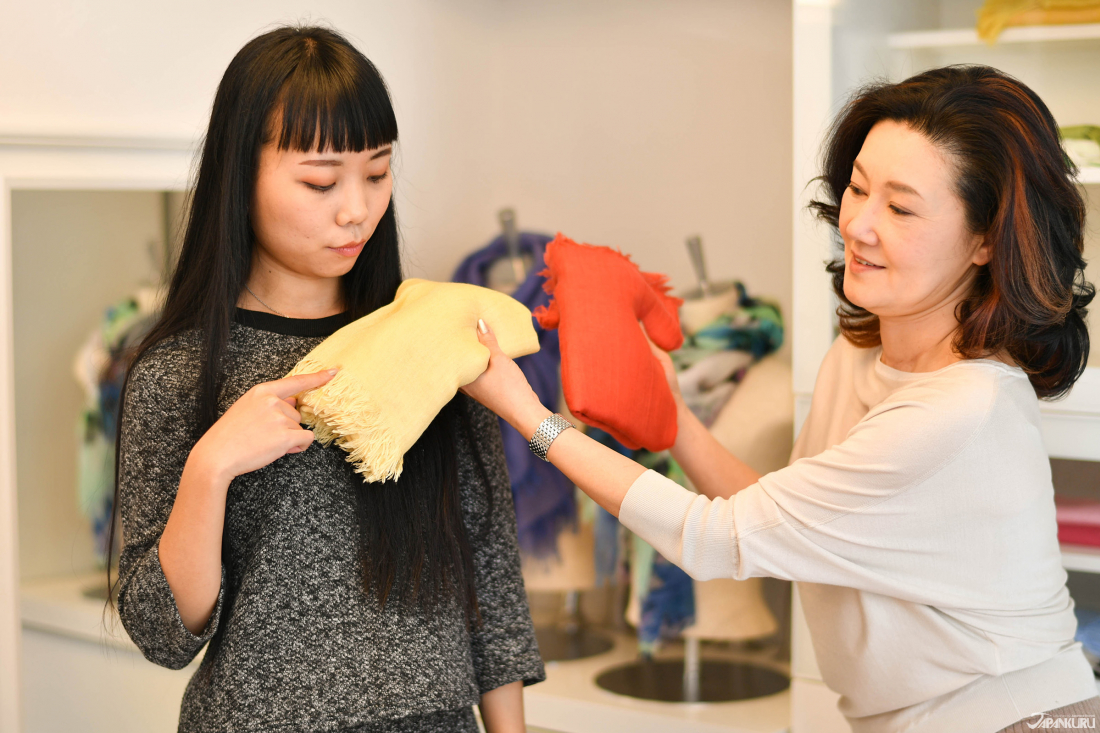 ❷Visit Koma aoyama Store
No matter how many times you internet shop,
seeing the products first hand for yourself is ALWAYS better.
Especially when dealing with such high quality MADE IN JAPAN items,
you'll want to go for yourself if possible.
Then there you can coordinate various of shawls
according to your personal style.

Internet inquiry page of Koma aoyama store
Inquiry page

*お名前 = Name (in English is fine)
メールアドレス = Email address
お問い合わせタイトル = Inquiry title
お問い合わせ内容 = Content of inquiry
*If requesting to make a reservation to visit the store,
be sure to include desired date and time
Shawls Made with the Finest Materials and Techniques of Craftsmen
Taking a look at the fashion side of Japan, this article introduced a beautiful fashion accessory that shows off Japan's handcraft expertise. Japan's shawl brand Koma aoyama exquisitely matched the three stages of rare traditional method, highest class material, and craftsmanship technique.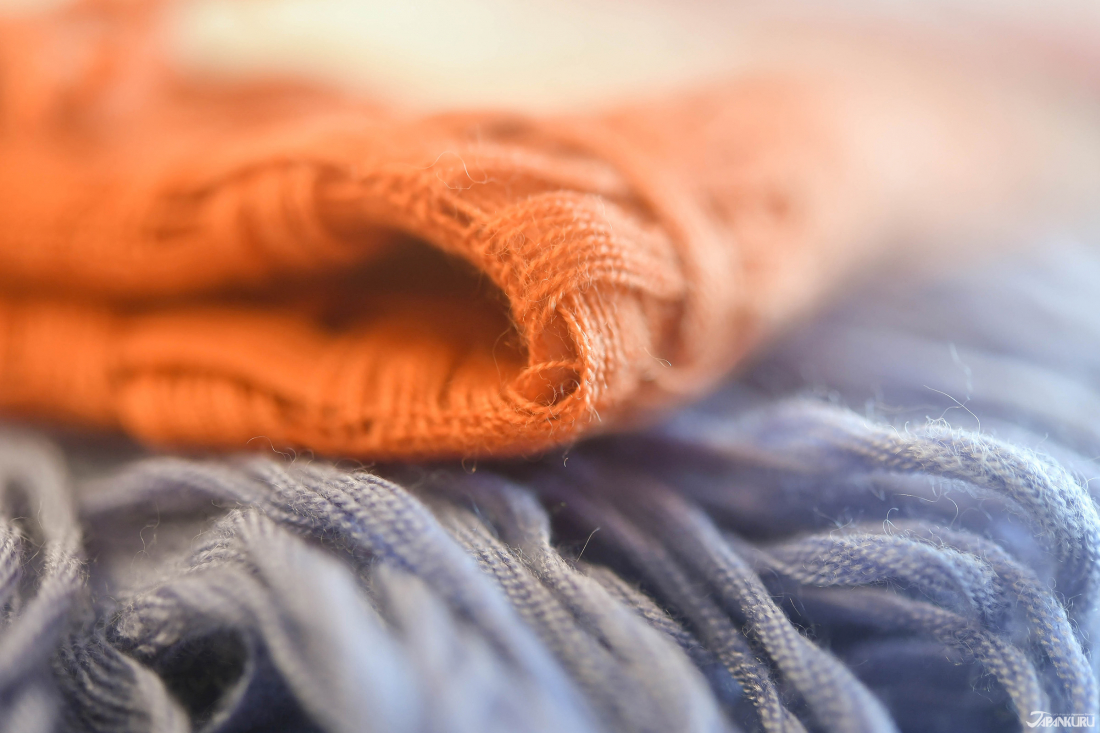 ⦿Koma aoyama
🏢5-10-1 Futaba Bld. 4F, Minamiaoyama, Minato, Tokyo
Google Maps
📞03-6419-7710
⏰Irrigular holidays (requesting inquiries)
📧info@koma-company.jp
🚉Omotesando Station, 2min walk from exit B1
Tokyo Metro Ginza Line, Chiyoda Line, Hanzomon Line
(Inbetween Starbucks and Kua 'Aina)
💻Official website (JPN)
Official Instagram
Koma Online Store

Related Article