Best Japanese Drugstore Product 💪 Japan's Joint Support VANTELIN
Choosing the Right Knee Supporter in Japan
VANTELIN KOWA
Japanese Pharmaceutical Company
JAPAN
KURU
normally introduces a lot of popular restaurants, sightseeing sights, and shopping brands... but rarely do we talk about medicine or household items. We came across a great supporter that's a great buy whether you're here in Japan for travel or live here. What's more is you can get it at any drug store or even the big discount store in Japan Don Quijote! So if you have some weak or sore joints, this article is for you~
⋎・⋏・⋎・⋏・⋎・⋏・⋎・⋏・⋎・⋏・⋎

VANTELIN KOWA
Knee Joint Supporter

In general, braces should be worn if you're having knee pain or you wish to prevent injuries during high contact sports where there's a higher likelihood of injury. Taking that and the fact that our knees bend on an average of a million times a year into effect, it's mportant to choose the right support.
Kowa's VANTELIN supporter includes a "sports taping" effect meaning it's supporting effects for the muscles and ligaments along with the joints while helping to prevent excessive force such as weight.
VANTELIN Knee Support Feature 1: Support Structure
What they call an "anchor structure", refers to the function of holding both ends of the band tightly. It keeps the supporter firmly fixed while preventing swelling and sliding down due to sweat and movement during use along with preventing the taping effect from loosening.
VANTELIN Knee Support Feature 2: Slitted Knit Structure
The slitted knit structure is flexible and breathable, reducing bending discomfort and strain, which is a big downside to many supporters and braces. Often the area being supported gets hot and sweaty, so having that a protective gear that is made of a knitted mesh-like fabric is something to be thankful for.
VANTELIN Knee Supporter Feature 3: U-Shaped Tape Structure
Around the slit knitted structure is a U-shaped bandage wrap that protects the knee from excessive shaking and movement, like the constant bending and straightening when climbing stairs, protecting the joints.

In addition to the regular support, VANTELIN has specific knee supports for heat retention and a cooler, more breathable support available that's suitable for all year long.
⋎・⋏・⋎・⋏・⋎・⋏・⋎・⋏・⋎・⋏・⋎

VANTELIN SUPPORTERS
Choose According to the Area

Along with VANTELIN's knee support, they have a line of other body supports!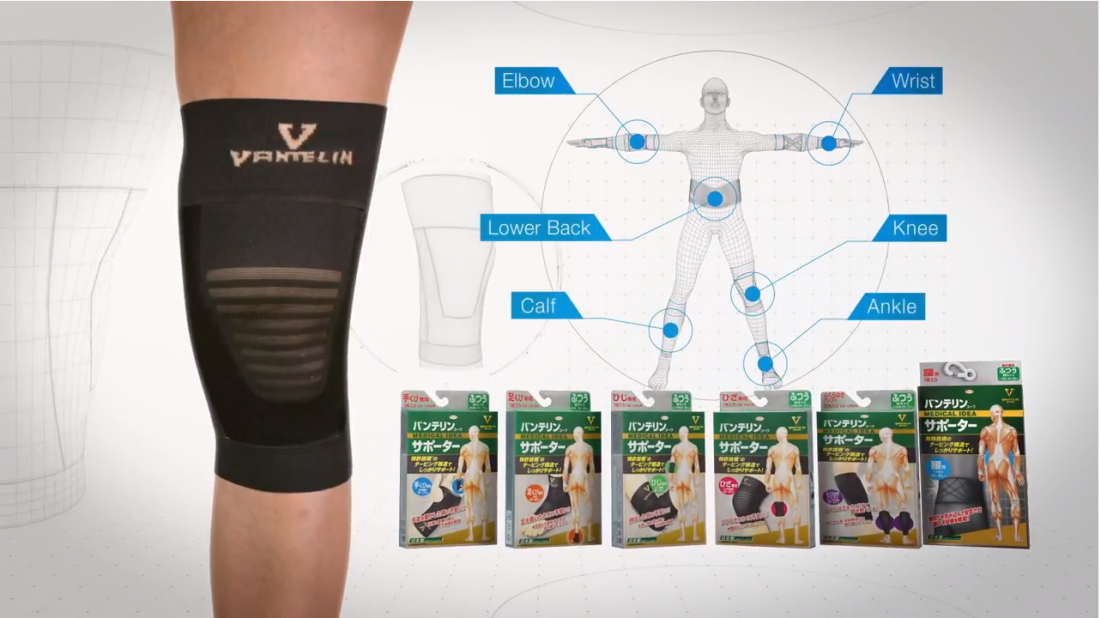 ●
Elbow
: Provides compression to relieve pain caused by tendonitis or stress/strain on the elbow due to repetitive motion. ※Great for
tennis players
,
waiters
,
computer workers
, etc.
●
Lower back
: Stabilizes weaker areas in the back by not creating more strain. ※Those who often do
heavy lifting
, alternate from
sitting to standing
often,
muscle spasms
, want to
improve posture
, etc.
●
Calf
: Relieves muscle swelling during walking and eliminates fatigue. Also said to improve circulation. ※ Best to use if a
runner
and those who intend on doing a lot of
legwork
.
●
Wrist
: Alleviates wrist pain and prevents (further) injuries. ※
Sports injury
,
carpal tunnel
,
artists
,
works in a
stocking/shipping
department, etc.
●
Ankle
: Supports weak ankle joints along with speeding up recovery time by reducing pain and inflammation. ※
Sprained ankles
,
weak ankles
,
often on your feet
, etc.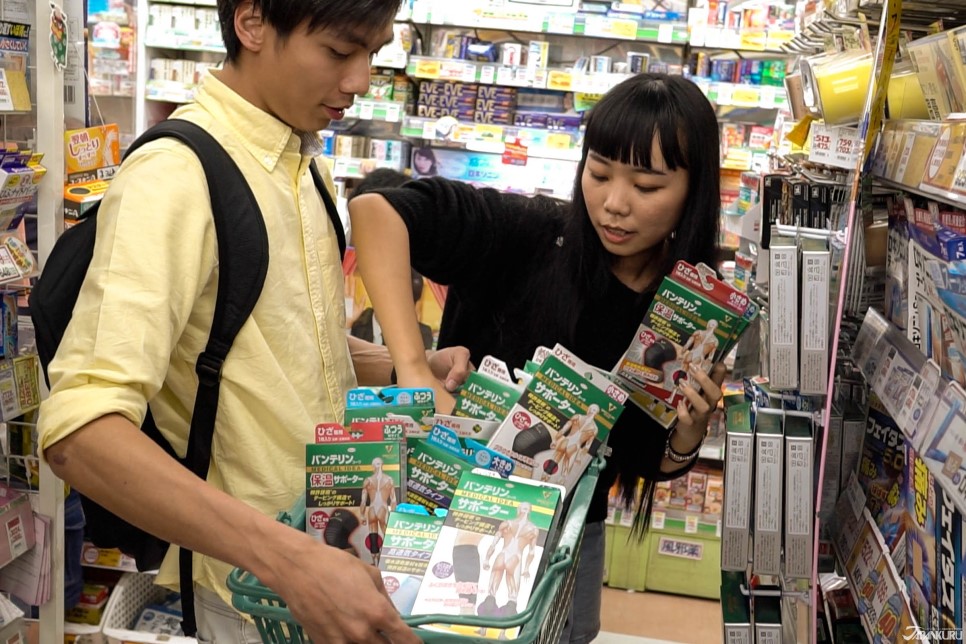 Whenever we are heavily active or not,
we are consuming the energy of our joints daily.
It's easy to forget or ignore exactly how much we use them.
So next time you're at the drug store and are interested in protecting your body from the daily deterioration check out the VANTELIN supports in one of the aisles.
★
VANTELIN KOWA
🏢Distributors in Japan: Primarily drugstores, airports, Don Quijote, online stores
💴Knee supporter 1,620 yen (tax-included)
※The price may vary depending on the drugstore, duty-free shop, and so on.
💻
Official website link
English page
⋎・⋏・⋎・⋏・⋎・⋏・⋎・⋏・⋎・⋏・⋎

VANTELIN SUPPORTERS
Protecting Your Body with Japanese Care