The Demon Slayer: Kimetsu no Yaiba Manga Has Ended, the Anime Continues, and Japan is Flooded with Merchandise
If you're in Japan looking to pick up some Demon Slayer: Kimetsu no Yaiba snacks and goods, there's no time better than the present.
Demon Slayer: Kimetsu no Yaiba (鬼滅の刃) has been a huge hit all over the world, with a manga gaining popular for years and an anime exploding onto the scene since its start in 2019. It certainly doesn't hurt that millions of people have been stuck at home, and more than a few of them have been binging anime on Netflix. Of course, with success like that comes the demand for merchandise! Sure, there are plenty of places selling the standard anime merchandise - stationary, figures, and so on. But Japan loves promotional products of all kinds, so here are just a few of the Demon Slayer products that have made their way onto the Japanese in just the past few months!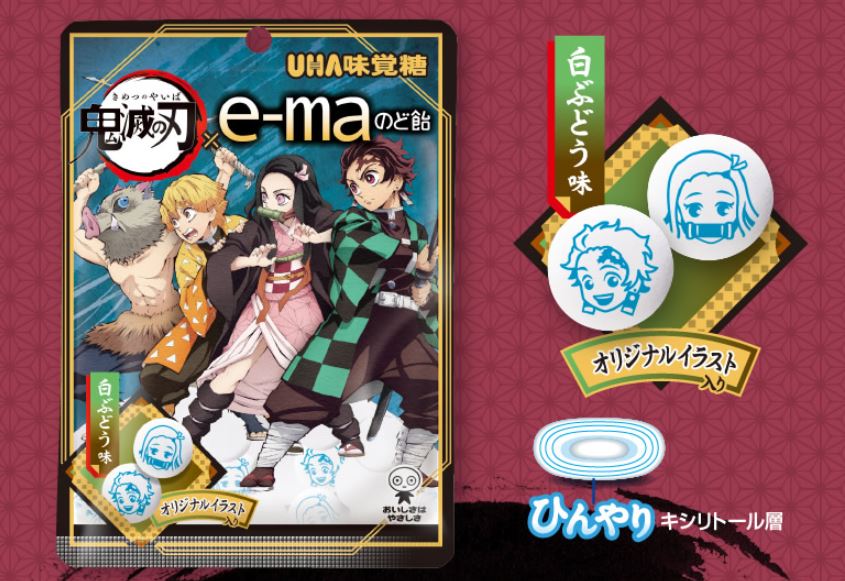 Demon Slayer Cough Drops
As Demon Slayer has been soothing the worried souls of so many stuck in quarantine, now it can also soothe scratchy throats. These grape-flavored E-ma lozenges have a hint of xylitol freshness added, plus each one is decorated with an original illustration sketch of one of the series' characters.
Official Page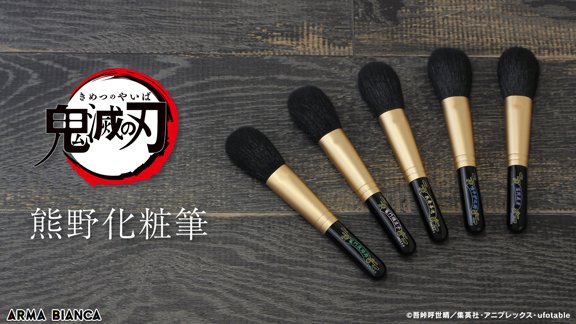 Demon Slayer Makeup Brushes
These blush brushes are made in collaboration with Kumanofude brushes, a Japanese calligraphy brushmaker who has now branched into makeup brushes. Each is made by the Hiroshima-based company using soft, springy goat hair, and emblazoned with a Demon Slayer character's name and a unique Japanese design.
Available from Arma Bianca

Demon Slayer Instant Ramen Snacks
Crushed instant noodles are an occasional delicacy for people all over the world, but only in Japan do they sell them packaged to be eaten like potato chips. The biggest producer of crushed dry ramen noodle snacks is Baby-Star, who take pride in the way their product makes use of instant ramen that might otherwise go to waste, turning it into a cheap and tasty snack. Now the snackers in Japan can pick up a pack of Baby-Star for both the crunchy goodness, and the packaging featuring their favorite Demon Slayer characters. The promotional snacks are even a special "plum and kelp rice ball" (梅昆布おにぎり) flavor, a favorite of Tanjiro.
Official Page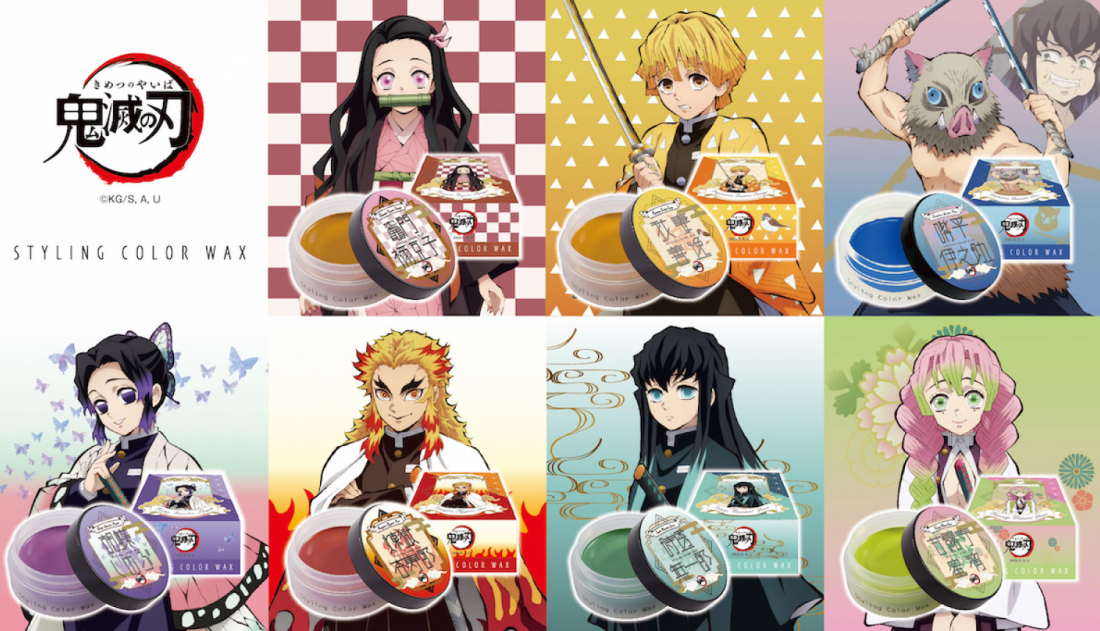 Demon Slayer Colored Hair Wax
A little reminiscent of the chalky hair colors so popular a few years ago, this wax can be painted onto the hair for a vibrant color, even over jet black. Since the color can be washed right out, they recommend it to cosplayers, but anyone who wants to try out a new look for a day might enjoy the added pop of color. The wax comes in seven tones, each inspired by a main character from the series, packaged in a little tub printed with the character's name.
Official Page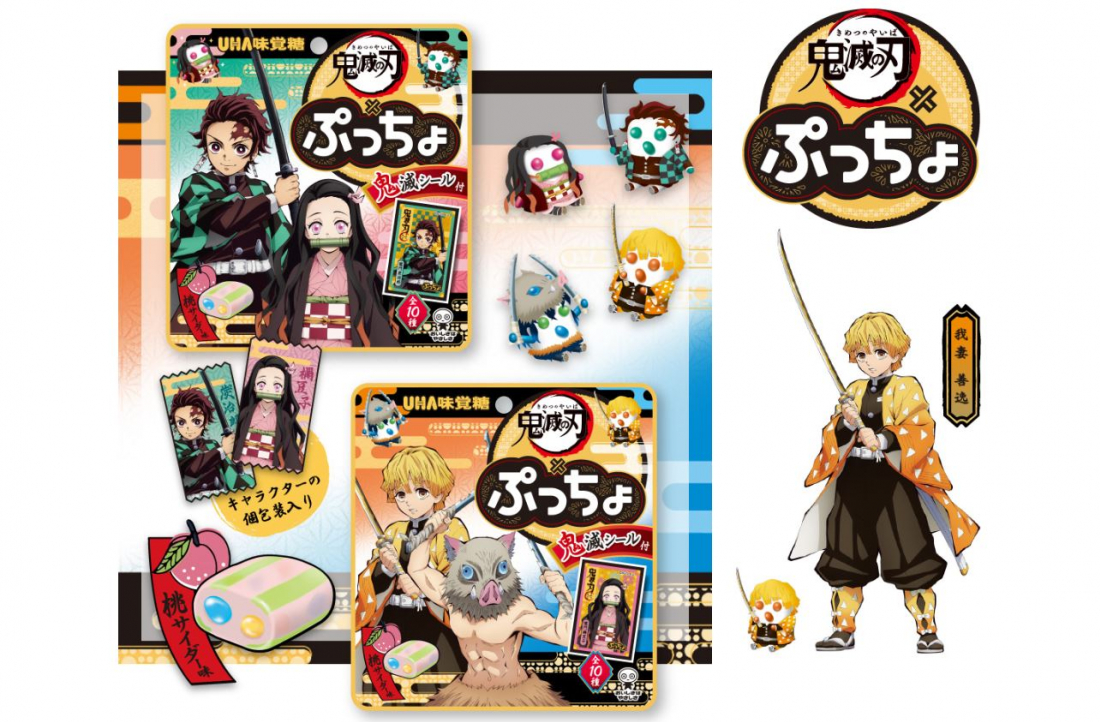 Demon Slayer Fruity Candy
Puccho candies are uniquely chewy with little bits of gummy embedded inside, and if you've never tried them before, you'll just have to taste a pack of the new peach soda flavor Demon Slayer Puccho to get the idea.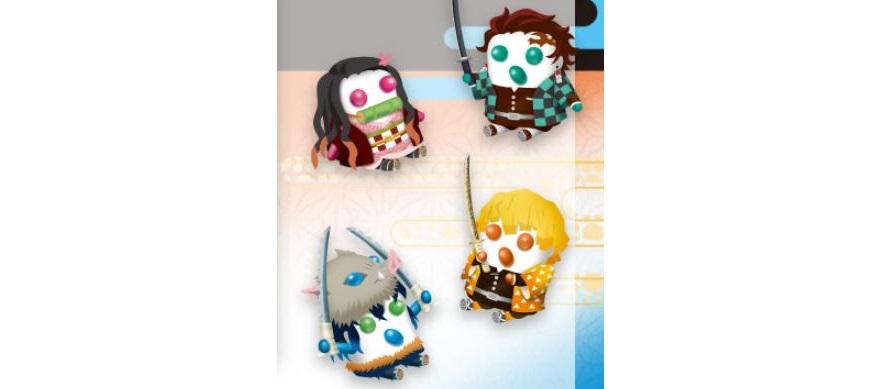 We can thank the candies for these excellent (read: terrifying) Puccho-fied Demon Slayer characters, but fortunately (?) the stickers that come inside every package feature more standard illustrations of the series' main characters. If you'd like to collect them all, there are 10 stickers altogether.
Official Page
What Else Is Out There?
Seen any other fun and unusual Demon Slayer: Kimetsu no Yaiba merchandise in Japan? Let the Japankuru team know on our
twitter
,
instagram
, and
facebook
!
And while we all wait for more of the anime to come out, you can entertain yourself with
free manga
(including Bleach, Naruto, and more) from Japanese publishers, plus free anime on youtube like
Detective Conan
and
Sailor Moon
.
Basic Info

| | |
| --- | --- |
| Name | Demon Slayer: Kimetsu no Yaiba |
Columnist

Shopping with Sophia

Between collaboration items and special-edition limited-time-only goods, Japan has some pretty interesting products, and if you're anything like me... well, you can't help but be interested!

SHOW COLUMN
Related Article