VANQUISH @ Shibuya 109 Men's - The Trendiest Summer Style for 2016!
Head to Vanquish first-thing, and look cool as you saunter through the streets of Shibuya.
Speaking of Tokyo, which famous sightseeing spots come in your mind?
Shinjuku where many department stores and kabukicho can be found? Daikanyama where you can see many stylish shops and cafes? Or even Harajuku where is famous for the kawaii culture?

Actually there is one place we cannot miss! That is Shibuya!!

For many visitors, Shibuya is a must-visit spot on their travel checklist. It is also famous for being the shopping paradise for Japanese fashion lovers. Among the stores and shops, there is one shop in Shibuya 109 Men's that is really popular among guys in Japan! Today, we will show you the latest fashions of this shop - VANQUISH @ Shibuya 109 Men's!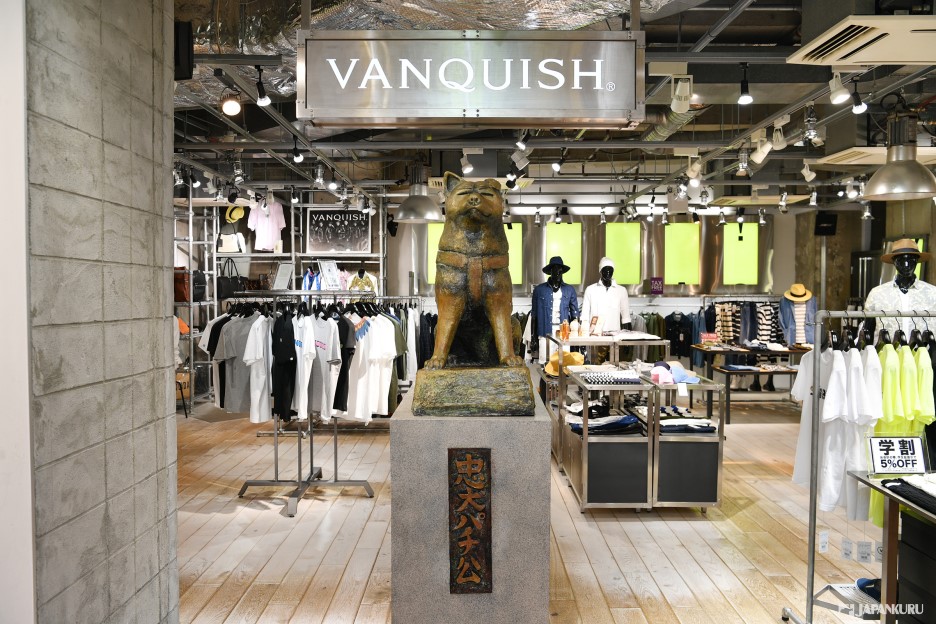 How come the Hachiko statue outside the JR station is here in front of the shop???
The story of Hachiko
Hachiko was an Akita dog and he was remembered for his remarkable loyalty to his owner Mr. Ueno, a university professor. After his owner passed away, the dog kept walking to the station and waiting for his owner every day until the day he died. Everyone was touched by his loyalty and a statue was made specially for him and put in front of the Shibuya Station.

If you look carefully, there is one thing that is a bit different from the Hachiko statue in front of the station. The name of the Hachiko statue in VANQUISH is called Pachiko not Hachiko!! Actually Pachiko was designed and made specially for the 10 years anniversary of VANQUISH. The producer of the new statue wants to make VANQUISH to become a famous spot in Shibuya just like the Hachiko statue in front of the station.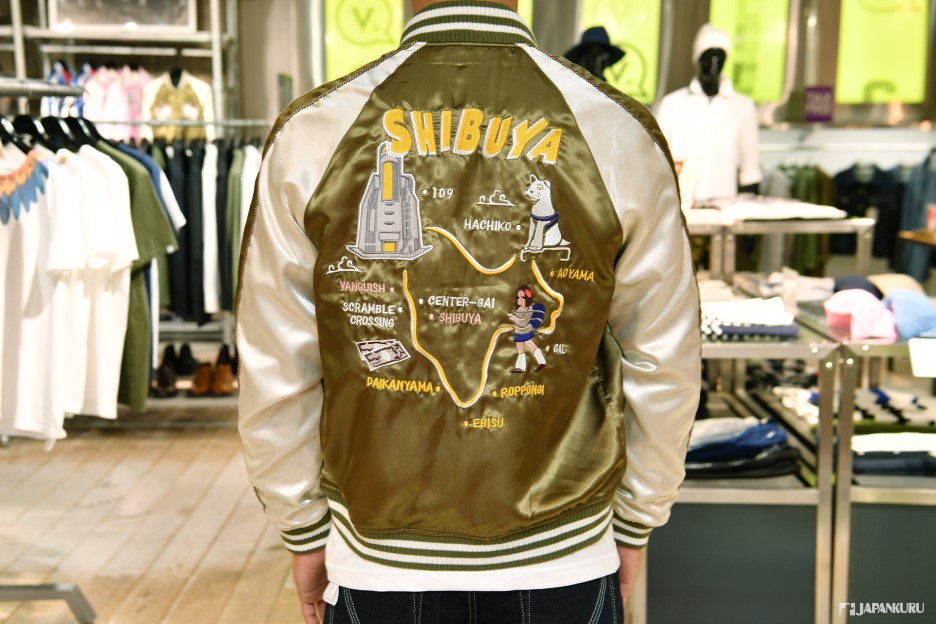 Skajyan @ VANQUISH
Skajyan are jackets that made out of shiny synthetic material with embroidered designs on the back. This special style is not just famous in Japan, there are many overseas fans of this kind of style! VANQUISH is one of the brands that designs and produces great skajyan. They are famous by putting Hachiko in their designs.

By the way, the Skajyan is reversible! So just one jacket, it can bring you two really different styles!

Reversible Skajyan (MA-1 Type)
Price: 20,520 yen (tax included)
Colors: Red, Blue, Green

Mix and Match Your Jeans With VANQUISH T-Shirts

01. Printed Necklace T-Shirt

Just look like you are wearing a really cool necklace! A hot item for this summer.

Price: 4,860 yen (tax included)

02. Collaboration with American brand Hurley

This is the 9th year VANQUISH produces crossover products with Hurley. Just look at the design of the word "Shibuya", it's really cool right?

Price: 5,400 yen (tax included)

03. NAVY T-shirt?

NAVY x SHIBUYA x High school girl, what an interesting design!

Price: 6,480 yen (tax included)

04. HOW DOES IT SOUND TO YOU?

A V vest t-shirt with a special printed pattern. It makes you look cooler and more stylish.

Price: 5,400 yen (tax included)

05. LET ME KISS?

A simple black and white t-shirt with a cool girl picture printed.

Price: 5,400 yen (tax included)
VANQUISH X YUKATA
In August, there are lots of firework festivals in Japan, and you can see Japanese wear their yukata to go to these festivals! Wanna stand out from the others and look different? Then this yukata produced by VANQUISH is the best choice for you!

Yukata set
Includes: Yukata, paper fan, small bag, and flip flop
Price: 14,580 yen (tax included)


Other interesting products by VANQUISH
Wanna create your own personal Shibuya style, come to VANQUISH now!
More Details:
JAPANKURU Blogger
Wanna get more and share your Japanese stories with us? Please join us on
Google+
!!
See you there! :)