Ura-Harajuku Cool Fashion - NO ID.!
Thương hiệu này đang rất được yêu thích bởi nhiều nhân vật danh tiếng ở Nhật Bản!
Interested in the Ura-Harajuku fashions?
If you are familiar with the entertainment industry in Japan, you must have heard about the JOHNNY's!! Famous groups like ARASHI and Kinki kids, they also wear Ura-Harajuku fashions! If you are one of their fans, don't miss this shop where you may get a chance to see your favorite idols!
What is Ura-Harajuku? (裏原宿)
Sometimes you may hear people simply call it "Urahara" (裏原). Just one block behind the Meiji Street and near the famous Takeshita Street, you can find NO ID. Harajuku shop right inside the Ura-Harajuku area. So basically it means the backstreet of Harajuku!

In this area, you won't be able to see any Lolita or Kawaii style fashions. Instead, shops with stylish and cool fashions can be found.
The Backstreet of Harajuku "Tonchan Street" (とんちゃん通り)
So how did this street get this special name at the first place?
Before this street became popular, there was a famous Japanese restaurant which was called "Tonchan". Famous Japanese designers like Yoji Yamamoto and Issey Miyake always visit this restaurant, and this is how this street got the name "Tonchan Dori"!
"Tonchan Street" is very easy to find indeed. Just get out of the Takeshita Street and go across Meiji Street, then you can see the Harajuku's Tourists Information Center. That's where the "Tonchan Street" is!!

Once you walk onto the street, just keep walking and you can see the convenient store, Family Mart". Not far from it, you can see NO ID. on your right side!!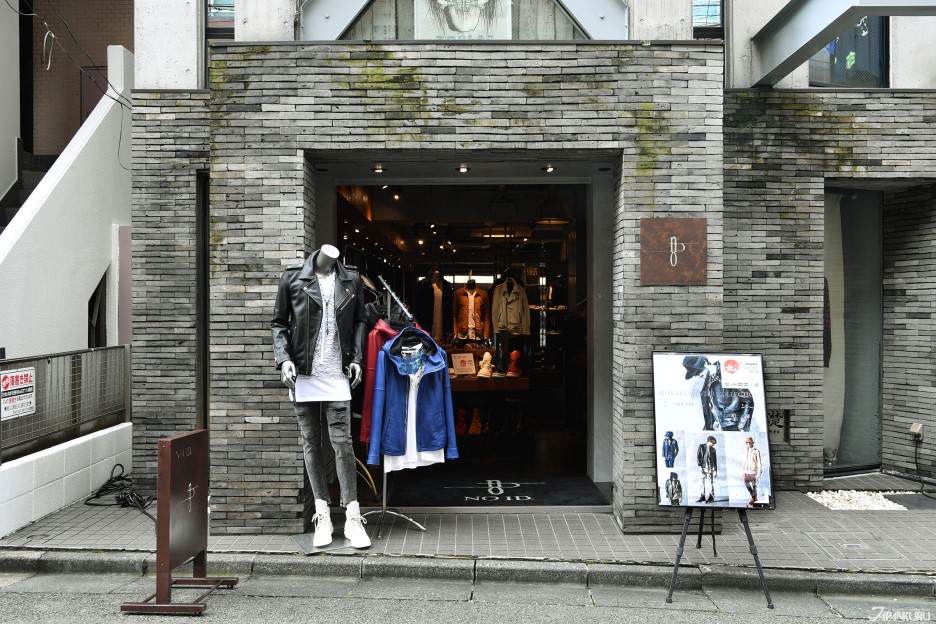 NO ID. Flag Shop
This grey brick shop is the famous NO ID. where Japanese celebrities also come to visit and shop!

NO ID. Flag Shop
Address: 1F, 3-21-22 Jingumae, Shibuya-ku, Tokyo 150-0001
Tel.: 03-3405-6474
Opening Hours: 11:00 - 20:00
Stage clothes for celebrities
This rock-band style fashion brand started designing their stage clothes for Japanese singers 17 years ago, and that's why they are trusted by many Japanese celebrities today!
NO ID. Autumn / Winter Collection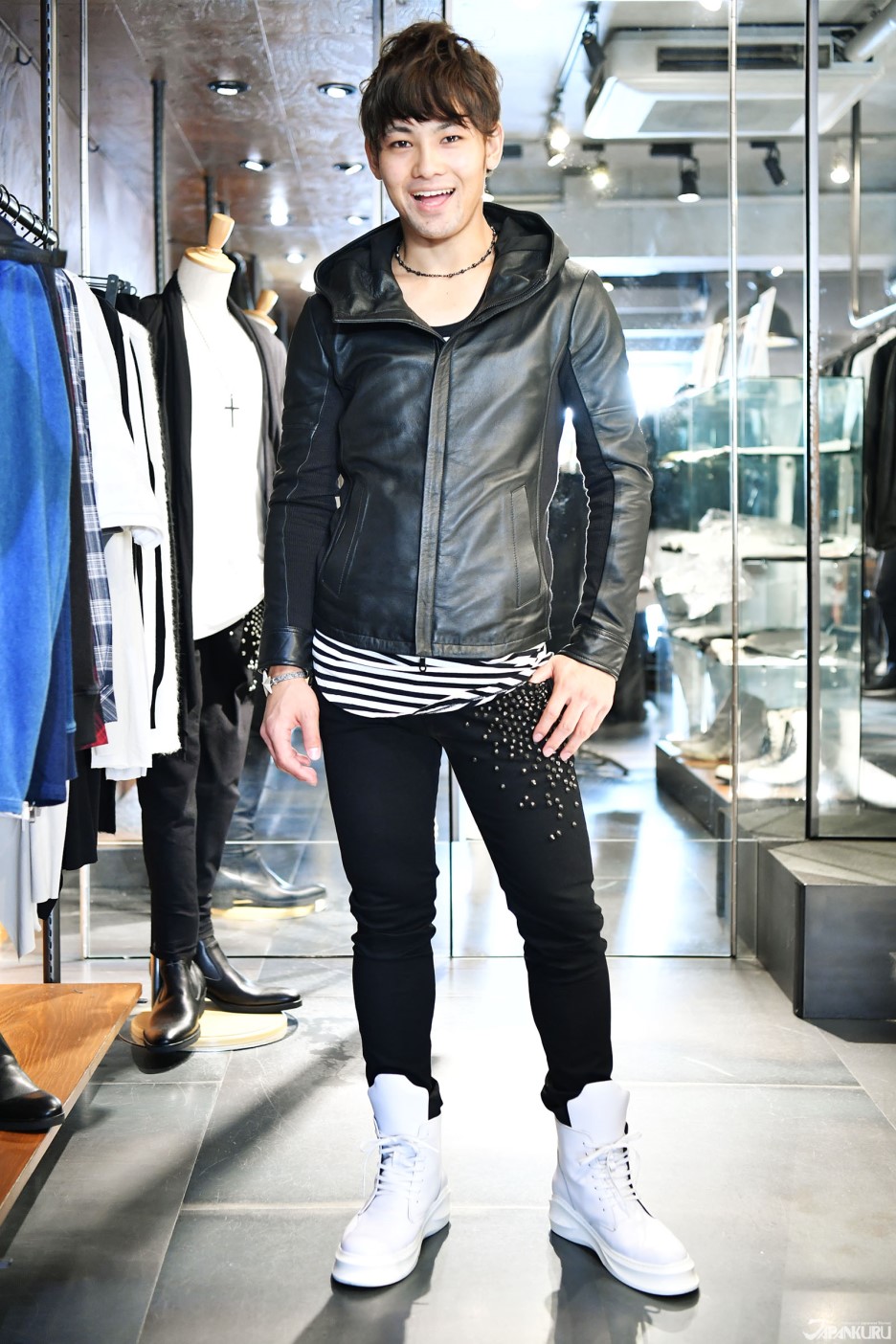 01. Leather Jacket

Speaking of NO ID., most of people will think about their leather jacket!! In the shop, of course you can see all kinds of stylish and well designed leather jackets by NO ID..

In NO ID.'s latest collection, there is a really special and unique leather jacket that we have found. Other than the hood comes with the jacket, on both sides of the jacket, you can find stretchy material that allows you to move around smoothly.

Leather Jacket: 38,000 yen + tax
Striped Tee: 8,800 yen + tax
Pants with rivets: 26,000 yen + tax
Shoes: 30,000 yen + tax
Necklace: 9,800 yen + tax
Star wristband: 3,800 yen + tax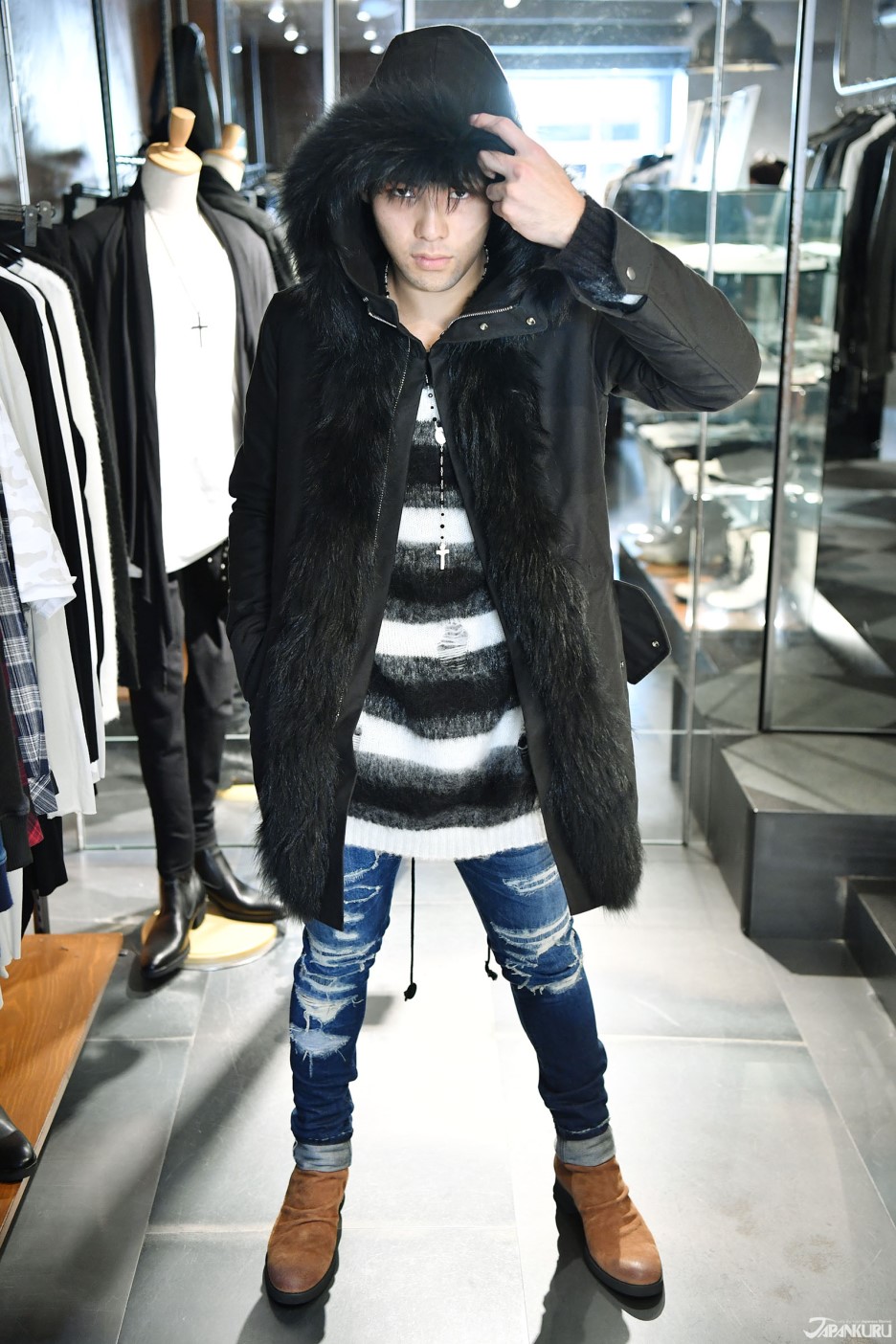 02. Rock Style

Damage + Damage = Rock Spirit?!!
Fur coat with border knit and jeans, how do you like this rock style?

Coat: 48,000 yen + tax
Bordered Tee: 13,000 yen + tax
Jeans: 38,000 yen + tax
Boots: 37,000 yen + tax
Necklace: 6,800 yen + tax
Ring: 35,000 yen + tax
03. Semi-formal Style

Black and white color tones are too simple for you? Just look carefully, NO ID.'s detailed designs can make simple things not simple too. How? For example the coat is decorated with trendy rivets which makes the whole look differently.

One more point is that NO ID.'s design is especially great on people who are slim. Sometimes it is not easy to get something fit if you are slim; however, with NO ID.'s design, you can also look smart and sharp too!

Coat: 33,000 yen + tax
High neck Black Tee: 11,000 yen + tax
Pants: 20,000 yen + tax
Shoes: 30,000 yen + tax
Necklace: 7,800 yen + tax

04. Street Pop Style

Fluffy camouflage coat! Putting on this fluffy camouflage coat, other than keeping you warm, it can help you draw attention from others!

Not just for men, this fluffy camouflage coat can be worn by women too! Actually NO ID.'s designs are great on women since their designs are specially for slim people as we have said earlier!

Coat: 18,000 yen + tax
Tee inside: 10,800 yen + tax
Pants: 20,000 yen + tax
Shoes: 30,000 yen + tax
Sunglasses: 4,000 yen + tax
Accessories and Skincare for Men
01. Accessories

At NO ID. you can also find accessories like sunglasses, necklaces, rings, wristbands etc to go with your style. Adding a necklace or simply a ring can help making the whole look cooler!
02. Skincare for men

"PRZMAN" Skincare products from New York

NO ID. recommended this eye serum since having a pair of charming eyes is very important to win girls' hearts! This cool eye serum can help to smooth out dark circles and wrinkles. From skincare to shampoo and body wash, a whole collection made with natural ingredients can be found in NO ID.!

Eye Serum: 3,500 yen + tax
Transform into a stylish and cool guy with Ura-Harajuku fashions!!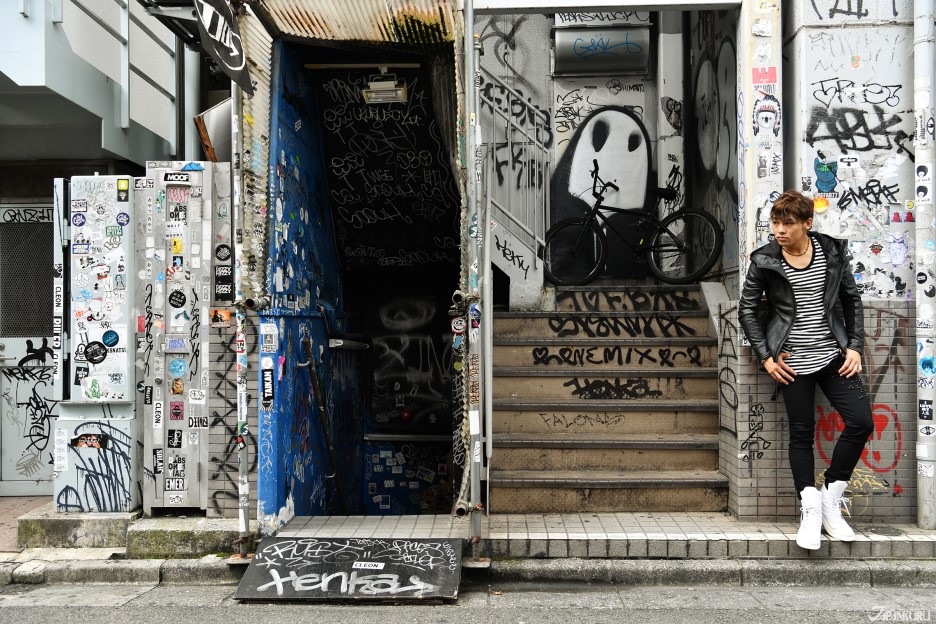 NO ID. provides the Tax-free service if you shop for more than 5,000 yen! Actually we have another good news for you, now at NO ID., if you buy 2 or more items, you can get an extra 5% off!!
Next time, when you visit Harajuku, other than the Takeshita Street, you should pay a visit to "Tonchan Street" and NO ID.!!! Maybe you will have a chance to bump into some Japanese celebrities too!!
More Details:
JAPANKURU Blogger