Special honey-like skin care for your precious skin!!
Shopping for Japanese skincare for your precious skin
Feeling excited before your trip? For many people, the most exciting thing for their trip is shopping!! Rather than buying lots of inexpensive things, isn't it better just to buy something that is in high-quality and worth buying.

This time we have a good news for all the ladies. After saying goodbye to summer, we are stepping into the dry seasons. It is especially important to get skincare that can keep the moisture of our skin 24 hours a day!!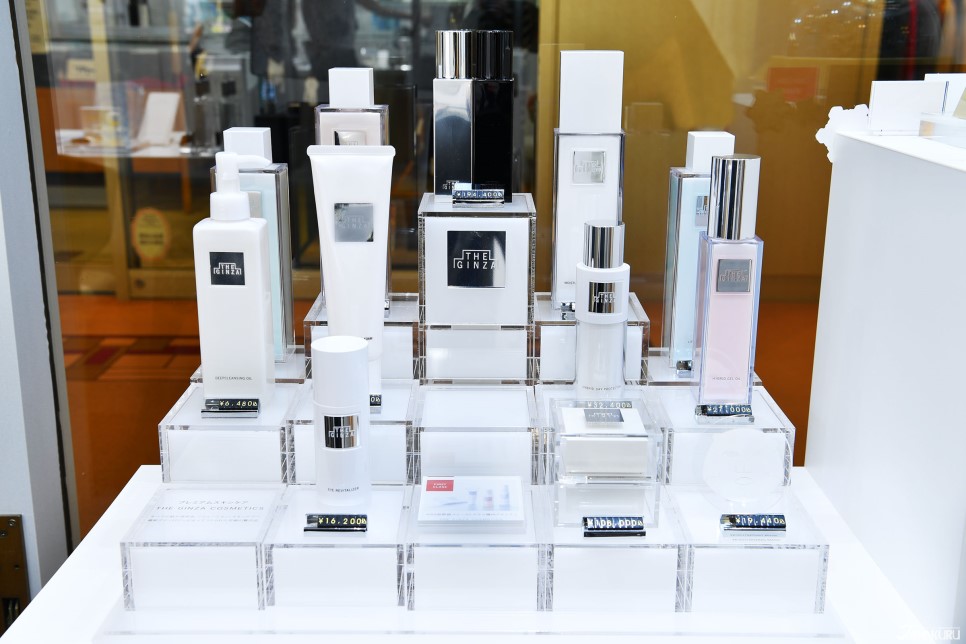 SHISEIDO's Premium Skincare
What is THE GINZA Cosmetics?
THE GINZA Cosmetics is a premium quality skincare line designed around the concept of "modern skincare method" for those seeking a sophisticated skincare life. This line focuses on "skin physiology" and "beautiful skin rhythm", which together create each person's unique skin condition. Moreover, this line is made from ingredients carefully selected through Shiseido's extensive research results and has received rave reviews in Japan and from abroad for its innovative technology.
Homepage:
http://www.theginza.co.jp/#
"THE GINZA" shop in the 5-star hotel "Imperial Hotel Tokyo"
As selected as the best 3 hotels in Japan, no matter it is the services, facilities or the restaurants, everything is provided in 5-star hotel standard. On the basement floor of Imperial Hotel Tokyo, you can also find this 5-star THE GINZA skincare shop.

THE GINZA (Imperial Hotel Tokyo Shop)
Opening hours: 10:00 - 19:00
Tel.: 03-3503-7971
Address: B1, 1-1 Uchisaiwai-Cho, 1-Chome, Chiyoda-Ku, Tokyo 100-8558
Access: 5-minute walk from Tokyo Metro Hibiya Station

*You can also get THE GINZA products at:
1) 8F of Ginza Mitsukoshi Department Store
2) Duty free shops at airports (Narita International Airport, Haneda Airport, Kansai International Airport, Fukuoka Airport, Hiroshima Airport, New Chitose Airport, Chubu Centrair International Airport)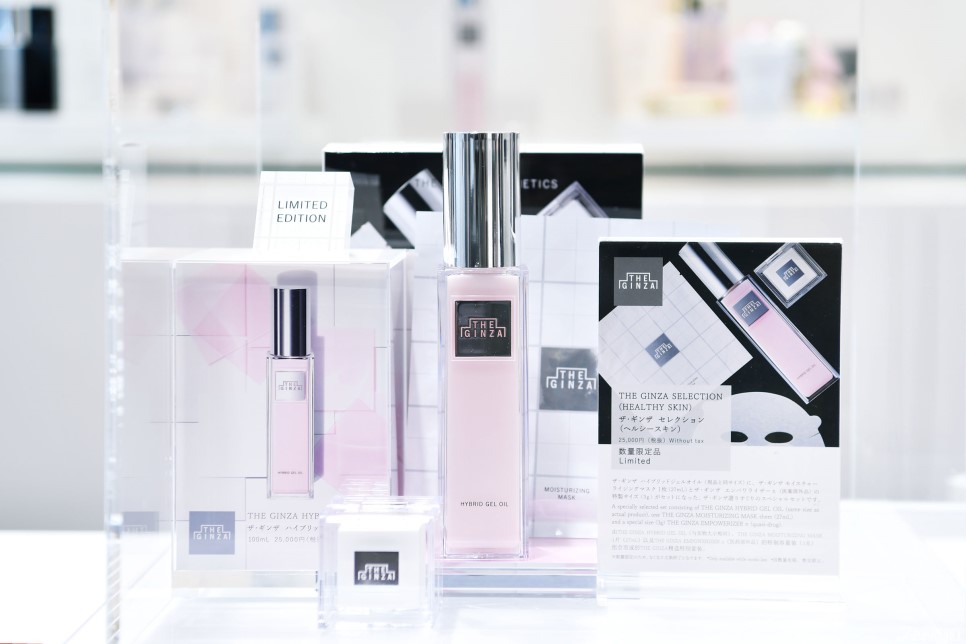 THE GINZA Limited Edition Set
Now there is a good chance for you to experience this premium skincare products. THE GINZA made a special limited edition set "THE GINZA SELECTION (HEALTHY SKIN)" which includes 3 recommended products.

"THE GINZA SELECTION (HEALTHY SKIN)"
1) THE GINZA EMPOWERIZER
2) THE GINZA HYBRID GEL OIL
3) THE GINZA MOISTURIZING MASK
Price: 25,000 yen plus tax
※Note: No restock of the limited edition set once sold out
Recommended Items
THE GINZA Moisturizing Mask
In just 10-minute, this luxurious mask recovers the problems of your skin. The greatest thing about his moisturizing mask is that 27mL of serum is contained on this mask!! The staff told us that just put on the mask once a week, your skin can stay perfect for the whole week!

27mL x 6 masks
Price: 18,000 yen plus tax

THE GINZA EMPOWERIZER
In the limited edition set, we highly recommended this EMPOWERIZER to you. This high-performance moisturizing cream is the perfect item for the dry seasons. It can help you solve the unbalance of skin oil and water and improve your skin. Formulated with ingredients that can enhance your beautiful skin.

(Left) 40g
Price: 100,000 yen plus tax

(Right)
Trial size of the EMPOWERIZER in the limited edition set "THE GINZA SELECTION (HEALTHY SKIN)"
Complete THE GINZA Skincare Products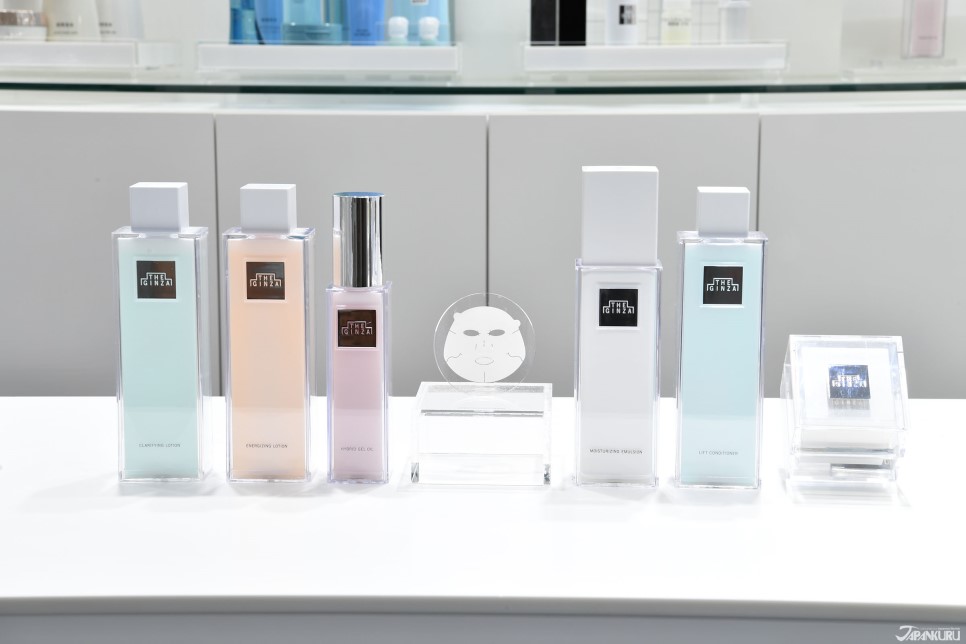 (From left to right)
Step 1
THE GINZA CLARIFYING LOTION (200mL, 12,000 yen plus tax)
Step 2
THE GINZA ENERGIZING LOTION (200mL, 18,000 yen plus tax)
Step 3
THE GINZA HYBRID GEL OIL (100mL, 25,000 yen plus tax)
Step 4
THE GINZA MOISTURIZING MASK (27mL x 6 masks, 18,000 yen plus tax)
Step 5
THE GINZA MOISTURIZING EMULSION (150g, 20,000 yen plus tax)
Step 6
THE GINZA LIFT CONDITIONER (200mL, 15,000 yen plus tax)
Step 7
THE GINZA EMPOWERIZER Quasi-drug (40g, 100,000 yen plus tax)
As produced by famous SHISEIDO, this complete set of THE GINZA skincare products are highly recommended to everyone who wants a perfect skin!
Other information about THE GINZA Cosmetics:
Related Article