Family Medicine Total Skin Care Products of MENTURM (Lotion Cream & Lip balm)
Things to Buy in Japan
Are you familiar with this green color logo? MENTURM from THE OMI BROHTERHOOD
We would like to share with you the story of it and a series of its items we have been used.

Maybe you have seen there is another similar logo in other skin care products!
No worry of either one fraud.

Let us tell you the true story behind.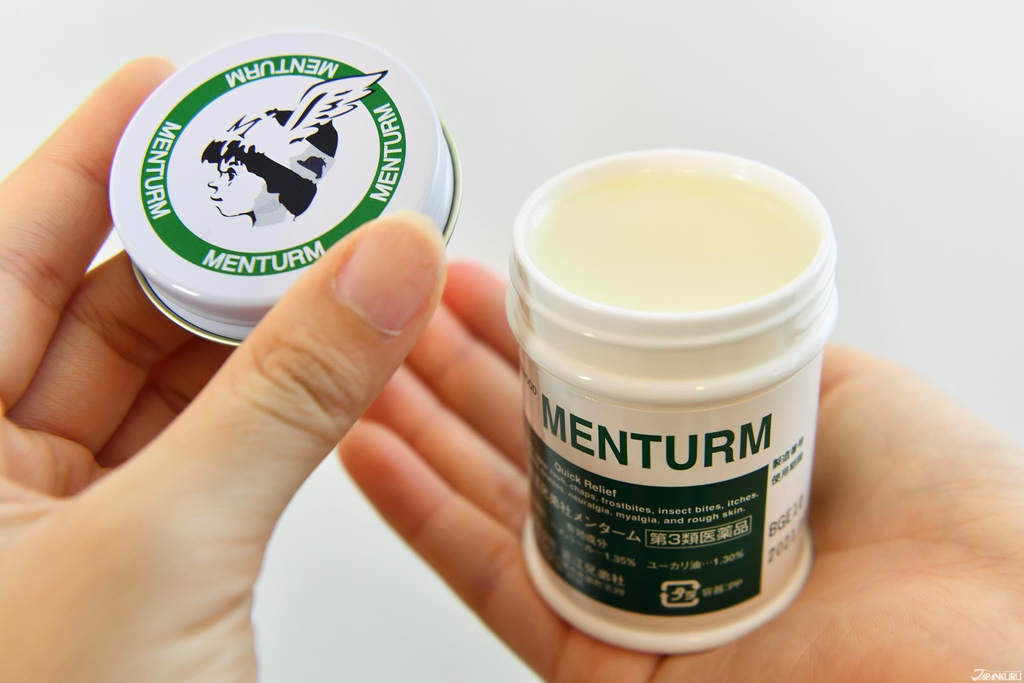 What function does the MENTURM has?
MENTURM contains DL-camphor (for cooling) and L-menthol (mint ingredient) that helps promoting blood circulation, and anti-bacterial.
Also, Eucalyptus, which is often used in pharmaceuticals,
are used, so it is no doubt having a variety of functions and affordable.
It is no exaggeration to keep it as a family medicine at home.

★ MENTURM メンターム
15g/324yen
40g/648yen
85g/864yen
Healing skin surface wounds and protect your skin effectively.

Especially, the MENTURM contains mint and camphor, helping for calm the pain relief and itching.
But it does not have anti-inflammatory effect!
So it is more appropriate to apply it on the small wounds without bleeding
like mosquito bites.
MENTURM EX PLUS

EX PLUS body cream does not contain steroids,
on the other hand, diphenhydramine hydrochloride, lidocaine are ingredients to effectively relieve itching.
In addition, this EX PLUS body cream also contains moisturizing ingredients,
can further improve the skin condition!

Improve the crack on your heels in few days.

★ EX PLUS
90g/ 1,490 yen
150g/ 1,814 yen

MEDICAL CREAM G

It is a body massage cream.

After taking a little on your hand, apply to the skin.
Since it contains DL-camphor, not only to promote skin metabolism,
it is recommend for massage,
increasing the temperature of your skin to help absorption of vitamin B2, B6, E;
potassium glycyrrhizinate to achieve deep maintenance effect;
soy lecithin and glycerol to maintain moisture.

★MEDICAL CREAM G
70g/ (tube shape) Open Price
145g / 1,512 yen


MOISCUBE LIP (3 types)
THE OMI BROTHERHOOD
MENTURM
Skin care
Lip Care
Next time,
we are going to introduce you other items.
Highly recommended in summer!
Sun cream!
For more interesting topics,
Please click on
JAPANKURU
to check out our official blog
Be sure to look at JAPANKURU🐶 for more exciting articles every day!!

Related Article