Kyoto Sightseeing Bus to Arashiyama → Kinkakuji (Golden Pavilion) → Fushimi Inari-taisha → Kiyomizudera
Going to Top Kyoto Sightseeing Spots with 🚌WOW BUS!🚌
The Most Popular Place to Visit in Japan 2018, Kyoto
Recently Kyoto has been the #1 place to visit in Japan,
and it's easy to see why...
it's the formal Imperial capital of Japan (its name even means "capital city"),
famous for green tea,
geisha/maiko/oiran, gardens, old tea houses,
small "old Japan" style building,
making it the heart of the remaining traditional side of Japan.
Despite all of those great factors,
it isn't as easy to get around and visit places in Kyoto as it is in say Tokyo.
Which makes things even more stressful when traveling.
That's why we wanted to recommend a sightseeing bus service we took this last trip to Kyoto.
🚌3 Reasons to Recommend WOW BUS🚌
① Transportation 

Kyoto's transportation isn't as developed as Tokyo or even Osaka, the only means of transportation is bus, car, or bike. Which means there is a lot of walking here and there. It's almost inevitable when sightseeing, no matter how hard you try to pack light, you'll have stuff to lug around which is just exhausting.

② English Speaking Guide

Our tour guide spoke English, but there are also Chinese (Mandarin and Cantonese) and Thai available as well.
Once you off the bus, the tour guide took us to the main entrances and had a map of some surrounding sites to check out. Before heading out on your own the guide will always tell you what time to be back at the bus by and which lane the bus is parked at so you don't have to worry about getting lost.

③ Luggage Storing Place

Even if you bring just roller suitcases or a big backpack, you get weighed down and it gets in the way, especially if you're at a really crowded place. But since we too the Hankyu travel bus (Wow! Bus), we just shoved the stuff we really didn't need at the luggage storing place below the bus until the tour was over. It wasn't until we started the tour that we realized HOW NICE it was to not have to carry our luggage everywhere. A lot of streets and shops in Kyoto are particularly narrow, so it worked out really well.
Take a Tour Bus to Kyoto from Osaka
via WOW BUS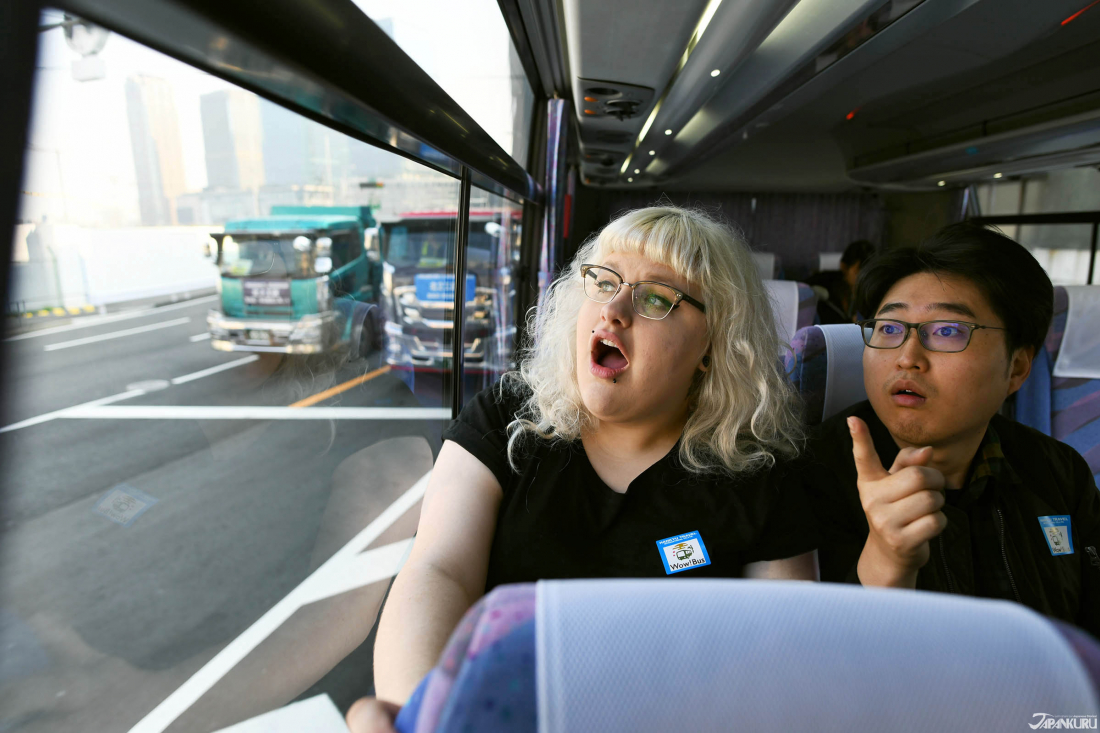 You can get on from either these 2 places:
Osaka (West Umeda Parking) or Namba Parks (1F)
3-2-1 Umeda, Kita-ku, Osaka-shi, Osaka
Map

Visit Kyoto's 4 Best Spots from Osaka!

❶Arashiyama
❷Golden Pavilion
❸Fushimi Inari Shrine
❹Kiyomizu-dera Temple


So just sit back and relax
while they take you to the 4 most popular tourist sites in Kyoto.
Kyoto Sightseeing Bus to
Arashiyama → Kinkakuji (Golden Pavilion) → Fushimi Inari-taisha → Kiyomizudera
Going to Top Kyoto Sightseeing Spots!
Arashiyama (嵐山)




The bamboo groves or bamboo forest that is a part of Arashiyama is becoming more and more popular among foreign tourists. The subtle wind blowing through the bamboo branches makes a nice short video. It's said many of the bamboo from Arashiyama is chopped down and used to manufacture tatami mats, boxes, and other bamboo goods. So when you're shopping, keep an eye out for some Arashiyama bamboo products!

Kinkakuji (金閣寺)


The Golden Pavilion is a World Heritage Site that Kyoto is known for. When it was constructed in 1397 it was originally a villa to a lord, but after his death it became a temple. We overhead a funny and unique story about the temple, and that is that it was burned down in the 50's by an angry monk who was apparently "jealous of its beauty". Unfortunately you can't go inside, but just looking at the beautiful gold leaf structure surrounded by Japanese nature is just as nice.
Kiyomizudera (清水寺)




If you go to Kyoto and don't stop by Kiyomizudera, it's like you didn't really go to Kyoto. This temple is one of the most known and photographed temples in all of Japan, partly because it is associated with one of Japan's oldest forms of Buddhism. Another is because it is just a beautiful sight that incorporates Japan's tradition and four seasons.
Stay in Kyoto or Head Back to Osaka
It's Your Choice!

A majority of the tour just went back to Osaka, us however,
we said goodbye there and went on to our hotel in Kyoto.
The guide said it is also a possibility to leave in the middle of the tour.
So like if you want to get off at Kinkakuji, just tell the guide!
Just be aware that they won't drop you off at any other place besides whats decided on the tour.
Making reservations is super easy whether you live in Japan or not! Just pick the tour (in this case 1 day Kyoto tour from Osaka in English) and it will take you to the calendar with the prices shown for each day. Once you select a date you'll be taken to a page to register for the tour!

⇩Get more info and make reservations here⇩
Hankyu Travel Kyoto Sightseeing Tour Bus (ENG)

※There is a possibility that the order of places will be changed depending on weather and traffic,
however the places are a definite so no worries.
Check out our short clip of some of the fun things and places to go while in Kyoto!
For more information on things to do at
Arashiyama (嵐山)
,
Kinkakuji (金閣寺)
,
Fushimi Inari-
taisha
(伏見稲荷大社)
, and
Kiyomizudera (清水寺)
during the tour, check our blog that has all sorts of recommended shops and traditional Kyoto sites ➡
JAPANKURU Kyoto Bus Tour Guide
Have you ever been to Kyoto before or want to go?
We wanna hear about it in the comment box below!
✧
˖
°
Share your stories with us
°
˖
✧
For more interesting topics,
Be sure to look at
JAPAN
KURU
🐶 for more exciting articles every day!!
Or add us on
Pinterest
,
Google+
,
Instagram
to share your Japanese pictures💖🗾​

Related Article