Chiba's Mount Nokogiri (鋸山): Stand on a Saw Tooth and Get a Look at Hell
An underworld-like experience, high in the clouds.
A Saw or a Mountain?
This long mountain in Chiba Prefecture gets its name from the jagged peaks that are scattered across the horizon when viewed from afar, making it really look like a saw, hence mount "nokogiri" (鋸), or saw mountain! If you like exploring mountainous areas, aside from being beautiful, Mount Nokogiri also has some very cool spots to check out. From giant buddhas to little glimpses of hell, head over and take a look.
The highest peak of the mountain rises 330 meters (1083 ft) above sea level, and it stretches quite far east to west. For hundreds of years visitors have come to climb the sometimes dangerous mountain, but these days it's part of Minami Boso Quasi-National Park, and 800,000 tourists safely enjoy the area every year.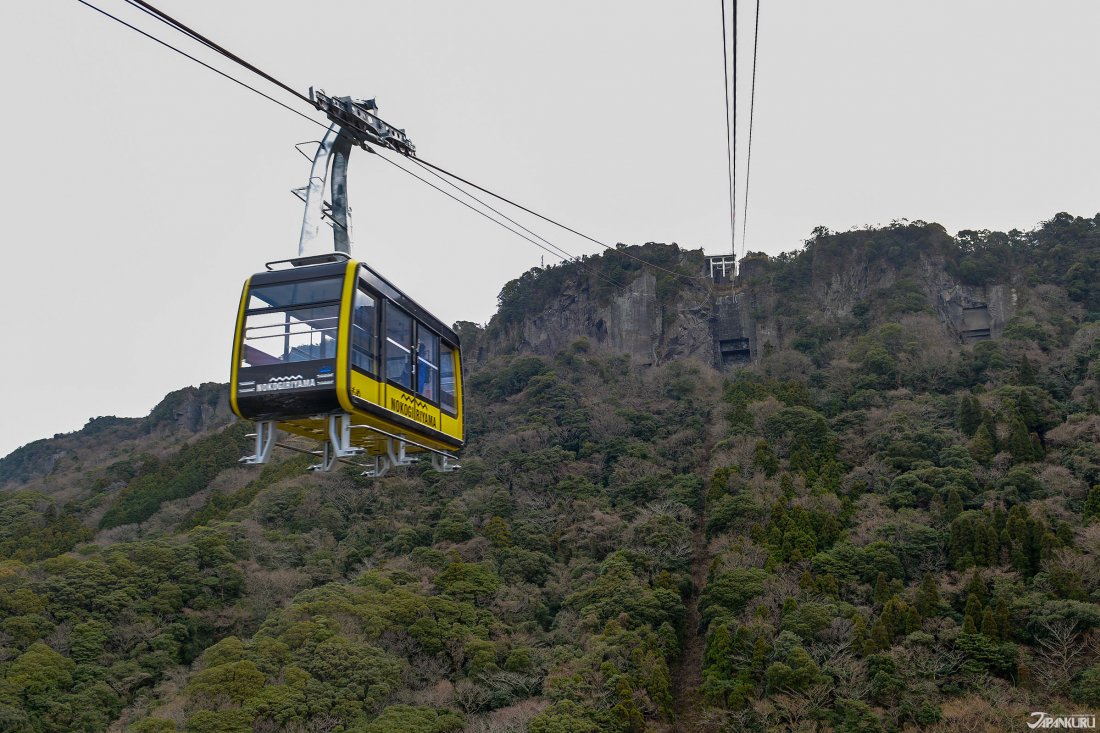 Ride the Cable Car
This ropeway is a convenient way to get to the top of the mountain, when you just want a relaxing trip. You can enjoy the view without all the exhaustion! Tickets are 900 yen round-trip for adults, and 450 for children six years and older.
Once you get to the top, though, you'll need a little of your own stamina to get around and see some of the important sites. Make sure you're ready for a little mountain climbing when you arrive!
On the way over and at the top, the view is lovely all the time, but the autumn foliage is especially impressive.
Mount Nokogiri (鋸山)
Address: Motona, Kyonan, Awa District, Chiba
Ropeway Fee: Adults 900 yen round-trip | Children 6 y.o.+ 450 yen round-trip
Ropeway Information (en)
The lookout spots at the top of the mountain afford some really amazing views. In one direction, you can see the entirety of the town of Hota laid out in front of you, spreading inland from the beach. In some places, if the weather is good, you get an amazing view of Mount Fuji! Since the peak of the mountain rises to about 330 meters, and Tokyo Tower comes to 333, you get that same super-high-up feeling.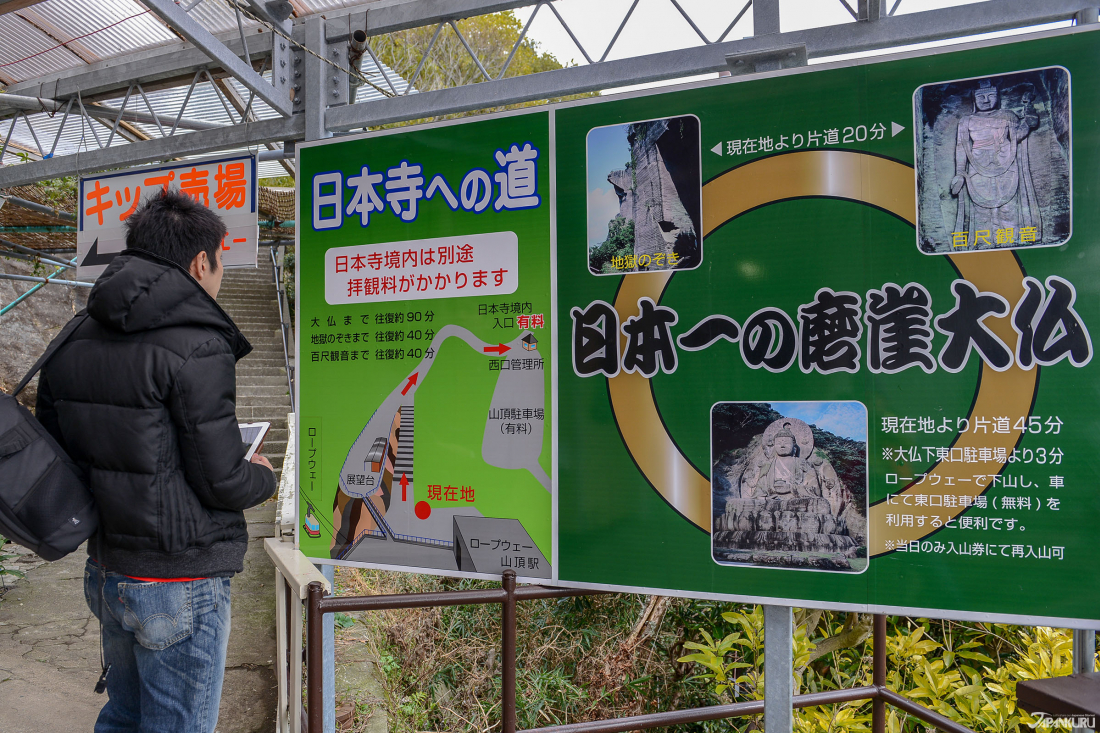 Here are some of the must-see spots on the mountain:

1. Hyaku-shaku Kannon, a relief of a goddess.

2. Jigoku Nozoki (地獄覗き), a look at hell.

3. Nihon-ji Daibutsu, a giant Buddha.

Let us tell you a little about them, and why you have to go take a look.
1. The Majestic Hyaku-Shaku Kannon
The area where this giant relief is carved owes its stark, straight, high walls to its past as a rock quarry, particularly during the Edo Era. Now that the quarrying is over, however, this beautiful carving from the 1960s is what brings visitors. Slip down particularly deep between the straight rock walls, and you'll find Kannon, Buddhist goddess of mercy. This version of the goddess is dedicated to those who died in some unfortunate circumstances, like war, disease, or accidents. Since it's in an area so protected by high rock walls, the Kannon is also seen as a protector during transportation.

The "Hyaku-Shaku" part of the work's name refers to its impressive height, since it literally means hundred shaku (an ancient measurement of 30 centimeters.) That makes this Kannon 30 meters (almost 100 ft) tall!
2. Jigoku Nozoki, A Little Glimpse of Hell
These days, Jigoku Nozoki (地獄覗き, literally a peak into hell!) is a safe and fun place to visit, but one look and you can see that before a safety rail was installed, it was a little more forbidding. Thanks to the dramatic surroundings, the high position of this little rock outcropping, the drop underneath, and the steep and unstable footing up above... it's kind of like stepping into hell. At least that's what people thought in the past! Japan's idea of hell is a little less purely fire and brimstone, and a little more of a varied land of torture, so stumbling off this high cliff down onto the rolling foothills below might give you a pretty good peak into the underworld!
3. Japan's Largest Buddha
Plenty of visitors to Japan go to see Kamakura's stone Buddha, thinking it's quite large at 13 meters (43 ft) tall. Of course 13 meters is nothing to scoff at, but Mount Nokogiri's giant Buddha comes in at 31.5 meters, or 103 ft tall. It's huge! And despite that, it's still a beautiful piece of art, carved by 28 artisans over three years in the 1780s. Since then it has also been restored, around the time of the carving of the Kannon relief in the 1960s. Come visit this grand Buddha, and take a moment to join him in the lotus position.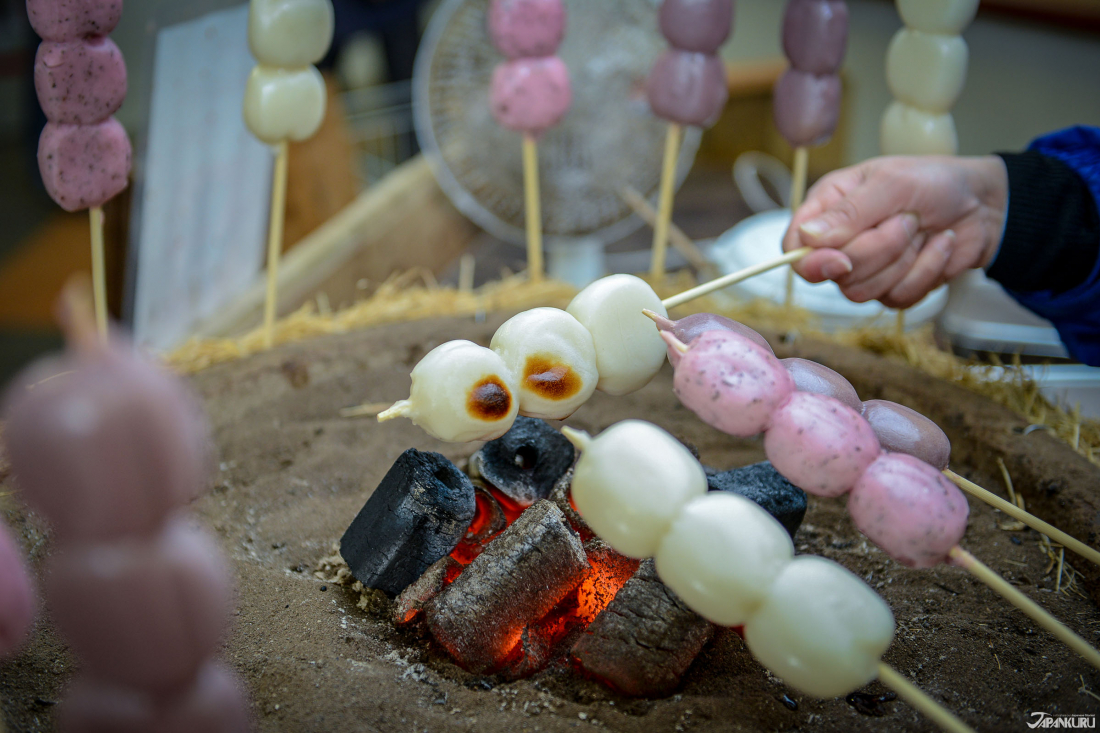 A Great Trip to Chiba
On your way down, getting out of the ropeway car, it might be hard to miss the alluring scent of dango (団子) toasting over a small pile of warm charcoal. Don't deny yourself this pleasure, as these little rice cakes are especially delicious roasted this way! They're cheap, too, and we all know that atmosphere is important to the eating experience. Dango in the mountains are a special treat.
If you're looking for something to do while in Chiba during the summer, maybe something a little more relaxed, you won't want to miss the famous
Tateyama Hanabi Festival
. Spending one day at the top of a mountain eating dango, and the next day on the beach eating cotton candy and watching fireworks, that's about as Japanese an experience as you can have!
Related Article