Kinkakuji Temple, Kyoto ・ Rokuonji and Its Famous Golden Pavilion
A symbol of Kyoto and a must-see sightseeing spot, Kinkakuji's golden pavilion is a beautiful reminder of this Japanese world heritage site.
The History of Kinkakuji Temple, and Its Origins as Rokuonji
Kinkakuji Temple is a UNESCO World Heritage Site best known by its nickname, which literally means "Temple of the Golden Pavilion." But the temple is officially known as Rokuonji Temple, and the site's full history goes back to a time before the famous pavilion. In the 13th century, the land belonged to the noble Japanese poet Saionji Kintsune, who owned a villa on the site called Kitayama-dai. In 1397, however, the land was purchased by a former shogun, Yoshimitsu Ashikaga, who began to build his own new complex of buildings to resemble an ideal Buddhist paradise. Part of Yoshimitsu's villa was the original "kinkaku" golden pavilion, but it wasn't yet a temple! That change happened after the shogun's death, according to his last wishes, when his son turned the site into a Zen Buddhist temple in the year 1420. From this point on, over the past six centuries, it has officially carried the name of Rokuonji Temple.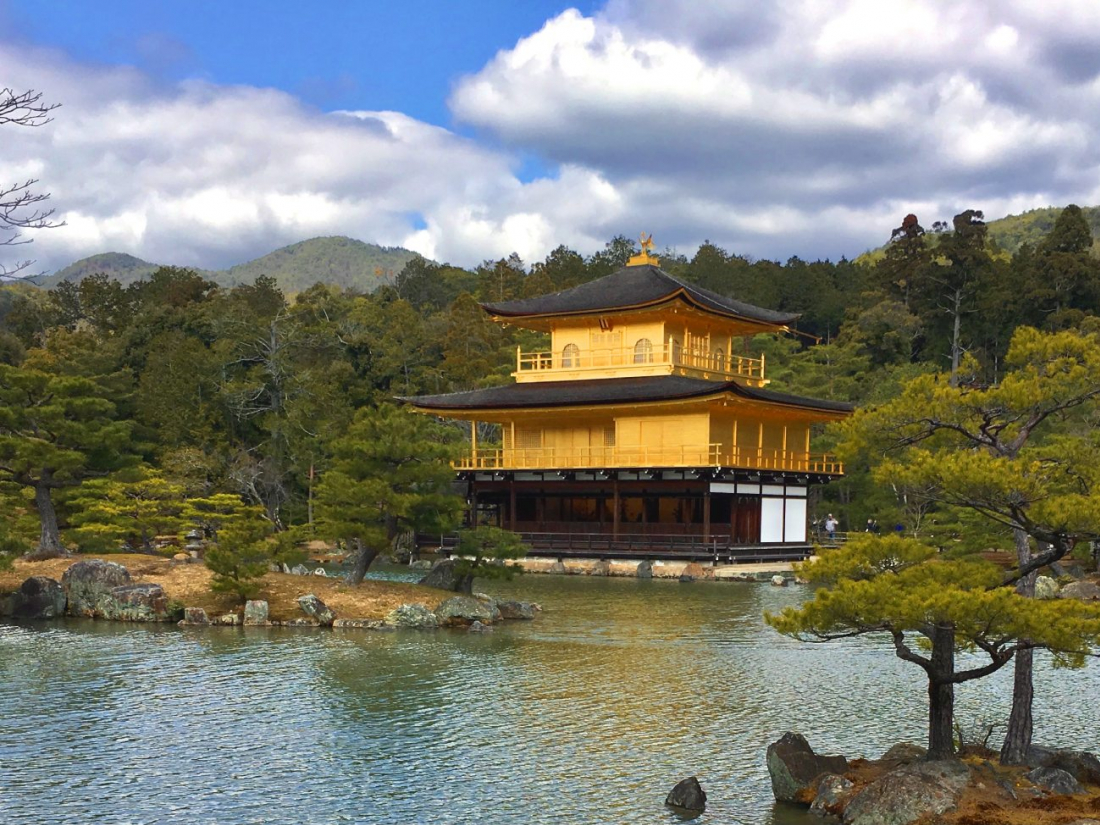 Like so many historic buildings in Japan, however, this golden pavilion is not the 600-year-old original! Kinkakuji's iconic golden building actually survived the destructive Onin War (1467-1477), but was famously burned down centuries later in 1950. Sometimes told as a funny joke, the sad story goes that a young, mentally ill novice monk was "jealous of the temple's beauty," and burned the famous building to the ground. The present pavilion was rebuilt in 1955 as a close copy of the original, although some observers noted that the new version was actually a little more liberal with the use of gold leaf! It's no wonder the building was said to cost 730 million yen at the time (almost 7 million USD), but the Muromachi period (when the original golden pavilion was constructed) was a particularly gaudy time in Japanese history, so it only seems right.
Kinkakuji Today
Now, this Buddhist "paradise on earth" attracts millions of visitors each year, and since entering the actual building is off-limits, sightseers instead walk the garden paths that circle around Kinkakuji and its pond, showing off the shining building from a number of angles.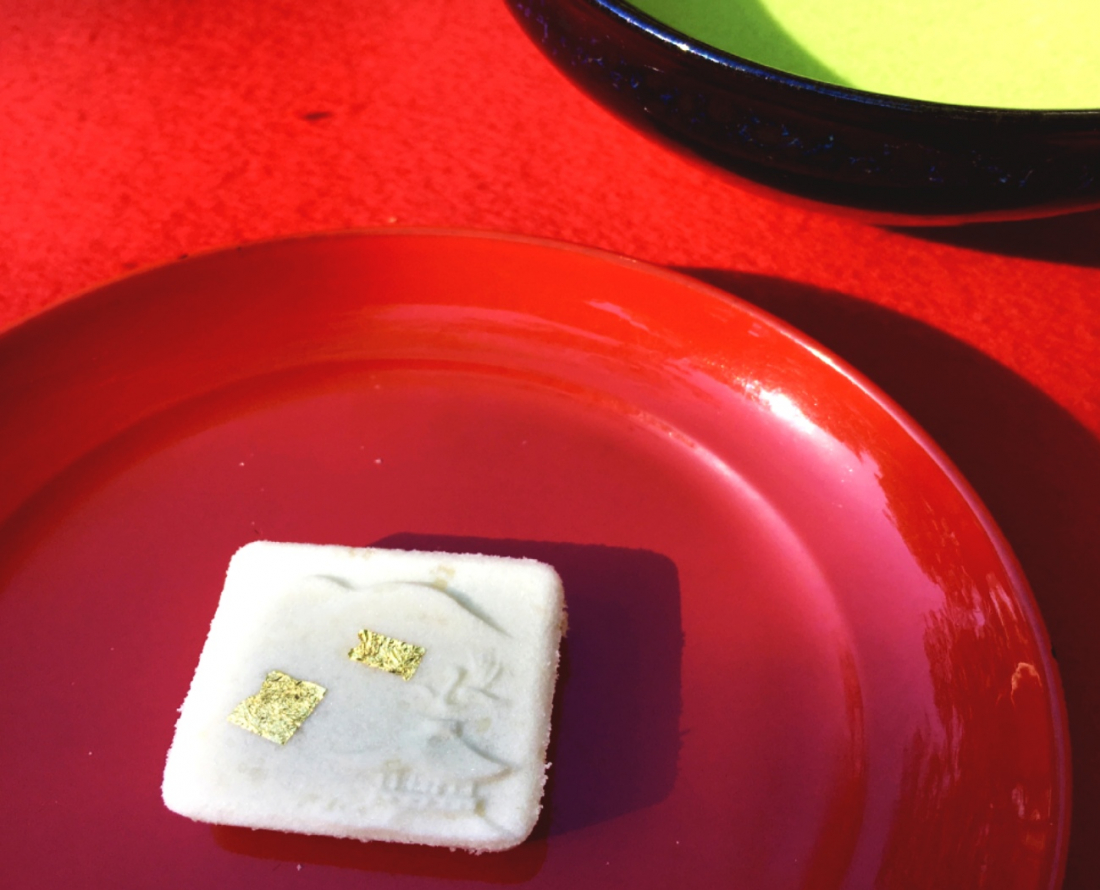 Past the gold-leaf "kinkaku," small buildings sell various charms and amulets for good luck, fortunes (available in both Japanese and English), and even snacks and souvenirs. There's even a tea house, and when the weather's nice, customers can sip a cup of strong matcha green tea out in the sun while nibbling on a traditional little Kinkakuji Temple sugar sweet.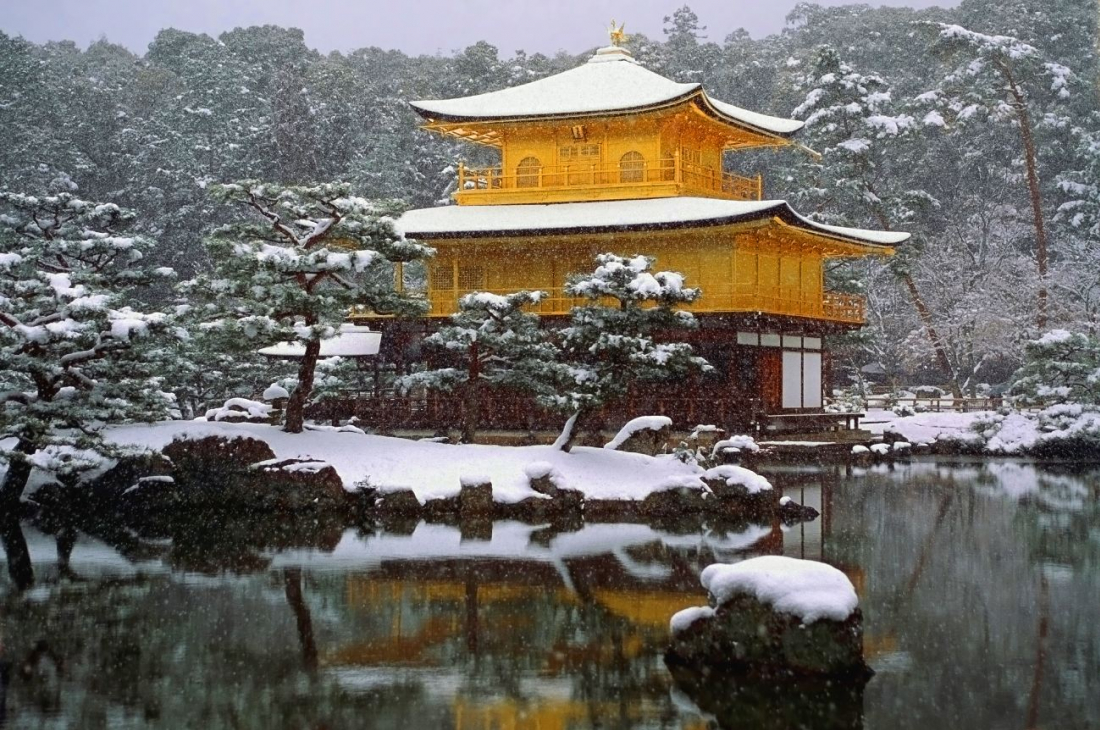 Image Source: Wikimedia Commons
Kinkakuji Temple is also famous for its less sunny days, and since Kyoto only gets one or two days of white fluffy snow a year (at the very most), these snow days are a special treat! Rain or shine, any time is a good time to visit Kyoto's golden pavilion, Kinkakuji Temple.
For more info and updates from Japan, check Japankuru for new articles, and don't forget to follow us on
Twitter
,
Instagram
, and
Facebook
!
Basic Info
Columnist

Sophia

I came to Japan for a semester abroad, and have been here ever since, so I guess there's just something about it. Tell me all the cool Japan-related things you know on instagram or twitter @japankuru !

SHOW COLUMN
Related Article