Onsens, Tattoos, and a Spray? A Culture Normally Closed Off Now Burst Wide Open To Those That Have Tattoos!
With 47% of Westerners having tattoos, and a series of sporting events coming to Japan this year and next, Japan's onsen culture is definitely not ready for these customers. But one Japanese company is looking to change that with a concealing spray!
Tattoos in Japan - A Very Brief History
Tattoos in Japan have a long and complicated history, originally tattoos acting as a brand on criminals and then a complete ban that stayed until the American occupation of 1948. With this, the Yakuza started to use these sometimes immaculate pieces of art to show standing. However, the Japanese also have an amazingly strong culture of tattoo artists, many learning not just the normal western style of tattooing but also irezumi a style of tattooing that is traditional to Japan.
It's this culture of Yakuza having tattoos that forced longstanding onsens to ban tattoos, not outrightly banning Yakuza from entering but to focus on the tattoos, and trying to veer away from Yakuza members anger.
Tattoos and Onsen - A world divided
Establishments that allow for tattoos and so on are few and far between.

What's more, 45.7% of people that come to Japan, wish to experience onsen when they visit again. To those that wish to enter while having a tattoo it is hard to find places that accept them. This means that a fundamental part of Japanese culture is closed off to those that visit for something that can be such a visually stunning piece of art on their bodies. As well as this, for some, tattoos are used to cover up birthmarks or scars, so this is extra hard on these visitors.
Sporting Events in the Near Future and the Tattooed Fans That Are To Follow
With the Rugby World Cup coming to Japan this year in September and the 2020 Tokyo Olympics also happening, Japan is set to see a large influx of foreign visitors.
Looking at just the amount of rugby players that have tattoos, it would be obvious that something would need to be done to help with accommodating them. Many professional sportsmen and women have tattoos, with reasons such as keeping their spirits up when travelling abroad away from family, or for making a permanent mark of their life's motto, or in the cases of people from New Zealand or other Polynesian Islands such as Samoa, Tribal Tattoos are extremely common.

Creating a Spray That Allows for Hot Springs to Accommodate Tattooed Guests!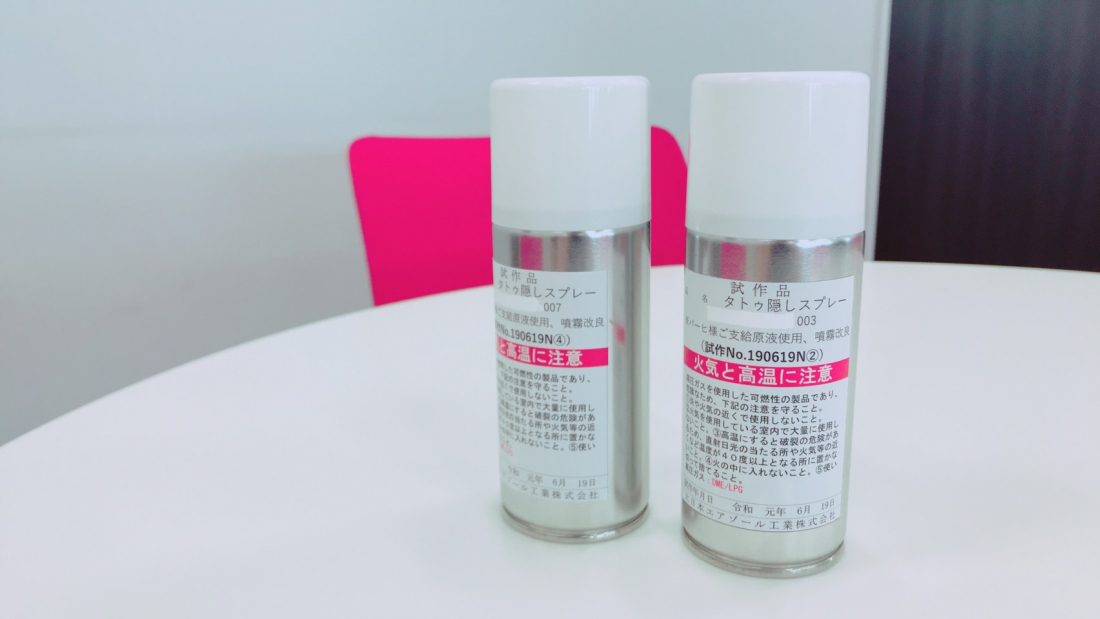 A company run by a New Zealand born Japanese person is trying to help with the problems that tattooed visitors to Japan face. Akio Nagayama runs PAHI, which has developed a unique type of spray that is waterproof, long lasting and easy to apply. By creating such a spray those with tattoos can enter into onsens and such without having to worry about their tattoos getting them declined! With 4 different tones to choose from as well it looks to accommodate a large amount of people that have a variety of skin colours.
We actually took the spray out for a test and below you can see the result of one use of the spray. This spray was really effective, even though the sprays we had at hand weren't the perfect skin tone, and it was all done outside, the tattoos were effectively covered! With a better environment to test the spray out and the right tones to try, we feel the spray would be a great way to hide them to enter onsens!
Crowdfunding to Further Develop and Promote the Spray
On August 1st, the company behind the spray, Pahi, launched a crowdfunding project on our sister site, Japankuru Funding, to raise money to do several things. The main plan is to help fund mass production of the product. Another reason for the crowdfunding is to raise money for the promotion of the spray as well as any further development and design for it!
The target goal for the project is
1,000,000 Yen
and the period it's running for is the
1st August to 29th August.
You can find the project page here:
https://en.japankurufunding.com/projects/tattoo-onsen/
Basic Info
Columnist

Japankuru Funding

Hey everyone! We hope that we can help you keep up to date with all the projects and things we have going on over at Japankuru Funding! We hope that you find the projects on the site as interesting as we do!

SHOW COLUMN
Related Article