A Very Japanese Guide to Social Distancing, Part 2 ~ The Most Kawaii Free COVID-19 Materials
Need some social distancing signs that aren't so depressing? These free signs are both practical and adorable.
It's been two months since we posted
this article
about some of the more charming and clever free Japanese signs and materials related to
COVID-19
and social distancing, and many things have changed in the meantime. Things
got worse in Japan
,
people coped for the most part
, and now the general public is trying their best to return to normal life slowly, safely, and
with plenty of social distancing
. And so we continue to see lots of signs reminding us all how to stay safe and avoid infection, some of which are boring and simple, and some of which are kind of wonderful.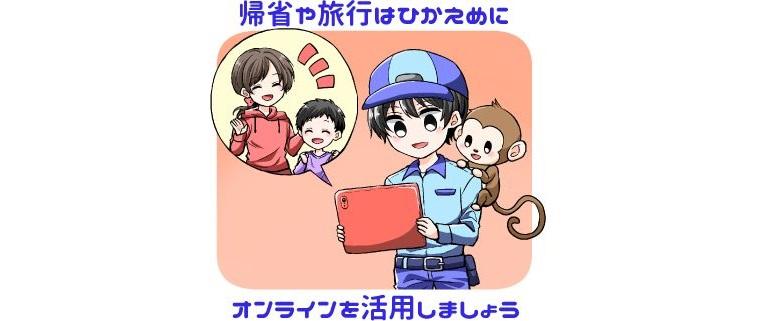 ...Like this sign encouraging people to avoid unnecessary travel and make use of the internet to talk with relatives and friends far away. (We think the young man is supposed to be a zookeeper, but with that hat and the cute monkey on his shoulder, the undeniable likeness to a Pokemon trainer can't be a coincidence, can it?)
This sign comes from Ube, a relatively small city in Yamaguchi Prefecture with a population of around 170,000. Ube is a bit off the beaten path like most of Yamaguchi, but when COVID-19 hit Japan, their city hall still responded by publishing a
variety of materials
meant to help the city's citizens respond to the outbreak appropriately. Among those materials was a collection of some pretty great signs, which clearly need to be shared with the world.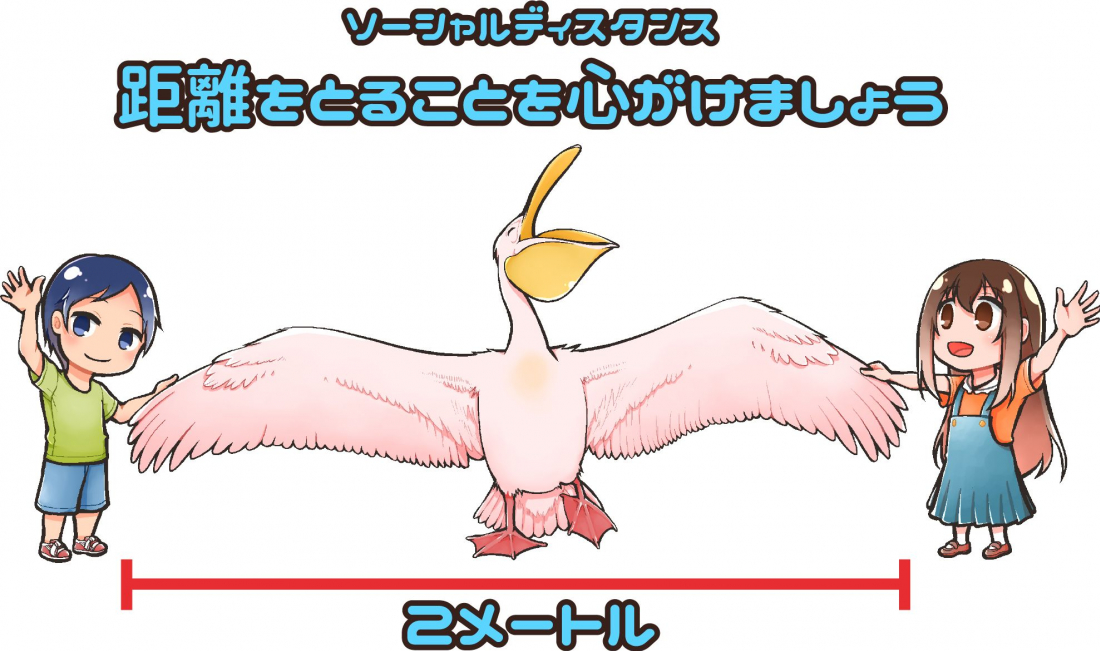 The signs' designs are all inspired by local landmarks and culture, and while Ube may not be much of an international tourist destination, most local sightseeing revolves around Tokiwa Park. So of course Tokiwa Park's wildlife are a major presence. Despite having unfortunately passed away over 10 years ago, one local pelican who lived in the park (dubbed "Katta-kun") was so beloved that he clearly still lives on in the hearts of locals. This sign tells us to keep social distancing in mind while showing off Katta-kun's impressive 2m (6ft) wingspan - just the right distance.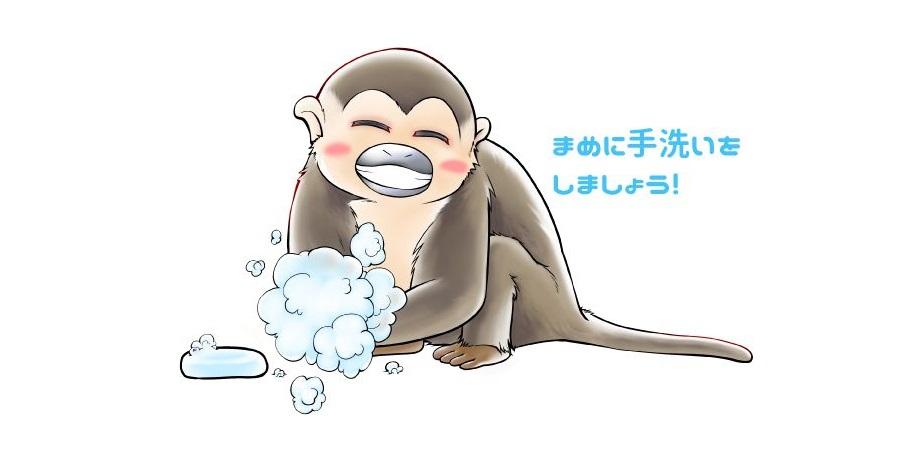 They also offered up this adorable sign with a little macaque, ubiquitous around Ube, telling us to make sure we wash our hands!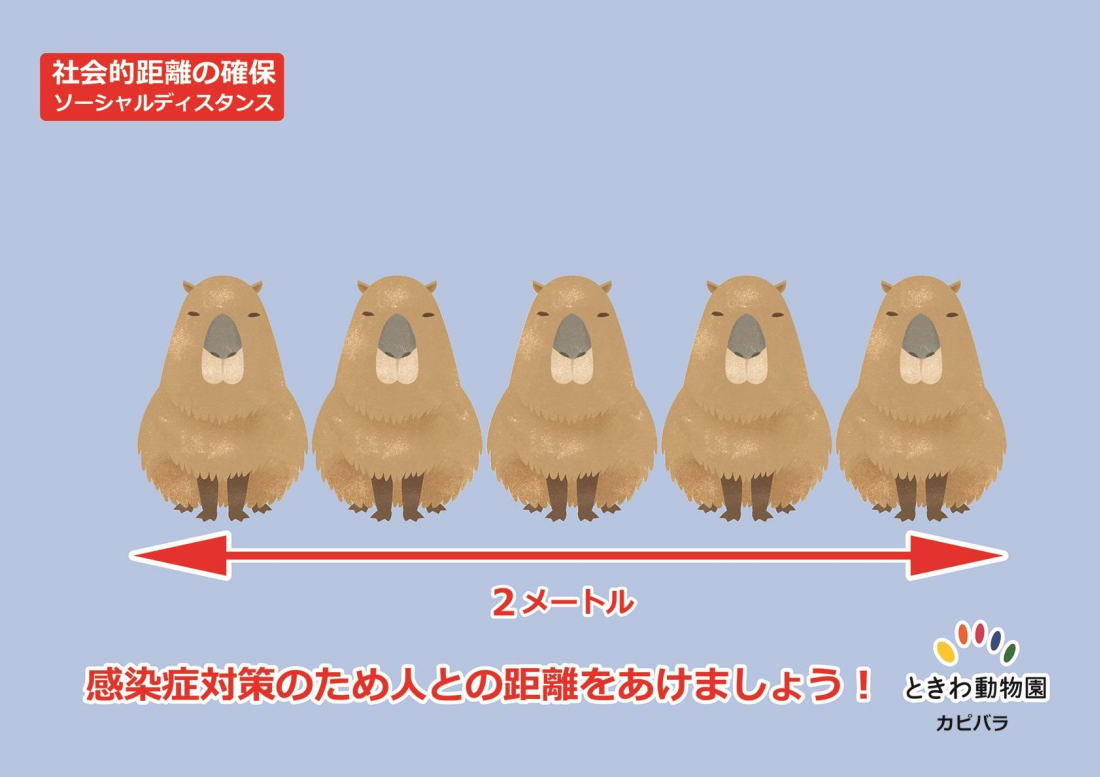 Local wildlife aren't the only animals making an appearance, though. For anyone who wants a slightly cuter way to communicate appropriate social distancing, this sign uses the capybaras of the park's Tokiwa Zoo to get the message across. Just one capybara wouldn't quite be 2 meters wide (fortunately), so the sign suggests you imagine a family of five capybaras between yourself and others to maintain an appropriate distance.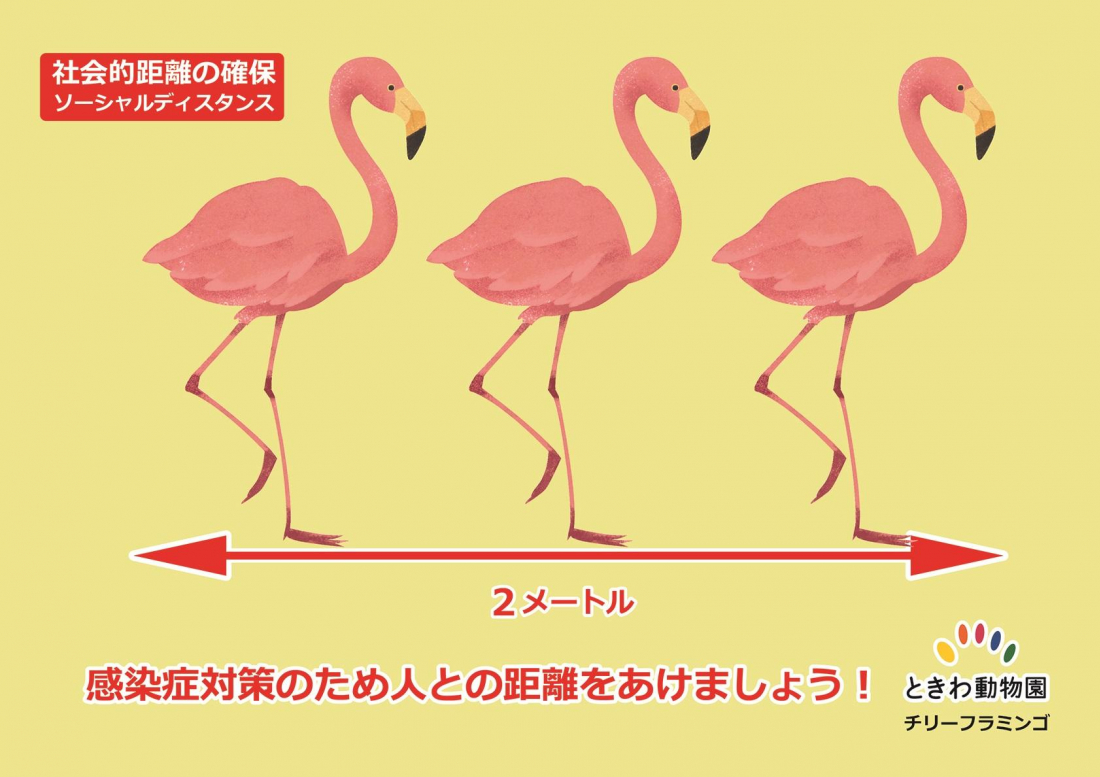 Not only are the zoo's flamingos also pretty cute, but this is also kind of a surprising reminder of how big flamingos can get.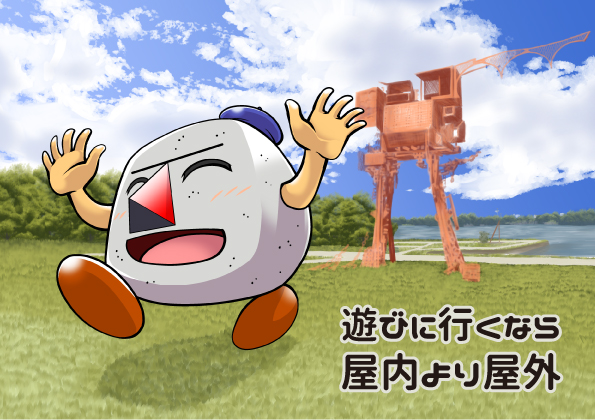 Some of the signs are a little confusing at first, if you're not particularly familiar with Ube. But of course, that might make them even more appealing. We can all appreciate the wacky-factor of some Japanese media. And we'll admit, while the Japankuru team could read the text on this sign saying "if you go to play, play outside, not inside," we had to do a little research before we had any idea what was really going on with the images. What is that weird rock doing, we thought, and why is there a strange leggy robot in the background?
But we did the research, so you don't have to! Ube, you see, is also home to the Ube Biennale international sculpture competition. That's why a large-scale outdoor sculpture exhibition (originally launched in 1961) is yet another part of Tokiwa Park, and is now a symbol of the city with quite a few iconic pieces. One of the permanent sculptures is "
Ant Castle
" (蟻の城) from Ryokichi Mukai, a large, red, steel structure, which has now found a place in the background of this poster. The blue-bereted, red-nosed rock on the left is actually city mascot Choko-kun, who was inspired by (and meant to look like) the famous statues and sculptures.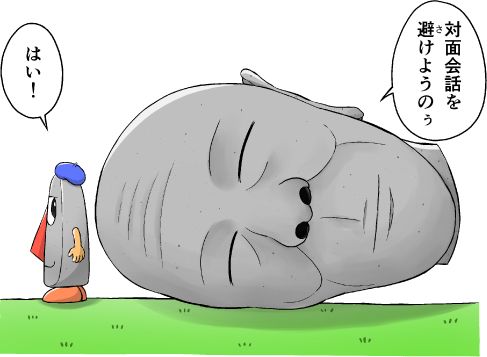 This illustration reminding us to avoid face-to-face conversations that could spread the virus might already seem a little mysterious, but it turns out that the real-life sculpture featured on the poster is even more of a mystery. The sculpture, "Space in the grandfather's nostril" (じいちゃんの鼻の穴に宇宙があった。) by Keiichi Sato isn't just a giant old man's head resting on the ground―if you walk up to the "grandfather's nose" and look inside,
it really looks like outer space
. We wouldn't recommend looking into any noses right now, though, unless you're a medical professional performing a coronavirus test.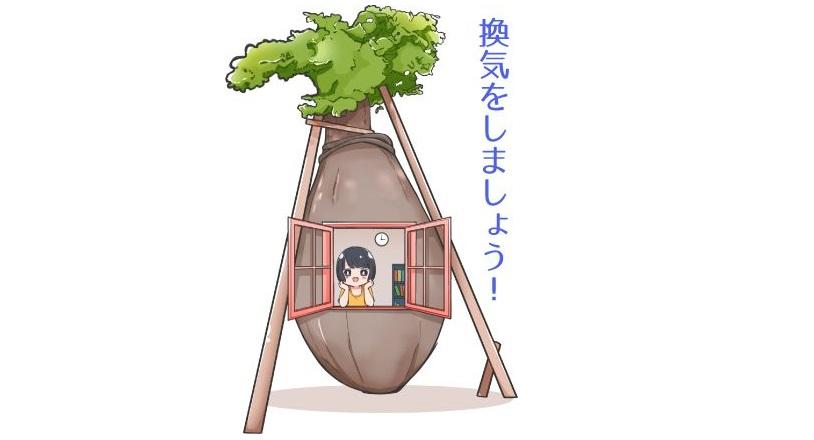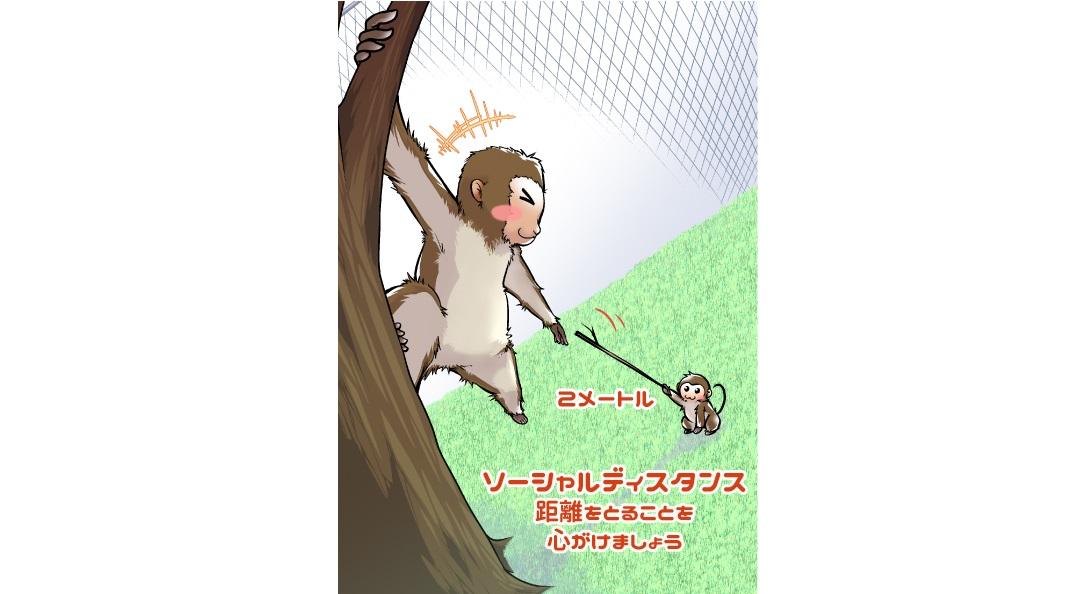 Ube City has quite a few coronavirus-related posters available for you to freely download from the
Ube city hall website
, so take a look if you need to remind yourself or others of proper safety procedure... in Japanese. And if you end up using one, let us know on the Japankuru
twitter
,
instagram
, and
facebook
!
Basic Info
Columnist

News From Japankuru

The latest news from Japan - learn what's new in the land of the rising sun, from an international group right on the scene.

SHOW COLUMN
Related Article