10 Surprising (& Strange) Sanrio Characters You've Never Heard Of, but Need to Know
Sanrio's lineup includes stars like Hello Kitty and Gudetama, but they've made a lot of characters over the years, some of them are a little wackier than you'd expect.
Hello Kitty, My Melody, Cinnamoroll, and Gudetama are just a few of the many popular characters born of the famous Japanese character creators at
Sanrio
. This Japanese company first found success in the 60s by manufacturing strawberry-printed products and publishing love poems, before they came into their own as "Sanrio," finally venturing into the world of cute characters and all the merchandising that accompanies them. But the truth is, coming up with new characters constantly since 1973, not every Sanrio creation has had the star power necessary to reach the wild levels of popularity achieved by their bow-wearing favorite,
Hello Kitty
. Inevitably, over the past 50 years, some Sanrio characters have been duds - or at least, they've deviated a little from the sugar-spice-and-everything-nice formula we know and love! Some of them are strange, some are silly, and some are just plain surprising, so here are 10 Sanrio characters you've probably never seen before, and you certainly didn't expect.
① Big Challenges - 1978
It's hard to rank Sanrio's most eccentric characters in terms of just how strange they are, so instead let's go in chronological order, starting with Big Challenges. Yes, his name is Big Challenges, but perhaps that isn't really that strange after all, if you think about other Sanrio character names like "My Melody" and "Little Twin Stars." Known for his habit of playing dumb and a face that's always smiling, at least according to his official Sanrio profile, this little crocodile first came onto the scene back in 1978, four years after Hello Kitty's grand debut. He looks an awful lot like the scribble of a kindergartener, with a mouth that takes up most of the body, and just two legs with three toes each, but... he's also kind of irresistibly charming. Maybe someday he'll make a comeback and truly live up to his potential.
② Bogo The City Boy - 1980
While it's a little unclear what species Bogo is supposed to be (possibly a gorilla?), there's no question about what he is deep in his heart, and that's a City Boy! Born and raised in the big city, as Sanrio puts it, he's a "100% City Boy" who "enjoys the flashing lights and fast paced action of life in the city." Bogo also loves music, and is always on top of the latest trends... but that's about all we have on the colorful character that looks like a true child of the '80s. It looks like sometimes Sanrio got to a certain point with potential new characters, and hit something of a roadblock. They can't all be as fleshed out as Hello Kitty, whose backstory as a human girl in London is shockingly detailed.
③ Culture Shock - 1985
Perhaps, back in the mid-1980s, the character creators at Sanrio were feeling their own kind of culture shock as Japan moved towards the economic excesses of the "bubble" period, but these cute middle-aged men characters were throwbacks to another time - 1867 to be exact. The two halves of the Culture Shock character duo are samurais Yumenosuke and Tetsunoshin, who are traveling to Paris in the 1860s on a mission to learn more about Western culture, at a time when Japan was just beginning to open its borders to the rest of the world. (After centuries of silence, Japan only began to more broadly interact with foreign countries in 1853, and the 1868 Meiji Restoration marked a major change in both political and cultural practices.) Illustrations show Yumenosuke enthusiastically immersing himself in European culture (drinking coffee, riding bicycles, shooting cannons), while Tetsunoshin holds back and sticks to what he knows, and somehow the two little men are really very charming. It would be fun to see Sanrio bring these two back some day, in this new era of globalization!
④ Umeya Zakkaten - 1987
Another one of Sanrio's funny human characters, this lovely old lady's name is Ume Yamada, although as a character she goes by the title "Umeya Zakkaten," which means something along the lines of "Ume General Store." It seems like back in the day, old Grandma Ume made quite a few appearances in magazines with other Sanrio characters, showing up as a popular shop owner whose store is always busy with local kids and friends coming to chat and drink tea. Her profile mentions her talents for traditional Japanese games, her habit of making plans to visit tropical islands with friends, and her boyfriend - who treasures the sweater she knit just for him. She's a far cry from the clean, simple style of Hello Kitty, but it's hard not to like Umeya Zakkaten - especially when she shares fun recipes like fried udon cookies!
⑤ Elpaso - 1987
What kind of character is Elpaso? According to Sanrio's official profile, Elpaso seems to be a collective of singing, dancing, chilling cactuses, who want to make more friends. With a motto like "Hot and fresh from Nature's kiln: A sun-baked paradise of terra-cotta scenery" and a theme that just seems to be "cactuses in El Paso, Texas," it looks like Elpaso is one of the many Sanrio older designs that was sort of forced into character-hood, despite lacking any context, background, or real characterhood whatsoever. Searching back through the early years of Sanrio's character design archives, it's clear that there are quite a few "characters" like this. One particularly egregious example is
Fresh Punch
, which is literally just an image of a tropical drink, candy, and playing cards. (The "character profile" doesn't even try, and just calls it a stylish pattern.) But with a handful of cute smiling faces, Elpaso at least has the makings of character and personality, so while this collective barely counts as a character, we're willing to forgive Sanrio and accept Elpaso into our hearts anyway!
⑥ Hooty Hoots - 1991
What could be a surer sign of the '90s arrival than this strange MS Paint texture, shaped into the vague shape of owls with pointy yellow triangle beaks. Despite suffering from a name that unfortunately risks being translated as "Footy Foots" due to the intricacies of Japanese characters, these owls are so full of mischievous energy that they sleep through the night and spend the day singing instead. (Or possibly screeching, if they sound anything like real owls.) With such a scribbly, simple design, it's no surprise that the purple and blue Hooty Hoots owls never made it big as Sanrio favorites like Cinnamoroll, but take a look at Sanrio's character list and you'll notice something interesting: the very next year, a much more detailed, fleshed-out, and eventually much more popular blue owl character arrived on the scene (called
PataPataPeppy
). Was Sanrio perhaps just dipping a toe into the owl market with this first foray?
⑦ Tonari no Kappasanchi - 1998
Did you know that Sanrio's roster includes a handful of claymation-style characters? Tonari no Kappasanchi is a family, a mother and three children, of the traditional Japanese mythical creatures known as kappas, and the images of the characters appear to feature a set of clay figures. The family is said to be living in the late 1950s, going with the flow and enjoying the seasons as part of their happy, laid-back way of life. Profiles even comment on how the children know their mother will always warmly protect them, so they don't feel lonely even without a father. While it's hard to find much on these surprising characters these days, internet message boards are dotted with people asking "does anybody else remember Tonari no Kappasanchi? I always thought they were so nice..." So it looks like these funny little kappas still hold a special, nostalgic place in many people's hearts.
⑧ Beetroid - 2011
High-performance insect-shaped androids! Their android brains are so developed they can understand human language!
No, this description isn't some kind of very bad translation. It turns out Sanrio has expanded their range over the years, and in 2011, they added these very specifically not cute little critters to their roster. A Beetroid is, officially, a "High Performance Beetle-type Android," and while the characters don't seem to have reached their full action-figure potential yet (at this point, their merchandising seems to mostly be limited to pencil cases and handkerchiefs), they have found some modicum of popularity over the years. Back in 2013, during the yearly ranking of the "
Sanrio Character Awards
," the Beetroid androids made an official statement: "If we make it to the top 50, we'll turn into humans!"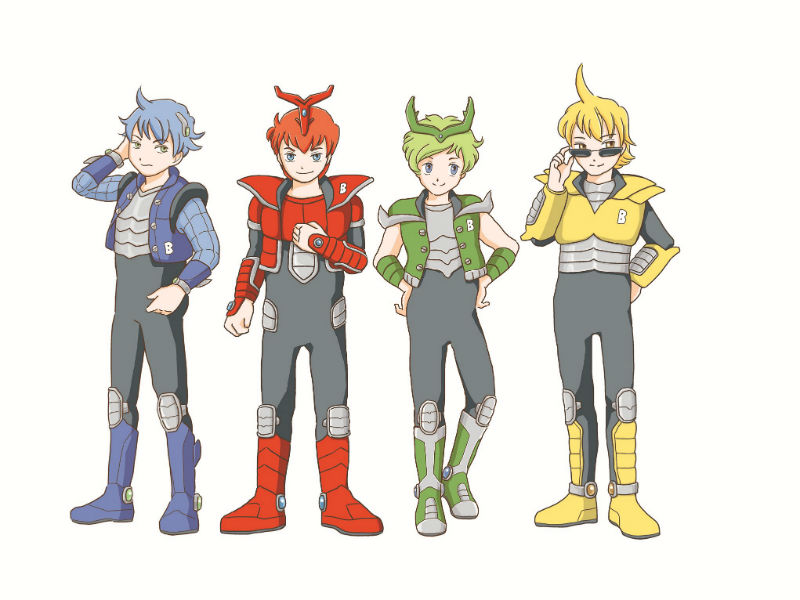 Image Source: Nlab
They kept their promise, as far as illustrated beetle-type androids can, and later that year Sanrio released an image of the new and improved human-type Beetroids, wearing just the kind of colorful, beetle-inspired armor you might see in a classic action anime.
⑨ Chunen Heroine Ojisan's - 2015
Okay, this article might be biased towards Sanrio's middle-aged men characters, but it's hard not to love these balding, frilly-dress-wearing old men, whose illustration style fits right into the world of Hello Kitty and friends. The premise of these characters is that they have just the kind of story you'd expect of a magical girl heroine (think Sailor Moon). See them walking down the street, and you'd think these three were just regular, run-of-the-mill office workers, not worth a second thought - but their true form is the Chunen Heroine Ojisan's! (The unnecessary apostrophe is part of the official name.) Whenever this trio of middle-aged men makes an appearance, they're always dressed in cutesy outfits with lace and bows, but their profile says that they spend every day hard at work, not knowing which will come next - a promotion, or retirement age!?
⑩ Hagurumanstyle - 2015
Hagurumanstyle is possibly the creepiest character on this whole list, but this creepy tooth man is probably the most popular of all these strange characters, with his very own
Twitter account
,
LINE stamps
,
four-panel manga
, and all kinds of other appearances. Haguramanstyle, an anthropomorphic tooth, is clearly gunning for Gudetama's top spot when it comes to Sanrio's less conventional characters.
The name Hagurumanstyle is a whole punny mashup, including the Japanese word for tooth (ha/歯), the word for cog, like in a machine, (haguruma/歯車), and the Japanese pronunciation of businessman. So while there appears to be one main Haguramanstyle character that makes frequent appearances, the name clearly refers to a whole community of tooth people, working hard together in what's usually illustrated as an office environment. According to the official profile, they're born when baby teeth fall out and new teeth grow in, but they only really show up when you grit your teeth and try your best, so when you can no longer grin and bear it, they arrive to cheer you on. These teeth are apparently fans of both dental care and mental care. If you could use a little extra reliable support, as dependably as the molars at the back of your mouth, you might just fall for the hardworking teeth of Hagurumanstyle.
Looking Back on Sanrio's Strangest Choices
Throughout the years, Sanrio has built up a family of dozens upon dozens of characters, some more memorable than others. Searching back through the archives, it's clear that some characters have always been destined for greatness, while others could have used a little extra polish before being presented to the world. But it's also easy to see that, with a little extra love and care, some of these characters could have also grown their own little fanbases, instead of fading into obscurity. Now that we live in an era where strange and quirky characters can be discovered on the internet and delivered unto a community ready to appreciate them (just look at Hagurumanstyle), perhaps it's time to bring a few of these weirdos back into the spotlight! Which one is your favorite?
For more info and updates from Japan, check Japankuru for new articles, and don't forget to follow us on
Twitter
,
Instagram
, and
Facebook
!
Basic Info
Columnist

Sophia

I came to Japan for a semester abroad, and have been here ever since, so I guess there's just something about it. Tell me all the cool Japan-related things you know on instagram or twitter @japankuru !

SHOW COLUMN
Related Article