Japanese Hot Springs that Allow Bathing Suits ♨ Hakone Kowakien YUNESSUN
Hakone Natural Hot Springs Water Park
____________________

※Regarding Our Travel Information During the Coronavirus Outbreak.

Due to the COVID-19 outbreak and efforts to prevent the spread of infection, some facilities may have altered opening dates and times, be partially closed, or have limited menus. Before leaving for your destination, please check its official website for the latest information. In areas still in some form of lockdown, we recommend you avoid going out unless necessary. Look out for more Japanese travel information to plan future trips, new every day on Japankuru!

____________________


Spending Summer at Japan's Hot Spring Theme Park
Many foreigners want to experience a Japanese hot spring but the idea of being naked in public makes them uneasy. Also, since it's summer vacation for many, they are looking for a cool water park to hang out at! Which is why this time, JAPANKURU wants to introduce the one-of-a-kind Hakone hot springs Hakone Kowakien YUNESSUN.

Here, you can wear a swimsuit to soak and play in Japan's natural hot springs based on many different themes and events! Many people have the idea that going to a hot spring in the summer just sounds awful, but the baths at YUNESSUN make even a hot summer day enjoyable. Last year we went to YUNESSUN and had the time of our lives! This summer, Hakone Kowaken YUNESSUN has prepared a lot of new cool and limited areas which is why JAPANKURU immediately went to check them out and play!

*If you forget to bring your swimsuit and towel, YUNESSUN also has a loan service, so don't worry!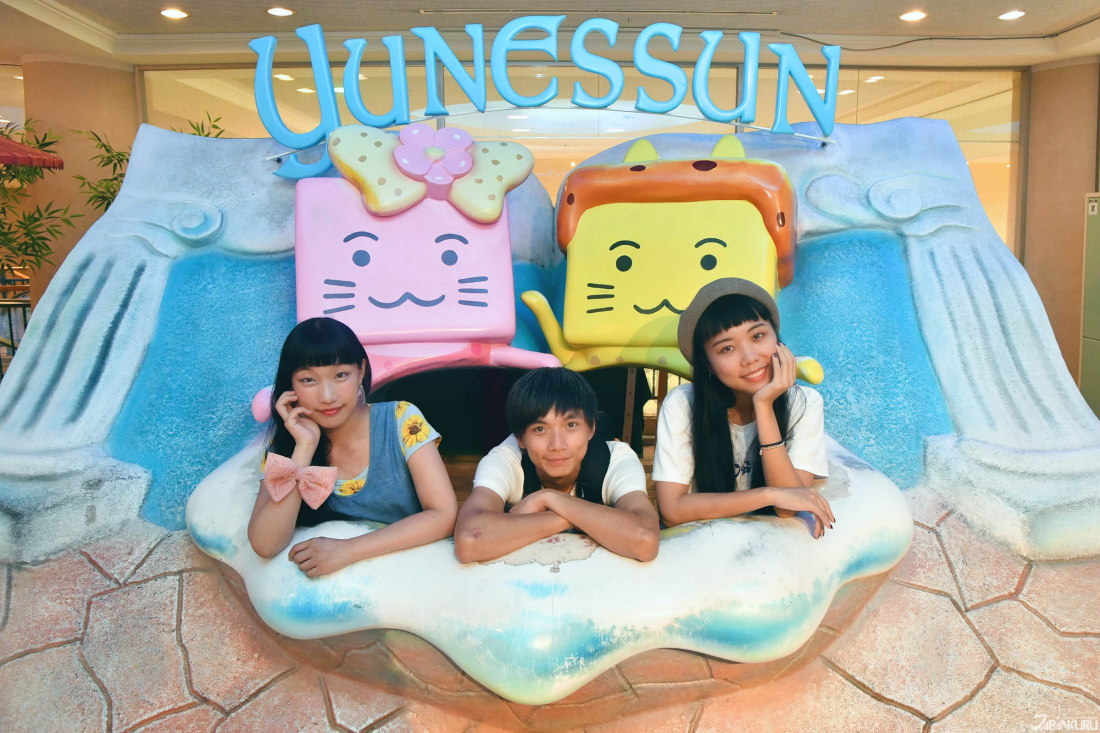 ♨🍶 ​♨☕​♨

Hakone Kowakien YUNESSUN Themed Spa!
YUNESSUN Area

♨☕ Iced Coffee Bath ☕♨
(Limited Summer Bath)

Many of YUNESSUN's hot spring baths are set being their "regular" baths like the red wine bath, sake bath, and green tea bath. However, YUNESSUN also features special baths that change monthly/seasonally!
There is already a coffee bath, but to cool down this summer YUNESSUN introduced an iced coffee bath🥤
YUNESSUN pushes the iced coffee bath for those who need to take a coffee break☕ It's an iced coffee bath...but in a hot spring! What goes well with ice coffee? Milk, of course! The iced coffee bath also incorporates a "show"/ "event time" where they add milk to the bath every day! If you want to be mixed into this creamy iced coffee hot spring bath, be sure to be in the bath from 1pm~3pm.



♨🥤 Iced Coffee Bath 🥤♨


Limited time: 07/13/2018/~08/31/2018
⏰Event time: 1pm~3pm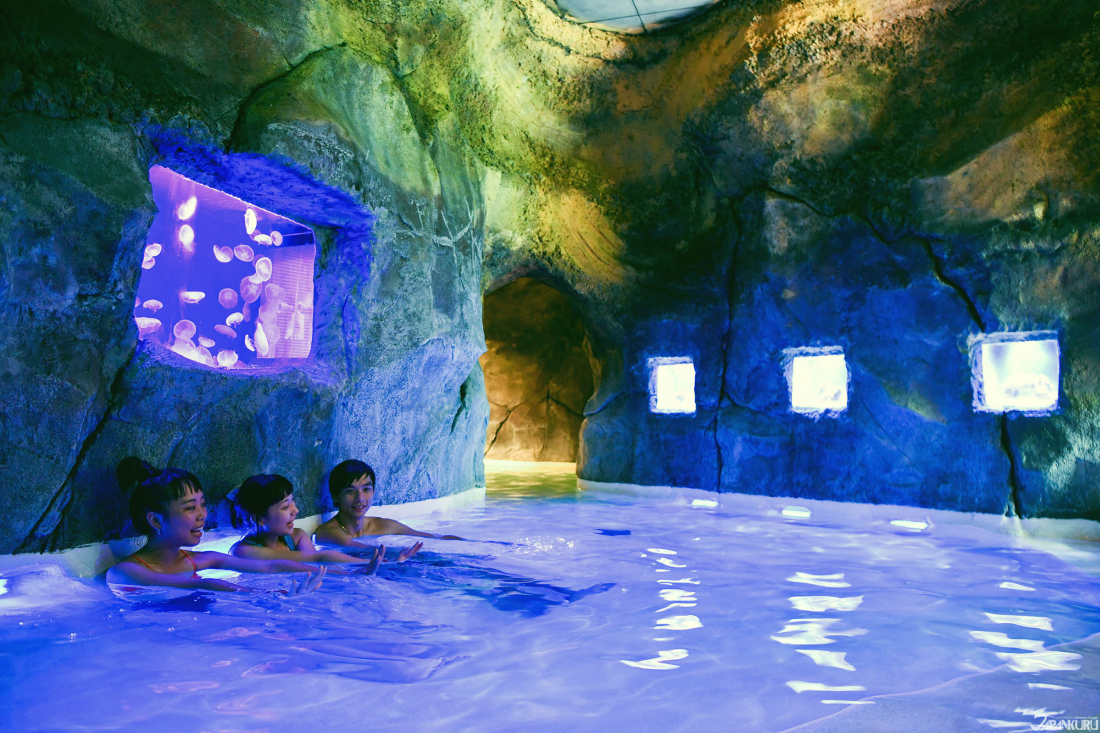 ♨🐟 Mysterious Jellyfish Bath 🐟♨
(Limited Summer Bath)
Go in a cave and relax in a hot spring with Jellyfish all around you? YES PLEASE!!! This is like a dream come true. This year YUNESSUN set up a "cave bath" to create the atmosphere of the deep sea while many jellyfish and tropical fish are in tanks surrounding you light u in colorful LED lights.
♨🐟 Mysterious Jellyfish Bath 🐟♨
📅07/13/2018/~08/31/2018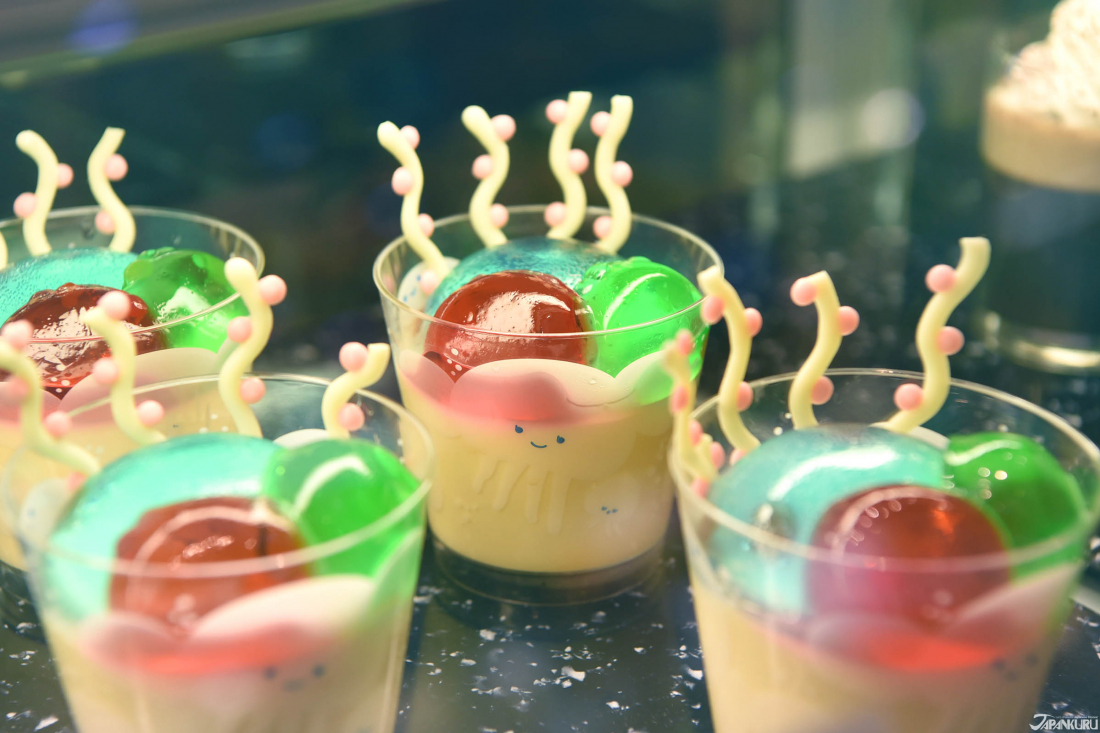 Jellyfish Pudding (クラゲプリン)
In addition to the desserts that are limited by the ice coffee bath,
there is a limited dessert by the "Jellyfish Cave".
It's jellyfish pudding!!
We loved how cute the crystal clear jellyfish were.
💴550 yen (including tax)
♨🏊♨🏊♨

Hakone Kowakien YUNESSUN Outside Water Fun!

Looking for a more water park for of place? No problem!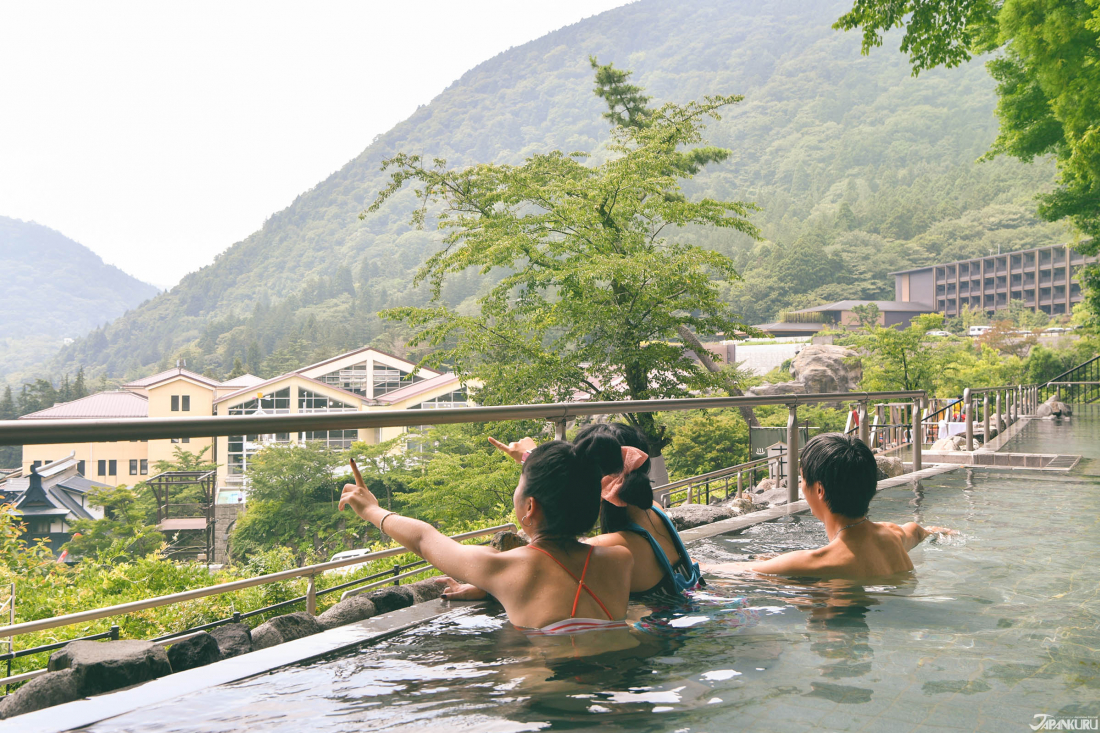 Open-air Scenic Bath
Hakone is not only a place of Japanese hot springs, it's also full of mountains, wildlife, great lakes, and grass fields. So giving you full access to the plant and animal life of Hakone. So at the outside pool area of YUNESSUN, there is an open-air bath that is 40 meters long, which is perfect for relaxing in the hot springs while looking out at the beautiful Hakone nature!♨🌳
Hot Springs Theme Park
Probably our favorite part of YUNESSUN is the water park like hot springs area that has rides and attractions for everyone!! If you've read a YUNESSUN article from JAPANKURU before, you'll know that YUNESSUN has a shallow water level in the indoor pool, and there are outdoor attractions like an impressive water slide,
Rodeo Mountain
(ロデオマウンテン), natural waterfall
Dragon's Waterfront
(龍の水辺)
, and a cool hot springs jungle gym,

Bozappi's Jungle Gym
(ボザッピィのジャングルジム)!!!
Food and Events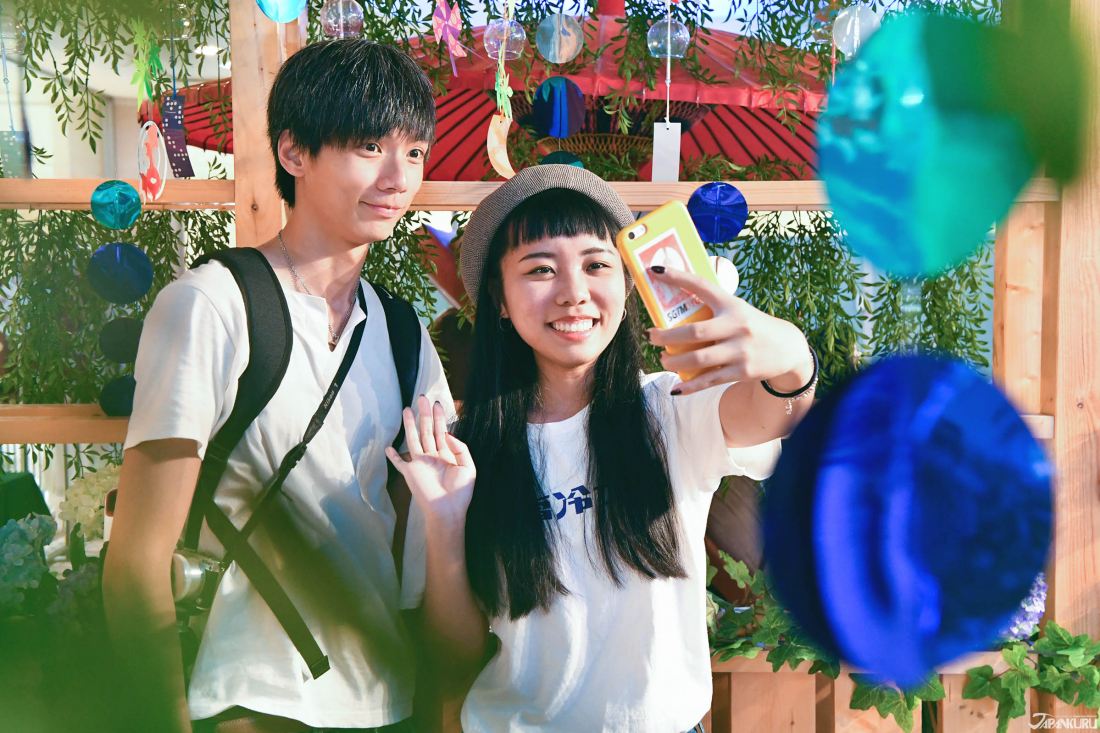 Finally, on the 4th floor lobby is a Japanese cultural experience photo area. The theme changes regularly, and now since it's summer the area is filled with Japanese wind chimes
°
˖
✧
🎐
✧
˖
°
♨ Hakone Kowakien YUNESSUN ♨
🏢1297 Ninotaira, Hakone-machi, Ashigarashimo-gun, Kanagawa
🚉From Hakone Yumoto Station,
take the HakoneTozan Bus or the Izu-Hakone Bus to Kowaki-en Bus Stop (about 20mins)
⏰
YUNESSUN (bathing suit ok!)
9:00~6:00pm
Mori no Yu
(naked - no bathing suit)
11:00~8:00pm
💴
YUNESSUN (suit ok)
Aduts 2,900 yen・Age 65+ 1,700・children 1,600
Mori no Yu
(no suit)
Adults 1,900 yen・Age 65+・children 1,200
Entrance to both
(
YUNESSUN
&
Mori no Yu
)
Adults 4,100 yen・Age 65+ 2,200・children 2,100
💻
Yunessun Official Website (English)
🍩☕ NARAYA CAFE 🍵🥧
Just below the YUNESSUN station, there are a lot of hotels suitable for tourists, also a lot of specialty shops! This time we visited a neat cafe called
NARAYA CAFE
. Not only can you get your regular drinks and snacks here like you could at other cafes, but there is also a foot bath on their outdoor wooden deck that uses the natural hot springs from Naraya Ryokan (奈良屋旅館). It's nice checking out all of the little quaint stores in places like Hakone. So if you like these sort of special local stores or just want a place to relax before catching the bus/train back home, go and check it out!
🍴
NARAYA CAFE
🍴
🏢404-13, Miyanoshita, Hakone-machi, Ashigarashimo-gun, Kanagawa
G

o

o

g

l

e

Maps
⏰10:30~6:00pm (December to February to 5:00pm)
Public holiday: every Wednesday, the fourth Thursday of each month
❄
Winter public holiday: mid to late January
💻
Naraya Cafe Official Website
For more info about Hakone Kowakien Yunessun
and the other types of hot springs there are available click here!
Be sure to look at
JAPAN
KURU
🐶 for more exciting articles every day!!
Or add us on
Google+
,
Instagram
,
Facebook
to share your Japanese pictures💖🗾

Related Article