Japanese Distillery Worth Visiting 🥃 Day Trip for the Suntory Hakushu Whisky Distillery Tour!
When you think of Japanese alcohol, you normally think of sake. But Japan's whiskey knowledge and appreciation have gradually been becoming world-famous!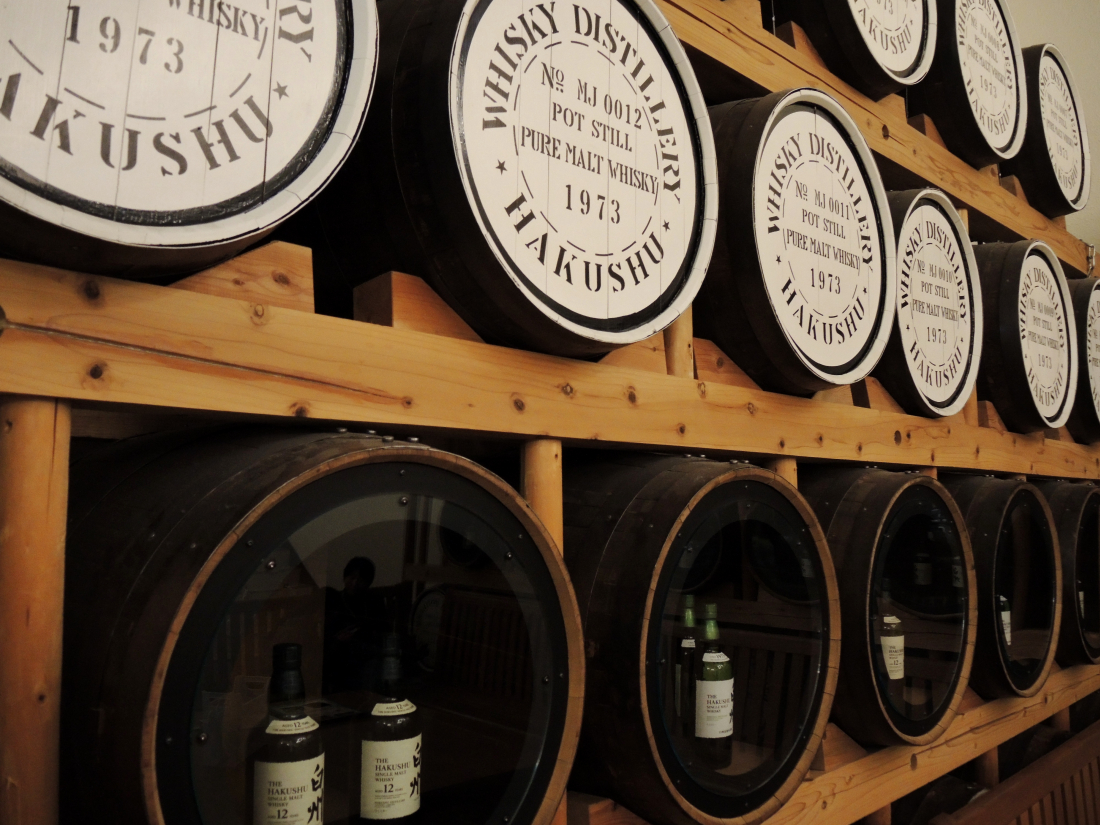 Japanese whiskey is, in fact, becoming #1, surpassing Scotland! At the 2017 World Whiskies Awards, Japan won 3 awards in the competitive categories of the World's Best competition. TWO of those whiskies, might we add, are Suntory whiskies! So after knowing that, of course, we had to go check out the distillery for ourselves!!

A little bit of background~ The founder of Japanese whisky, Shinjiro Torii, wanted to create a perfect whisky that reflects the nature of Japan and the spirit of Japanese craftsmanship and did so way before his time. Construction for Japan's first ever malt whisky distillery began in 1923. Suntory's second distillery was located at the bottom of Mt. Kaikomagatake, in what's known as the "Southern Japanese Alps". This particular location became special and unique (worldwide!) thanks to its location. The high altitude of such a clean and rich environment worked in favor with Hakushu's purest water.
Getting to Suntory Hakushu Whisky Distillery​
You could normally get to the Hakushu Distillery by the JR Azusa Limited Express train (on the Chuo Line) from JR Shinjuku Station (takes roughly 2 hours). However, since it was a holiday, we took a special train from Shinjuku! We rode the "Holiday Rapid View Yamanashi" (Holiday Kaisoku View Yamanashi)!! It's a double-decker train!! It was our first time ever riding one, so it was a cool experience! Besides the obvious appearance difference between the Holiday Rapid View Yamanashi and the Azusa, the Holiday Rapid View Yamanashi is not considered a limited express train (like Azusa), so the train fee is almost the same as taking a regular train!!!

★You can buy tickets at any JR Ticket Information Center in the station!
Holiday Rapid View Yamanashi doesn't run that regularly,
but if the JR people tell you the Holiday Rapid View Yamanashi isn't available,
you can still take the Azusa Limited Express (which you can buy tickets there as well).
Eating a Dish Originated in Yamanashi
Hoto is made by putting ultra-wide noodles (similar to udon noodles) into miso broth and cooking them along with various vegetables like kabocha (Japanese pumpkin/squash), snap peas, mushrooms, carrots, and more! Hoto looks like udon noodles, but if you ask any person from Yamanashi, they'll tell you it's COMPLETELY different. What's the difference though? Hoto noodles are made with the same dough used to make dumplings! Add that to a bunch of vegetables prepared in an iron pot, and you're in heaven.
★

Houtou

Matsukizaka

(ほうとう松木坂)
G

o

o

g

l

e

Maps
*Roughly a 15 min walk from Kabuchizawa Station
⏰11am~9pm (Last Order 8:30pm)
Closed on Mondays
☎ 0551-36-2815
Houtou Matsukiza Info on Tabelog
(Japanese)
Arriving at
Yamanashi Hakushu Whisky Distillery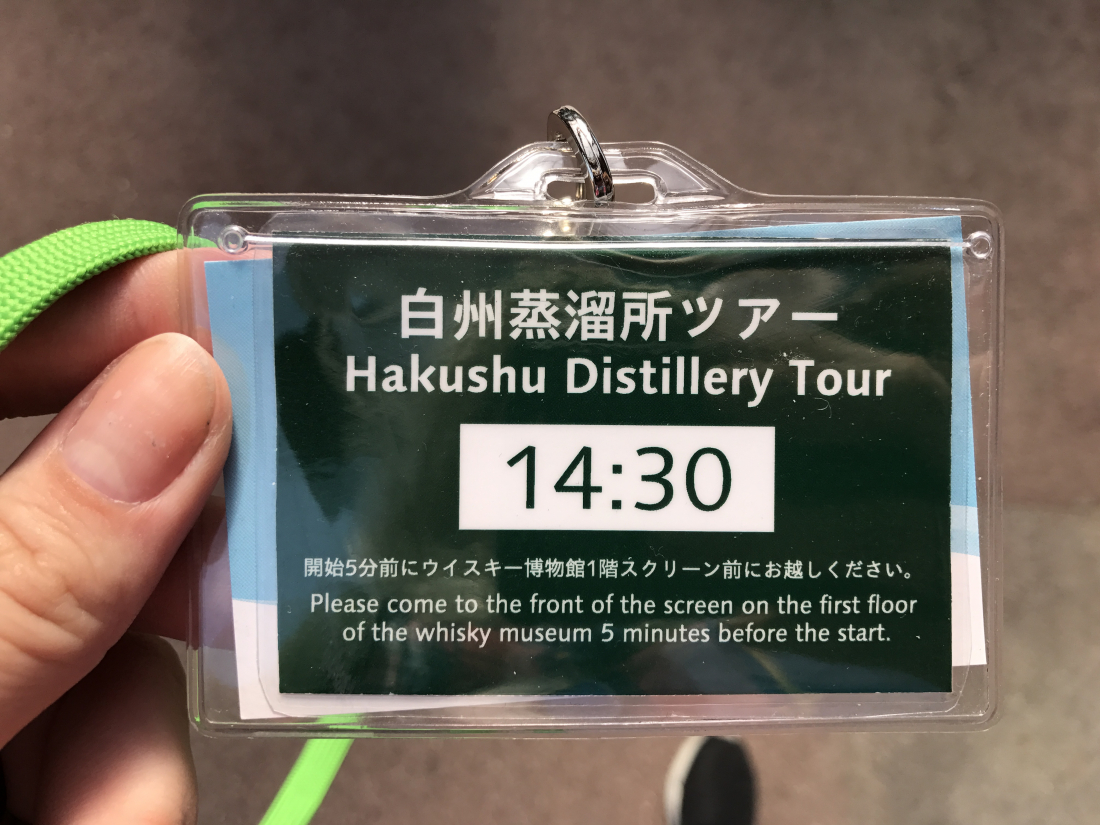 Once you get in, you receive a lanyard with your scheduled tour time on it. You might notice people with different colors! Later we found out, that it's a way to identify who is able to drink and who isn't. Neon green is, as you guessed it, GREEN FOR GO! The other colors are pink and orange. One to identify the DD and the other to identify those who aren't old enough to drink.

The first floor of the Suntory Hakushu Distiller Whisky Museum is the tour starting area. If you still have time before your tour starts, take a quick peek at the "History of Japanese Whisky" area they have in a separate room to the right, which connects to "The Mysteries and Science Behind Brewing/Distillation" that is on the second floor. Each floor has something different, but the observation platform on the top floor is truly special. You can look out on the magnificent mountains of the Southern Japan Alps and Mt. Yatsugatake. They say you can EVEN see Mt. Fuji on a clear day! The first floor area where we waited for our tour to begin!
LET THE TOUR BEGIN!
Hakushu Whisky Distillery's Process
The fermented liquid generates "wash" (when the yeast converts the sugars in the wort into alcohol and carbon dioxide) and has many different characteristics because of the distinctive flavor components it includes. Taking the filtered wort, they add yeast for the fermentation process. They use wooden washbacks with superior heat retention at the Hakushu distillery, giving their whisky that special taste. They put a clear cover over a day 2 and day 3 fermentation washback so you can see the conditions of the process. The difference between the two was crazy when taking into consideration that it was only a one-day separation. Day two had so many bubbles whereas day three was a calmer batch. If you put your nose right up to the plastic cover, you could get a whiff of the wash, and man-oh-man, it was STRONG! It was like someone slapped you in the face. To this day I don't think that smell has left our noses hahah
Ⅳ. Distillation


The wash produced during the fermentation is then transferred to pot stills to undergo the distillation process twice, which results in a liquid with high alcohol concentration called "new make". What was cool is that each pot still was different in shape and size. When we first saw all these different pot stills, it didn't make much sense...why would they be different? Apparently, depending on the distinct flavors they want to bring out of the whiskies, they decide which pot still to put it in. The guide said that one in a handful of distilleries around the world does that sort of technique!

Ⅴ. Aging


The SECOND you walk into the aging warehouse, your nose almost BURNS with the strong smell of what seemed like thousands of whisky casks around you. It was difficult to breathe at first, but you eventually get used to it....we wouldn't recommend staying there for too long though 😉 Rows of casks tucked in and sleeping, neatly organized by date and kind.
Rows of casks tucked in and sleeping, neatly organized by date and kind. The distilled "new make" is then placed in casks, where they slowly age and mature. It seemed a lot more complex than one would think. Details like the size, shape, material, and storage location of the casks, or the climate of the region, can make the same "new pot" mature differently. It makes sense, just something we never really thought of before!

The whisky on the top left is in its 4th year of maturation. While the cask on the right is in its 12th year! Look at the deepness of the red-ish color!! If you look at the bottom casks, you'll see different dates (1993, 1983, 1973) As you might've imagined, those are the dates the whisky was transferred into the casks.
FINALLY!! THE TASTING!!!
At the end of the tour, you receive a small whisky drink seminar! There are four glasses on the placemat at your seat, and the guide goes along with you explaining each different whisky one by one. Then in the end, the guide taught us how to make "the perfect whisky highball".
1. White Oak Cask Malt - is made by aging Hakushu new-make spirit in casks made of American white oak for at least 12hrs (alcohol content 50%)

2. Lightly Peated Malt - made with malt (alcohol content 43%)
3.

Hakushu Single Malt Whisky

- from Suntory's mountain distillery (alcohol content 43%)
4. Hakushu Single Malt Whisky (to make a 'Morikaoru Highball' with)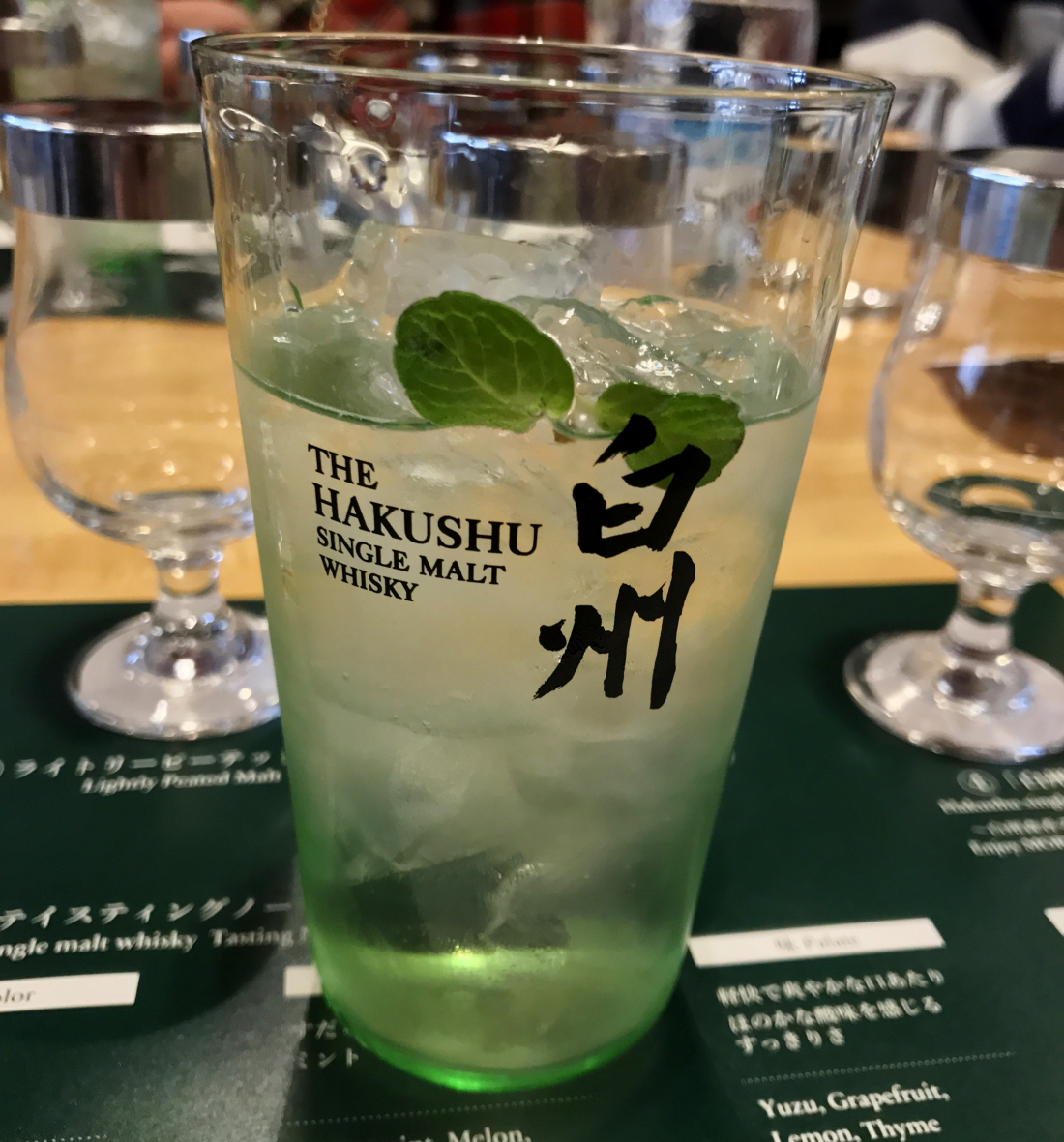 Making a Morikaoru Highball

1. Fill a glass to the brim with ice and allow it to chill
2. Pour in the whisky and stir well
3. Top off the glass with more ice
4. Add soda (1 part whisky and 3 to 4 parts soda)
5. Stir once with a bar spoon
Garnish with lightly crushed mint leaves for added refreshment.......

and you've made your HAKUSHU MORIKAORU HIGHBALL!
(what they call a whisky & soda)
TOUR and DRINK Japan's Leading Whisky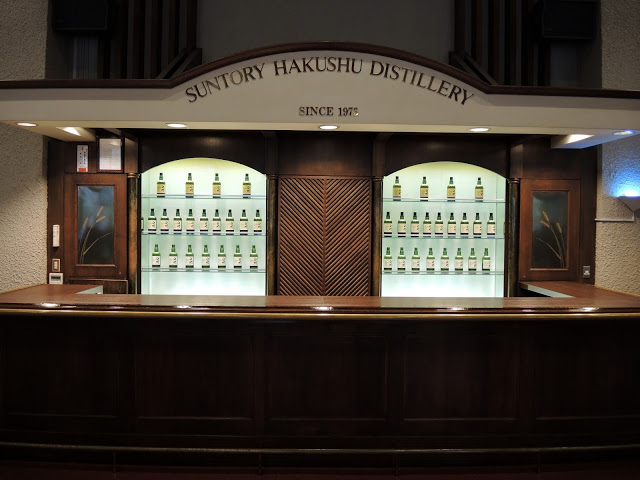 The tasting seminar lasts less than half an hour, which is plenty enough time to sit back, relax, and figure out which Suntory whisky fits you best! For those you don't or can't drink, Suntory makes all kinds of other delicious drinks that are not alcoholic. Here's a list of some of their drink products!
Suntory Beverages
(English) If you look at the top of the page, you can choose the region! We were really surprised to see Mountain Dew, Lipton Tea, and Gatorade in America!!! Japan is so great for one-day trips, so we really recommend you take a trip out to Kobuchizawa, Yamanashi! Remember to drink responsibly!
🥃​
Suntory Hakushu Distillery
Distillery Tour Information
Tour length: About 80 minutes
G

o

o

g

l

e

Maps
⏰Tour times depend on course ↠ ​
Tour course info here (English)
*Reservations required! Only the distillery viewing is free.
*Reservations and Inquiries ↠
Yamanashi Distillery Website (English)
❕English audio guide available❕
Whisky Museum
⏰9:30am~4:30pm
"White Terrace" Restaurant
⏰10:30am~4:30pm (Last Order 4pm)
Seasonal Factory Shop
Hours depending on the season (open on weekends and holidays from April to Nov)
*How to get there
There is a
free shuttle bus
that takes you to and from.
You can get on at
Kobuchizawa Station
.
We recommend taking that!
Suntory Shuttle Bus Info (English)
Basic Info
Columnist

Kelly

Hey there!! Thank's for checking out my page~★ I love exploring the crazy and funny sides of Japan as well as its hidden treasures.

SHOW COLUMN
Related Article