Sand Dunes in Japan!? Head to Tottori to Find the Tiny Desert of Western Japan
It might be a small desert, but any sand dune in Japan is a surprise!
____________________

※Regarding Our Travel Information During the Coronavirus Outbreak.

Due to the COVID-19 outbreak and efforts to prevent the spread of infection, some facilities may have altered opening dates and times, be partially closed, or have limited menus. Before leaving for your destination, please check its official website for the latest information. In areas still in some form of lockdown, we recommend you avoid going out unless necessary. Look out for more Japanese travel information to plan future trips, new every day on Japankuru!
____________________


A Must-See on Your Trip to Chugoku (Western Japan)!
Today we'd like to tell you about a fascinating spot in Japan that just isn't well known outside of the country! In fact, a lot of the Chugoku region is widely ignored by foreign visitors, and we'd like to fix that. If you're already planning to visit anywhere in Kansai, like Kyoto or Osaka, Chugoku isn't even far away. Those more popular destinations might have their own great attractions, but if you're looking for a unique experience, set your eyes on Tottori Prefecture in the Chugoku region!
Japan Has a Desert!?
Well, calling it a desert might be a bit of a stretch (but that doesn't stop many in Japan from doing so anyway!) Located right on Tottori's coast, this enormous sand dune stretches 16 km (about 10 miles) north to south, and is about 2 km (1.2 miles) wide. The Tottori Sand Dune is the largest one in Japan, and if you visit it really does feel like a trip to the desert. Look in one direction and you'll get lovely views of the beach and the coastline, but turn your head and you can pretend for a moment that you're in the Sahara.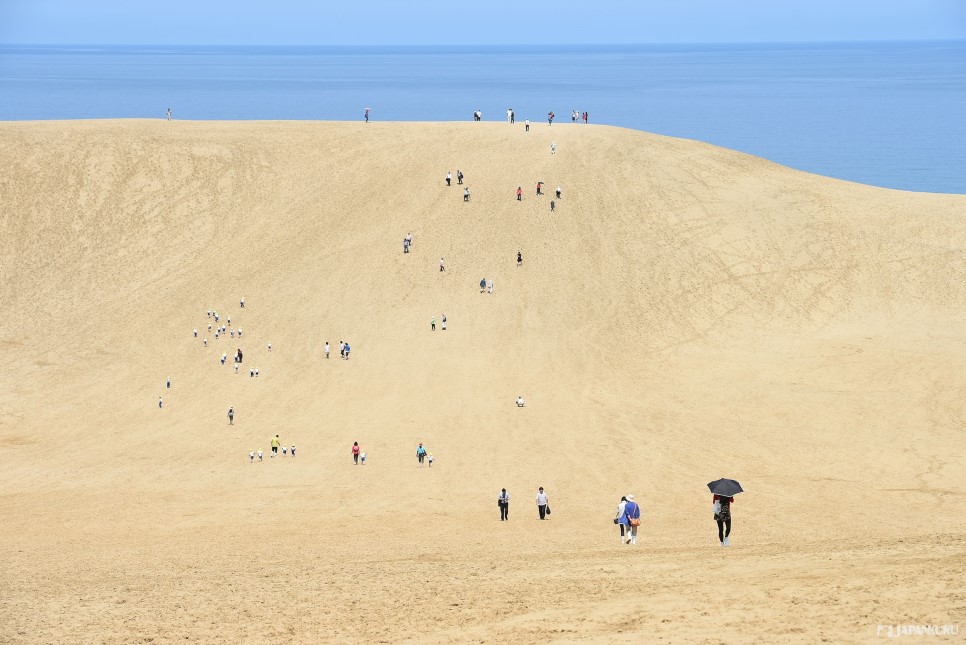 Climb onto the "Horse's Back" for a Better View
Hike up the sand dune to the highest point, nicknamed the "Horse's Back" (Umanose, 馬の背), to get a better sense of the landscape. From up there, you get a 360-degree panoramic view of the sand and the sea, helping you to better appreciate the vast expanses of the landscape. Some visitors say they feel so small up there that they wonder if the strong winds might blow them away!
Tottori Sand Dunes
Address:
2164-661 Fukubecho Yuyama, Tottori
Phone: 0857-22-0581
Official Website
Appreciate the Sand Dune's Beauty
The sand dunes themselves are natural works of art, and the ways they change throughout the year only add to their artistry. Whether you want to take beautiful photos or just want the beautiful memory in your mind forever, here are some things to look out for:


Wind Ripples
When the wind blows over the sand at a speed of 5 or 6 meters a second, the sand forms rippled patterns across the dunes. The formation of these lovely ripples totally depends on the wind and surrounding season, so you'll need to have luck on your side if you want to see them!

"Suribachi" (すり鉢)
These are large dips in the sand that look like they could be craters (or, as the Japanese name suggest, a mortar and pestle), but they just form without any outside interference. Because of the shape, during some seasons rain will collect and form pools in the sand. If there has been a fair amount of rain in the area, the water will really accumulate, and this rare occurrence is sometimes called a "Tottori Sand Dune Oasis"!

Sand Curtains
Strong winds will sometimes lift sand right off the dune and into the air. This rising layer of sand looks like it could be a blowing sheet of fabric from afar, with the phenomenon looking like a curtain in front of an open window.

Sunset Light Shows
Beaches are always good places to appreciate sunsets (or rises), and the coastline of Tottori is no different. Sit on the sand dune and watch the the last colorful rays of sunlight wash over the sand. If you come in winter, you might even get to see snow, which sparkles on the dunes.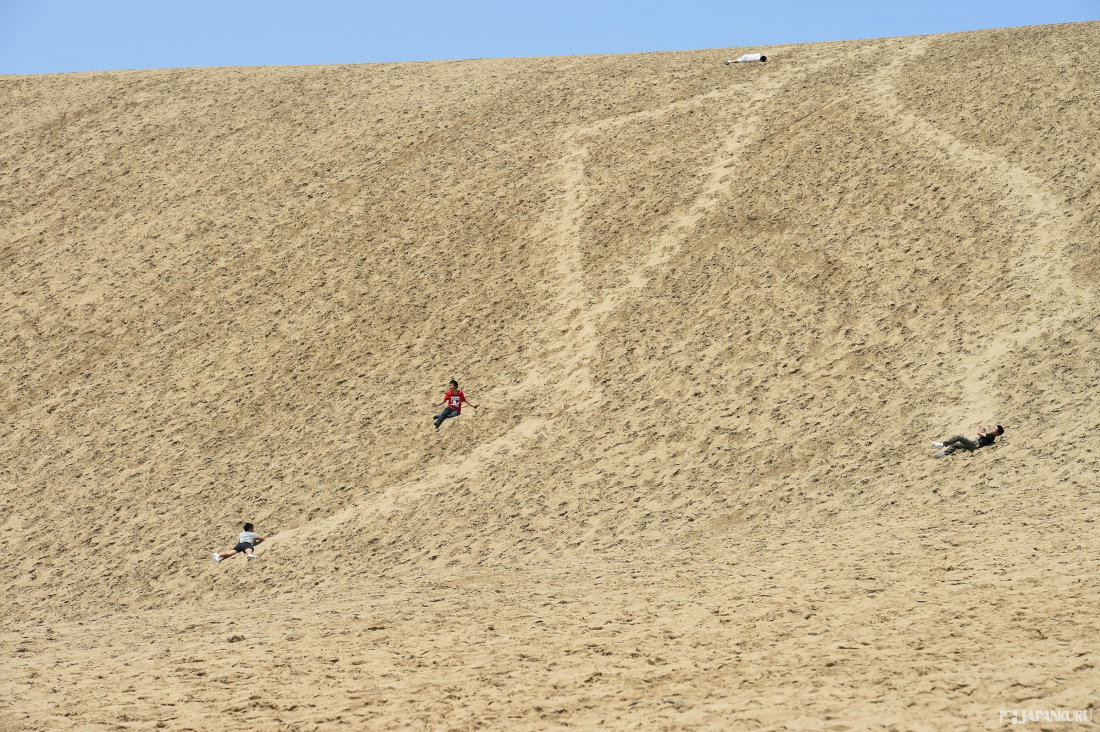 Sand Sledding! (And Rolling)
One of the more exciting activities you can engage in at the dunes is sliding or rolling down from top to bottom! The sand isn't as slippery as you might expect, so you're unlikely to build up and real speed on the way down, but that just means it's safe enough for visitors of any age. If you start all the way at the top you get a nice long slide down, which is pretty fun! Exhaust yourself running up the dune again and again, and race your friends on the way down.

Try sliding down like a playground slide, or rolling down horizontally. You could even bring something to sit on, and slide down like you're sledding on a snowy hillside. Let us know which way you find most entertaining!
Camel Riding and Hang Gliding
Once you get to the desert, there's lots of things to do there aside from just admiring the dunes! Really get into that desert spirit and take a ride through the sand on a camel (you get to sit right between the two humps!) Or, if you're feeling adventurous but like to watch out for your safety, try out hang gliding over the desert sand. It's a good place to try out the sport when you're a beginner, since the expanse of sand provides an environment without any big obstacles to fly into. It turns out you can have a pretty full day of desert experiences in Japan, who knew?
Camel Rides
Available at
Rakudaya
, next to the "Rakuda" entrance of the Tottori Sand Dune.
Address: 2164-806 Fukubecho Yuyama, Tottori
Hours: 9:30 ~ 16:30 (Dec. to Feb.: 10:00 ~ 16:00)
Phone: 0857-23-1735
While you're in western Japan, you shouldn't miss the chance to
visit Shimane Prefecture
as well! From famous shrines to little wineries, it's a pretty interesting area. On your way there you can even cross the prefectural border at the famous
Rollercoaster Bridge
!
⇩ Want to see what hang-gliding in the desert looks like? ⇩
Related Article