Top 3 Places to See Wisterias in the Tokyo Area This Spring
See Japan's most beautiful curtains of pale purple wisteria flowers as they come into bloom in late spring.
Wisterias in and Around Tokyo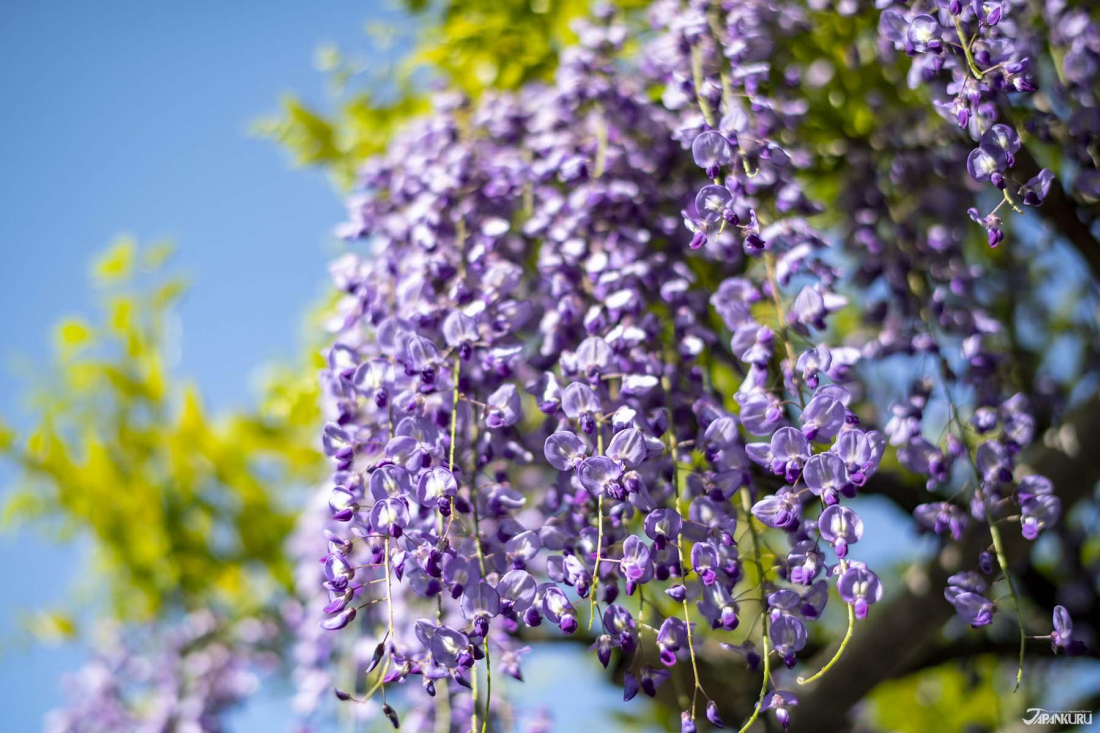 The late-spring bloom of wisteria flowers has long been a popular seasonal event in Tokyo and around Japan, alongside other spring blooms like the ubiquitous
sakura
(桜, cherry blossoms),
plum blossoms
, and even
canola flowers
. But the hanging purple flowers of wisteria gardens present a unique, almost mystical atmosphere, rather different from the bright pinks of cherry and plum blossoms, or the cheery yellow of canola. That unique scenery has become especially popular in recent years thanks to the wisteria's presence in key scenes of the unbelievably popular anime
Demon Slayer: Kimetsu no Yaiba
, and wisteria gardens are bigger attractions than ever. So whether you're an anime fan, an instagram influencer, or just a flower lover looking for some beautiful wisterias in and around Tokyo, here are a few of the best places to see them.
1. Ashikaga Flower Park (Ashikaga, Tochigi)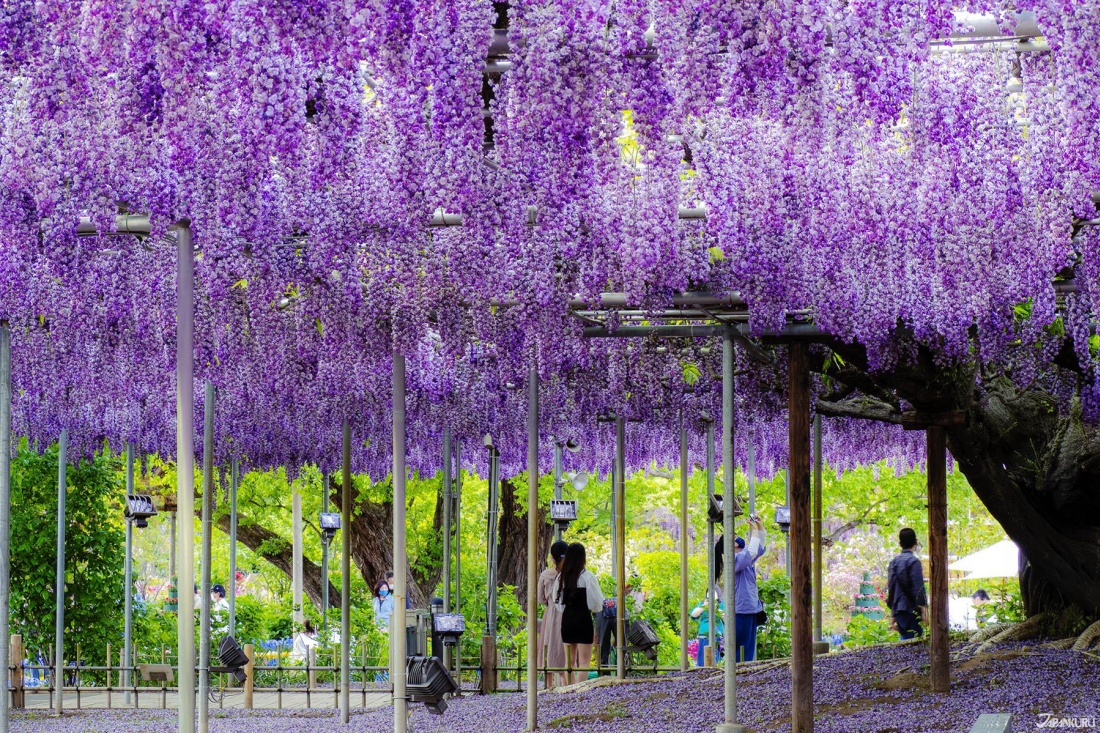 Undeniably one of the most famous and overwhelmingly popular places to see wisterias in all of Japan, #1 on this list is Ashikaga Flower Park, which holds a yearly festival celebrating all things wisteria an hour or two outside of Tokyo. Not only is this botanical garden the home of one enormous 1,000m² wisteria tree, Ashikaga Flower Park also has a number of less common wisteria varieties on the grounds. Wander under the curtains of classic purple wisteria, or check out the "sakura-colored" pink wisteria, a ceiling of heavenly white wisterias, and even a tunnel of golden-yellow Kibana wisterias (found nowhere else in Japan)!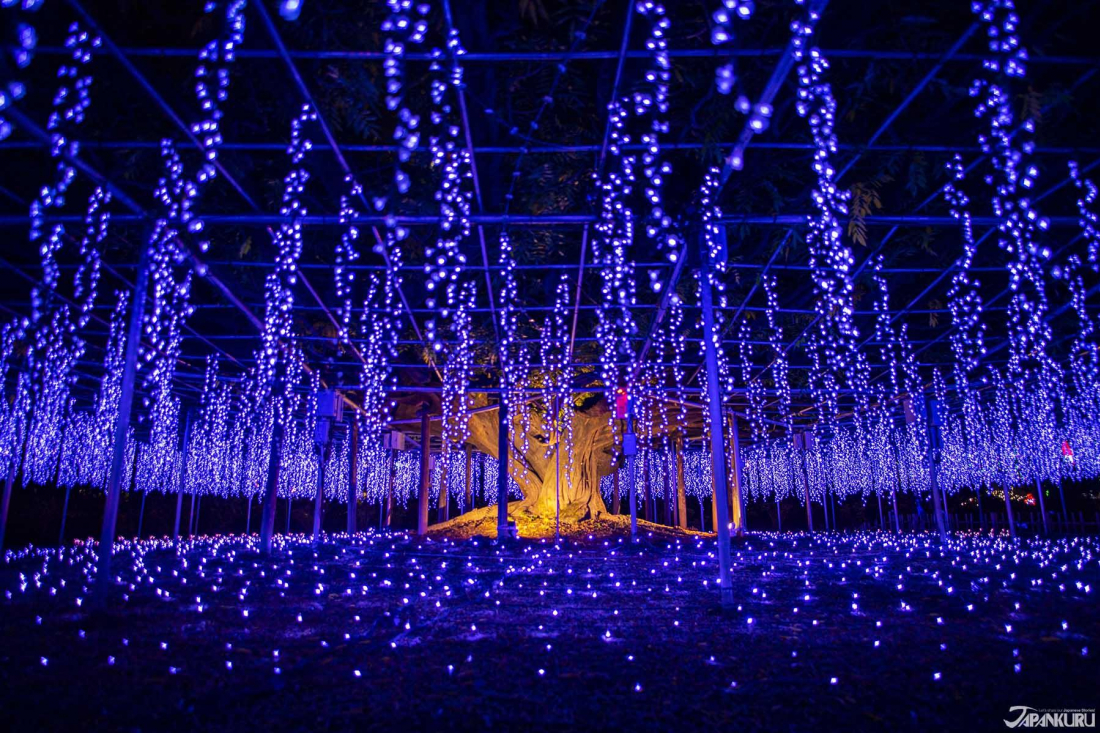 If you miss the springtime wisteria bloom, then just come back again in winter! The flower park comes to life in a whole new way when the weather gets cold and the sun goes down, lit up by sparkling
floral light displays
! The countless "wisteria" lights are particularly popular.
Ashikaga Flower Park Wisteria Festival (あしかがフラワーパーク 大藤まつり)
Hasamacho, Ashikaga, Tochigi
2021 Dates: 4/15 ~ 5/23
Official Website (en)
2. Kameido Tenjin Shrine (Koto Ward, Tokyo)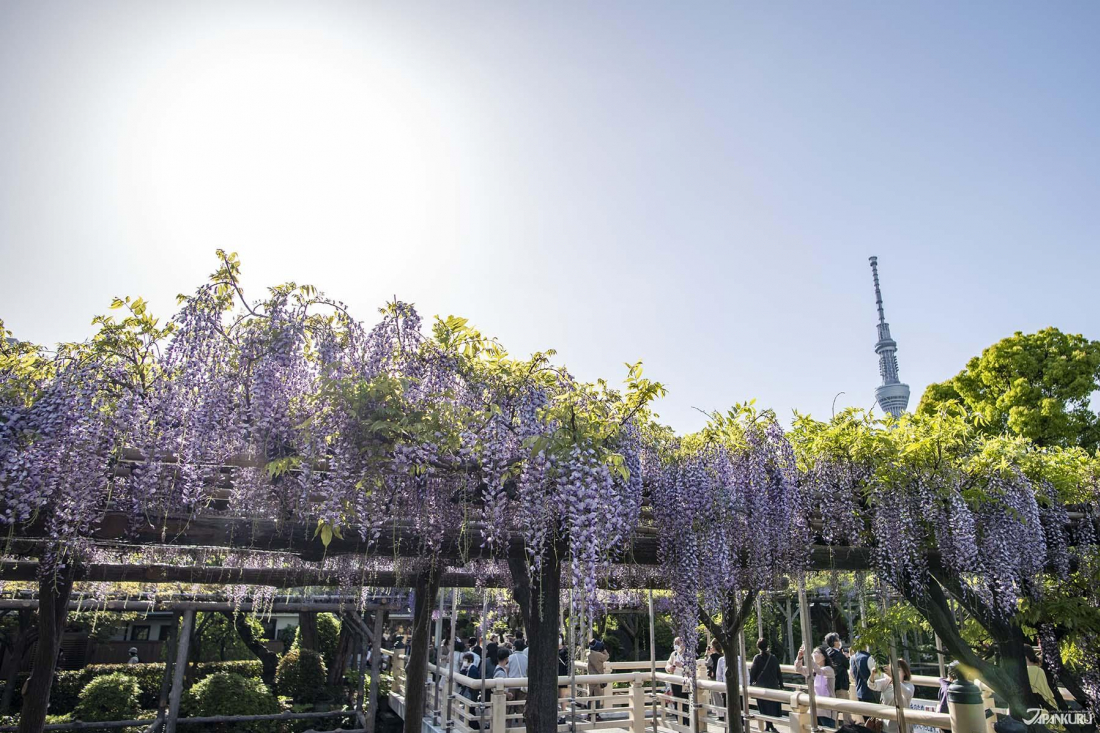 Conveniently tucked into a corner of eastern Tokyo, this shrine has a large garden of wisteria trees with flowers that rain down through trellised roofs, along and beside the garden paths. Alongside the many purple blooms, crowds of visitors marvel over the lovely rippling reflections of the flowers in the calm pools below, particularly when crossing the garden's tall red bridges.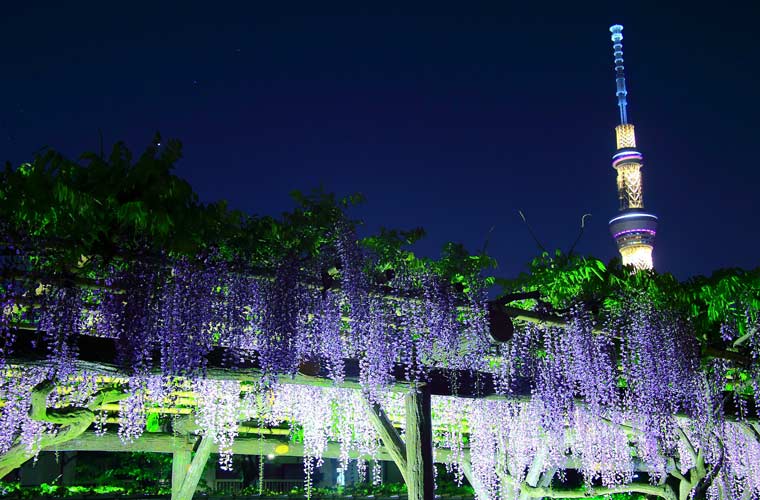 Image Source: Rakuten Travel
The shrine is actually an easy 20-minute walk from Tokyo Skytree, which means you can also grab a clear snapshot with both the flowers and the tower together at any time of the day. But this view is particularly beautiful at night, when the wisterias are lit from below!
Kameido Tenjin Shrine (亀戸天神社)
3-6-1 Kameido, Koto City, Tokyo
Official Website (jp)
3. Ushijima no Fuji (Kasukabe, Saitama)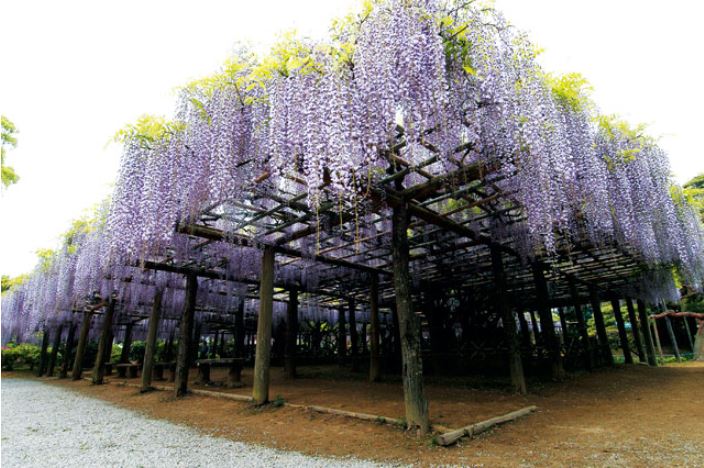 Image Source: Ushijima no Fuji
The Ushijima no Fuji, or Wisteria of Ushijima, is found in the garden of Tokaen (藤花園), 1 ~ 1.5 hours outside of Tokyo. This place doesn't quite have the popular name recognition or floral variety of a place like Ashikaga Flower Park, but in turn it tends to be a little less crowded even when the wisterias are in full bloom, making a visit to Ushijima a more peaceful flower viewing experience.

Wisterias have long been treasured in Ushijima, however―some of the trees in the garden are more than 1,200 years old! Legend tells that the trees were planted by Kobo Daishi himself, a major figure in Japanese Buddhism who played a large part in bringing the religion to Japan.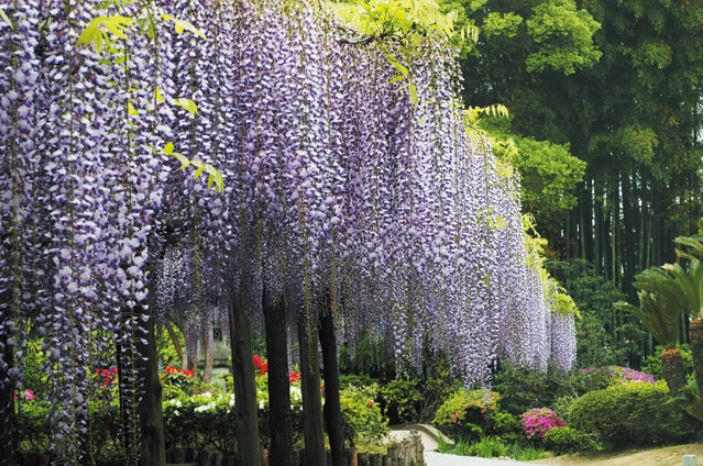 Image Source: Ushijima no Fuji
The species of wisteria found in Tokaen is prized for long clusters of flowers and the deep purple color of their petals, and the garden has already been designated a national treasure for almost 100 years. If you're heading north of Tokyo for some
Saitama
sightseeing in late April or early May, you'll definitely want to stop by Ushijima.
Tokaen / Ushijima no Fuji (藤花園 牛島の藤)
786 Ushijima, Kasukabe, Saitama
2021 Dates: 4/17 ~ 5/5
Official Website (en)
For more info and updates from Japan, check Japankuru for new articles, and don't forget to follow us on
twitter
,
instagram
, and
facebook
!
Basic Info
Columnist

Sophia

I came to Japan for a semester abroad, and have been here ever since, so I guess there's just something about it. Tell me all the cool Japan-related things you know on instagram or twitter @japankuru !

SHOW COLUMN