Yubatake Tree Holiday Light-Up Event at Kusatsu Onsen Hot Springs (Gunma)
Nov 15, 2019 - Feb 16, 2020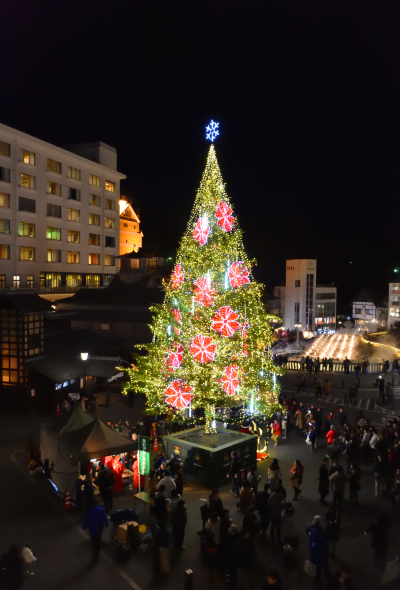 Kusatsu Onsen is one of the most famous hot springs in all of Japan, owing to the copious amount of high-quality hot spring water that flows through expansive facilities, and the onsen traditions passed down in the area. It's a popular destination throughout the year, for locals and travelers alike, with families visiting to relax in the hot water together, and couples heading over for romantic getaways.
▶ A positive for many foreign visitors, it's also a rare tattoo-friendly onsen! So even well-inked travelers have nothing to worry about.
Once temperatures in Japan start to drop, though, there's nothing cozier than a steaming hot onsen bath to warm you right up. And this special event is happening at the perfect time to enjoy the cool weather, hot water, and warm holiday spirit! Kusatsu Onsen's Yubatake Christmas Tree will tower 14m (46ft) in the air, glittering with 40,000 sparkling lights throughout the winter. There are even thematic lighting changes slated for upcoming holidays like Christmas and Valentine's Day, meaning there will be something special to enjoy no matter what point during the season you come to take a look. Enjoy the enchanting illuminated view with a special someone before heading back inside for a relaxing evening in the steaming onsen.
この投稿をInstagramで見る

Kusatsu Onsen is one of Japan's 3 greatest and most famous hot springs (onsen). The water at Kusatsu Onsen is heated by an active volcano and contains antibacterial components and even treats many skin and body diseases. Visit Yubatake at night and you will see a most beautiful scene🌙 • #japankuru #travel #hotspring #kusatsuonsen #japan_vacations #japantravelphoto #travelmore #goexplore #lovetotravel #traveldiary #温泉 #日本旅行 #草津 #쿠사츠온천 #여행사진 #일본여행 #Japón #tattoo #Japan #Japão #ญี่ปุ่น#visitjapan #worldtravelcaptures