Hokkaido Hotel: Recommended Otaru Hotel
Hotel Torifito Otaru Canal Only 5 Minutes Away from Otaru Canal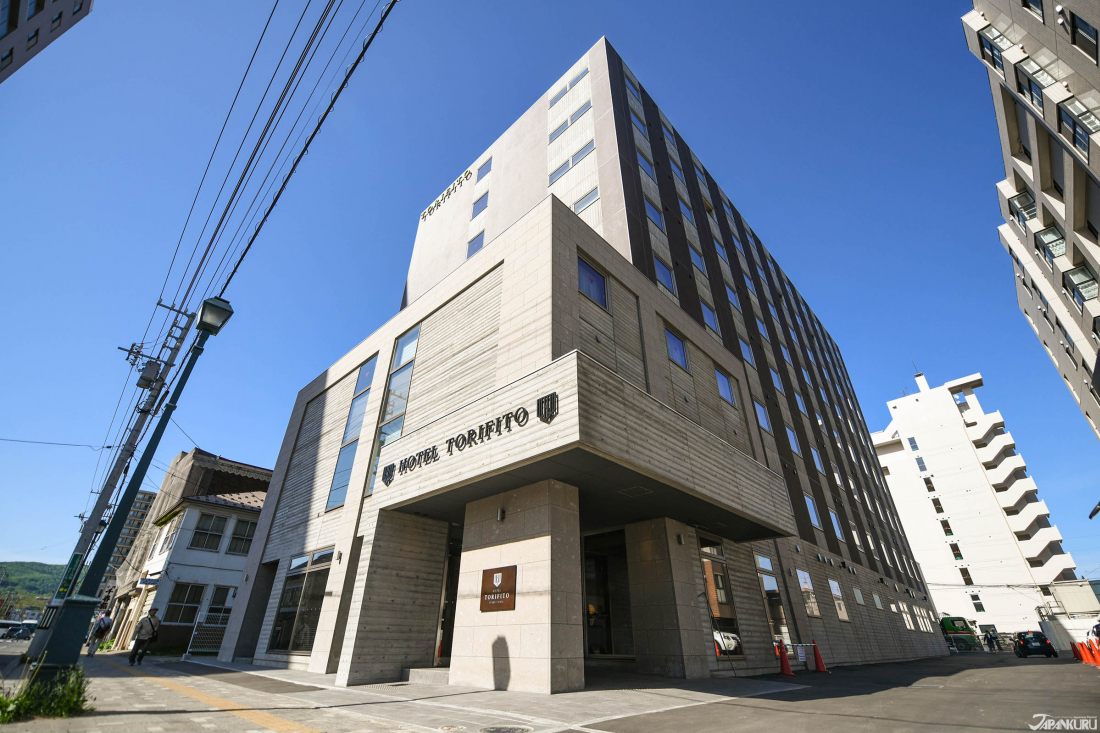 Looking for a Hotel in Otaru, Hokkaido?
Otaru
(
小樽
) is a small harbor city in Hokkaido, Japan about half an hour northwest of Sapporo. It used to be a major fishing and trade port in Hokkaido, now it is a very popular tourist spot. Whether you want to see the famous Otaru Canal first, historic sites from Meiji, or go to the shopping street in Kojimachi, it's important to find a good place to stay where you can access everything.
Which is why this time
JAPAN
KURU
wanted to share a hotel that's newly opened, Hotel Torifito Otaru Canal. A hotel that not only is close to popular tourist spots, but provides great breakfast, a relaxing bath, and rooms with a fashionable theme!
⬟
HOTEL TORIFITO OTARU CANAL
⬟
Official Website
(JPN) 💻
Reservation Page
(JPN)
Bright and Simple: Hotel Torifito Otaru Canal Hotel Lobby
Other than the very famous Otaru Canal, Otaru is known for its Western-style buildings of stone and brick. Following that famous motif, the hotel halls and lobby of Hotel Torifito Otaru Canal is red brick. It's designed to look like a warehouse arch, with soft lighting and wooden floor, and when you walk through the front door, you can feel it. Everything is very calm and comfortable and there is a seating area next to the check-in counter which is a good place to wait and have a cup of coffee. The coffee is only available for a few hours, but when it is available it is free!

⏰🏨CHECK-IN 3pm / CHECK-OUT 11am
☕Free coffee available: 2pm-7pm
Check-In and Head to Your Room!
There are various room types, but they are broken down into 4 main design concepts. Since the main difference is the concept, we're going to introduce those 4 designs. To get more of an idea of the room types or what they look like, check out Hotel Torifito Canal's
room page
. Or their
reservation page
(both in Japanese)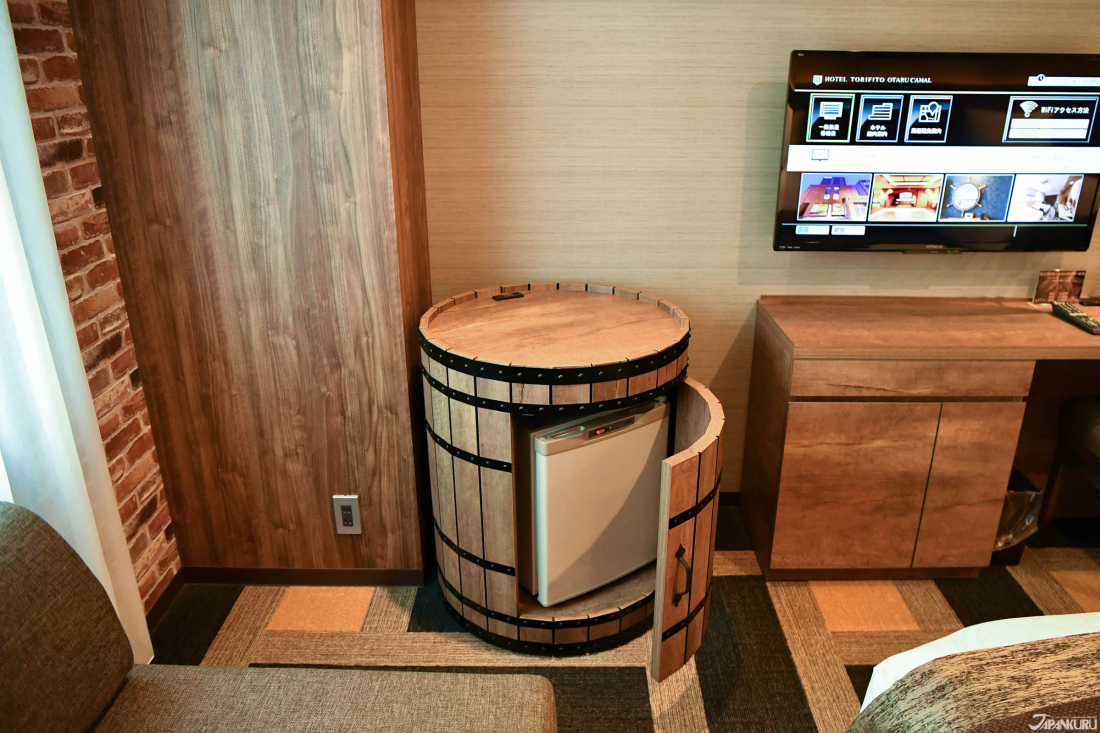 ⬟ Warehouse Concept (倉庫) ⬟

Set up with red brick walls, wooden furniture, and
warm earth-tone colors to represent a warehouse,
this room also provides a mini bar with a barrel as a motif and
a desk mirror that is shaped as a
a ship's wheel.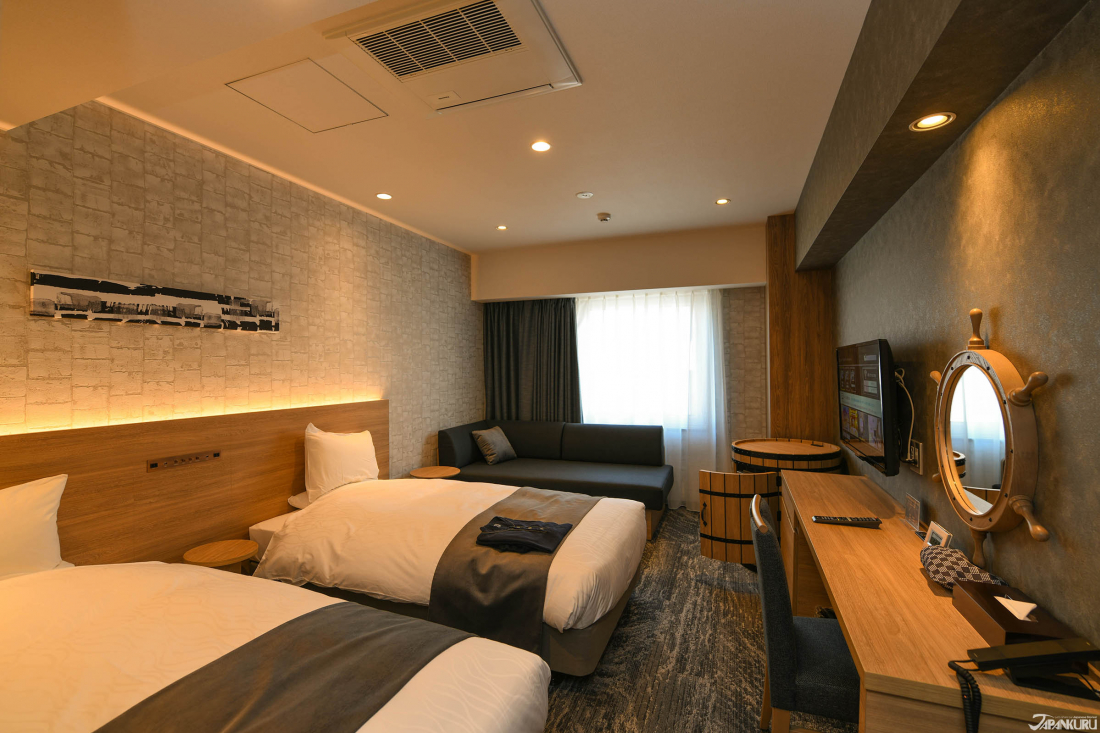 ⬟ Soft Stone Concept (軟石) ⬟

This room's concept is based on the stone used on buildings from Taisho to the early Showa period,
which was called
"Wall Street in the North".
The interior is similar to
the Warehouse rooms,
however here the color scheme uses different gray tones, creating a more stylish and calm sense.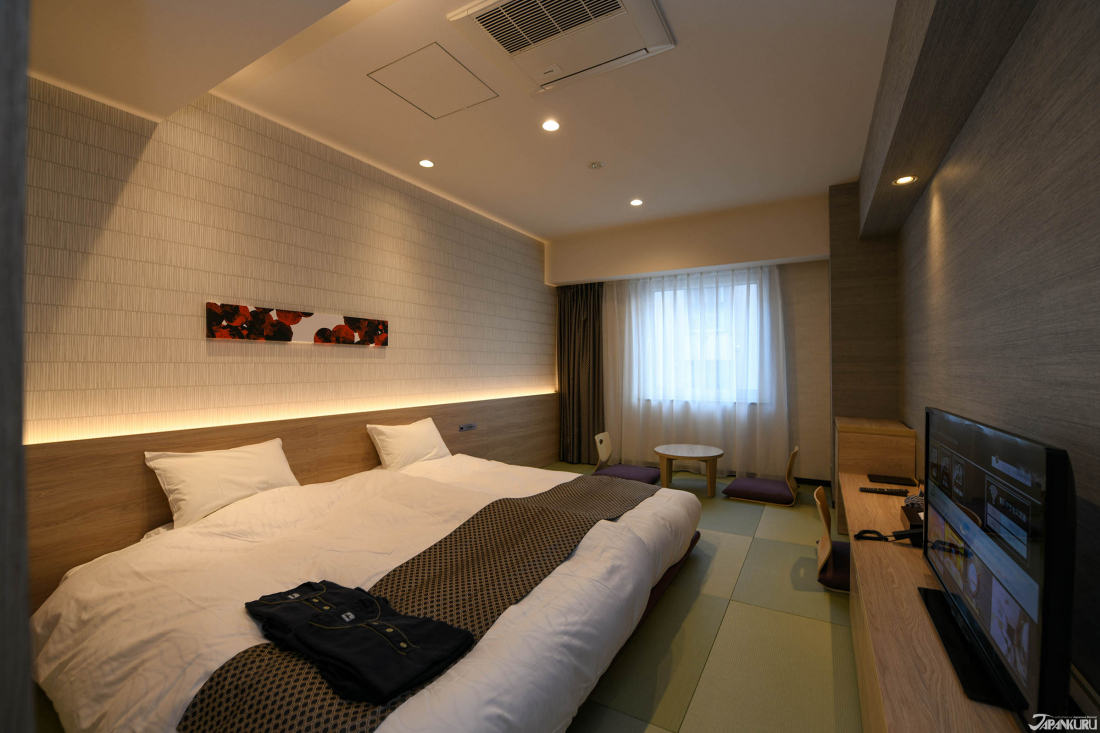 ⬟ Zen Concept (禅) ⬟

You would think since it has a tatami floor, it would be called "Japanese style room" or something of the sort,
however the theme of this room is "Zen", something relaxing and modern.
With a serene color scheme of black ink and white wood on the walls, along with grass color and fine Japanese designs all over is said to guide those in the room to zen. If you don't get the relaxing feeling while being in the room, don't worry!
At least you won't have to worry about you or your kids rolling off the bed!
The beds are so low to the ground, they are easy to climb up on.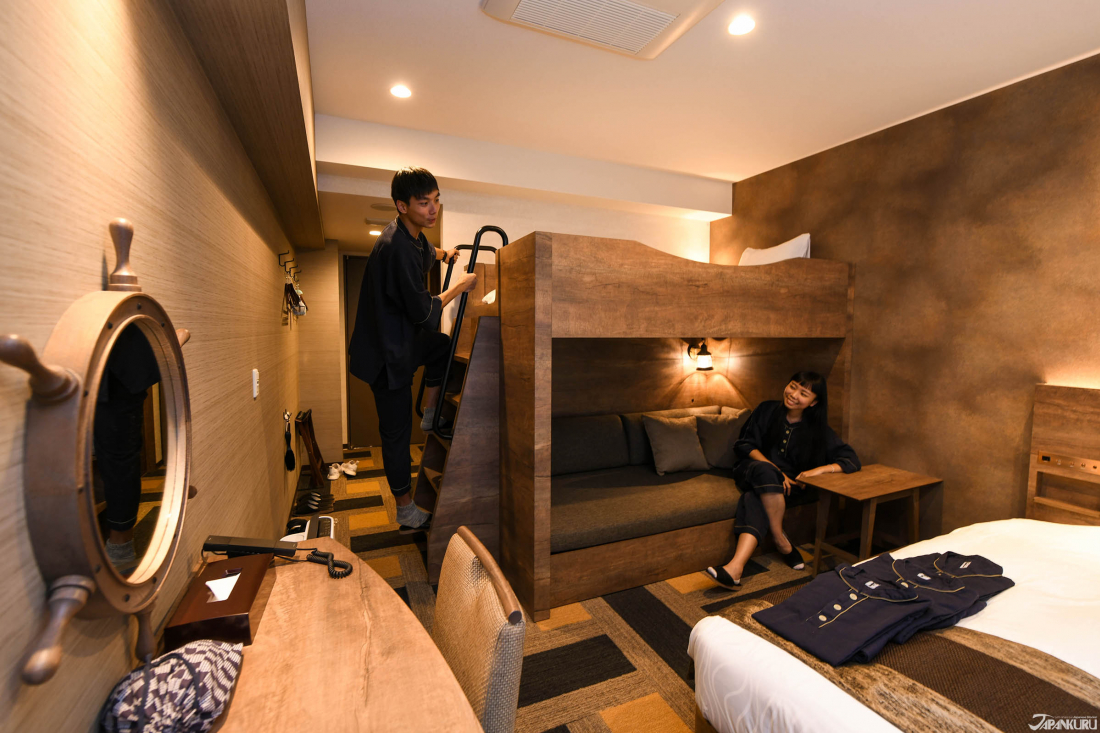 ⬟ ​ Secret Base (秘密基地) ⬟ ​

This room incorporates a bunk bed/sofa,
making your stay fun for those with a playful side!

Great for a family of four or a group of friends.
Just close the doors and batten up the hatches,
and you've got your secret base.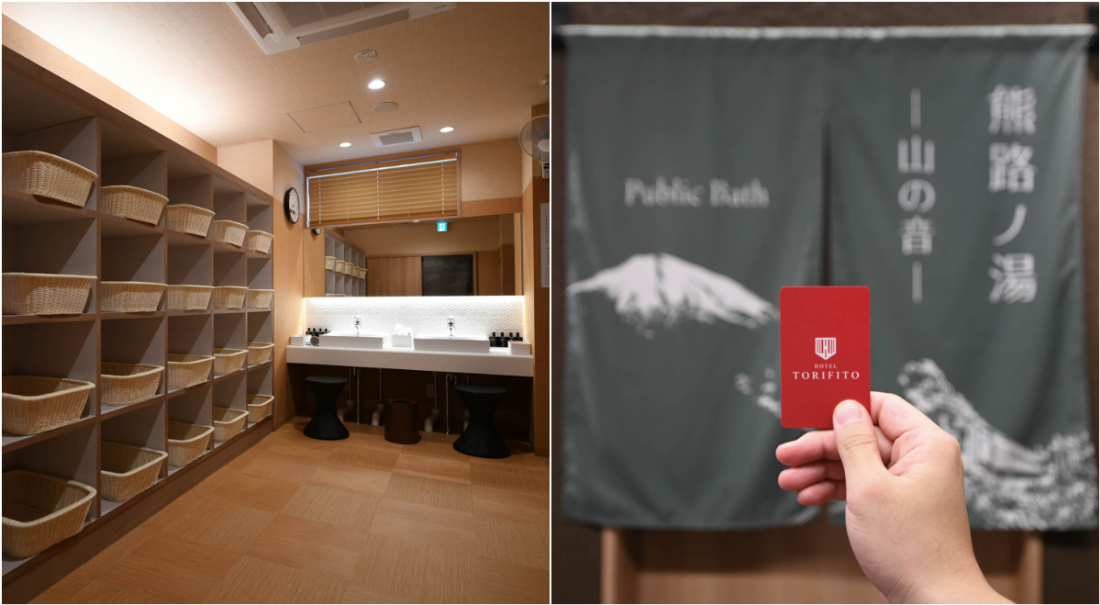 Relax in the Hotel Public Bath
Traveling can be exhausting, so we are always thankful for Japanese hotel's big public bath.
There are two bathhouses, men's and women's, at Hotel Torifito Otaru Canal and they alternate rooms daily. There are beautiful murals on the walls done by popular Japanese painters, one room has a painting of
Mt. Yotei
(
羊蹄山
) and the other the
Otaru Canal
(
小樽運河
). Since the rooms alternate daily, it gives you a chance to soak in both rooms!
⏰
♨
Hours: 3pm-1am, 6am-10am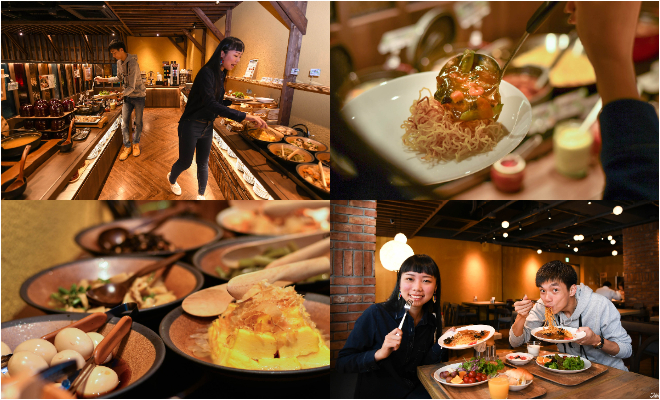 Hokkaido Originated Breakfast
Hotel Torifito Otaru Canal has a highly recommended breakfast full of special originated in Hokkaido dishes and ingredients. One food that particularly caught our attention is known as Hokkaido's soul food, "ankake yakisoba." Ankake yakisoba (あんかけ焼きそば) consists of hard, crispy yakisoba noodles that are covered with a thick sauce known as "an." If you have ever tried or heard of Nagasaki's "sara udon", it's similar to that. It's definitely worth a try!!

It's also worth mentioning, that Hokkaido's milk is probably some of the best, most creamy milk you have ever had. We eventually lost count of how many glasses we had here for breakfast. Something else you can only get in Hokkaido is a drink similar to "Yakult" (ヤクルト), a probiotic lactobacillus dairy drink, by the name of Soft Katsugen (ソフトカツゲン). Try a cup when you have breakfast at Hotel Torifito Otaru Canal, your taste buds and tummy will thank you!

⏰🍞Breakfast: 6:30-10:00 (last order time: 9:30)
Hokkaido Otaru Hotel! Hotel Torifito Otaru Canal
We asked those that live in Otaru, and they said most people when they come to Hokkaido they stay in Sapporo then drive to Otaru just because they don't know where they can stay. However, if you stayed in Otaru, not only will you be granted the freedom to travel around freely, you are more likely to find an open room whereas in Sapporo hotels would be full. Hotel Torifito Otaru Canal, regardless of location, room type, breakfast or bathhouse, brings unparalleled satisfaction to our journey. So how about trying and staying at Hotel Torifito Otaru Canal when traveling to Hokkaido!?
🏨

Hotel Torifito Otaru Canal
💻
Homepage
(Japanese)
G

o

o

g

l

e

Maps
Have you ever been to Hokkaido? Where are some of your favorite places??
We wanna hear about it in the comment box below!
✧
˖
°
Share your stories with us
°
˖
✧
Stay tuned for new, original articles every da
y on
JAPAN
KURU
🐶.
Or add us on
Google+
,
Instagram
,
Facebook
to share your Japanes
e pictures💖🗾
Related Article