Where to Stay in Tokyo| Best Price Hostel near Akihabara Tokyo "GRIDS TOKYO ASAKUSABASHI"
We love checking out some of the newly opened hotels/hostels/ryokans, etc. here in Japan. Month by month it seems like Tokyo alone is opening all these new accommodation places to get ready for the Olympics.
With the newly updated goal/estimate of 40 million foreigner visitors by 2020, it's easy to understand why all these hotels are popping up. That being said, we want to see these places and give people the best info to make their lives easier when they come to visit★ This time we went to a hotel and hostel in Asakusabashi.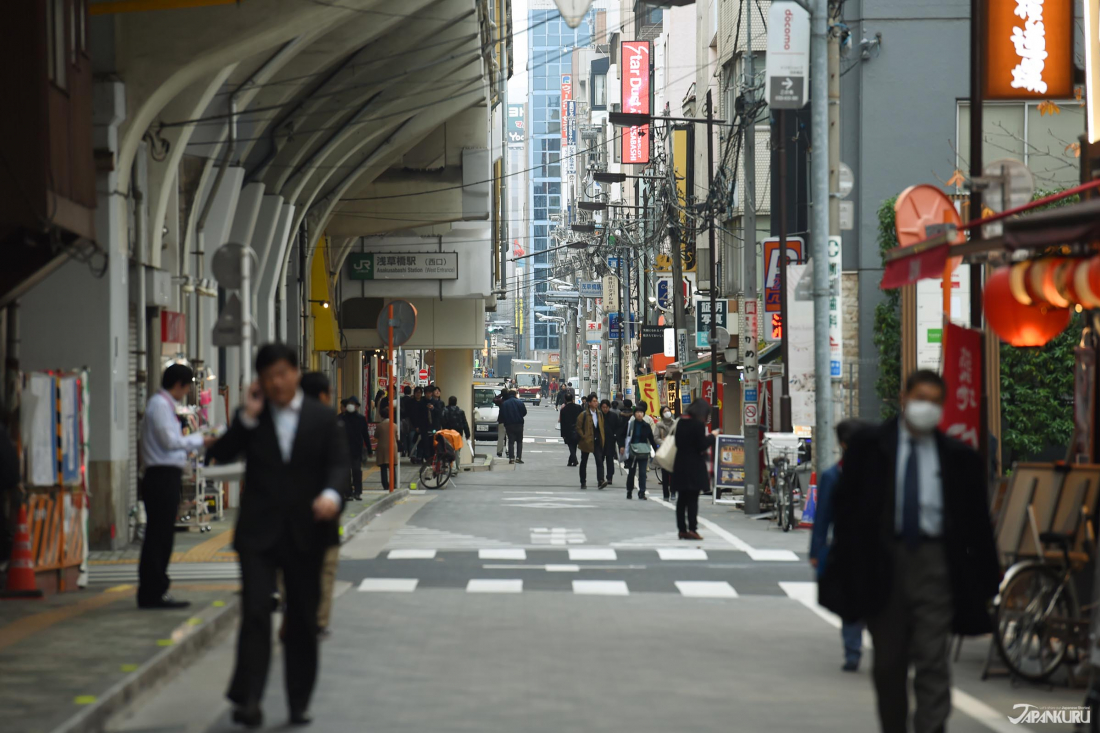 Asakusa....bashi?
Asakusabashi is a district in Taito ward, the east of Tokyo. Asakusabashi is famous for its traditional Japanese doll shops, conveniently located budget accommodation for travelers, and its accessory stores selling sewing and hobby goods and apparel decorations. Asakusabashi is between Akihabara, one stop west, and Ryogoku, one stop east, on the
JR Sobu Line
.
Asakusabashi is often confused with the more famous, similar-sounding, tourist area of Asakusa, two stops north of Asakusabashi on the
Toei Asakusa Line
. But the name (meaning "Asakusa Bridge") comes from this bridge having been the "bridge before the gate" of Sensoji Temple in Asakusa, showing how radically Sensoji Temple's scale has shrunk over three or four centuries.
『』『』『』『』『』『』『』『』『』『』『』『』

Getting to GRIDS TOKYO ASAKUSABASHI

Since Asakusabashi Station is so close to other main Tokyo train stations, there are a few stations that you can get off at and easily walk to the hostel. However, the best and closest station to get off at is JR Asakusabashi's West Exit. From there it is a very easy 3~5min walk to the hostel versus a 9min walk from say Akihabara Station.
『』『』『』『』『』『』『』『』『』『』『』『』

Room Types at GRIDS TOKYO ASAKUSABASHI

The rooms at GRIDS TOKYO ASAKUSABASHI are divided into two major types.

1. DORMITORY TYPE
(rent one bed)
2. PRIVATE & GROUP TYPE
(rents the whole room)

The dormitory system is really pretty simple and cost efficient if you are just looking for a place to crash. You are assigned a specific bed number and basically sleep in bunk beds in a room with other people. There are curtains to each bed giving you privacy when you want it while not giving you such a confined feeling. Something also we were surprised about is at the foot of the bed there is a space to put your belongings but if you would prefer, these rooms have lockers for you to store your belongings as well.
DORMITORY ROOM
★4 Persons Room ~ ¥2,700/Person
★6 Persons Room ~ ¥2,500/Room
**more info here!**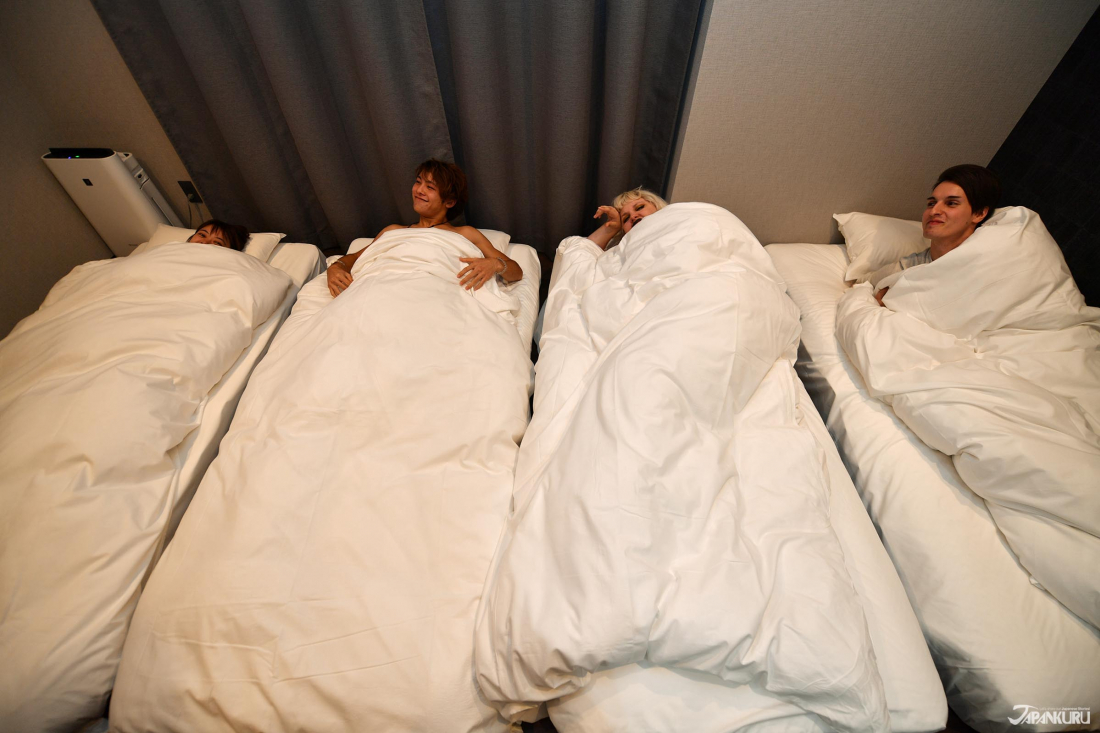 Renting a Private or Group Room is basically like renting a room at a hotel. You get all expected toiletries and such as you would at a hotel, the only difference is renting a room here at GRIDS is WAY cheaper than renting one at a hotel. ESPECIALLY in this area. You can expect most hotels this close to major tourist spots to be pricey.

Something also really important to mention is when staying in a hostel in Japan, normally you would be asked to be quiet out of respect for the others in the room. However, if you were to stay in a private/group room, there aren't really as strict limitations! So you get the price of a hostel and the freedom of a hotel! There are different types of rooms to choose from, so we'll give a brief overview of what's available.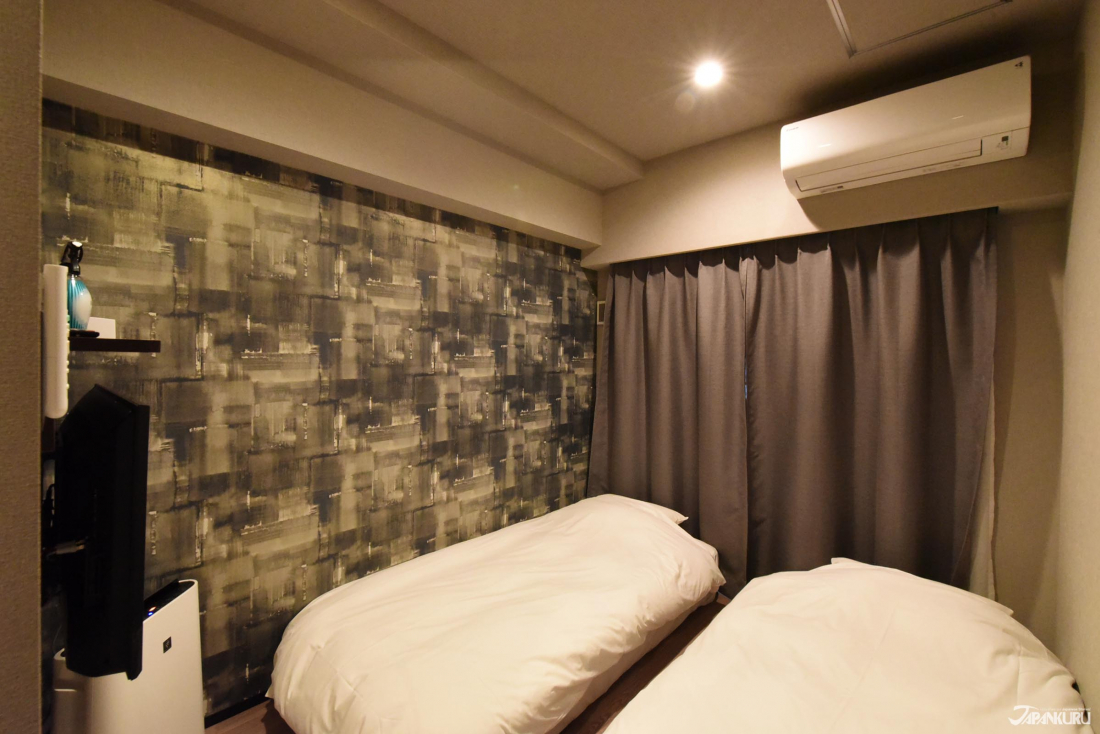 PRIVATE ROOM (2 PERSONS ROOM)

This room is a good sized room for two, and includes extra things like a kettle, towels, shavers that you normally would be charged for if you were to stay in the dormitory style rooms. Like at a hotel, the Private Rooms have their own shower and bathroom that is only for those staying in that room.
PRIVATE ROOM (4 PERSONS ROOM)

There are two different types of private rooms for those in groups of four: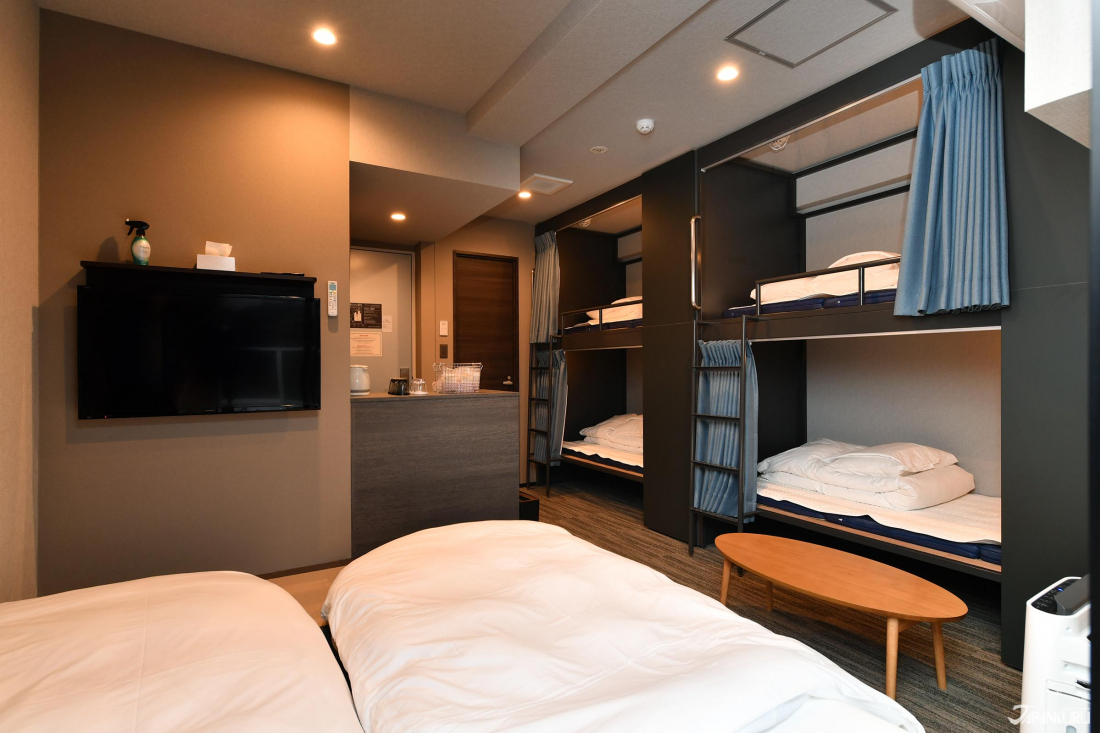 PRIVATE ROOM (6 PERSONS ROOM)

Finally, the 6 persons room has six beds total, however, four of those are bunk beds. The other 2 beds are on Japanese tatami!

**more info on Private Rooms here!**
『』『』『』『』『』『』『』『』『』『』『』『』

Amenities and More!
We were VERY impressed with the atmosphere of their cafe area. It's a super relaxed feeling where you are free to eat a legit meal prepared by them or just hang out and look things up on your laptop.

⏰CAFE & BAR
- Breakfast time: 7~10am
- Cafe time: 11am~3pm
- Bar Time: 5~10pm (Last order at 9:30pm)
※There are nuts included in some breakfast items,
so if you are allergic please tell them in advance.
『』『』『』『』『』『』『』『』『』『』『』『』

What's around Asakusabashi?
GRIDS TOKYO ASAKUSABASHI is located in the heart of Tokyo which makes it super easy to get around to some of the popular tourist spots. Like the electronics and otaku mecca Akihabara and the sumo town Ryogoku are both one stop on either side of Asakusabashi Station on the JR Sobu Line.
As well as the Tawaramachi District with its streets filled with Buddhist goods and Asakusa's famous Kappabashi "Kitchenware Street" which is about a 15min walk north of Asakusabashi. Getting around from here is really simple.