3 Kinds of Rajio Taiso to Try at Home - Japan's Radio Calisthenics Make for Fun Home Workouts
Rajio taiso (ラジオ体操) are light exercise routines played daily on Japanese radio, and they're a fun way to add a little movement to your day.
① Classic Rajio Taiso
This isn't the first time we've talked about rajio taiso (ラジオ体操, radio calisthenics) on Japankuru (
more here
), but with people
spending a little more time at home
than usual these days, it's the perfect time to once again return to this beloved Japanese tradition.
Rajio taiso is a daily radio broadcast that guides listeners through a set of basic stretches and exercises, broadcasting to the general public since 1928. Rajio taiso exercises are made to be simple, accessible, and easy enough for all of Japan to join in, which is why you'll see people of all kinds joining in every morning: students at schools listening over the loudspeaker, elderly people gathered around a radio in the park, even occasionally office workers stretching together between their desks. Following along to rajio taiso can be a fun way to get just a little bit of exercise in, and add a little movement to your day, even if you're cooped up at home. These days, with just about everything uploaded to YouTube, all it takes to join in on this Japanese tradition is to find a rajio taiso video that fits you.
The original rajio taiso is broadcast on NHK, Japan's public broadcasting station, so it follows that NHK's official radio calisthenics YouTube videos are about as basic as it gets. Plus, thanks to the simple production, they all have that great public television feeling to them. Rajio taiso lovers say that following along every morning leaves them feeling refreshed and ready to start the day, but if nothing else, it's fun to take a look at this Japanese tradition. You'll see that most NHK video broadcasts of rajio taiso include one participant sitting in a chair, to give the elderly, wheelchair users, and others who aren't so steady on their feet an easy way to follow along and still get their heart rates up.
If the red leotards aren't quite your style, there are plenty of classic rajio taiso videos to choose from.
② Rajio Taiso with Japanese Mascots
Of course, as a fun tradition that promotes good health among children, it's no wonder local Japanese mascots have gotten in on rajio taiso. In Japan, just about every city, prefecture, region, facility, organization, etc. etc. has its own "yurukyara" mascot (ゆるキャラ), so plenty of them have their own calisthenics videos.
One of the most popular local mascots in Japan is Funassyi, which actually isn't an official mascot, but is so well known that Funassyi merchandise can be found all over Japan, even far from the character's home town of Funabashi, Chiba. Part of the character's popularity undeniably stems from the costume's floppy nature and the expressive enthusiasm of anyone who steps inside, making Funassyi a clear choice when looking for rajio taiso companions.
Gachapin, a green dinosaur character who hails from Japanese children's show Hirake! Ponkikki, is a little better at clearly demonstrating the calisthenics movements. He and his friend Mukku, a red yeti, invitingly show off their moves on a bright sunny roof.
If one or two mascots just won't do, there's always this video from the prefectural government of Tokyo, featuring dozens of Tokyo mascots representing facilities, organizations, groups, projects, and other things around the city. Which one is your favorite?
③ Beloved Anime Character Rajio Taiso
Want an old friend to guide you through these simple exercises? Well, local mascots aren't the only friendly faces to get in on the fun. Some of Japan's most famous
characters
and shows have their own rajio taiso videos online.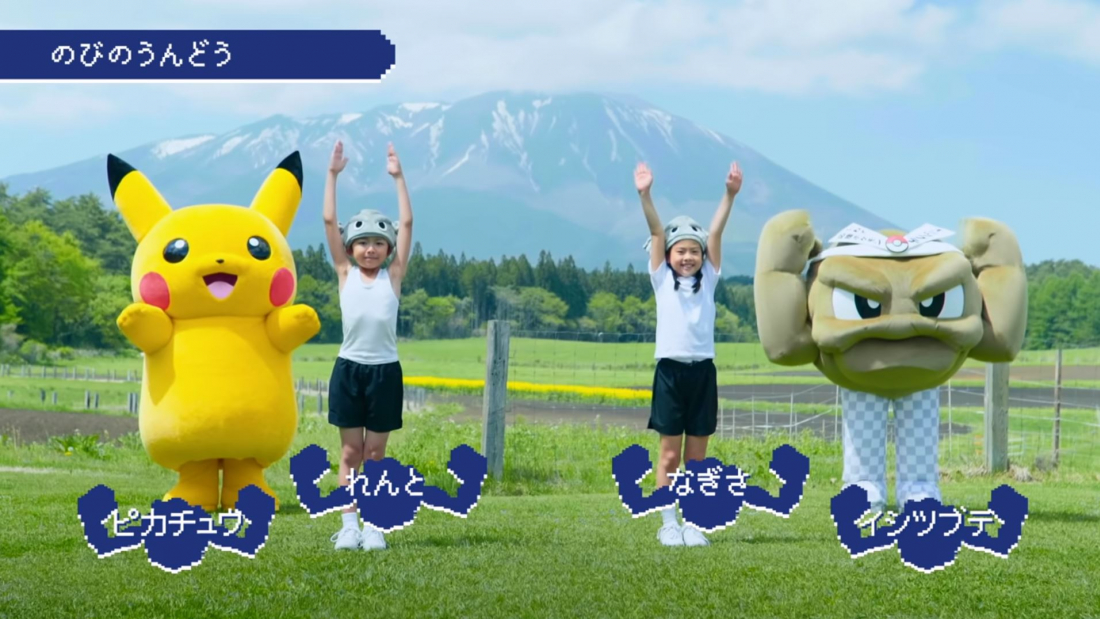 Younger generations will appreciate this animated rajio taiso video featuring an extra-enthusiastic cast of animated Yo-Kai Watch characters. You don't have to be a kid to get enticed into following along, though.
Last but not least is this extra-pink, extra-frilly, and extra-silly
Hello Kitty
rajio taiso featuring Ms. Kitty herself and two colorful backup dancers. A short 3-minute calisthenics video, if you're still debating whether rajio taiso is worth the bother, this cute clip might just draw you right in.
If we've convinced you and you've started your own tradition of daily rajio taiso, or you have any questions about Japanese culture, send the Japankuru team a message at
twitter
,
instagram
, and
facebook
!
Basic Info
Columnist

Sophia

I came to Japan for a semester abroad, and have been here ever since, so I guess there's just something about it. Tell me all the cool Japan-related things you know on instagram or twitter @japankuru !

SHOW COLUMN
Related Article