An Izakaya of Akita Cuisine, Where You Can Meet the Terrifying Namahage!
- AKITA DINING NAMAHAGE Ginza Store -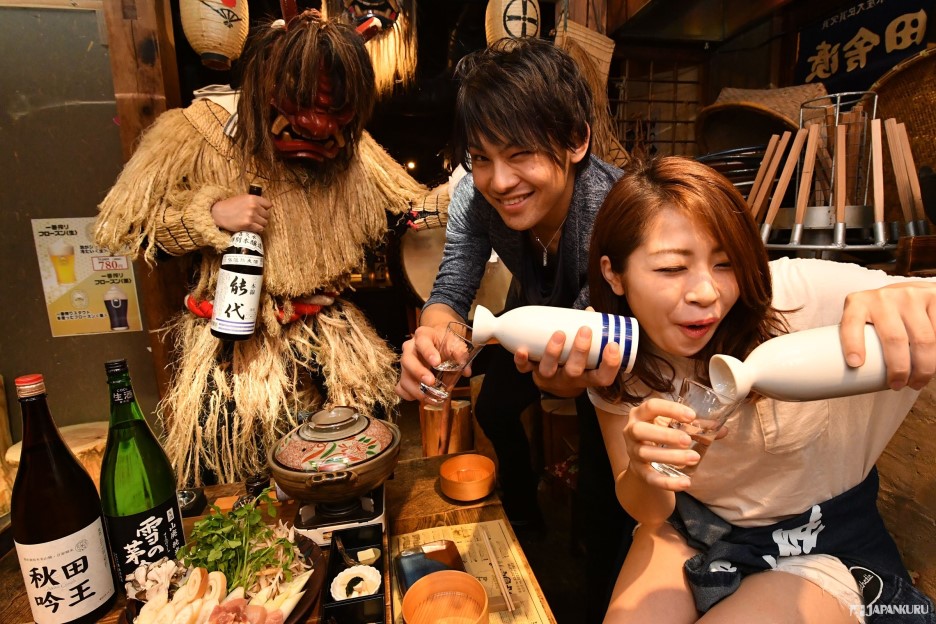 Are you ready to meet the Namahage?
While you're at the AKITA DINING NAMAHAGE Ginza Store:
POINT 1 : Feel the AKITA spirit.
Namahage shows every day!
POINT 2 : Taste the AKITA cuisine.
Kiritanpo and lots more local food!
POINT 3 : Drink the AKITA sake.
The restaurant offers more than 39 kinds of sake, all from Akita!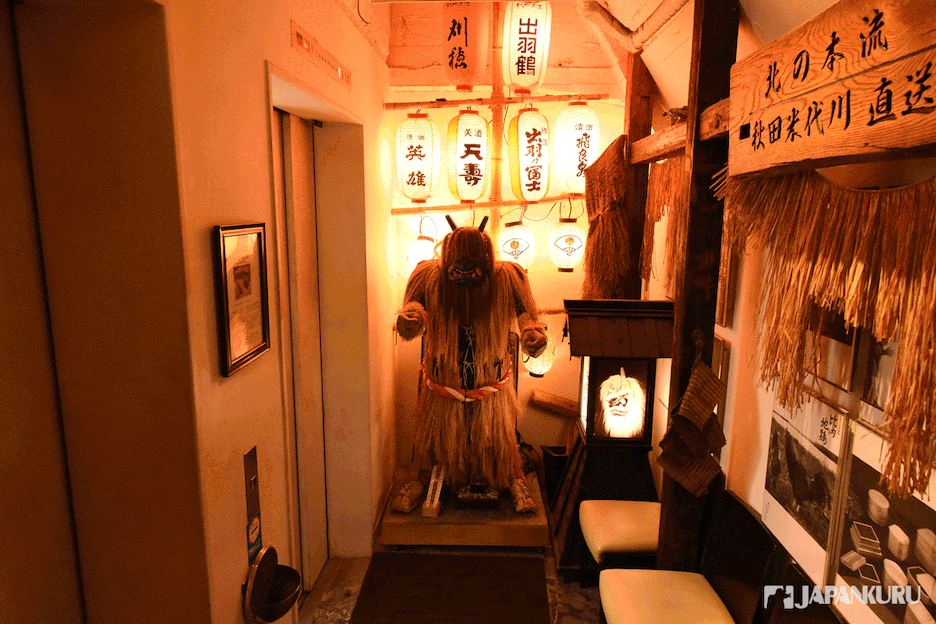 WELCOME TO♥AKITA DINING NAMAHAGE Ginza Store!
An enigmatic space on the ninth floor of the Nakajima Shouji Building, located in Ginza. This building may seem normal, but as soon as you step out of the elevator, the view will surprise you.

Oh, hello there Namahage!

Namahage is a demon-like being found in Japanese folklore! In real life, every New Year men in Akita Prefecture put on scary demon masks, don traditional straw capes, and have a good time scaring the local children. (And more easily frightened adults, as well!) If you don't want to travel all the way to Akita while you're in Japan, just head over to Ginza for a glimpse of our scary friend.
The Mysterious Dwelling of the Namahage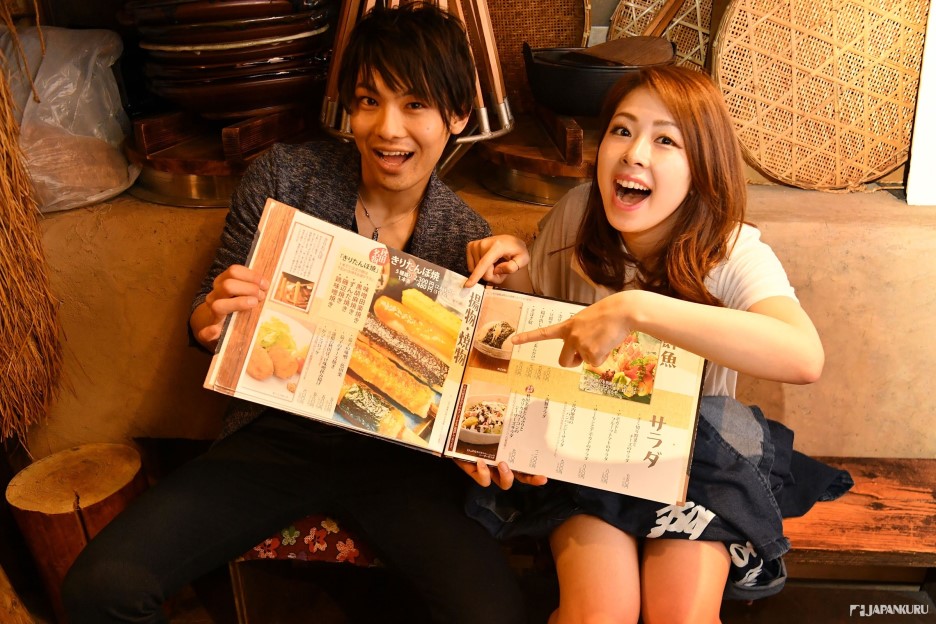 A Foreigner-Friendly Menu
If your Japanese isn't too hot, there's no need for concern. The numerous pictures in the menu give you a pretty good idea of what you're going to get, before ordering.

Plus, we're about to tell you all about some of the best dishes on the menu! If you're not already an Akita cuisine expert, we'll help you get there!
Our 8 Recommendations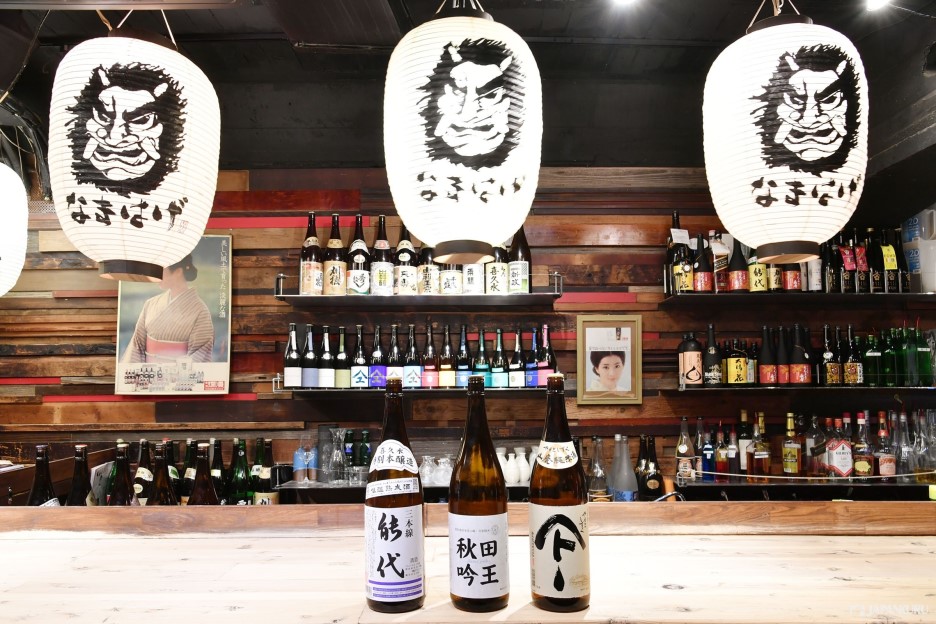 ① Akita-Produced Japanese Sake
Akita's sake has the benefit of being made under three great conditions:
excellent quality rice, clean water, and ample enthusiasm!

The izakaya offers 39 different kinds of sake, but if you're not sure which to go for, try one of these three. We thought they were quite tasty!

(LEFT) Noshiro Sanponsen (能代 三本線)

(CENTER) Junmai Ginjo "Akita Gino" (天寿 純米吟醸 「秋田吟王」) Namahage Limited

(RIGHT) Yamatoshizuku (やまとしずく 山廃純米)

★ Price:
* Cup (100ml) - 444 yen + tax (all kinds)
* Bottle ... (200ml) - 888 yen + tax / (400ml) 1, 777 yen + tax


④ Luxury Grilled Salted Chicken (Hinai Dori)

Hinai Dori is a breed of chicken that is known for its exquisite flavor. Because of its unique quality, it was even offered as tribute to feudal lords in Japan for hundreds of years. These days, they're raised free-range and fed a balanced diet in Akita, before being sent directly to the Izakaya for your enjoyment!
⑤ Kiritanpo Miso Dengaku  & ⑥ Kiritanpo Hot Pot
⑤ Five flavors: sesame, edamame, miso, chicken, seaweed.

480 yen + tax each / 2300 yen + tax (5 pieces set)

Kiritanpo is a Japanese dish unique to Akita Prefecture. Freshly cooked rice is pounded until mashed, then formed into cylinders around Japanese cedar skewers, and toasted over an open hearth. Here they're slathered in a variety of sauces for your enjoyment. (The most traditional is miso!)

⑥ 1,680 yen + tax (per person), available for two or more people.

If they're not being covered in miso sauce, kiritanpo can often be found in nabe hot pot! They become chewy additions to a pot of delicious ingredients.
⑦ Akita Komachi Rice

980 yen + tax (Available for two, cooking time: 20~30 min)

The Komachi rice of Akita is one of the most popular and well-known brands of rice in a country known for producing excellent rice. Much of this is thanks to the great conditions it's raised under, with naturally fertile soil and clean water. Not only is it famous in Japan, it's increasingly popular outside the country, everywhere from the US to Singapore and South Korea.

⑧ Babahera Ice Cream

540yen + tax

Babahera Ice Cream is well known in Akita, where you will find old ladies peddling ice cream dressed in bright yellow and red aprons, a yellow headscarf, and a big, warm smile. The "Babahera" name comes from the Japanese words baba (ババ ), a nickname for old ladies, and hera (ヘラ), the ice cream scoop!
Aren't you forgetting the Namahage Show!?
Spend some time up-close and personal with your very own Namahage friend. Let him scare you half to death, or sit down and share a drink with him!

There's no extra fee, and no tips are expected.

The shows happen twice every day at 19:30, and 22:00.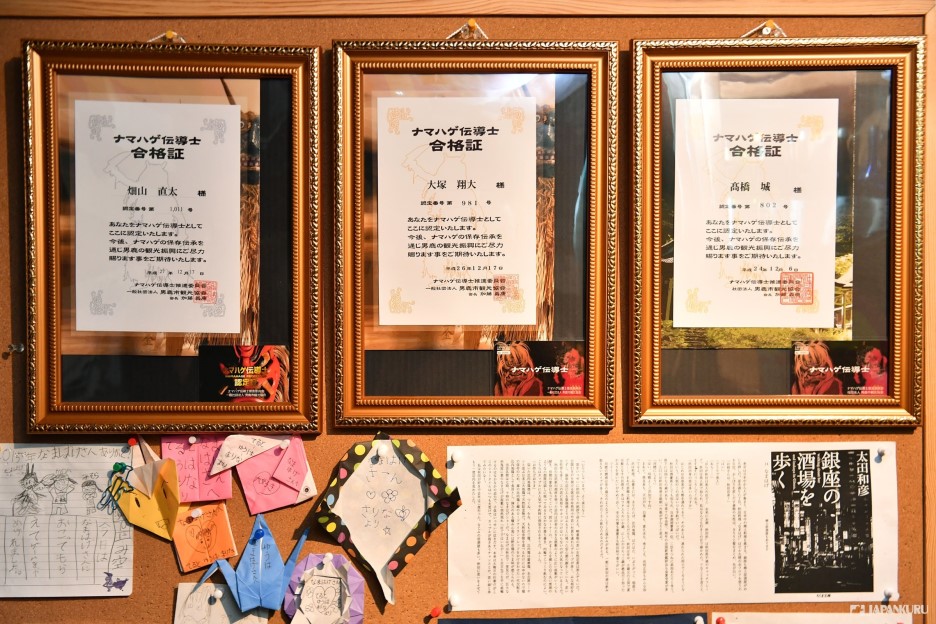 Did you know, you need to pass an official test to be certified as a Namahage! The Namahage at this Izakaya are all pros. They've passed their tests, and they're ready to spend an evening enjoying Akita culture with you!


⇩ Get a better look at the Namahage in our video below! ⇩
Related Article