5 Japanese Halloween Sweets We Would Happily Trick or Treat for This Fall
It's spooky season, and in Japan, that means some extra sinful sweets.
Despite a recent change in policy that brought a sudden end to Japan's state of emergency, COVID will still inevitably put a damper on things this Halloween, all over the world. But while the virus might quiet the raucous party that has taken over the entirety of Shibuya in (pre-COVID) recent years, Japan's other Halloween celebrations are still here to bring us a little spooky fun as the seasons change. Namely: limited edition Halloween specialty sweets! Previous years have brought us the harvest season flavors of
sweet potato and pumpkin
, and plenty of black cat donuts and whispy ghost cakes, but what will we see for Halloween 2021?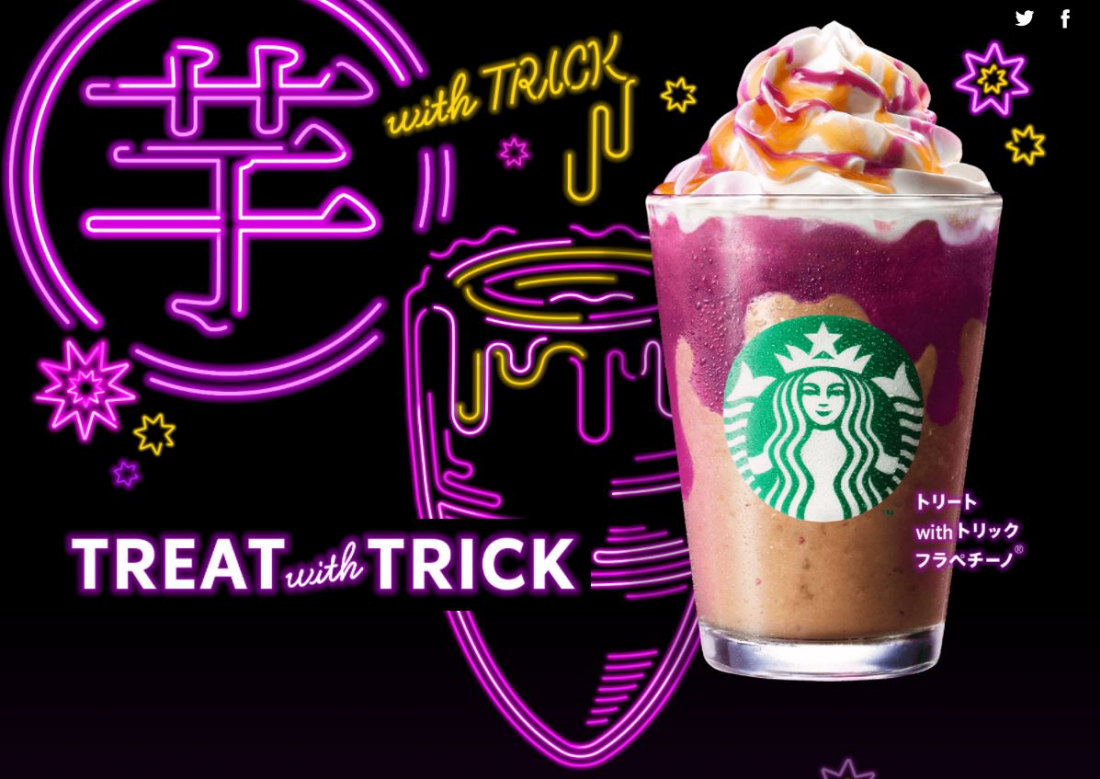 Image Source: Starbucks
1. The Starbucks Halloween "Treat with Trick"
Never one to miss out on a holiday drink opportunity, particularly in Japan, this year Starbucks is offering a colorful sweet potato drink for Hallowen, which they're naming the "Treat with Trick Frappuccino." The drink base combines the toasty flavor of roast sweet potato with the chocolate and coffee notes of a Starbucks mocha, adding tiny chunks of sweet potato to the drink mix while letting the light hints of coffee round out the intense sugary flavor found in many Japanese sweet potato products. To add a little flashy flair to the drink, they're topping it with drizzles of not one, but
two different types of sweet potato syrup
, including a purple sweet potato meant to remind you of the purple sweet potatoes that are
popularly eaten in Okinawa
. But it doesn't stop there―for an additional 110 yen, customers can purchase a packet of "popping topping" to sprinkle atop any Starbucks drink for a special Halloween ~surprise~. (They're pop rocks.)
Official Details
Available: 10/20 ~
2. Halloween Trick Pancakes at Eggs 'n Things
This year, Hawaiian breakfast joint Eggs 'n Things is bringing back their most popular Halloween special ever, the Halloween Trick Pancakes. These pancakes are made with dark cocoa for an uncanny black look, and topped with a splash of orange pumpkin cream, complete with a cute spiderweb design. The almost terrifyingly purple tower of whipped cream that rests beside the pancakes, taking up half the plate, is actually flavored with purple taro! The restaurant says that these special treats are actually hiding a certain trick, but you'll have to dig in to find out what that is.
Official Details
Available: 10/15 ~ 10/31
3. Mister Donut Misdo Halloween
Japan's largest donut chain, Mister Donut can always be relied upon for some cute character donuts during the month of October, and their 2021 "Ghosts at Home" (おうち de おばけ) promotion hasn't let us down. The cute monsters include the cute black cat "Makkuro Choko Neko" and the strawberry-chocolate and cream-covered "Fuwafuwa Miira" donut, made to look like a pink bandage-covered mummy. Each of these Halloween spirits comes with a pair of highly emotive eyes, so your scary donuts can stare right back at you as you take a bite.
Official Details
Available: 9/3 ~ 10/31
4. Halloween Wagashi at Tsuruya Yoshinobu
Tsuruya Yoshinobu has been making wagashi (和菓子/traditional Japanese sweets) in Kyoto for over two centuries since the year 1803, and in 2021, they're taking a little inspiration from Halloween for some unique Halloween wagashi. The sweets maker is offering two different kinds of sweets, each made into both jack-o-lantern and ghost shapes. The namagashi come in two shapes: round, bright orange pumpkins filled with smooth red bean paste, and then little white teardrop ghosts, with blushing pink cheeks and a bright red tongue, little sesame seeds for eyes, and a tummy full of sweet white bean paste! The other option is Halloween higashi, a little like delicate traditional Japanese cookies, shaped like grinning jack-o-lanterns, playful ghosts, and even some purple bats fairly evocative of a certain superhero's insignia.
Official Details 1/2
Available: 10/10 ~ 10/31
5. CoCo's Pumpkin Bubble Tea
Thanks to the enormous bubble tea trend that took over Tokyo a few years ago, popular Taiwanese bubble tea chain CoCo has gained a foothold in some of Japan's trendier neighborhoods, selling sugary concoctions of tea, brown sugar, and chewy tapioca pearls. This Halloween, they're offering pumpkin-flavor milk tea, lattes, and roasted milk tea drinks that appear to actually be closer to the American pumpkin spice flavor profile than Japan's standard kabocha pumpkin flavor (which really just tastes like pumpkin). Topped with a dash of cinnamon and flavored with "pumpkin's gentle sweetness and a spicy aroma that feels like fall," these drinks are sure to please all the pumpkin spice lovers that have been flocking to Japan's Starbucks
for the PSL
this year.
PS: If you go to CoCo on October 30th or 31st, say "trick or treat" to get a free topping!
Official Details
Available: 10/15 ~ 10/31
So, what will you be trick-or-treating for this Halloween? For more info and updates from Japan, check Japankuru for new articles, and don't forget to follow us on
Twitter
,
Instagram
, and
Facebook
!
Basic Info
Columnist

Shopping with Sophia

Between collaboration items and special-edition limited-time-only goods, Japan has some pretty interesting products, and if you're anything like me... well, you can't help but be interested!

SHOW COLUMN
Related Article