5 Treats That Prove That Japan in Autumn 2020 Is a Sweet Potato Wonderland
If you love the warm flavor of roast sweet potato, you're going to want to try these new Japanese treats.
When autumn brings
cool weather
and
bright red and orange leaves
to Japan, that means it's time for businesses all out the country to start rolling out limited-time-only snacks in seasonal flavors. To some extent, those flavors are the same every year. While summer brings
bright citrus and sweet ramune flavors
, autumn means toasty-warm chestnut, pumpkin, and, of course, sweet potato. This year, though, the cafes and sweet shops of Japan seem to be going all-in on the one flavor in particular.
1. Starbucks Daigakuimo Frappuccino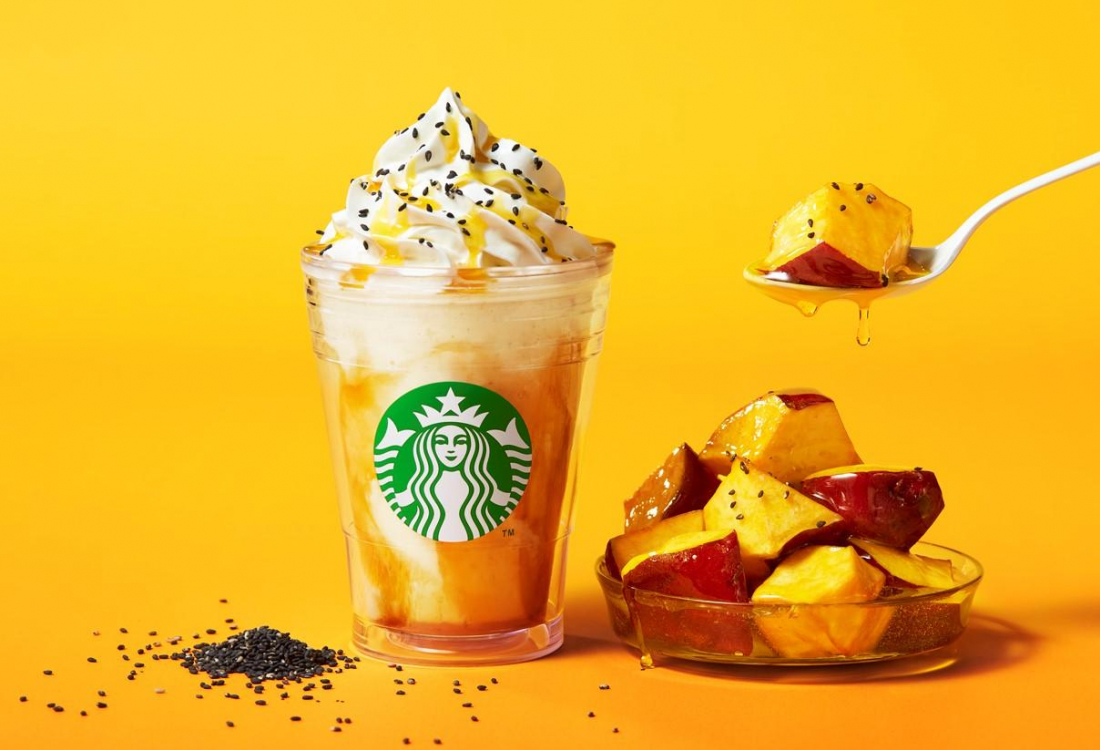 Image Source: Moshi Moshi Nippon
Starting with the product likely to be purchased by the largest number of people, this new seasonal frappuccino from Starbucks is based on the flavor of "daigakuimo" (大学芋)―a Japanese dish of sweet potatoes fried in oil, glazed in a syrup of sugar, mirin, and soy sauce, and topped with sesame seeds. The drink features a good dose of sweet potato flavor, and is topped with black sesame seeds and a drizzle of syrup.

Available 9/23 - 10/31
2. Donuts Galore! From Krispy Kreme and Mister Donut

Image Source: Krispy Kreme
Donuts are the perfect canvas for weird cream flavors and silly decorations, so it's no surprise that more than one donut shop in Japan is getting in on the fall sweet potato fun. The Krispy Kreme Muchi Mochi Purple Sweet Potato Mont Blanc Donut has a name that's quite a mouthful, but a bite of the actual donut will feature an especially chewy dough, topped with mont-blanc-style strings of sweet potato frosting, and powdered-sugar-coated chunks of sweet potato.

Available 9/16 - 11/1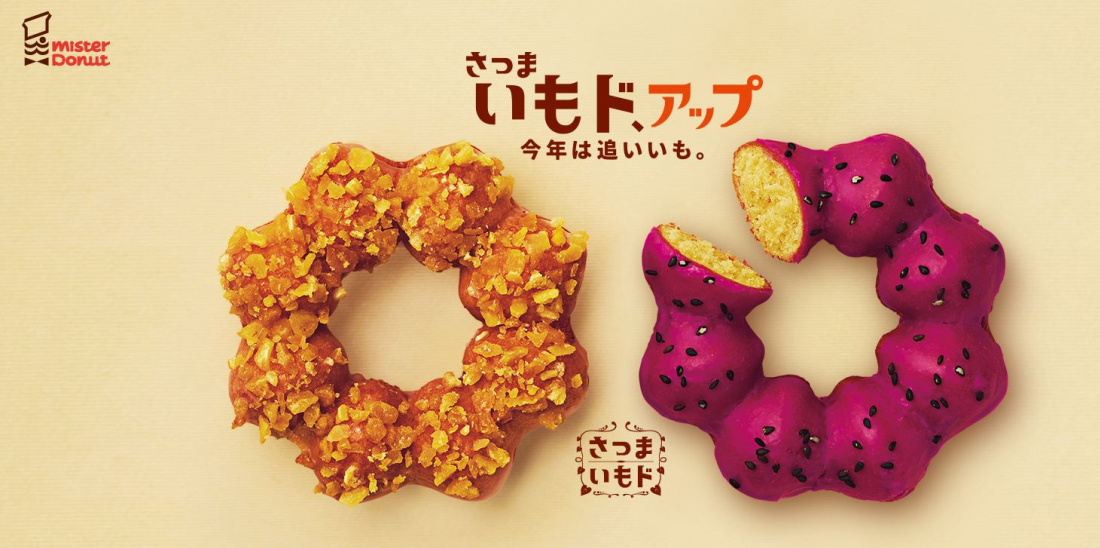 Image Source: Mister Donuts
This year, Mister Donut is going for a less cutesy, more flavor-focused sweet potato donut, their "Satsumaimo-do," which literally means "sweet potato do(nut)." The donut itself is infused with multiple varieties of sweet potato flour, and toppings include purple sweet potato frosting, sweet potato fry-bits, and daigakuimo-style glaze. If you really love sweet potatoes, these donuts are for you. They suggest warming them before digging in for an even more delicious experience.

Available 9/4 - 11/?
3. Haagen-Dazs Mitsuimo Ice Cream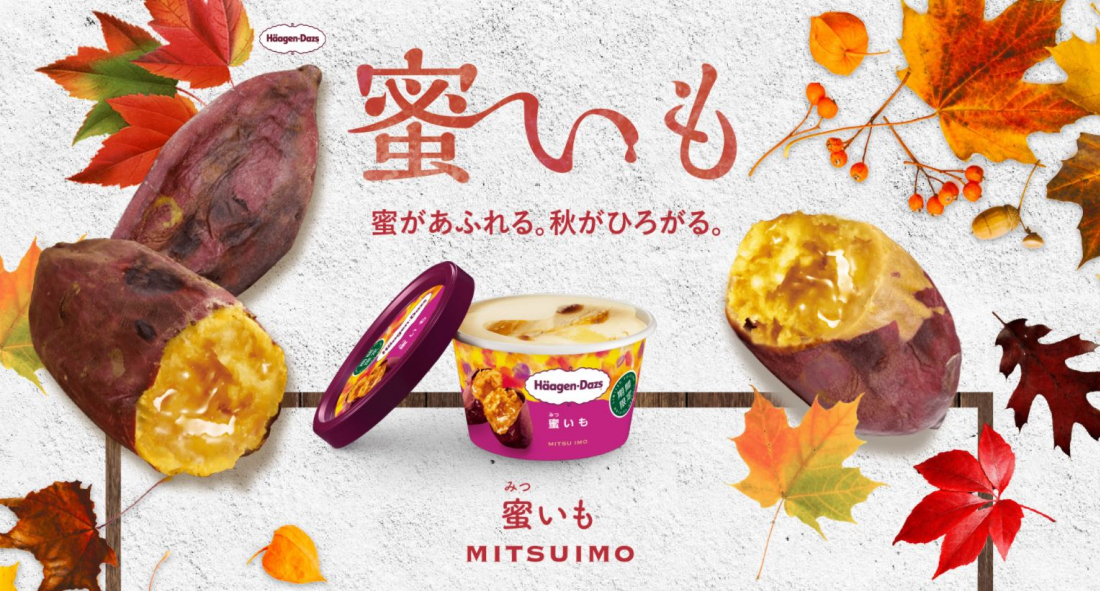 Image Source: Haagen-Dazs
The term "mitsuimo" refers to Japanese sweet potatoes that have such high sugar content that, when baked and sliced open, they just about overflow with a natural sweet potato syrup. This Haagen-Dazs ice cream attempts to replecate that luscious roast sweet potato experience in chilled form by taking their sweet potato ice cream and swirling in a sauce and chunks of popular "beni-haruka" (紅はるか) sweet potato.
4. Sweet Potato Bubble Tea (From Everywhere)

Image Source: Chun Shui Tang/PR Times/Coco
Not just one, or two, but at least three different tapioca bubble tea chains around Japan are getting in on the fall trend this year.
Chun Shui Tang
is offering a refined Sweet Potato Milk Tea (left), made with "fragrant" sweet potato and topped with whipped cream and sweet potato chips. (
Available 9/16~
)
Tapista
's twist on the flavor comes in two versions (center): a Japanese-style smoothie topped with sweet potato
karinto
, and a creamy Western-style drink finished with a layer of sweet potato mont blanc (similar to the Krispy Kreme donut). (
Available 9/9~
)
Coco
is going even further with the concept, and instead of mixing in special syrups or toppings, they're changing up the tapioca pearls themselves (right)! For a limited time, their QQ line of drinks is replacing the black balls of tapioca with orange and pale purple versions, made with sweet potato and taro respectively. Not only do they have a fun new flavor, but the sweet potato pearls are sure to be an
insta-bae
hit on social media. (
Available 9/18~
)
5. Doutor Sweet Potato Mille Crepe Cake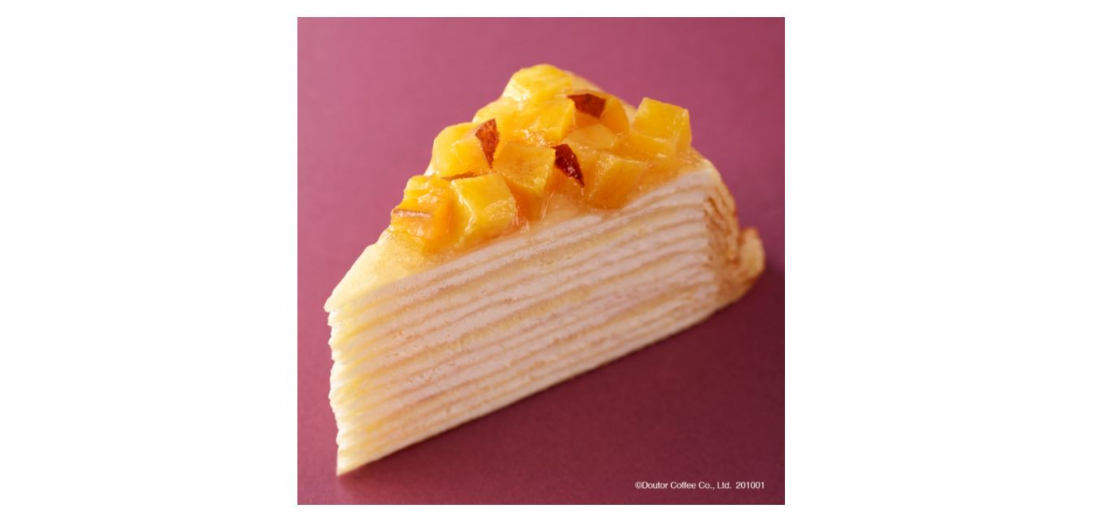 Image Source: Doutor
Had enough of all the sweet potato syrups, creams, frostings, and crumbles? The sweet potato mille crepe at reasonably-priced Japanese coffee chain Doutor is topped with a satisfying pile of real sweet potato chunks. Of course, spread between the thin crepes that make up the body of the cake is a custard cream infused with sweet potato, as well.

Available 10/1~
Japan Is Basically Sweet Potato Heaven
From frosty ice cream and frappuccinos, to warm and toasty donuts, we've already covered sweet potato specialties for just about every sweet tooth, and we've barely even scratched the surface of Japan's seasonal offerings. If you're more of a pumpkin fan, well, there's always next year!
For more updates and info from Japan, be sure to follow Japankuru on
twitter
,
instagram
, and
facebook
!
Basic Info
Columnist

Shopping with Sophia

Between collaboration items and special-edition limited-time-only goods, Japan has some pretty interesting products, and if you're anything like me... well, you can't help but be interested!

SHOW COLUMN
Related Article