The Must Go Destination in Chiba! Tokyo Aqualine and the Umihotaru
Driving under water? Umihotaru is a parking/ service area that exists on the surface of the Tokyo bay.
____________________

※Regarding Our Travel Information During the Coronavirus Outbreak.
Due to the COVID-19 outbreak and efforts to prevent the spread of infection, some facilities may have altered opening dates and times, be partially closed, or have limited menus. Before leaving for your destination, please check its official website for the latest information. In areas still in some form of lockdown, we recommend you avoid going out unless necessary. Look out for more Japanese travel information to plan future trips, new every day on Japankuru!
____________________
A pipeline underwater connecting Chiba and Tokyo.
Driving under water? Umihotaru is a parking/ service area that exists on the surface of the Tokyo bay.
This tunnel underwater cost 1.44 Trillion JPY and took 30 years to construct, with 20 years of planning and 10 years to do the work, and opened on 18th of December, 1997.
The pipeline consists of the bridge that's 4.4km long and a tunnel built using the Shield Method for 9.5km long, and lies 60m below water surface.
A facility that exists right above the center of the tunnel is called "Kaze no To" meaning "The Tower of the Wind" is there for the purpose of exhausting the air.
In 2017 it was elected as one of the "
10 of the world's greatest tunnels
" by CNN
This pipeline connects Chiba and Tokyo's capital area with a shorter travel distance. That's 65min down to 20min getting from Haneda Airport to Kisarazu.
Umihotaru, designed to look like a big cruise ship is five stories high, with
Level 1 - 3 being a car park.
Level 4 being a shopping and sightseeing floor.
Level 5 being a restaurant floor with a observatory deck.
If the weather is good you will have a panoptic view overlooking at the Tokyo Bay and Mt Fuji.
Umihotaru (The Tokyo Bay Aqua Line Umihotaru PA)
Address: Umihotaru, Shimachisaki, Kisarazu, Chiba
Open Hours: 24 hours
Official Website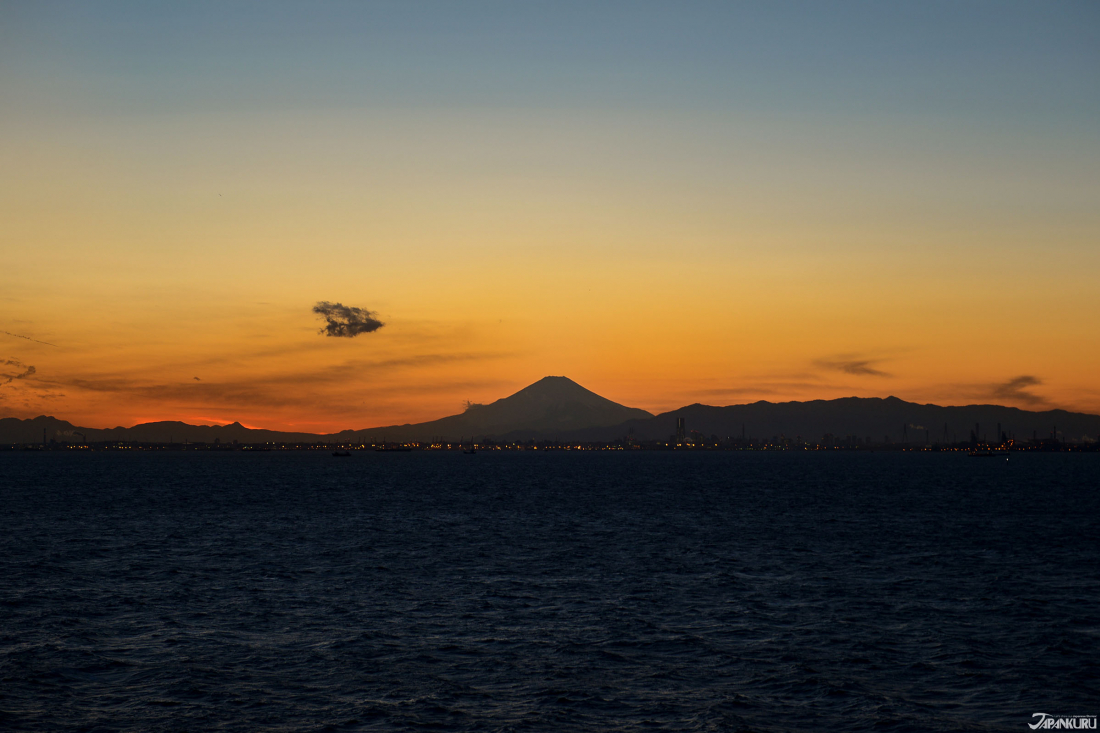 The Evening View from the Umihotaru
The view that you get from the Umihotaru is also another pleasant sight.
You can see Mt. Fuji towards Yokohama, Kawasaki direction.
You should be able to see the Tokyo Tower and the famous Sky Tree as well.
You should be able to see the aeroplanes crossing in the sky as well.
Plenty more photo location near by as well.
Especially if you're renting a car, Umihotal is one of the must go spots!
Souvenir shops!
At the 4th level of Umihotaru is the shopping and sightseeing floor.
You'll find so many local produce here as well.
Related Article