A Short Guide to Iwate's Sanriku Coast: Tanohata Village, Geibikei Gorge, & Wagyu
Hit hard by the 2011 tsunami, the Tohoku region's Sanriku Coast still thrives thanks to the love and care of determined locals.
The Village of Tanohata
The Sanriku Coast stretches along Japan's northern
Tohoku region
, but this time I decided to head towards one little area in the prefecture of Iwate, specifically the village of Tanohata (田野畑村)! The village is small, but its little patch of coastline contains some breataking rocky outcrops. Just a little inland, you'll find that Tanohata's green pastures are also home to local cows that produce some delicious dairy products.
To quench my thirst for clear sea views and rugged shores, my first stop was Kitayamazaki Lookout (北山崎展望台), where I got a good look at the 200-meter-high (650ft) cliffs.
Not sure if just the observation deck is enough? Well I agree! I hopped on board a local sappa boat, operated by local fishermen, to get a close look at the cliffs. The agile little boats can get right up to the rocks, giving you a totally different view!
Getting to Tanohata
Tanohata is truly off the beaten pathーit's not near any shinkansen stop, nor close to any highwayーso no matter what your mode of transportation, getting there is going to take a while. The closest shinkansen stop is Morioka Station, about 2 hours away by car (or 3 by local train), and from the big city of Sendai to Tanohata it's about 4 1/2 hours by car. But, while it's not a quick trip, the scenery along the roads and the train tracks offers some great views of the Sanriku Coast, so take your time and enjoy it!

By Train:
(Shinkansen) → Morioka Station → Miyako Station → Tanohata Station
Geibikei Gorge
For a little bit of freshwater scenery, next I headed to the Geibikei Gorge (猊鼻渓), where the river flowing through the rocks is easily one of the most beautiful in the Sanriku area. With striking rock faces that become covered in green foliage during the summer, red maple leaves to enjoy in the fall, and a soft blanket of white snow in the winter, it's a wonderful place to enjoy Japan's four seasons.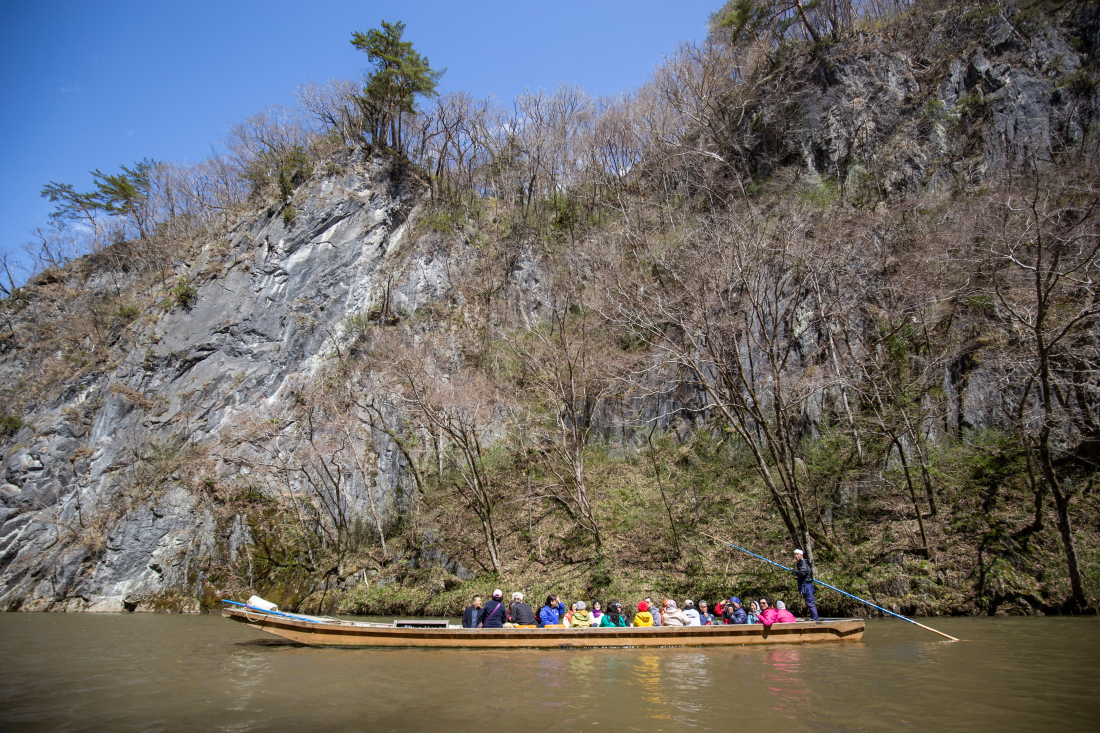 As the boat punters on Geibikei River push the boats along the water, they also sing traditional Japanese songs, adding to the atmosphere. You can hear a moment of the music in my video below.
A Coastal Food Recommendation: Maesawa Beef
If you stop in at Geibikei Gorge, the nearby Maesawa beef (前沢牛) is not to be missed. This local variety of wagyu, hailing from Iwate Prefecture, isn't the most expensive Japanese beef, but its delicate texture makes it a popular choice. I found some fairly decadent meals of Maesawa beef nearby for as little as 3,500 yen per person.
Basic Info

| | |
| --- | --- |
| Name | The Sanriku Coast, Iwate Prefecture |
Columnist

The Tohoku Girl

【A Taiwanese girl living in Sendai:The Tohoku Girl】 I like Kotaro Isaka's novels so I ended up in Sendai. Let me introduce you to the beauty of Tohoku! ♡ Facebook: https://facebook.com/tohokugirl Instagram: https://www.instagram.com/tohoku_girl_official/

SHOW COLUMN
Related Article