#Tokyo Nightlife ♬ ROBOT RESTAURANT is the Ultimate Nightlife Entertainment in Tokyo
🌟DISCOUNT TICKET TO ROBOT RESTAURANT 🤖
The Ultimate Nightlife Entertainment in Tokyo


🤖✨

R

O

B

O

T

R

E

S

T

A

U

R

A

N

T✨🤖
There is plenty going on in one of the biggest places in the world. What do you do once the sun goes down though? You could go to bars and clubs, but why not take it up to the next level and go to a place that will make your head explode. We're talking about Shinjuku's red light district

R

O

B

O

T

R

E

S

T

A

U

R

A

N

T

. Everybody knows about the Robot Restaurant in some way or another. We have always wanted to go too, and thanks to a special discount ticket that we got online, we were finally able to!!!
🤖✨

T

H

R

E

E

T

H

I

N

G

S

A

B

O

U

T

R

.

R

.

✨🤖
❶

A

B

O

U

T


Robot Restaurant is a dinner show that features an array of dancers, special effects, and outlandish robots. The ROBOT RESTAURANT first opened up in 2012 and you used to see massive big breasted robots being dragged along the streets of Tokyo advertizing their new opening. Now though, they don't need to self-advertise anymore because this robot themed entertainment place is popular beyond belief.

❸

N

E

W

S

H

O

W

S




The concept this time was an international carnival, opening with Japanese taiko (drums), 60's America, and Brazilian samba! The performers and the robots make a great team. It makes it where it can appeal to anyone! Robot lovers, performance lovers, dance lovers, excessive color and lights lovers, anyone! No one is left out here.



Once you enter Kabukicho, you walk less than 5 minutes and you'll see this sign in the picture above. Here you can buy and/or pick up your ticket(s)! If you pay by cash, just buy it at the ticket machines. All you need to do is select the correct show time.
If by card, please go to the counter. DON'T FORGET YOUR 2,000 yen OFF COUPON AT THE COUNTER!!
*If you purchase ticket at machines, press the button of discount amount [6,000 yen]!
🤖✨

H

E

A

D

U

P

T

O

T

H

E

W

A

I

T

I

N

G

R

O

O

M

✨🤖
After the opening, it was like story time. And boy what a story it was. The story was more toned down, it felt like a live action Kung Fu Panda, Power Rangers, Rambo, and Transformers play all in one. It just becomes a battle of robots and the performers characters. It's pretty cheesy, but SO entertaining!! We had a good laugh. Everyone had a good time and that's what counts! :)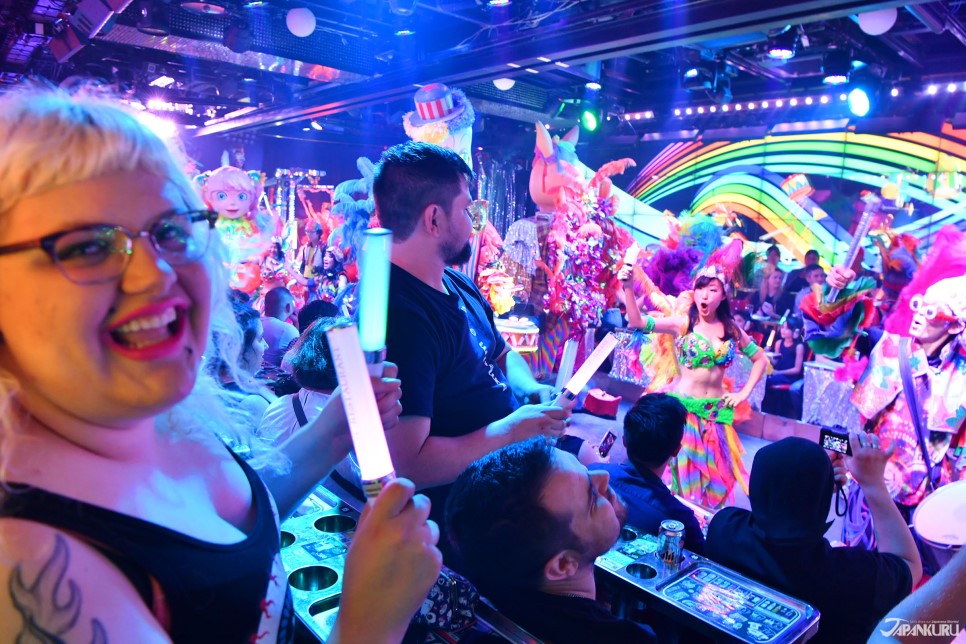 🤖✨

R

O

B

O

T

R

E

S

T

A

U

R

A

N

T

✨🤖
Many Westerns come to the Robot Restaurant, and after being there ourselves we can see why. The investment they put in to this dinner show is beyond expectations. Some of us are already planning our second trip back!!
🚉Closest station: Shinjuku, roughly 5 min walk from the station
*if coming by JR, go out JR Shinjuku East Exit
*if by Tokyo Metro, go out Exit B9 from Shinjuku-sanchōme Station
💰 Entrance fee: 8,000 yen/person
(*doesn't include meal, can add lunch box for an added 1,000 yen*)
⏰ Business hours: 4:00pm to 11:00pm
Inquiry hours: 9:00am to 10:00pm
Online reservations here!
📞 03-3200-5500

Related Article